The world of organic milk, including plant-based alternatives, is expanding tremendously. If you live and breathe 'organic' or 'sustainable living,' this article is for you.
I've included all the reasons not to try pesticide and growth hormone-filled milk below. We have also included our top 5 picks to keep an eye out for this year.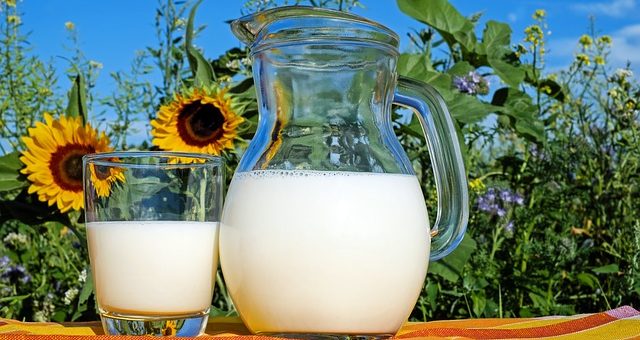 ---
---
Organic Milk vs. Regular Milk
Organic milk has been in the limelight for quite some time now. How is it more beneficial? You can find out below.
Organic dairy cows that live in open pastures give more nutritious milk. In contrast, cows administered with antibiotics and growth hormones and living in confinement are unhappy and stressed. This, in turn, affects the nutrient profile of the milk.
The organic milk industry has strict regulations regarding feed and pasturing practices.
The non-organic milk industry has no such regulations. You will never know the concentration of antibiotics and growth hormone-enriched feed in a cow's internal system.
As per the studies, there are profound differences in the nutrient levels of organic and regular milk.
It is found that organic milk has 62% higher Omega-3 fatty acids than regular milk.
Speaking of the vitamins and antioxidants, non-GMO milk contains 50% more vitamin E, 75% more beta carotene, and 200-300% more antioxidants.
If you are still on the fence about this debate, you could also choose plant-based milk. Could you read about them in the section below?
---
Things To Avoid In Plant-based Milk
Thickening agents: They may cause gastrointestinal illness or upset digestion in some individuals. Examples are carrageenan, guar gum, xanthan gum, locust bean gum, and gellan gum.
Avoid sweetened milk: Considering obesity and the associated health risks, it's better not to load up on sweetened or flavored organic milk varieties. Instead, choose the non-sweetened versions.
Glyphosate: It's a cancerous herbicide majorly used in non-organic farming.
GMO: Genetically modified corn and soybeans are popular everywhere. Always look for' Non-GMO' labels to ensure your milk carton doesn't contain any genetically modified crop.
Pesticides and herbicides: If the plants aren't sustainably grown, the chances are that they might have a high concentration of harmful pesticides and herbicide residues.
---
Benefits of Organic Milk
More Omega 3: You need Omega-3 fatty acids to boost immunity and protect from cardiac disease, cancer, and other health problems. It has a high Omega-3 to Omega-6 fatty acid ratio, essential for heart health.
High concentration of Linoleic Acid: Conjugated linoleic acid (CLA) is directly linked to immunity, metabolism, and muscle growth. It also reduces abdominal fat and blood cholesterol. Organic milk contains 500% more CLA than regular milk.
Chemical-free: Just like organic espresso beans, organic dairy milk is 100% free of pesticides, fertilizers, hormones, antibiotics, GM feed, and urea.
Sustainable and eco-friendly: Using harmful chemicals not only compromises milk quality but wipes out numerous flora, microbes, soil nutrients, and grass species. Organic farming practices do not affect the environment and its balance.
More antioxidants: Organic milk has more lutein and zeaxanthin than non-organic varieties. These two antioxidants play a key role in boosting eye health.
---
Reviews: Best Natural Milk To Buy
Whether you're vegan or want to try organic milk, our top picks are below. Also included are organic milk powder and plant-based milk varieties.

---
1
We agree that not all organic whole milk is created equal, but Horizon Organic® milk is the real deal. The cold, creamy whole milk is certified USDA organic.
It is completely safe for daily use without GMOs, antibiotics, growth hormones, and pesticides.
It has 32 mg DHA Omega 3 fatty acid available in chocolate and whole regular milk varieties to support heart, brain, and eye health lactose intolerance. They have lactose-free versions as well.
A serving offers approximately 8g of protein, 30% calcium, and more vitamin D than regular milk brands.
| Rating Category | Weight % | Score |
| --- | --- | --- |
| Pasture-Raised | 30% | 100 |
| Nutrients | 25% | 100 |
| Packaging | 25% | 90 |
| Price | 20% | 95 |
| Total Score | 100% | 96.5 |
---
2
Organic Valley® Ultra Pasteurized

Organic Whole Milk
The Organic Valley Whole milk is certified organic and ultra-pasteurized.
You get a one-gallon jug of milk that is ultra-pasteurized whole milk.
The milk is USDA-certified organic and natural.
The milk contains vitamin D and tastes delicious to drink.
With this safe organic whole milk straight from the farm, you can give your family peace of mind.
| Rating Category | Weight % | Score |
| --- | --- | --- |
| Pasture-Raised | 30% | 100 |
| Nutrients | 25% | 95 |
| Packaging | 25% | 90 |
| Price | 20% | 95 |
| Total Score | 100% | 95.25 |
---
3
Prescribed For Life® Organic

Dry Milk Powder
If you're looking for a milk powder that is organic, rBST and rBGH-free, and USDA Grade A Kosher, this is just for you.
Other reasons to ease your buying decision: it is gluten, GMO, and antibiotic-free. On top of it, it is safe for pregnant women and lactating mothers.
This whole milk is a healthy staple, providing plenty of vitamins D, A, B12, and B2 and minerals like potassium, calcium, magnesium, and zinc.
It also contains good fatty acids, including CLA (conjugated linoleic acid) and omega-3s.
If you love whole milk in cooking and baking mixes, it is ideal for 100% food grade.
| Rating Category | Weight % | Score |
| --- | --- | --- |
| Pasture-Raised | 30% | 100 |
| Nutrients | 25% | 95 |
| Packaging | 25% | 90 |
| Price | 20% | 90 |
| Total Score | 100% | 94.25 |
---
4
365 By Whole Foods® Grade A

Best Tasting Organic Milk
This is an A-grade organic Whole milk from a top brand, 365 By Whole Foods market.
As you will see, the brand introduced fresh new packaging for those already familiar with the brand.
This is whole milk that is certified organic.
A-grade milk is used, which is the absolute best.
The milk is fortified with vitamins and minerals.
includes vitamin A, calcium, potassium, and vitamin D
---
5
Horizon® Organic Store

Organic Milk
The Organic Store offers you whole organic milk that is safe and delicious.
Delicious, whole milk with a rich and creamy taste for the whole family.
The milk is safe and free from GMOs, antibiotics, and other additives.
The cows are grass-fed only and pasture-raised.
It also contains Omega three for excellent brain health.
---
6
Maple Hill Creamery® Grass Fed

100% Organic Milk
From Maple Hill Creamery, we have 100% organic milk from grass-fed cows.
No additives, GMO hormones, or antibiotics are in the milk or given to the cows.
No artificial additives such as GMOs, hormones, or antibiotics are in the milk or given to the cows.
The cows are pasture-raised and grass-fed only.
The milk is 100% organic and certified.
This is a whole, kosher, and gluten-free safe cow's milk.
---
7
Stoneyfield® Whole

Organic Milk
Stoneyfield brings you their organic whole milk that is pasteurized.
The milk is 100% organic from grass-fed cows.
The milk is ultra-pasteurized and safe to drink.
Vitamins A and D are added for extra nutrition.
The milk is USDA-certified organic from pasture-raised cows only.
---
8
Organic Valley® Ultra

Filtered Organic Milk
The Organic Valley whole milk is ultra-filtered for safe consumption.
You get 56 fl oz of milk in a carton.
The milk is ultra-filtered for safety and cleaning.
This organic milk is lactose-free and safe to drink by lactose-intolerant persons.
It is a high protein source with a rich and creamy taste.
The milk is also USDA-certified organic.
---
9
Organic Valley® Healthy

Whole Milk Boxes
Each carton contains 12 shelf-stable, individual organic milk boxes of whole milk (plain) with a straw.
This is Ultra-pasteurized (UHT) dairy milk with naturally occurring omega-3 and CLA.
These are single-serve milk boxes perfect for kids.
This product is USDA Certified Organic, gluten-free., non-GMO, and Kosher with no preservatives, antibiotics, synthetic hormones, rBGH, or rBST.
---
10
Maple Hill® Shelf Stable

Organic Shelf Stable Milk
This is the shelf-stable 12 pack from Maple Hill that will last much longer on the shelf.
This product is shelf-stable and needs no refrigeration.
Maple Hill milk is 100% grass-fed organic milk.
This milk is sustainable, uses regenerative culture, and comes in recyclable milk boxes.
Maple Hill 100% grass-fed organic milk supports 150 small family farms in Upstate New York.
---
In case you are lactose intolerance, here are our top organic coconut milk for you to choose from.
Index Table: Top Rated Organic Milk
---
---