Some of the links in this post are affiliate links. This means if you click on the link and purchase the item, I will receive an affiliate commission at no extra cost to you. All opinions remain my own.
There is a lot of contradictory info in the world about wine and whether it is good for our health or not.
The truth is that it depends on numerous factors and that some wines are healthy, while others are not.
Read for more information on what the difference is between regular and organic wines, what wine is healthiest and why.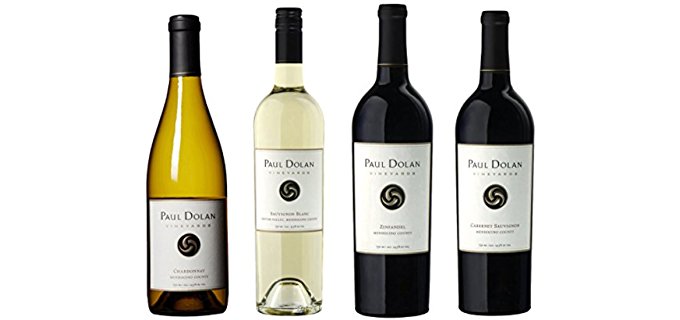 ---
Organic Vs Ordinary Wine: What's the Difference?
There are vast differences between organic and inorganic wines.
Organic wines tend to be produced on smaller scales and do not include any harmful pesticides in them that regular wine does.
An organic wine made with heirloom/wild grape cultivars also has a lower sugar content, making it healthier for us.
On a larger scale, inorganic operations, the winemakers tend to use tricks to produce a standard quality and enhance the flavor and texture of the wine.
This usually includes adding chemicals and additional fermentation substances such as diacetyl.
These practices not only destroy the natural balance of nutrients in the grapes, but they are bad for our health.
Above the chemicals that inorganic grapes are subject to, it is cheaper for wineries to store wine in giant aluminum tanks.
This also leaches toxic metals into the wine, turning what was once a healthy drink into a chemical cocktail.
---
The Healthiest Wine Cultivars And Why
Even amongst organic wines, there are some grape varieties that retain more nutrients than others and impart more properties of health to us when we drink it.
Muscadine Grapes – These grapes have been revered in the lasts health science research as being the best grape cultivar from a health perspective. The skins of these red grapes have the highest source of phytochemicals, antioxidants and in particular, resveratrol. Resveratrol has been linked to protecting our bodies against cancer, reversing metabolic disorders and burning off fat! This wonder nutrient is also the ingredient that gives red wine its reputation for improving cardiac health.
Pinot Noir – This wine is usually one of the most expensive of all the wine varieties you can buy, but there are a good few reasons as to why! The way in which pinot noir is made takes longer than other wines, allowing the skins to steep in the fermentation process for longer. This draws out the maximum capacity of tannins from the grape skins, which is where the bulk of the nutrition in grapes is concentrated. Pinot Noir has the highest amounts of healthful compounds in it when compared to other types of red wines respectfully. White wines have the least because the skins are tossed aside very early on in the wine making process.
Grown At An Altitude – Grapes grown at a higher altitude produce even more compounds that are protective of our health. At higher altitudes, the sun's rays are harsher. As a result, the grapes develop more anti-oxidants to help protect against radiation, which gets passed down accordingly into the wine we drink.
---
Features That Make An Organic Wine A Step Above the Rest
Aside from grape cultivars, there are other features that can enhance the health benefits of your organic wine even more!
Corks – Cork in itself comprises of many tannins that are healthful for us and confer antioxidant protection. Opt for wine that has been preserved with cork as opposed to metal screw caps.
Glass – glass bottles beat plastic or metal bottles every single time, because glass is inherently neutral. Plastic and metal both leach toxic compounds into the wine that can affect not only the flavor but destroy the delicate balance of nutrition that should be inherent in organic wines.
Oak Fermentation – Oak and other wooden barrels are the best way to store and ferment large batches of wine. Oak is another substance, like cork, that is full of antioxidants and protective tannins, which enhance the health benefits of wine. Some winemakers add wooden chips to their wine, expecting this to improve the quality, but one needs to be careful of this, as added wood chips are usually offcuts and sawdust from big industrial complexes. If the oak or wood has been treated, so too will your wine be treated with even more unhealthy toxins and chemicals? Old fashioned oak barreled wine without the addition of wooden chips is likely the best.
Maturity – The older a wine is, the better it is for us! After waiting a longer time, some of the more destructive byproducts of fermentation diminish, leaving a tastier, less intense flavor and also a healthier wine.
Aside from organic wine, having organic dairy milk is also essential especially for toddlers. Click the link to know why!
---
Reviews: The Best Organic Wines
Here below we have selected a few of the best organic wines that can be found online for your perusal.
---
1
Each of these wines are made organically by the superior quality Paul Dolan Wine Estate which only deals in organic wines.
The pack consists of two red wines and two white wines, making it ideal to buy for a special occasion or simply to enjoy at home for a while.
The pack includes Cabernet Sauvignon (2015), Sauvignon Blanc (2015), Zinfandel (2014) and Chardonnay (2014).
This collection of wines emulates delicate flavors of Mediterranean fruits on the pallet, from citrus, sweet pears, spicy plum or peppery blackberry.
For a decent price, this organic box set is bound to have a taste that will cater to everyone's needs at your next dinner party!
---
2
Stoltz® Organic Pinot Noir

Deliciously Deep Floral Pinot Noir
Grown in superior quality volcanic soil, this delicate red wine will not only make wonderful memories, but will also enhance your health!
This batch, in particular, was the first to be cultivated in the Hood River Valley in Columbia Gorge, a section of land that has been left unsprayed for over 25 years and counting.
The grapes have a varying degree of altitude, grown from 1100 ft to 600 ft, making it full of radiation protective compounds.
Stored in carefully selected French oak barrels, you can guarantee a full flavor backed up by a full range of nutritious health benefits in this pinot noir.
When sipped, the 2009 vintage wine brings up hints of the delicious floral fauna and flora present in the Valley the grapes were grown in.
---
3
GRGICH Hills Estate® Organic Dry Sauvignon Blanc

All Natural Citrusy Fume Blanc
This 2014 Sauvignon Blanc was fermented using some of the finest naturally found yeasts in the Nappa Valley.
Naturally occurring yeast is a rich source of B vitamins along with other proteins that have lots of protective anti-oxidant benefits for our bodies.
The wine was kept for a long time in pristine French Oak barrels for superior flavor and an additional wealth of tannins.
Enjoy a glass of this dry white and savor the flavors of refreshing citrus, herbal undertones, and notes of mineral enriched flavor!
This wine is fantastic paired with seafood, spicy cuisine (such as Asian or Mexican foods) or any rich tasting cheese.
---
4
Paul Dolan® Organic Chardonnay

Medocino County Organic Chardonnay (2014)
This Chardonnay was fermented for a year in the finest American and French Oak Wood barrels for superb taste.
One sip will have you swimming in hints of citrus, vanilla, spice as well as the sweeter flavors of apple and pear.
Perfect for pairing with salmon and other pale fish, this Chardonnay will enhance any delicately spiced or creamy meal.
Grown in the cooler region of the Mendocino County on an embankment of a river, to promote a gentler crisp flavor.
Paul Dolan is a small organic family of winemakers that produces excellent quality organic wine.
---
5
Mission Ridge Vineyards® Volta Organic Cabernet Sauvignon

Deeply Decadant Red Wine with Berry Notes
This premium organic red wine is of an exceptional quality due to its age and the process used to ferment it.
Housed in the purest French Oak, the wine gives off notes of chocolate paired with black cherries, raspberries, and currants.
Grown on a small plot using sustainable organic farming methods, the effort gone into this wine reveals itself fully in flavor and decadence.
The silky texture of this beautiful ruby colored wine will match any steak, a red meat dish or can even work as a stand-alone dessert for wine lovers!
Pour yourself a glass and feel the flavors dance on your tongue as they bring your occasion to life.
---
Comparison Table: Top-Rated Organic Wine
---
---