Some of the links in this post are affiliate links. This means if you click on the link and purchase the item, I will receive an affiliate commission at no extra cost to you. All opinions remain my own.
You are health-obsessed, and you read some conflicting information about red wine.
Half the experts say it's good for the heart, while the other half say alcohol can't be good for you!
While this may be confusing, both of these opinions turn out to be true, and we will explain why in this article, along with providing a top selection of the best organic red wine.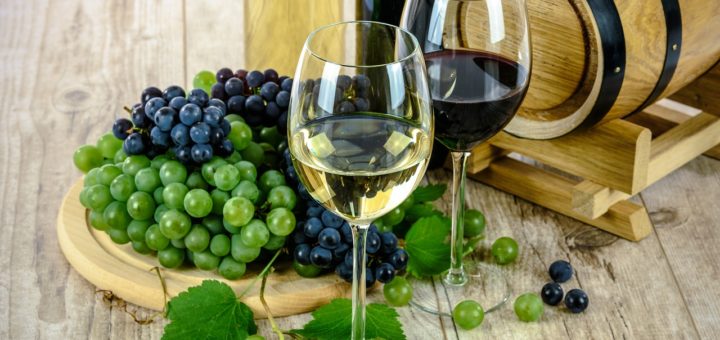 ---
---
The Truth About Wine: Why is Wine Toxic?
There are a few reasons why wine is toxic to us these days:
GMO – the number of grapes we drink with one glass of wine is something most people never consume in a whole month. If the grapes are GMO and non-organic, the negative effects are thus concentrated.
Chemicals – In a few industrial wines, the manufacturer adds unhealthy chemicals and metals, especially when making cheap wine. This dramatically affects the quality and destroys healthy benefits.
Diacetyl – this is a by-product of the fermentation process and is usually destroyed in the process. Some winemakers add excess diacetyl to wine, especially in chardonnays, to increase the "smoothness." Diacetyl has been shown to cause cancer and deteriorate brain segments, which is one of the main symptoms leading to alcoholic dementia.
Yeast – some forms of yeast and certainly fake yeasts are toxic for our livers. Find a wine that uses old traditional fermentation methods, as these usually use healthy yeasts that can give you a good dose of B vitamins!
Sugars – last, but not least, alcohol and especially wine is crammed full of fruit sugar! This can cause diabetes and some metabolic disorders if not consumed in moderation. This is especially pertinent in inorganic wines, as the chemicals added disturb the nutritional balance. The nutrients in grapes usually provide us with antioxidant protection against its sugars.
---
How is Red Wine Heart Healthy?
The reason professionals are saying that organic wine is healthy for our hearts in moderation is due to the tannins in the grape skins and seeds used in the process.
Red grapes contain higher amounts of antioxidant compounds than white grapes.
Compounds such as resveratrol have proven to be highly effective at protecting the heart, stabilizing blood glucose levels, burning fat, and regulating our metabolism.
These compounds are also why it was shown that those who drink red wine live longer.
Anthocyanidins and Ellagitannins found in red grape skins have yielded similar results in studies; however, not all red grapes have the same amounts of these compounds.
To get the most benefit from red wine, one needs as few chemical additives and sprays as possible; the grapes need to be the right cultivar and processed using organic methods.
---
Our 'Red Wine For Health' Checklist
If your wine fits this criterion, it will likely increase your health if drunk in moderation:
Pinot Noir – it was shown in laboratory tests done that pinot noir has the highest concentration of healthy nutrients above all other varieties of red wine.
Oak Barrels – if the wine was fermented using oak barrels throughout the fermentation process (as opposed to stainless steel), it will have even extra tannins present in it and help to combat the negative effects of alcohol. This is not the same as added oak chippings or sawdust, which tend to be treated and can produce allergic reactions in people.
Muscadine Grapes – muscadine grapes are the best variety of red wine grapes, containing the highest concentration of tannins in their skins. A glass of organic Pinot Noir made from these grapes will serve your whole body!
Organic – it is paramount that the wine is organic, as grapes are one of the most sprayed fruits cultivated currently by man.
Grown At Altitude – some interesting research has begun to highlight that fruits and vegetables which are grown at an altitude develop other compounds that protect against radiation. This response to the additional sunlight, but these extra compounds are very healthy for our immune systems when ingested.
Glass and Cork – if the wine is housed in metal, you will get the metals leaching you're your wine and contaminate yourself with metal particles. The safest way to store wine is in glass and using corks as tradition has always done it. Corks were also shown to impart extra tannins to the wine as oak barreling does.
---
Reviews: Best Organic Red Wine
Here is our list of the best organic red wines for your perusal. Consult your doctor if you are on any medication, or you may have a problem drinking wine, period.

---
1
Has one pinot noir, one cabernet sauvignon, and a specialty blend of Zinfandel.
Each of these was made using quality organic grapes using organic fermentation techniques.
It is bottled in glass with a cork each.
It offers an excellent price for wine so rich in tannins and phytochemicals that are beneficial for your health.
Enjoy a warm evening with friends and this set of three organic red wines!
Made in Ukiah, CA, USA.
| Rating Category | Weight % | Score |
| --- | --- | --- |
| Flavor | 25% | 100 |
| Antioxidant | 25% | 95 |
| Non-Alcoholic | 20% | 100 |
| Freshness | 20% | 95 |
| Price | 10% | 90 |
| Total Score | 100% | 96.75 |
---
2
Various Wineries® Organic

5 Non-Alcoholic Wines
This wine has subtle rhubarb and grape flavors, the tannins in the grapes used blending to form a very flavorsome pinot noir.
One may be able to pick up scents of leather and sweet cocoa dust when tasting.
Made from purely organic grapes and using organic methods, this wine will improve your spirits and health.
The wine has been matured for four years, developing its delicious flavor and texture.
13.5% alcohol.
| Rating Category | Weight % | Score |
| --- | --- | --- |
| Flavor | 25% | 100 |
| Antioxidant | 25% | 95 |
| Non-Alcoholic | 20% | 100 |
| Freshness | 20% | 90 |
| Price | 10% | 90 |
| Total Score | 100% | 95.75 |
---
3
De La Rosa 613® Premium

Organic Wines
This wine is a luxurious organic wine, upholding the French's vast wine heritage.
Organically certified and made using organic grapes and methods, this wine makes you feel as good as it tastes.
This wine does contain sulfites for preservation purposes.
This young wine originates from the Languedoc region of France.
12.5% alcohol.
| Rating Category | Weight % | Score |
| --- | --- | --- |
| Flavor | 25% | 100 |
| Antioxidant | 25% | 95 |
| Non-Alcoholic | 20% | 95 |
| Freshness | 20% | 90 |
| Price | 10% | 90 |
| Total Score | 100% | 94.75 |
---
4
Childress Vineyards® Sweet Organic Red

Sweet Organic Muscadine Red Wine
This organic red wine is made from one of the healthiest grapes in the entire world, the resveratrol-rich muscadine grapes.
This wine's aromas include fruity strawberry jam with refreshing, spicy overtones.
Smooth on the palate, this wine makes a great accompaniment to any meal.
It is bottled inside glass with a cork to enhance the flavor.
11.5% alcohol.
---
5
Stoltz Vineyards and Winery® Organic Pinot Noir Wine

Very Mature Organic Red Pinot Noir
This delicious red wine is made using the finest quality red grapes.
The vintage is from 2009, an excellent wine-growing year, and it truly shows in this delectable wine flavor.
Indulge in the organic floral aromas; this wine conjures up on the tongue and palate.
The deep rich coloring is indicative of the high amounts of tannins present in this full-bodied pinot noir.
13.4% alcohol.
---
6
Parducci Wine Cellars® Mendocino County

Parducci Sustainable Red Wine
This dry red wine employs all kinds of grapes such as Shiraz/Syrah, Grenache, Merlot, Zinfandel, Petite Sirah, Carignan
Wine style.
Its a classic Californian Red Blend style wine.
This red wine pairs well with Beef, Lamb, Veal, Poultry and takes the meal to the next level.
The brand Parducci is known for its sustainable practices and top-notch varieties and being an expert in spicy reds.
---
7
HALL® Napa Valley

Cabernet Sauvignon Red Wine
This vintage wine is brimming with aromas of cassis and blackberry pie and expresses aromas of black fruit, white chocolate, and toasted almonds as well.
It feels round and soft on the palate, and opulent flavors of dark bing cherry, jam, and caramel lead to a velvety finish. Expect this wine to age gracefully over the next 10+ years.
Tar, asphalt, cassis, and blackberries are just some of the many notes that emerge from this piercing, tannic Cabernet Sauvignon.
Layers of perfumed cherries linger on after the wine.
---
8
Bonterra® 2015 California

Organic Cabernet Sauvignon
This Cabernet offers aromas of bright cherry, currant, and raspberry with notes of toasted oak and vanilla.
You will find flavors of cherry and currant on your palate and a lingering, thoughtful finish.
This wine offers good structure, a moderate weight, polished tannins, and balanced acidity for a perfect wine experience.
It contains 13.7% Alchohol.
---
9
CalNaturale® 2009 California

Organic Cabernet Sauvignon
This organic red wine begins with a very nice aromatic bouquet of mixed berries, vanilla, and a little green olive.
Upon tasting the dry, medium-bodied wine, you will notice dull jammy fruit, a good amount of oak, and soft tannins, making it an easy to drink wine.
The dry and dusty finish is quite long and features a little burst of spice at the very end after the memory of most wines is gone.
This wine pairs really well with BBQ, especially when you add the slightly larger size and the fabulous price in the convenient package.
---
10
Simi® Alexander Valley

Cabernet Sauvignon
The Alexander Valley Cabernet Sauvignon Dark Red Wine boasts of delightful, complex notes of cocoa, cassis, pepper berry, and cedar.
Whereas the flavors of red grapes and black fruits give this cabernet sauvignon wine a balanced taste.
The smooth tannins of this red wine give each sip a supple, velvety finish.
This wine comes from the diverse soils of California's Alexander Valley.
The composition of the wine is 88% Cabernet Sauvignon, 5% Merlot, 3% Syrah, 3% Petite Syrah, 1% Malbec.
It is well suited to be paired with grilled beef tenderloin, roast duck, red wine-braised lamb.
---
Comparison Table: Top Organic Red Wines
---
---