Some of the links in this post are affiliate links. This means if you click on the link and purchase the item, I will receive an affiliate commission at no extra cost to you. All opinions remain my own.
Yerba Mate is a traditional South-American Tea made from the leaves of the Holly Tree (Ilex Paraguariensis). It is also common in Spain and Portugal.
It contains almost as much Caffeine as Coffee and is also rich in the Health Benefits typically associated with tea. It is traditionally taken in a Gourd with a Bombilla.
To find out why Yerba Mate is gaining popularity worldwide and the best Organic Yerba Mate brands available, scroll down below!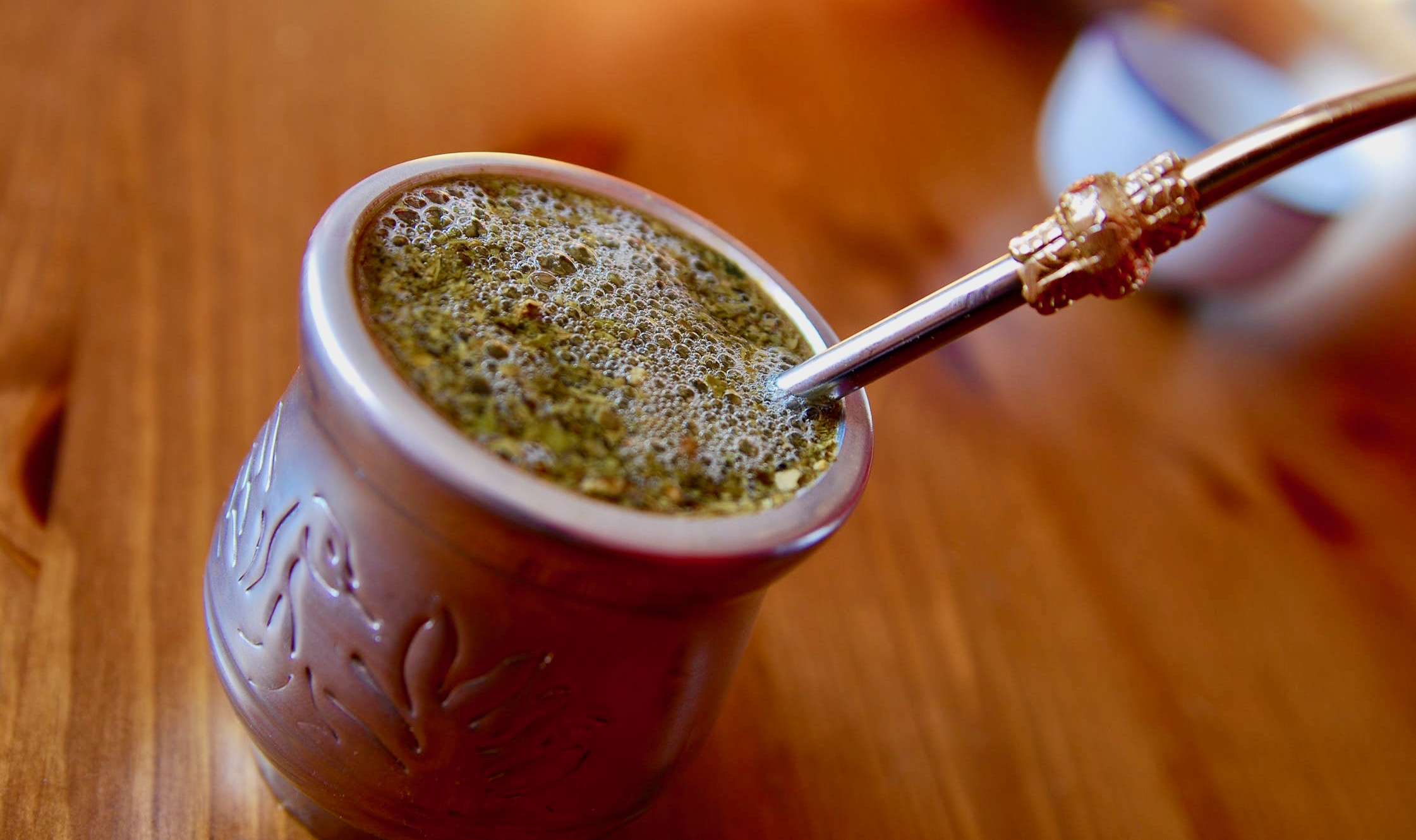 ---
Yerba Mate Essentials and Procedures
Manufacturing and Processing of Yerba Mate is a Multi-Level process, summarized down below.
Step 1: Blanching – The harvested stems and green leaves of the Yerba Mate plant are directly exposed to fire and heat. This is done to halt oxidation and deactivate the leaf enzymes by breaking down the Epidermis and Stomata. This step takes about 10 seconds to 3 minutes.
Step 2: Drying/Sapecado – Yerba is then dried in special chambers where they receive either Filtered or Unfiltered smoke. This is done for 8-24 hours.
Step 3: Ageing/Stationing/Beneficio – A gross milling is done before Ageing, and the process is called Canchado in Spanish. After that, the yerba mate Canchada is stored in bags for aging and placed in Cement or Cedar aging chambers for 18-24 months. This gives the Yerba Mate a milder, more mellow flavor.
Step 4: Milling – Then comes the milling stage. This blend defines the aroma, flavor, and color of each Yerba Mate. It is an important step because the style and type of cut affect Yerba Mate Tea's taste.
Step 5: Packaging – Yerba Mate is then packed in Multi-Layer Polymers packages to maintain the quality.
---
How to Brew Yerba Mate
In a Gourd and Bombilla – First of all, put the Yerba Mate in a cured gourd. Cover it with your hand and shake it well so that the powdery part is on the top, and all the leaves are on one side of the Gourd. Insert the Bombilla on the other empty side of the Gourd. Add cold water from the Bombilla side and wait for it to be absorbed. After that, add the Hot water (not boiling) and sip the Yerba Mate Tea through the Bombilla. You can have about 10-20 refills from a single batch of Yerba Mate.
In a French Press – Place the Yerba Mate leaves at the bottom of the French Press and add a cup of boiling water. Give a few minutes for the tea to steep properly. Leave the plunger up on the press and wait for 2-3 minutes to brew tea. The tea is ready!
In a Teapot – Add Yerba Mate leaves to a teapot strainer and let it sit in room-temperature water for a minute. Add Yerba to the teapot, pour boiling water on top, give it 4-7 minutes to brew, and then serve.
---
Benefits of Organic Yerba Mate
Rich in Nutrients – Yerba Mate is full of Antioxidants, Vitamins A, C, E, B1, B2, B3, B5, and B Complex. It also contains Calcium, Magnesium, Iron, Potassium, among other minerals.
Good for Mental focus – It contains a lot of Caffeine which helps keep a person alert and mentally focused.
Boosts Energy – It gives an energy boost because of the Caffeine and other nutrients in it.
Supports the Immune System – It strengthens and supports the Immune System because of the Antioxidants present.
Aids in Weight Loss – All natural organic tea brands naturally curbs the appetite and boosts Metabolism which in turn helps lose weight.
---
Reviews: Best Organic Yerba Mate
The below list consist of products we found to be the best Organic Yerba Mate options.
---
1
It contains Coffee, Theophylline, mostly found in the fine organic tea brands, and Theobromine (Non-Addictive Stimulant). It is low in Acidity, which makes it easier on the stomach.
This tea is packed in a Department of Agriculture certified facility. It is Certified Organic by OEFFA, USDA. It is also free of Pesticides and Herbicides.
This resealable 1lb Bulk bag is made with BPA-free multi-layer polymer and Kraft surface to keep the tea fresh.
---
2
Kiss Me Organics® Organic Yerba Mate

Traditional South American Loose Leaf Tea
For years, this tea has been used in South America as a natural stimulant for mental focus and clarity.
It is 100% Organic Brazilian Green Yerba Mate Tea and has a slightly bitter distinctive taste.
It aids in digestion and supports a healthy gut. It also provides an energy boost.
It contains Vitamin A, C, B1, B2, B3, B5, E, Iron, and Calcium. It is also rich in Antioxidants and Amino Acids.
It contains Saponins and has Anti-Inflammatory properties, which boost the Immune System.
---
3
Guayaki Yerba Mate® Guayaki Yerba Mate

Organic Tea
It is grown in the rainforest of South America and has an earthy, grassy taste.
This tea is made from Fair-trade sourced yerba mate leaves.
It is packed with 196 Active Compounds, which are sure to lift your spirits.
---
4
ANNA PARK® Organic Yerba Mate Loose Leaf Tea

Traditional South American Tea Drink
It is described as offering the Strength of Coffee, Benefits of Tea, and the Euphoria of Chocolate. It is a strong, All-natural tea.
It boosts the Immune Systems, Aids in Digestion, provides energy, and is considered an appetite curbing tea.
It is 100% Certified Organic Vegan Tea and is free of any Gluten, artificial flavor, or color.
It is sustainably farmed and produced in Argentina in over three years.
It contains vitamins A, C, E, B1, B2, B3, B5, and B Complex. It also boasts Calcium, Manganese, Iron, Selenium, Potassium, Magnesium, Silicon, Phosphorus. It is also rich in Fatty Acids, Chlorophyll, Flavonoids, Polyphenols, 15 Amino Acids, and minerals.
---
5
INATO® PREMIUM Organic Yerba Mate

South American Traditional Green Tea Drink
This Yerba Mate provides a clean boost of energy minus Jitters experienced after Coffee. It acts as a natural stimulant for mental clarity and focus.
It is a 100% organic, Rainforest-grown Yerba Mate and is packed with Vitamins A, C, B1, B2, B3, and B5, E, Iron Calcium.
It supports healthy weight loss as it is naturally appetite curbing.
It promotes healthy digestion and is known to calm an upset stomach and cure Digestion disorders such as Constipation and Diarrhea because of its Choleretic properties.
It contains high levels of Saponins, which have Anti-Inflammatory properties and are full of Antioxidants.
---
6
ECOTEAS® Organic Yerba Mate

Unsmoked Traditional Cut Loose Tea
It is a traditional cut loose tea consisting of Yerba Mate leaf, stem, & powder.
It is 100% Unsmoked and is made via a 2-step Smoke-free process for constant stimulation.
It raises Metabolism, regulates Appetite, and aids indigestion. It also a thermogenic property that induces Calorie burning in the body. Hence it supports weight loss.
It provides a robust and stimulating boost without the jitters that come with Coffee.
This tea is Fair-trade sourced from Argentina. It is Certified USDA Organic, Non-GMO, and Gluten-Free.
---
7
Marley's® Jamaican Me Mango

Yerba Mate Organic Tea
This is a ready-to-drink Yerba Tea.
It contains 150mg of organic Caffeine.
This Yerba mate boasts of a wide variety of key vitamins.
It contains zero preservatives and artificial sweeteners.
---
8
The Mate Factor® Fresh Green

Organic Yerba Mate
This is a naturally energizing herbal tea.
It comes with an original fresh green flavor.
This product is USDA organic.
This fresh green tea is a great way to warm up on a cold day
---
9
Cruz de Malta® DESDE 1874

Yerba Mate
This Cruz de Malta Yerba Mate offers delicious notes and a wonderful fresh effect.
It is made in the USA.
This yerba mate is easy to prepare and meets all the traditional requirements of classic Yerba Mate.
It releases natural fumes of earth and soil but is balanced by a light sweetness and crisp fruitiness.
---
10
Itapua® Premium 100%

Organic Yerba Mate
This is a 100% Organic Pure Leaf Yerba Mate from Brazil.
It is dried with 100% Clean Dry Air, without any wood or gas fumes.
It is specially aged for a less green and less bitter flavor.
The Itapua Yerba Mate is a medium leaf cut and will not clog a Bombilla.
This product is Certified Organic by CCOF and does not contain any dust.
---
Index Table: Top-Rated Best Organic Yerba Mate
---
---