If you are a green tea person like us, you should know a little more about Organic Vs Non-Organic Green Tea. What are the benefits? How the green tea is sourced? How to choose the best green tea brands?
To help guide you toward choosing the best organic green tea, we've rounded up top 5 organic green tea brands below.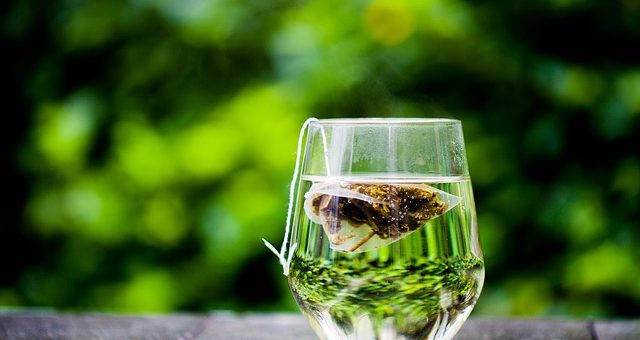 ---
Organic Vs Non-Organic Green Tea
Harmful chemicals, unsanitary tea fields, and unsafe harvesting and processing are the bitter reality of many tea plantations. Studies show that regular consumption of pesticide-contaminated tea does more harm than good.
So, naturally shifting to 'organic' is a safe and wise decision. You may be wondering "what does 'certified organic' means in case of green tea?" It means the green tea brand has met all standards for safety and Eco-friendliness.
Plus, it also means that no pesticides, herbicides, and fertilizers are utilized while growing, harvesting or processing the leaves.
Additionally, it also ensures the nutrient profile of soil remains intact.
---
Health Benefits of Organic Green Tea
Processed from the leaves of Camellia Sinensis, organic green tea is loaded with Catechin Polyphenols, which contribute to its bitter taste and astringency. Examples: Catechin, Epicatechin, Epicatechin Gallate (ECG), Epigallocatechin Gallate (EGCG), and Proanthocyanidins.

Acts as an immune-booster: Organic green tea boosts immunity against a large number disease including cancer, heart problems, cardiovascular diseases, high cholesterol levels, rheumatoid arthritis and more.

Organic green tea for weight loss: Green tea has zero calories. It aids in weight management by increasing metabolism.

Improves your brain function: Natural green tea is good for enhancing cognition. It also enhances levels of dopamine and norepinephrine in your brain. In addition, L-theanine is said to have anti-anxiety effects in humans.

Good for Type 2 Diabetes: It is a good drink for diabetic patients as it aids in reducing blood sugar levels.

An elixir for your skin: Due to its antioxidant and anti-inflammatory activities, green tea fights off signs of aging.

---
Tips For Choosing The Best Brand
Antioxidant content: Depending on the brand you choose, Epigallocatechin gallate (EGCG) content differs. Some studies, in fact, showed that loose leaf tea contains more EGCG.

No added sugars: You could see added sugar in some iced green tea brands. If your aim is to cut down the sugar intake, you are wasting money on such green tea brands.

Freshness: Shelf life is very much important because green tea doesn't stay fresh for longer than 6 months.

First harvest tea is the best: Another factor that affects the quality of the green tea. The highest quality comes from the leaves that are picked between March and April.

Organic label: Well, this is obvious!

---
Reviews: Best Organic Green Tea
---
For an authentic, USDA-Certified Organic sipping experience, look no further than Numi Organic tea. A certified B Corp, this green tea is pocket-friendly, eco-friendly, and health-friendly.

Smooth and bold, a healthy cup of Numi Organic tea is flavorful, too – thanks to its unique organic sencha and the flavors of toasted rice.

If you don't prefer the nutty, savory Matcha Toasted Rice Sencha flavor, you could also try their black, green, white, pu-erh, rooibos, herbal and turmeric teas as well.

With loads of bioflavonoids, this is a great alternative to coffee or soda.

Vegan green tea is free of carbon and gluten. Plus, it is halal, kosher, USDA certified organic, and non-GMO verified.

---
2
Perfect for an evening revival after a tiring day at work! Grown in the Himalayas, these tea leaves are full of antioxidants and flavonoids. It also has fewer caffeine content.

Loose-Leaf green tea is 100% pure. Sourced complying all the fair-trade standards, it is hand-picked and shipped within 24-72 hours of production.

It has no added ingredients or flavors. In the vacuum sealed bag, you'll get only the pure leaf. Total servings per bag – 50 cups.

Relax even more knowing that you are supporting the education of Vahdam Tea's employers. Yes, 1% of its revenue goes for children's education.

---
3
For those looking to indulge in authentic Japanese Matcha flavor without having to dig into chemicals or pesticides!

Sourced directly from organic farms in Uji, Japan, the Matcha leaves are shade grown for up to 4 weeks, carefully handpicked, and stone-ground into a powder.

It comes in airtight packets to prevent oxidation. The ground Matcha green tea powder is 100% USDA Organic with zero added flavor, chemicals, and gluten. It is vegan-friendly, too.


Rich in antioxidants and natural caffeine, it effectively boosts metabolism and aids your weight loss journey.

You could also add this to smoothies, baking mixes, or lattes for a quick 'pick-me-up'.

---
4
For those looking for a fresh and flavorful cup, turn to this organic tea blend infused with lemon and honey.

The citrusy lemon and sweet honey not only add a flavorful punch but doubles your metabolism.

It has 1/4th the caffeine content of one cup of coffee, making it a healthy, nutritious replacement for your morning/evening coffee.

It may look expensive but know this: it is gluten-free, sugar-free, carb-free, and has zero calories. Plus, you can seep 250 cups from one packet.

To unleash the antioxidants and lovely flavors, steep the tea bag in hot water for 1 to 3 minutes. Drink it hot, cooled down or over ice.

---
5
Oriarm Jasmine Green Tea Maofeng from Emei Mountain – a World Natural and Cultural Heritage site – is exactly what we're looking to stock up every time.

A perfect blend of Mao Feng tea and jasmine flowers, it is refreshingly sweet, nutritious, and tasty.

In fact, it boosts immunity, prevent skin allergies, and eliminate tooth decay. All thanks to its polyphenol content and less caffeine.

When consumed regularly, it boosts metabolism, helps to stay active and alert, and also relaxes your body and mind.

Optimum serving size: 3 grams (about 0.1 oz) for every 150 ml (approx. 5.3oz) water with a temperature of around 80℃ (176℉).

---
Index Table: Top Rated Organic Green Tea
---
---