We are all familiar with the saying, "an apple a day keeps the doctor away."
Apples are nutritious and healthy indeed, as well as tasty – so do the apple juice. (read: organic apple juice).
All-natural, pure apple juice is filled with calcium, iron, potassium, and vitamins C and E.
Consider this article a mini guide on organic apple juice.
And yes, we have included the best organic apple juice brands, too.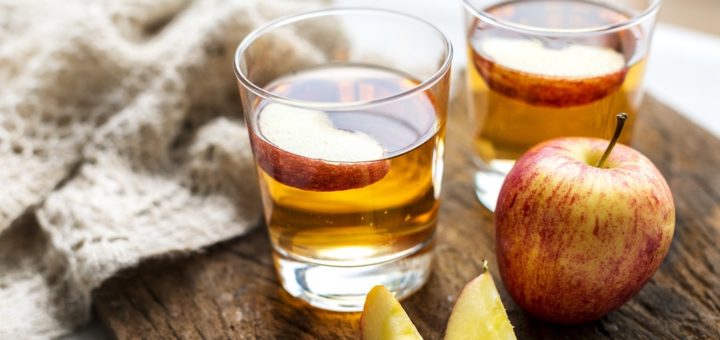 ---
Organic Vs Regular Apple Juice
Apple juice is one of the healthiest drinks out there. But what to choose – organic juices or the conventional ones? And does it really matter? Let's find out.
We do not have anything against the regular apple juices as far as they do not come from pesticide-showered apples. According to the Environmental Working Group, apples almost top the Dirty Dozen list for being highly contaminated with chemicals and pesticides.
The pesticides adhere to an apple's skin and even get inside it. Now, you imagine drinking the juice made out of chemical sprayed apples! Too dangerous!
---
Apple Juice Health Benefits
Apple juice has many health benefits; let us check a few of them in detail below.

Improves Heart Health: Potassium in apple juice is a vasodilator, which means it can help lower pressure in your arteries and blood vessels. Also, apple juice can prevent cholesterol formation in the arteries.
Treats Asthma: Anti-inflammatory and anti-allergenic substances present in apple juice can soothe your respiratory system, decrease throat or lung irritation, and relieve asthma attacks.
Anti Cancerous: Owing to the presence of certain vitamins, fibers, and flavonoids, apples are chemoprotective.
Skincare: Rich in antioxidants and vitamin C, apple juice reduces acne, inflammation, scars, and wrinkles. By helping in collagen production, this drink makes your skin healthy and radiant.
Improves Eye Health: The vitamin A in apple juice helps to sharpen the vision and prevents the development of vision impairments
Protect your brain: Animal studies found that apple juice may help protect memory and other aspects of brain health as you age. Preliminary human studies suggest that it may also improve behavior and mental health in Alzheimer's patients.
Do you know that having the best water infuser pitcher will be a great choice when you love juices? It allows you to use it for coffee, tea, and juices.
---
Reasons Why To Choose Organic Apples
Pesticides are harmful: Pesticides are meant for killing pests, not for human consumption. Several studies showed that cancer, hormone disruption, and ADHD all has links to consuming pesticide filled foods and drinks.
Harmful for environment and farmers: Pesticide-related illness and environmental hazards are rising. So, you should give a thought about it.
Organic apple juice tastes better: Fruit growing and harvesting methods directly affect the juice's taste. Since organic apples are sustainably grown, their juice tastes better.
High fiber, Low sugar: In order to cut the food cravings, you need to create a mirage of being fuller. And, apple juice can get it done for you. There are also other ways to increase your fiber intake, such as taking organic fiber supplements.
---
Reviews: Best Organic Apple Juice
---
1
Regular apple juice is fine (read: without chemicals), but If you want to feel like you bit into a fresh apple, this apple juice concentrate is it.
It isn't loaded with water or any thickening agents. Plus, it is a great sweetener substitute for sugar. And that's why you'll love it more.
Tasting more like a sweet red apple, the 400 ml natural apple juice concentrate will give you 3 – 4 liters mixed with water.
The vegan-friendly apple juice is suitable for a gluten-free diet as well.
Use it as a syrup on pancakes, mix it with smoothies, and shake for a healthy twist.
---
2
Honest Kids® Organic

Apple Juice Box
Two packs of ten apple juice boxes by Honest Kids for your kiddos.
The apples in the juice are sustainably grown, and the product comes with USDA Organic-approved certification.
However, with 17 g sugar in only 6-ounce juice, you might want to reconsider giving it regularly to kids.
Honest Kids 6 oz. Organic Apple Juice Boxes ingredients: filtered water, organic apple juice from concentrate, natural flavors, vitamin C, natural organic flavors, and citric acid.
Unlike the regular apple juice cans, it doesn't contain High Fructose Corn Syrup.
Additionally, it is gluten-free and non-GMO verified as well.
---
3
Evolution Fresh® Organic

Apple Juice
A high-calorie organic apple juice that will keep your energy levels high and food cravings at bay.
Evolution Fresh apple juice comes from the finest organic apples and is processed under high pressure to taste cleaner.
And because of the careful blend of apples used in this, you can enjoy more than a glass without getting that heavy feeling.
Crisp flavor, almost no aftertaste, and most importantly, it is organic, kosher, and vegan.
The 59 Fl Oz juice will give you about seven servings. Dilute further as necessary for kids and adults.
---
4
Mott's® Natural

Fresh Apple Juice
This fresh non-GMO apple juice is literally the truth! It's not from any concentrate, so it tastes just like a freshly juiced apple.
If you are looking for a tasty and naturally refreshing beverage, you can rely on this one. Plus, it is super affordable, too.
A must-have in the fridge is smooth to drink and has no acidity like some regular apple juices.
We also like that Mott's juice bottles are 100% positive – they do not leak, there is no bug spray smell, and no fighting with straws.
In short, these 8-ounce packs are the perfect serving size to kickstart your day.
---
5
Langers® Baby Organic

Apple Juice
Langers Baby Organic Apple Juice is another best buy that is made from 100% Organic apples.
With each bottle you buy, you get filler-free, fresh sugar-free, gluten-free, and GMO-free organic apple juice.
This one doesn't contain artificial sweeteners, sugar, or synthetic colors that harm your health.
It also comes as a package in BPA-free bottles. That means each bottle is a delicious cocktail that will freshen up your taste buds, body, and mind.
Buy your bottle worry-free. It is reasonably priced, too.
---
6
Apple & Eve® 100% Pure

Organic Apple Juice
The Apple & Eve 100% USDA organic juice boxes are made with honest ingredients.
It has the juicy goodness that kids especially love.
It is available in a bulk variety pack and a prime pantry.
These individual juice boxes are perfect for kids' school lunch, school snack, or to take on the go.
This organic fruit juice contains no added sugar, gluten-free, and a healthier alternative to sugary drinks.
All Apple & Eve products are produced in peanut-free facilities.
Each 6.75oz Apple & Eve 100% juice box contains 1.5 servings of certified non-GMO fruit.
---
7
Lakewood® Unfiltered

Organic Apple Juice
This is a pack of six, each containing 32-ounce in a bottle.
This cold-pressed organic Apple Juice is 100% pure and not made from concentrate.
It helps restore vital body electrolytes.
It supports the digestive system for overall well-being and vitality.
It helps maintain normal cholesterol levels and supports the immune system.
---
8
Martinelli's® Gold Medal

Organic Apple Juice
This organic apple juice is made from fresh apples and is good for health.
The plastic jug is easy to hold and pour.
It does not contain additives of any kind.
All the different varieties of apples used in making this juice are grown in the US, and this juice is Kosher.
---
9
Wellsley Farms® Honey Crisp

Organic Apple Juice
Each bottle contains 295 ml of healthy apple juice.
This apple juice is organic and made from organic Honey Crisp apples.
It is made from concentrate and contains added ingredients.
Each pack contains 24 bottles, each containing 10 oz. of organic juice.
---
10
R.W. Knudsen® Sensible Sippers

Organic Apple Juice Box
It contains no artificial ingredients, and it is Dairy Free, Gluten Free, and GMO-Free.
This apple juice is 95%+ Organic.
It contains 40% fewer calories compared to regular apple juice.
It comes in an easy-to-use box for convenience.
---
Index Table: Top Rated Organic Apple Juice
---
---