Organic juice cleanses are a fast and efficient way to detox your body and jumpstart a healthy lifestyle. Wanna give your digestive system a break? Try any one of the organic juice cleanses outlined below.
The criteria for making this listicle are that the juices MUST be organic; suitable for vegans and vegetarians; be delicious, and have no fillers and added sugar.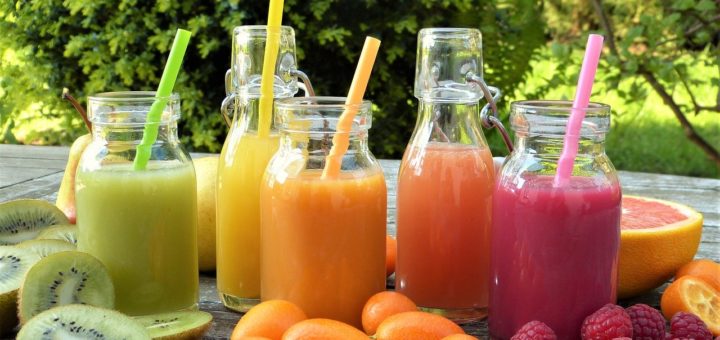 ---
How To Prepare For Your Juice Cleanse
Before you embrace juice cleanse make some small, healthy changes to your diet and lifestyle. This will make the transition a lot easier and you'll be more likely to stick to the plan. If you already are healthy and active, you may jump straight into your cleanse, but if not, consider the points below:
Avoid anything you know is unhealthy. For example, junk food, fries, sugary items, soda, and instant foods. Also, drink less caffeine if you can and avoid alcohol as well.
Start having salads, dry fruits and nuts, and lots of veggies. You could also consider avoiding cow's milk and try alternatives, like nut milk. Nut milk is lower in calories than dairy. Plus, it is also easier on your digestive system.
If you're cleansing, please make sure that you're well hydrated! Since you aren't eating as much as normal, you'll dehydrate more than you ever thought of.
If all of these seem too overwhelming, then just try to cut down your sugar intake. That'll make a huge difference.
---
How Long Should You Cleanse For?
Most of the juice cleansing stories start with this important question! Here's a simple and straightforward answer.
7-Day Juice Cleanse – Some people who have done this have lost 15 to 20lbs, so if weight loss is your motive, this will suit you. Remember – this one isn't as easy as you think.
5-Day Juice Cleanse – This isn't as extreme as 7-day juice cleansing but still excellent for shedding some extra pounds. This is ideal for the ones who're looking for short-term detoxification.
3-Day Juice Cleanse – You can do it regularly, every two to three months. If you are a beginner and you want to slim down or reset the body, opt for a 3-day cleanse.
2-Day Juice Cleanse – Easier to do it over a weekend so you can start afresh on Monday morning.
1-Day Cleanse – A much easier commitment, you can do it once a month, or even once a week! Ideal for recovering from a night of partying with friends.
---
Rules To Juice Cleansing
Before you buy the best juice cleanse available today, understand these rules.
Cold-pressed: Cold pressing mode of extraction doesn't oxidize or degrade the ingredients in fruits and veggies. Thus, it keeps nutrients and enzymes more intact.
Organic: For obvious reasons, fruits and veggies should be free of all chemicals including pesticides, preservatives or artificial ripening agents.
Raw and Unpasteurized: Need max. nutrients? Go for raw pressed veggies.
No HPP: High-Pressure Pascalization (HPP) is a food preservation method without using heat. Top cold-pressed juice brands will use this to extend the shelf life of juices cleanses. But we suggest organic juice cleanses without HPP.
---
Reviews: Best Organic Juice Cleanses
Restart your system with one of these delicious organic juice cleanse options — and remember — you are what you drink (and eat!).
---
Best for the ones getting accustomed to the cleansing process, this 100% vegan juice cleanse by CLEANSE on the go includes 21 single-serving powder packets.

Each packet is designed to help cleanse and detoxify your body with a powerful combo like greens + apple, carrot + pumpkin, pineapple + mango, and bee + berries.

This whole cleanse lasts 3 days; just add water and drink 7 times a day for amazing results.

It also has root, seed and fruit extract to assist with awakening, vitality, revival, and detox.
---
2
These 5-day organic juice cleanses are ideal for those looking to jumpstart their fitness goals, detoxify their body, and embrace a healthy lifestyle.

This one, in fact, lets you have one salad a day. The inclusion of some solid food makes a big difference in how easy this cleanse is – you'll remain fuller for longer.

Made from fresh fruits and vegetables, this juice cleanse is Kosher certified. They arrive frozen and you can keep them in the freezer for up to 6 months.

Shipment includes 10 different flavors to enjoy over the 5 days. Drink 4 bottles per day to come out slimmer and happier.
---
3
If you're feeling lethargic or on the verge of getting cold or fever, an immune-system-boosting wellness shot might come handy. Product in focus: this nutrient-packed 3-ounce wellness shots by Temple Turmeric.

Made with organic whole-root Hawaiian red turmeric, organic holy basil, and organic ashwagandha, this wellness shot will keep you going on a hectic day.

All ingredients are Organic, non-GMO and are ethically sourced and hand-harvested from family farms.

You may take it first thing in the morning, in between meals, or on an empty stomach.

Other flavors: Spicy Fire Shot and Red Ginger Shot. Perfect for the summer days!
---
4
O2 Living bottles organic energy shots using a cold-pressed procedure that extends freshness for up to 30 days in a fridge.

Made of Kale, Cucumber, Lemon, Celery, Fennel, and Parsley, this 1-day organic juice cleanse is a good option for the juice cleansing newbies.

With no added sugar, this organic cold-pressed juice is rich in chlorophyll, flavonoids, carotenes, alpha-linoleic acid (ALA) and essential fatty acids.

It's best consumed cold, and will always leave you feeling refreshed. Thanks to the vitamins A, B1, B2, B6, Folic Acid, C & E
---
5
Sol-ti Detox Activated Charcoal Cold Pressed Juice Cleanse is one of the most nutrient-dense, all-in-one, vegan juice cleanses available.

Containing organic pressed lemon, added superfoods, and pure reverse osmosis water, it provides nutrients your body needs to thrive a deep cleanse.

Sweetened with maple syrup, it has activated coconut to eliminate toxins. Another plus is that it is UV filtered – ensuring they are never heat pasteurized.

Refreshing and delicious Sol-ti comes in a wide array of flavors and you will feel healthier after one sip.
---
Index Table: Top Rated Organic Juice Cleanses
---
---