Are you looking for something to unwind after a hectic day? If yes, then consider buying the best organic chamomile tea. Since centuries people have known the benefits of chamomile flowers how it helps you sleep like a baby and instantly soothes your agitated mind.
Choose organic over other variants available to reap the benefits of this magical herb. Here's the list of some of the best tea brands available around to save you from scouting the internet.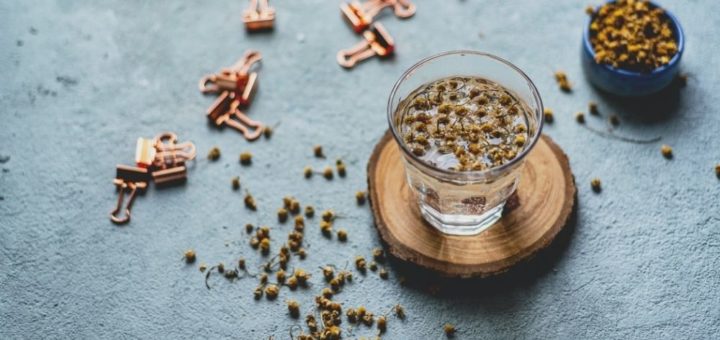 Health Benefits of Chamomile Tea
Here are some potential benefits of organic chamomile tea:
1. Prevents Osteoporosis
2. Better Sleep
3. Reduce Cramps
4. Boost Immunity

This delicious and relaxing herbal drink made after brewing dry chamomile flowers promotes vital health. There are innumerable reasons to choose this aromantic floral tea over others. Its mild taste and pleasant aroma put you in a tranquil state even before taking a sip. Below are some potential benefits of organic chamomile tea.

Prevents Osteoporosis -Chamomile tea encourages osteoblast activity and has an anti-estrogenic effect that leads to healthy bone growth.
Better Sleep -An aromatic cup of this tea works like benzodiazepine meant to reduce the effect of anxiety and induce deep sleep.
Reduce Cramps – Consuming chamomile tea for prolonged tends to reduce the pain during periods and soothes uterus muscles.
Boost Immunity – This organic tea keeps common diseases like cold, flu, stomach aches at bay. Its antibacterial property promotes overall healing.
Why Choose Organic Variant Over Others?
Here are the reasons why you should choose chamomile tea:
1. Chemicals Free
2. Eco-Friendly
3. Best for All
4. Caffeine Free

Tea is our favorite companion when it comes to handling stressful moments. Millions of people worldwide consume tea regularly. However, putting the word organic in front of the tea has created a whole new category. One such is organic chamomile tea that tops the list for the health benefits over other teas. Let us know why you should choose organic instead of other options available and its difference to your life.

Chemicals Free – When you choose to buy organic chamomile tea, you get just the main ingredient free of any harmful chemicals.
Eco-Friendly – The organic tea is grown without harming the surrounding environment. It will nourish your mind and body equally.
Best for All – Undoubtedly, organic tea plantations protect farmers from coming in direct contact with chemicals and fall sick.
Caffeine Free – Organic teas are free of caffeine and other unconventional chemicals used during processing. Expect a great authentic taste.
Tips to Pick the Best Organic Chamomile Tea
Here are few tips to consider to make selecting chamomile tea easier:
1. Tea Quality
2. Flavor Intensity
3. Brewing Convenience
4. Environmental Impact

It's expected to go wrong with a myriad of options available around. Some brands claim our organic tea has excellent natural flavor; some say it's inexpensive, and others talk about its relaxing effect. At the same time, no one is 100% true. So, here are few tips to consider to make selecting chamomile tea easier.

Tea Quality – For better quality, emphasize the tea that is both non-GMO and USDA certified. These certifications necessarily reflect the tea is cultivated using eco-friendly techniques.
Flavor Intensity – Conventional tea lacks an authentic taste, and organics stick to it. Look for the teabag free of added flavors that don't leave a vague taste after a cup of tea.
Brewing Convenience – Some tea fanatics brew their tea using individual special pots, and a few put tea bags into hot water. Pick the tea based on how you are going to brew it.
Environmental Impact – With various tea brands going eco-friendly, why not pick the ones who put effort. Choose organic green tea brands that lead to minimal environmental waste and are biodegradable.
Reviews: Best Organic Chamomile Tea
here are our top choices in organic chamomile tea:
Plenty of brands around offer their version of chamomile tea.
However, the quality of tea depends on various factors.
To save your time and energy, here is the list of the best organic chamomile tea brands. You can choose anyone without worrying about taste and quality.
Also, when you decide to purchase a product from our affiliate links, we earn a little commission on every sale.

1
Chamomile flowers coming straight from Egypt, this premium chamomile tea by FGO is purely organic infused with a pleasant aroma.
This eco-conscious teabag has no unnecessary things attached and is free of any additives, but it tastes delicious.
This caffeine-free tea comes packed in high-quality tea bags made from paper, so you get to taste rich and refreshing just as expected.
With minute changes, the brand created the product so that it leads to less waste and carbon emissions in any form.
---
2
Yogi® Organic

Chamomile Tea
A pleasant aromatic chamomile tea by Yogi is made to destress you and relieve you from other discomforts.
This soothing tea is purely organic, including no fillers, so you get to taste the rich chamomile flowers and reap the health benefits.
The whole product packaging is biodegradable and recyclable, so no harm to the environment in any way.
This floral tea is caffeine-free, gluten-free, kosher, and vegan. Also, the product is USDA-approved and Non-GMO.
---
3
Tazo® Calming

Natural Chamomile Tea Bags
Tazo made this tea by ideally blending and infusing several handpicked herbs for a soothing experience and unique taste.
This carefully blended tea comes packed in 20 tea bags that keep the contents afresh so you can enjoy it anytime.
The tea bags are easy to brew and hardly take 5 minutes to ooze out their rich taste into the hot water. Sip in the rich taste.
The teabags are unsweetened and caffeine-free, making them a perfect drink for unwinding at the end of the day.
---
4
Bigelow Benefits® Lavender

Chamomile Organic Tea
To instill relaxation and calmness, Bigelow Tea comes in calorie-free, caffeine-free, and kosher-certified variants.
The tea bags are wrapped in individual foil pouches to carry the aroma with you wherever you go.
All the tea leaves are handpicked to give you a rich tea experience without compromising quality.
It comes in several other flavors like sleep, calm stomach, balance, stress-free, etc., that are made by mixing different herbs.
---
5
CS® Honey Vanilla

Chamomile Tea
These chamomile tea bags come infused with honey vanilla flavor and herbs like cinnamon, hibiscus, etc.
It contains no added artificial preservatives, and the core ingredients come straight from the fields.
This Celestial seasonings tea is gluten and caffeine-free and ensures freshness along with a rich taste.
This tea's rich golden color and pleasant aroma serve as a soothing antidote after a stressful day.
---
6
ToH® Assorted

Organic Chamomile Tea
The pack includes tea bags of different flavors, promising every tea fanatic a cup of excellent tea.
From organic to green to fusion teas, Taylor of Harrogate Classic Tea has got several savory items.
You can enjoy every variant individually or pair it up with organic crackers, sweets, or other snacks you like.
It contains eight selected tea and infusion flavors and is Rainforest Alliance Certified.
---
Index Table: Top-Rated Best Organic Chamomile Tea
---
---