Some of the links in this post are affiliate links. This means if you click on the link and purchase the item, I will receive an affiliate commission at no extra cost to you. All opinions remain my own.
Snacks are an integral part of daily life. Everyone likes to munch on something delicious every once in a while.
Among snacks, Crackers have a place of honor. They are the base that takes your dips, soups, and many other things to the next level.
Scroll down to find out all there is to know about crackers and the most organic options available in the market.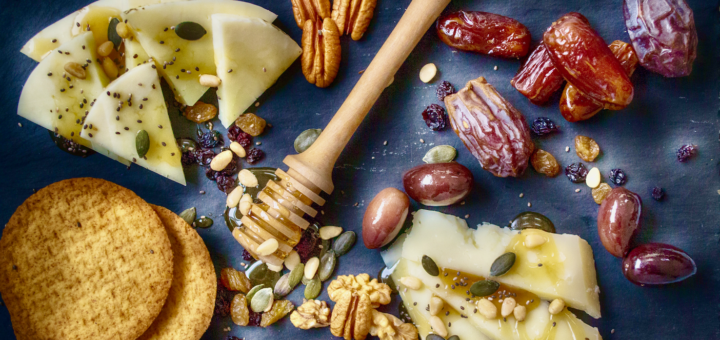 ---
What are Crackers
Crackers – Crackers are characterized by their crispy texture and salty flavour. Crackers come in many different shapes and flavors. It is a flat, dry food, typically made with flour. They only contain a small amount of Shortening.
Hard Dough Crackers – Traditionally, the dough used to make crackers is kneaded hard. The dough is fermented with the use of some agents like yeast etc.
---
Types of Crackers
Saltine/Soda Crackers – This type of crackers comes with perforations on top and a distinct dry and crisp texture. Saltine crackers are made using flour, yeast, and baking and typically come in a square shape with salt sprinkled on top.
Cream Crackers – Invented in Ireland, this cracker is made by combining vegetable oil, wheat flour, and yeast. The name refers to the creaming of the mixture during manufacture. Cream crackers are typically served with cheese, butter, or margarine.
Vegetable Crackers – Vegetable crackers mostly used vegetables as opposed to grain, like in other crackers. These crackers mostly come dehydrated and are essentially dried and pressed vegetables. Common examples are flax or chia seed crackers.
Water Biscuits – This type of cracker is just water and flour mixed and baked. It does not contain any rising agent such as baking soda and Shortening, or any other fat. The texture of water crackers is hard and brittle.
Sugar-topped Crackers – The name is self-explanatory. Some kinds of crackers come with sprinkled sugar on top instead of salt.
---
How to Choose Healthy Crackers
Most cracker options available in the market are very unhealthy and cause many health issues, from heart disease and diabetes to damaging oral health and destroying gums and teeth. Therefore, finding healthy crackers is what's best for everyone.

Whole Grains – Look for crackers that are 100% whole grain if you are looking for a healthy option. Eating whole grains can provide a lot of health benefits.
Fiber – Unrefined food contains more fiber, which, in turn, slows down the rate of carbohydrate digestion. There should be at least 3 grams of fiber in each serving.
Minimum Refined Grain – Refined grains only contain the grain's starchy component, along with minimum natural vitamins and fiber. This type of refined grain can increase blood sugar levels, which can be dangerous to health.
Minimum Sugar and Fat – Sugar is a common ingredient in savory processed foods. Check out the ingredient list on your cracker box and go for the one with the minimum amount of added sugar.
Organic and Natural – Go with products that use natural and organically sourced and organically processed ingredients only. Aside from crackers, go with organic jams and jellies. This is the safest option for yourself as well as the environment.
Low Sodium Content – High sodium intake can cause a multitude of health problems. It is very common for crackers to contain high sodium content. Read the package ingredient list carefully to choose the best option for yourself.
---
Reviews: Best Organic Crackers
Reviewed below are some of the best organic snackers you can munch on without worrying about yourself and your health.
---
1
This package contains 12 boxes containing 12 ounces each.
These lightly salted crackers are made keeping in mind the hearty old style.
It minimizes salt intake, making it safe for everyone.
It gets along well with the flavor of peanut butter.
Late July's crackers are Certified USDA Organic and do not contain any trans fat or hydrogenated oils.
This product is made using all dairy-free ingredients and is Vegetarian-friendly.
It is made in Hyannis, MA, by the Bernard family's snack food business.
---
2
Honey Stinger® Snack Bar

Organic Cracker N' Nut Snack Bars
These award-winning crackers come in a delicious snack bar, made using the delicious combination of Almond Butter and Dark chocolate.
This snack is perfect for rewarding yourself with, after any athletic endeavor.
This honey-based food is USDA Certified Organic and Kosher.
Honey Stinger only used organic ingredients and no artificial colors, flavors, or preservatives.
The honey used in this product is true, sourced, and certified.
---
3
Germinal Organic® Vegan

Organic Tomato & Basil Crackers
These organic crackers are made using all-natural flavors and do not contain any artificial coloring, preservatives, or toxic ingredients.
The healthy crackers are Organic, Gluten-Free, Vegan-Friendly, and Non-GMO.
The crackers provide your taste buds with the perfect combination of carefully selected and natural Tomato and Basil.
Germinal Organic's products are made using 100% naturally grown and Non-GMO ingredients.
---
4
Raw Food Central® Curt's Classic

Organic Italian Herb Flax Crackers
This Curt's Classics Flax crackers come in a delicious Italian flavor using organically sourced herbs.
The healthy crackers are perfect for munching whenever you want and do not threaten your health or the general environment.
Raw Food Central's products are Certified Organic and only contain healthy ingredients.
These products are raw and are not baked or fried.
The Grain-free crackers are Gluten-Free and Non-GMO Project Verified.
---
5
Healing Home Foods® Fresh

Organic Herb Raw Crackers
Healing Home Foods discovered an excellent flavor when they combined Almond Flour with Rosemary and Thyme.
These crackers give off a Mediterranean vibe with their fresh and breezy feel and flavor.
These handmade crackers are raw and completely healthy.
This product contains locally sourced organic Almond flour, gluten-free Oat flour, ground Flax, Organic Thyme and Rosemary, Himalayan crystal salt, and extra virgin Olive oil.
All nuts and seeds used in these organic crackers are soaked and sprouted.
---
6
Foods Alive® Ginger Snap

Organic Flax and Chia Crackers
These healthy snack crackers contain Omega 3, 6, and 9 Fatty acids.
The organic Flax and Chia used in these crackers make them high in fiber and perfect for health.
Foods Alive's crackers are processing at low temperatures and dehydrated overnight to preserve the essential nutrients and vital living enzymes in them.
This snack is perfect at all times, including hiking, school lunches, road trips, or an after-workout snack.
The crackers are made with Organic, Vegan, and Gluten-free ingredients and are Non-GMO verified and Kosher.
---
7
Mary's Gone Crackers® Original

Organic Flax Seed Crackers
These crackers are Certified Organic, Gluten-Free, and made without any added sugar, oils, or fat.
They contain whole ingredients, offering the highest quality of Plant-based protein.
These crackers are manufactured in Mary's Gone Crackers' own certified organic bakery.
It offers 450mg of Omega-3 fatty acids per serving, whereas 100% Whole grain content is approximately 18g per serving.
This package contains six boxes of Organic Crackers.
---
8
Back to Nature® Stoneground

Organic Wheat Crackers
These crunchy crackers are made with organic ingredients, including whole Wheat Flakes and whole brown Flax Seeds.
They are hearty, full of flavor, and serve as a perfect snack for munching.
These wheat crackers come sprinkled with savory sea salt, which takes their flavor to the next level.
This product is USDA Organic and free of any artificial preservatives, flavors, or colors.
---
9
Annie's Homegrown® Baked

Organic Cheddar Bunnies Crackers
These Cheddar Bunnies crackers are baked to perfection using real Organic Cheese.
The cheddar cheese used in production is sourced from cows raised without antibiotics or synthetic hormones, making them perfectly safe and healthy to consume.
The rest of the ingredients are also certified Organic and are grown without persistent pesticides.
This product does not contain any Artificial Flavors, Synthetic Colors, or Synthetic Preservatives.
---
10
Triscuit® Original

Organic Crackers
Organic Triscuit crackers are thoughtfully created to cater to all your snack needs.
They are made with 100% Whole grain Wheat as well as organic Oil and Salt.
This product is Kosher, Non-GMO Project Verified, USDA Certified Organic, and doubles as a good dietary fiber source with only 3.5 grams of fat per serving.
The whole grain wheat used in production is sourced from sustainable family farms in northern Michigan.
This bulk package contains six boxes of 7 oz. Organic Original Flavor Crackers.
---
Index Table: Top-Rated Organic Crackers
---
---