Some of the links in this post are affiliate links. This means if you click on the link and purchase the item, I will receive an affiliate commission at no extra cost to you. All opinions remain my own.
Filled with various fiber, minerals, and protein, Taro Roots are among the most nutrient-rich veggies one can have. And from these roots originates a super-delicious Organic Taro Powder.
Taro root powder mix is ideal for making your favorite sweet and creamy taro bubble tea, smoothies, and other drinks. The flavor of the taro root is unique and comes from a starchy root similar to the potato. That's why we handpicked the best organic taro powders below so that you can pick the perfect one for yourself.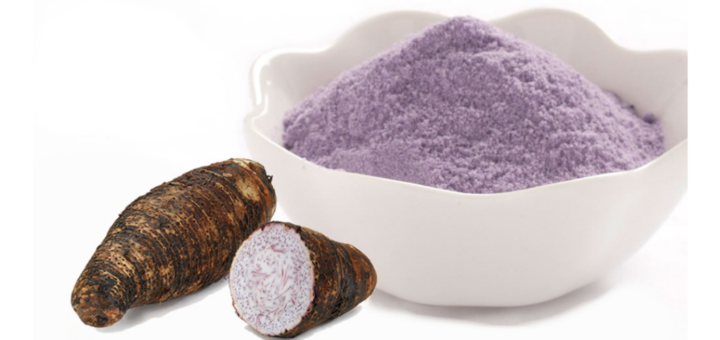 ---
Benefits of Organic Taro Powder
Organic taro powder is a highly underrated mix consisting of many hidden health benefits. And below, we have explained all of these benefits:

Natural Flavour – taro powder has a very natural flavor and essence, thanks to its pure ingredients. The taste of this powder also lasts for much longer than normal taro powders,
Strong Essence – Taro powders are known for their deep and soothing essence. You can specifically use this to amplify the taste of any smoothies, shake, tea, or coffee.
Rich in Fibre – Taro roots are an excellent source of fibre and other essential nutrients. Subsequently, all of this fiber content is borrowed down with taro powder.
Good for your Gut – Thanks to all that fiber, taro powder can work wonders for your gut. It also helps in fighting any digestion issues and balances your sugar levels.
---
Buying Considerations for Organic Taro Powder
Before selecting the perfect organic taro powder for yourself, you need to consider various factors to check if the mix is authentic or not. To illustrate, we have mentioned all the necessary checkpoints before buying a taro powder:

Purple Color – Every organic taro powder should have a plush-purple color, which depicts its authenticity and the quality of materials.
Consistency – The the consistency of taro powder should be well-balanced. Most taro powders are used in shakes and tea, so they cannot be too thick or light.
Fragrence – Organic Taro Powders should smell exactly like farm picked taro roots. However, some manufacturers add different fragrances to make their products more pleasing.
Dye Effect – Taro powders are a well known dyeing-agent. So you have to check if your taro powder leaves behind a deep purple patch.
---
Uses of Organic Taro Powder
Below, we have mentioned some of the various uses of organic taro powder

Taro Tea – Taro tea is a well-know beverage in the south-Asia. It has a sweet and sour taste pattern, which is very pleasing.
Smoothies – Taro powder smoothies are sweet-tasting milkshakes popular in the vegan culture.
Coffee – If you are a coffee enthusiast, you have to try taro and organic beet powder. It blends without leaving any clumps behind your coffee.
Taro Milk Tea – Taro Milk tea is slightly different from your usual tea. It consists of a heavy amount of milk with taro powder, which is delicious.
---
Reviews: Best Organic Taro Powder
So, based on our research, We have compiled a list of the best Organic Taro Powder you can buy.
Just a quick word, we collect a very small amount of profit through every purchase made through the links mentioned below, without any additional charges on you. That said, let's start with our list.

---
1
This mix is made from fine taro root powder and offers an authentic flavor tour.
It is additionally flavored so that you can enjoy its rich essence with every sip of your tea.
This taro powder is specifically made for tea, but it can also make smoothies and shakes.
It comes in a 1kg pack, ample enough for more than 200 hundred servings.
The quality of taro root powder is top-notch, as you can feel the natural soft texture.
| Rating Category | Weight % | Score |
| --- | --- | --- |
| Support Immunity | 40% | 100 |
| Dietary Fiber | 30% | 100 |
| Improve Digestion | 20% | 90 |
| Blended Crème | 10% | 95 |
| Total Score | 100% | 97.5 |
---
2
Angel Speciality Store® Blended Creme

Taro Blend Powder
This taro powder has blended creme, which gives you a very creamy taro smoothie and shakes.
It comes in a massive 3lbs package that can easily last for a long period.
You can use this organic taro powder to make many different taro drinks.
Thanks to the natural ingredients, it has a completely authentic and organic taste.
You can store this taro powder at either a refrigerated or normal temperature.
| Rating Category | Weight % | Score |
| --- | --- | --- |
| Support Immunity | 40% | 100 |
| Dietary Fiber | 30% | 95 |
| Improve Digestion | 20% | 90 |
| Blended Crème | 10% | 95 |
| Total Score | 100% | 96 |
---
3
Dragonfly® Cream Frappe

Taro Mix
This taro mix has a relatively sweet and creamy flavor, which is unique.
It has added natural flavors that enhance its smell and taste.
This taro mix is super easy to make; add water of your choice and enjoy your favorite taro frappe.
It is available in multiple flavors to choose the perfect one for yourself.
The packaging is completely synthetic, and it will keep the taro powder preserved.
| Rating Category | Weight % | Score |
| --- | --- | --- |
| Support Immunity | 40% | 100 |
| Dietary Fiber | 30% | 95 |
| Improve Digestion | 20% | 90 |
| Blended Crème | 10% | 90 |
| Total Score | 100% | 95.5 |
---
4
Flafar® Bubble

Instant Organic Taro Mix
This taro mix has a very fresh essence with completely natural ingredients.
You can use it to make various shakes and coffees with this.
The total time it takes to form up the creme is comparatively less.
It has a rose-like essence, which also resembles the taste of your smoothies.
The silicone packaging is well-built, and it can hold the taro powder for days without getting spoiled.
---
5
Buddha Bubbles Boba® Organic

Buble Taro Powder
This powder is made from organic taro extracts and has a fresh and farm-like fragrance.
You can mix this powder in anything due to its light thickness.
It comes in a zip-lock packet, which allows you to store and carry it pretty much anywhere.
This taro root powder is specialized for smoothies and shakes.
It has a completely authentic and organic taste, thanks to the natural ingredients.
---
6
LattePowder® Natural Purple

Organic Taro Powder
This taro powder comes in organic natural purple color, and it can be used as a food dye as well.
You can use it in ice cream, frozen yogurt, smoothies, and bubble taro tea.
It is made from organic purple taro powder, extracted directly from taro roots.
Due to its natural consistency, you just need a small quantity of this taro powder comparatively.
Take advantage of this beautiful natural purple food dye and make your kitchen more colorful.
---
7
Bossen Store® Grade A

Taro Powder
This is a pack of Grade A Taro Powder formulated by Bossen Store.
It is a Taiwanese-style taro milk tea drink powder mix and is great for Bubble Tea, Smoothies, and Slush.
The taro powder is a 3-in-1 formula and acts as non-dairy creamer, a flavor powder, and sugar.
It is Gluten-free, Lactose-free, and Vegetarian.
---
8
BOBA2U® Instant

Taro Powder
This is a pack of Instant Taro Powder, created by BOBA2U.
The powder pack contains a Non-dairy creamer, Glucose, Taro powder, and Taro flavor.
It is easy to use and can be served as a cold or hot drink.
To make a half cup, use 4tbsp of powder and serve with ice.
---
9
TEA ZONE Store® Premium

Taro Powder
This is a pack of Premium Taro Powder made by TEA ZONE Store.
It is a powder mix designed for making smoothies, teas, flavored milk, and other blended drinks.
It comes in a pack of 2.2 lbs and is easy to use.
---
10
Pure Bulk Organics® Premium

Organic Taro Powder
This is a pack of Premium Organic Tao Powder made by Pure Bulk Organics.
It is a pure and 100% Organic powder made from Taro Roots.
It is free of any added sugar or creamer.
The Taro powder is rich in fiber, Potassium, Magnesium, and Vitamin C and E.
---
Index Table: Top-Rated Organic Taro Powder
---
---