Give your flock the best organic chicken feed and ensure that they remain healthy and lay even more nutritious eggs. The best part about organic feed is that it does not have any toxic ingredients. It has a lot of health benefits and long-term advantages to the land and environment.
So if you are planning to buy organic feed for your chickens, below is a list of the best organic chicken feed and its details to make your task easy.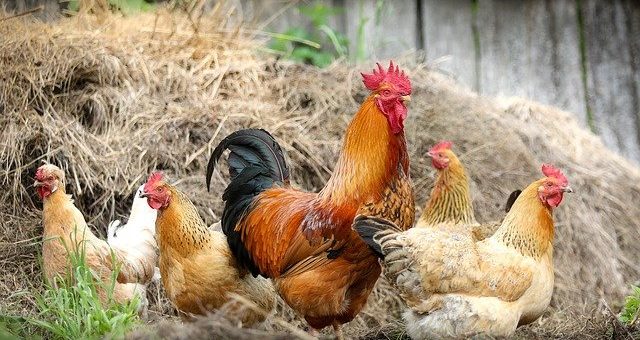 ---
Ingredients of Best Chicken Organic Feed
Let's find out what constitutes an organic best chicken feed. Below are the ingredients of it.
Whole Wheat – Whole wheat is an important ingredient of organic chicken feed because it is packed with nutrients with protein, fiber, and antioxidants that make a perfect meal for chickens.
Corn – Corn is a carbohydrate and is an excellent source of energy. It is essential for the chickens to keep themselves warm during winters.
Flax seeds – Flax seeds have essential omega-3 fatty acid that makes the chicken healthy and helps the hens to deliver eggs with more protein. It is a great organic diet ingredient.
Sunflower Seeds – For a delicious and healthy treat for your chickens, sunflower seeds are important. They contain important amino acids and Vitamin E.
---
Benefits of Organic Chicken Feed
Organic chicken feed has a lot of benefits. Read below to find them out.

USDA Approved – Since these organic chicken feeds are USDA approved, that makes it 100% GMO-free. Therefore, you can rest assured that you will be feeding the best product to your animals.
Nutritious – These feeds are highly nutritious and contain all essential vitamins and proteins. Moreover, they contain carbohydrates that are present in the form of corn and sunflower oil. They also have flax seeds and alfalfa.
Organic Eggs – If you feed organic food to the hens, they will lay organic eggs. The eggs will contain calcium and will be nutritious.
No Toxic Substances – The organic chicken feed does not contain any toxic substances like pesticides and fertilizers. Hence, it is a healthy diet for the chickens and the hens who are about to lay eggs.
---
Buying Considerations of Best Organic Chicken Feed
While buying the best organic chicken feed, keep the points mentioned below in your mind to make a perfect choice.

Soy-free – Soy is a Genetically Modified substance, so it is not a component of organic feed. Therefore, buy a product that does not contain soy.
Easy Storage – Buy the pack that you can store easily and the one that can last longer. Aside from organic feed, organic nori sheets can last for months without getting contaminated.
Oyster Strong – If the feed has a strong oyster system, it will be beneficial for the laying hens. It will help in the egg formation process, and the hen will deliver delicious and organic eggs.
Protein – A good organic feed contains at least 16% protein. The chickens need to consume protein so that they can get healthier.
---
Reviews: Best Organic Chicken Feed
Below are some of the top-rated and the most in-demand organic chicken feed for your flock. Therefore, choose the best for your animals and keep them healthy. Besides, we would also like to inform you that with every purchase you make through the links on this page, we may earn some commission, but you will not be charged extra.
---
1
This pack of organic chicken feed containing dried mealworm is perfect for all types of birds and chickens.
Once you start feeding it to your pets, it becomes their favorite. Moreover, it has a high amount of protein and is perfect for their diet.
The feed is easy to use and store. There is no need to keep it in a refrigerator.
These mealworms are packed in a stand-up, resealable bag that has a long shelf life.
It is veterinary certified to rest assured about the highest quality and safety standards of the feed.
A single pack of this feed weighs 4.5 pounds.
---
2
Mile Four® Layer

Healthy Organic Chicken Feed
This feed from Mile Four is an organic feed for chickens and also for ducks.
The quality food ensures that the hens will receive the healthiest feed to promote egg production.
It is free from genetically modified organisms as it is soy-free and corn-free
There is no pellet, crumble, or mash in the feed as it is made by using natural whole grains.
This can be given to all breeds of hen/chicken, and even if you have a mixed flock that contains ducks and other birds, this is perfect for you.
The feed comes in a 19 Pounds bag and is formulated to stay fresh for longer durations.
---
3
Scratch & Peck® Protein

Corn Organic Chicken Feed
This one is a USDA certified organic feed. Therefore, you do not have to worry about the quality and nutrition content of the feed.
Moreover, it is free of genetically engineered crops like soy.
Through this feed, the flock will be able to get the desired amount of carbohydrates as well.
It contains organic corn as carbohydrates to help them keep the energy during colder months.
This feed is perfect for the process of fermenting as it is made of whole grains, which retain nutrition for better absorption.
---
4
Joenks Farm® Certified

Natural Organic Chicken Feed
This organic chicken feed consists of 16% protein layer that has cracked and ground whole grains.
It is a perfect feed for hens that are ten weeks from laying.
The nutritious ingredients of this feed include Canola & Sunflower seed, Alfalfa, Field Peas, and Flax Seeds.
There is no amount of genetically modified organisms (GMOs), and the product is sustainably sourced.
The pack weighs 10 Pounds, and the ingredients are 100% USDA certified.
---
5
Purina® Crumbles

Nutritional Organic Chicken Feed
This organic layer crumbles feed is from Purina and is available in a pack weighing 35 Pounds.
The product does not contain any pesticides, fertilizers, and genetically modified organisms (GMOs).
It is USDA certified, so you can trust the high-quality of the feed.
Moreover, it has a strong oyster system that helps to form calcium during the egg formation process.
Besides, it consists of all essential nutrients like amino acids, vitamins.
It will also help in keeping the flock's immune system strong.
---
6
Manna Pro® High Protein

Best Organic Chicken Feed
This highly nutritious organic feed for chickens is USDA approved.
It is available in an easy to feed pellet form that helps the waste to discharge.
This feed is perfect and high in demand for laying hens. Furthermore, it is suitable for chickens and ducks of all breeds.
There are no added artificial colors or flavors. Therefore it is 100% organic.
Also, it helps the flock to produce delicious and organic eggs.
---
7
Homestead Harvest® Whole Grain

Chicken Feed Layer Blend
This is a pack of Whole Grain Chicken Feed Layer blend, packaged by Homestead Harvest.
It is proudly made at Ernst Grain & Livestock, which is a 7th generation family farm.
The feed is made with a wholesome blend of Non-GMO grains and does not contain any by-products.
It is a complete ration fortified with minerals, vitamins, probiotics, kelp, Omega 3's, and other natural supplements.
---
8
New Country Organics® Layer

Organic Chicken Feed
This is a pack of Layer Organic Chicken Feed, made by New Country Organics.
It is a super-premium complete feed for laying hens and features 17% guaranteed protein.
The feed is low-starch to keep the birds cooler in hot climates.
It is designed to support eggshell strength and digestive health.
---
9
Hen Up® Organic

Layer Pellet Chicken Food
This is a pack of Organic Layer Pellet Chicken Food, formulated by Hen Up.
It is Certified USDA Organic and Non-GMO, as well as free of any pesticides and fertilizers.
The feed is made with ancient grains and superfoods, including Cranberries, wild Blueberries, Oats, Barley, and Wheat.
It is designed to contain the recommended amount of protein and calcium to keep the hens healthy and lay eggs with strong shells.
---
10
Modesto Milling® Organic

Layer Crumbles Feed
This is a pack of Organic Layer Crumbles Feed designed by Modesto Milling.
It is designed to be a complete feed for laying chicken and can be started when hens begin to lay eggs at 17 to 20 weeks of age.
The feed is made for Corn, and Soy-free fed flocks.
It gives off a great aroma to keep the appetite of the hens strong.
---
Index Table: Top-Rated Organic Chicken Feed
---
---