Organic sweeteners have bought a great change in the way we consume sugar. The best organic Erythritol has become easier than ever before to stay healthy without compromising the taste. In simple terms, Erythritol is a substance that has all the positive qualities of sugar without any negatives.
So this article is dedicated to some of the best organic erythritol products available. Also, we will share some of the significant benefits of using it.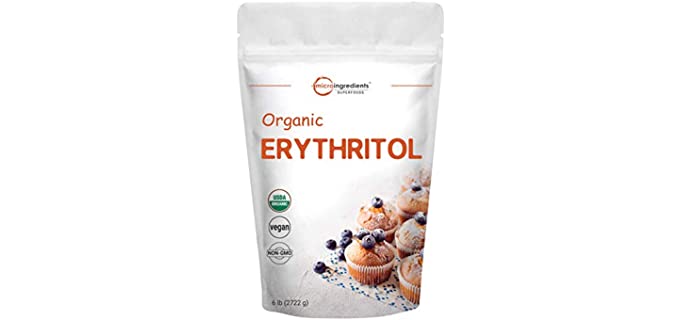 ---
Why You Need Organic Erythritol
There are plenty of good reasons for you to use Erythritol instead of regular sugar. Let us explore some of them.

Low-Calorie Count – Erythritol has a very low-calorie count, making it one of the favorite alternatives for sugar. Erythritol has around 0.24 calories per gram than that 2.4 calories per gram in sugar.
No Digestible Discomforts – Unlike other alcoholic sugars, Erythritol ensures no digestible discomforts as only 10% of the consumed Erythritol reaches your colon and 90% gets absorbed in the bloodstream.
Less Carb Intake – Erythritol is a sugar alcohol and is a carbohydrate. However, due to a lack of enzymes that can break it down, it results in no net carbs in Erythritol.
Enhanced Taste – One of the biggest reasons for its popularity and demand is because most people find its taste indistinguishable from sugar.
---
Benefits of Using Organic Erythritol
The following are the benefits of consuming organic Erythritol.

Maintains Blood Sugar – The biggest benefit of consuming Erythritol is that it does not affect insulin or blood sugar levels. So one can enjoy the better taste and also maintain their sugar levels.
Keeps Cavities Away – Erythritol is non-cariogenic and cannot be metabolized from the bacteria in the mouth. So there is no risk of having cavities.
No Gastrointestinal Distress – As only a small percentage of the Erythritol reaches your colon. Therefore it is highly unlikely to cause gastrointestinal effects.
Reliable Antioxidant – Apart from erythritol, we also have this organic apple cider vinegar which proven antioxidant. It helps in eliminating free radicals that may cause cellular damage.
---
Buying Considerations for Organic Erythritol
Before selecting and purchasing Erythritol for yourself, go through the given pointers to make the right choice for yourself.

FDA Approval – In the US region, FDA does not approve whole-leaf Erythritol. So you might want to pick Erythritol that is not created from whole leaf stevia.
Synthetic or Organic – Erythritol can also be made from a chemical fermentation process that is not as effective as organic Erythritol. So make sure to check the description before buying.
Authentic Brands – You should only buy Erythritol made by authentic brands. Several other local brands produce them with nonreliable methods. So it is best to buy Erythritol developed by genuine brands. Some of the best brands are Micro Ingredients, Pyure Store, Naturevibe Botanicals, etc.
Price Range – The Erythritol price may vary according to the brands, and they are built. Organic Erythritol is comparatively more expensive than synthetic Erythritol.
---
Reviews: Best Organic Erythritol
Below given is the list of natural organic Erythritol available in the market. Also, we like to inform you that we might get some share of the sale amount for every sale made through the given links.
---
1
This Pyure made organic erythritol is sugar-free and contains zero net carbs.
The Erythritol has excellent mixing and dissolving ability.
Taste sugar's sweetness up to 70% with this high-quality organic Erythritol.
It is a non-nutritive sugar alcohol and has rapid digestive properties.
It is made from the extracts of pears, grapes, and mushrooms.
---
2
NOW Foods® Low-Calorie

Best Organic Erythritol
Make your food delicious and sweet with this organic erythritol made from natural substances.
It is a non-GMO product and doesn't let your teeth decay.
It is entirely vegan and is made without gluten.
This organic Erythritol consists of 70% sweetness of sugar.
It is certified by the USDA Certified and ensures no harmful effects to the body.
---
3
So Nourished® Vegan

Natural Erythritol
Improve the taste of your food items without consuming extra calories with this natural erythritol.
It has a wonderful taste and is exceptionally healthier than sugar.
It is ideal for people having diabetes and requires low sugar levels.
The Erythritol has zero net carbs and is 100% vegan.
It is gluten-free and tested NON-GMO and tooth-friendly.
---
4
Naturevibe Botanicals® Non-GMO

Best Organic Erythritol
Bring back the lost taste of sweetness in your life with this extremely efficient organic erythritol.
It can be used as a sweetener for candies and other bakery products.
This Erythritol is excellent in maintaining blood sugar levels.
It is made by combining and fermenting some specific natural sugars from fruits and vegetables.
It is entirely gluten-free and is suitable for digestion.
---
5
Micro Ingredients® Gluten Free

Organic Erythritol
This Micro ingredient made organic erythritol is one of the best products of its range.
It is entirely vegan and contains no added preservatives, flavors, and artificial colors.
The Erythritol is ideal for mixing in shakes and smoothies.
The taste of this Erythritol is indistinguishable from the sugar.
The erythritol powder is digestible and has no harmful effects.
---
6
Whole Earth Sweetener Co.® Sweet

Natural Erythritol
Say goodbye to calories and still taste sweetness in your coffee with this naturally made erythritol.
It is Non-GMO verified and is free from all kinds of additives and preservatives.
This small granular Erythritol is ideal for people having diabetes.
It comes in a 4-pound resealable pouch that is easy to open and close back.
Every serving of this Erythritol has zero grams of sugar and no calories.
---
7
Xlear® Erythrolite

Organic Erythritol Sweetener
This Erythritol sweetener that is 100% natural.
It does not contain any chemicals, fillers, or additives and is also Non-GMO and Gluten friendly.
Erythrocyte is a sugar substitute with a very low glycemic index, which makes it great for diabetics and helps you maintain your desired blood sugar levels.
It is about 70% as sweet as sugar and is great for baking and cooking, and dissolves just as quickly as sugar.
KETO & PALEO FRIENDLY. Granulated Erythritol is a zero-carb and zero-calorie sweetener and is Keto and Paleo-friendly.
---
8
Anthony's® Natural

Erythritol Granules
This is a premium-grade Natural Erythritol Sweetener.
The granulated Erythritol is 70% as sweet as table sugar but with virtually zero calories.
It dissolves like regular sugar and is great in cooking and baking.
This product has a low Glycemic impact, is low carb, and Keto-friendly.
It is batch tested and verified gluten-free, Sulphur Dioxide Free, Non-GMO, and Vegan.
---
9
Xyloburst® Focus Nutrition

Natural Erythritol Sweetener
This is a natural Erythritol sweetener that tastes and bakes just like sugar.
It works as a perfect sugar substitute and can be used in anything.
It is Keto friendly since it is low carb.
This product is Vegan, Gluten-Free, and Non-GMO.
---
10
Halefresh® Granulated

Natural Erythritol Sweetener
This zero-calorie Erythritol sweetener tastes and bakes just like regular sugar and is a perfect substitute.
HaleFresh's pure Erythritol has a very high digestive tolerance compared to other artificial polyol sweeteners and is, therefore, perfect for Keto diets.
HaleFresh Erythritol does not raise blood glucose or insulin levels and is ideal for people struggling with diabetes.
This Erythritol Sweetener is Non-GMO, verified Gluten-free, and Kosher certified.
---
Index Table: Organic Natural Erythritol
---
---