Whether you are searching for the best possible apple cider vinegar or wondering what the health hype over it is about, you came to the right place!
Below we have outlined in brief how vinegar is made, what 'Mother of Vinegar' is, and why organic apple cider vinegar is healthy for you.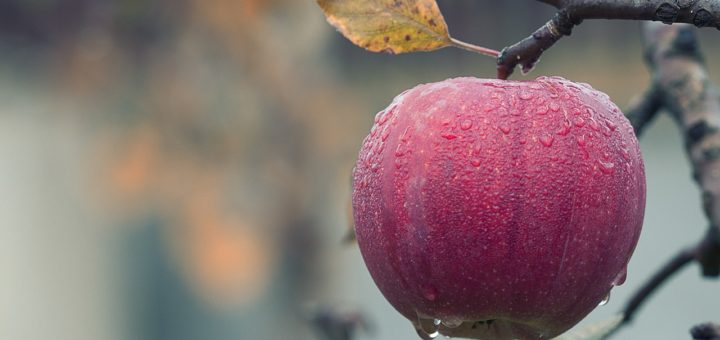 ---
How is Organic Apple Cider Vinegar Made?
This is a concise explanation of how apple cider vinegar is made step-by-step.
Harvest – The first step in making organic apple cider vinegar is harvesting the best organic apples. These apples have not been genetically modified or sprayed with harmful chemicals.
Crushing & Juicing – The second step is to crush the apples and extract as much apple juice from them as possible. In large scale, non-organic operations, this is done in colossal aluminum vats, which is not the healthiest choice. In small-scale organic farming operations, smaller equipment is used, and more care is given to any form of contamination via chemicals or metals along the way.
Alcoholic Fermentation – Once the apple juice has been collected, yeast and other similar bacteria are used to take the sugars and transform them into alcohol. This turns the apple juice into cider or apple must. Organic fermentation techniques often use natural yeasts and bacteria that are naturally found to decompose apples instead of those that are commercially available and often extracted from beer making.
Acetobacter Fermentation – Once the apple cider has been created, there is a second fermentation process to turn alcohol to vinegar. Another name for vinegar is acetic acid, which is what gives vinegar its sour taste. Acetobacter is bacteria that turn alcohol into acetic acid, thus forming the finished product.
---
What is 'Mother of Vinegar'?
When looking for the best organic apple cider vinegar, many health vendors will claim that their vinegar possesses "the mother."
The mother of vinegar refers to the original culture of bacteria used to transform cider or wine into vinegar.
The cloudy or murky color of organic apple cider vinegar that has been unfiltered and unpasteurized occurs due to the mother of vinegar bacteria present.
The mother of vinegar is not a bad thing and, in fact, contains all the health benefits everyone is seeking culinary apple cider vinegar.
Ordinary vinegar that has been filtered and non-organic will not have any traces of the mother and will not contain nearly as many health benefits.
Often vinegar that does not have the mother present in the final product has been heated up, which destroys all of the nutrients. This type of vinegar is better used in cleaning, but organic unfiltered apple cider vinegar with the mother is the best for health purposes.
---
5 Reasons Organic Apple Cider Vinegar Should Be In Your Diet
Here are five excellent reasons why one should include organic unfiltered apple cider vinegar in their diet.
Healthy Diet – The best quality vinegar contains a decent amount of amino acids, which are proteins that form the building blocks for many of the nutrients your diet needs to sustain itself. In addition to your diet, consider organic tapioca products which high in calcium and iron.
Antioxidants – Unfiltered organic vinegar was also shown to contain chlorogenic acid, a powerful antioxidant that protects the heart, lowers LDL cholesterol, and reduces the risk of heart disease. This suggests that vinegar can be used to lose weight and LDL cholesterol is the 'bad cholesterol' that can lead to weight gain in high amounts.
Naturally Antimicrobial – Vinegar has been used for thousands of years as a preservative and disinfectant for its antimicrobial properties. Organic apple cider vinegar that hasn't been heated or filtered can help destroy pathogens in the body, too, without unsettling gut bacteria (unless consumed in very high quantities!)
Lowers Blood Sugar Levels – The best organic vinegar varieties have been scientifically shown to reduce blood sugar levels, improve insulin sensitivity, and reduce insulin response. This is an essential organic dietary inclusion for those who have diabetes or who are pre-diabetic.
Satiety & Weight Loss – Vinegar increases the feeling of being full and can reduce the calories one consumes in a meal in this regard. It was also shown to promote belly flatness and reduce bloating over time.
---
Reviews: Best Organic Apple Cider Vinegar
Below is a top selection of the best organic apple cider vinegar, all of which are just waiting to be added to your salad dressings, vegetables, stews, or stir-fries!
---
1
Bragg's organic apple cider vinegar is of a superior standard and quality, rich in antioxidants, enzymes, and potassium for a healthy immune system.
Unpasteurized, unfiltered, and raw, this vinegar contains the mother's essence and has all its nutrients still intact.
A rich potassium content helps to alleviate muscle cramping or pains after intensive exercise or nutritional deficiency.
It can be used in cooking or watered down as a fantastic natural skin toner and acne solution.
Packaged in glass for optimal health and free from BPA or plastic compounds.
Aged in wood for supreme results!
---
2
Dynamic Health® 100% Pure Apple Cider Vinegar

Natural Mother Organic Apple Cider Vinegar
This organic apple cider vinegar will provide an ideal addition to any healthy kitchen, able to improve the immune function of the whole family.
Apple cider vinegar can aid metabolism and improve insulin sensitivity, being ideal for those who are prone to diabetes.
Improve digestion and reduce heartburn or cardiac problems by ingesting a tablespoon of organic vinegar per day.
This vinegar has been made from USDA certified organic apples and has also been USDA certified organic as a whole.
Packaged in glass, unheated and unfiltered for maximum nutritional content and value!
---
3
Mother Nature's Essentials® Apple Cider Vinegar

100% Organic Unfiltered Apple Cider Vinegar
This apple cider vinegar is both non-GMO and 100% organic at every step of the process, giving you vinegar of the highest quality.
All apple scraps or concentrates are avoided in the cider-making process, and only the best apple pulp was used to produce this product.
It is contained inside an amber glass bottle for the best protection against the denaturing of nutrients or contamination.
This organic vinegar contains more of the mother strain bacteria than any other of its kind and has more nutritional value.
Add when sealing meat or over your salad dressing for impressive and delicious results!
---
4
Kevala® Organic Apple Cider Vinegar

Large Raw Organic Apple Cider Vinegar
This apple cider vinegar comes in a very large size and is great for restaurants, bistros and large families who need it to last!
Made using 100% organic and GMO-free apples and USDA certified as organic for trusted nutritional content.
This organic cider vinegar has not been heated or filtered, leaving as much Mother of Vinegar in it as possible.
Packaged in a container that is BPA free and that has remained unheated.
This is a USA product, made with apples farmed on US soil and fermented on US grounds.
---
5
White House® Raw Apple Cider Vinegar

Organic Apple Cider Vinegar with Mother
This apple cider vinegar is made using the mother cultivar and has been unfiltered to make for the best quality.
Slightly diluted, this vinegar is ideal for use as a health supplement to add to your favorite drink or salads daily.
Perfect for those who want to incorporate vinegar into their diet while still wanting to keep tabs on their acidity levels.
It contains no genetically modified apples or organisms and is 100% USDA certified organic.
This vinegar has been packaged in glass and is free from BPA or plastic.
---
6
Fairchild's® Unfiltered

Organic Apple Cider Vinegar
This is USDA Certified Organic, Vegan, non-GMO, and Gluten-free.
It is raw and unfiltered, unheated, unpasteurized, and contains the Mother of Vinegar.
This apple cider vinegar comes undiluted, therefore providing 25% more pure ACV per bottle.
It is made in the US with 100% Certified Organic apples sourced from the Northwest.
It does not contain any concentrates, peels, or cores.
---
7
Lucy's® Raw

Apple Cider Vinegar
Lucy's Organic Apple Cider Vinegar is USDA Organic certified, Non-GMO Project Verified, Certified Organic by Organic Certifiers, and is of premium quality.
This batch includes the "mother of Vinegar" and comes raw, unfiltered, unpasteurized, and free of any preservatives.
It is made with Organically grown apples for perfect golden color and a rich, thick taste.
This Lucy's Apple Cider Vinegar is made from organic apples grown in Washington State.
---
8
DietWorks® Tonic

Organic Apple Cider Vinegar
This is a USDA Certified Organic Apple Cider Vinegar.
It is flavored with Garcinia, Matcha, and Kombucha for a unique flavor and odor profile.
This ACV helps cleanse and detoxify the body naturally, supports healthy weight loss, and promotes digestive health.
This raw and unfiltered Apple Cider Vinegar comes with active Mother of Vinegar and helps to balance fluids naturally.
---
9
Country Farms® Detoxifying

Organic Apple Cider Vinegar
It contains high levels of antioxidants.
This Apple Cider Vinegar is also rich in numerous proteins, enzymes as well as friendly bacteria.
It also contains ginger, Cayenne, and Maple for added health benefits and a unique flavor.
It works to detoxify and cleanse the body naturally.
---
10
Mother Earth Vinegar® Fermented

Organic Apple Cider Vinegar
This is a Kosher certified, Non-GMO Project Verified, unpasteurized, unfiltered, raw, preservative-free, and naturally gluten-free Apple Cider Vinegar.
This is a fermented premium blend of pressed, organic apples.
It is made with pure "Mother" that is rich in beneficial microorganisms and probiotics.
In a 100 yr old process, this ACV is aged for three months in redwood barrels, allowing sufficient time for the vinegar to mature and develop complex flavors.
This is a traditionally crafted ACV that is processed to 5% acidity.
---
Index Table: Top Organic Apple Cider Vinegar
---
---