Gummy bears are a popular treat for children and adults alike, but did you know that there is such a thing as organic gummy bears? This post will explore the health benefits of going organic with your gummies. Also, there's good news for you vegan friends: we found Organic Gummy Bears that don't use any animal products at all.
With some additional information on these organic gummy bear brands, we have also listed down some of the best organic gummy bears available on Amazon.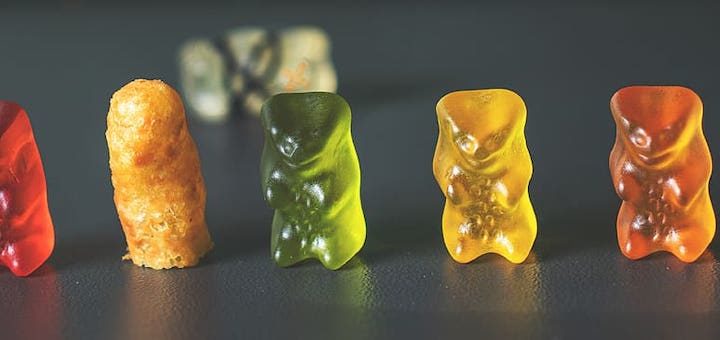 ---
Organic Gummy Bear Nutrition Facts
Most organic gummy bear brands have rather similar nutritional values. Therefore, here is a general summary of the nutrients present in gummy bears. The serving size of about sixteen gummies will contain 130 calories (approximately). Other nutrition facts include:

Fat – 0gms (0% per serving)
Sodium – 0mgs (0% per serving)
Carbohydrates (total) – 31gms (10% per serving)
Sugars – 19gms
Protein – 1gm
Moreover, make your food delicious and sweet with this organic erythritol made from natural substances. It is a non-GMO product and doesn't let your teeth decay.
---
What are organic gummy bears made of?
Similar to the nutritional values, the ingredients of most organic gummy bears are pretty much the same as well. So, the main ingredients for the organic gummies are:

Organic Tapioca Syrup, Organic Cane Sugar, Gelatin, Organic Lemon Juice Concentrate, Organic Tapioca Starch, Organic Potato Starch, Agar, Colors (Black Carrot Juice, Blackcurrant Juice, Turmeric, Carrot Juice, Purple Sweet Potato Juice, Cherry Juice, Radish Juice), Citric Acid, Organic Sunflower Oil, Natural Flavors, Organic Carnauba Wax.
---
Do Black Forest gummy have pork?
The Black Forest uses pork gelatin to be more precise. Gelatin is a translucent, flavorless, colorless food ingredient that is commonly obtained from collagen taken from an animal's various body parts. However, gelatin is sold in grocery stores in a powdered form, or it is formed into brittle sheets. When soaked in water for some time, it turns into a gummy consistency. Moreover, gelatin is often used in desserts like jelly, marshmallows, ice cream, and even yogurts.
---
Reviews: Best Organic Gummy Bears
We have compiled a list of the best organic gummy bears just for you, but before you proceed we would also like to inform you that this page has affiliate links.
---
1
Project 7's gummy bears are a guilt-free treat, as the whole bag of gummies only contains 3 grams of sugar.
These bears are a relatively healthy snack, as they only contain 6 grams worth of carbs per bag.
In addition, these gummies are an excellent option for high fiber treats for people on food-conscious diets.
With a plant-based recipe, these organic gummy bears are vegan and come in six delicious flavors.
---
2
Wholesome Sweeteners® Gluten-Free

Organic Cinnamon Gummies
These bears come in a delicious cinnamon flavor and have no added artificial flavors, no high fructose corn syrup, or artificial colors.
In addition, the ingredients used to make these gummies are all organic and certified gluten-free.
Also, Wholesome Sweeteners are proud of their 100% kosher and vegan-friendly gummy bears.
These sweet and spicy gummies are available in a 6-ounce packing.
---
3
YumEarth® Assorted

Fruit Flavored Gummies
The US-made gummy bears are as naturally flavored as they come with flavors such as pomegranate pucker, mango tango, perfectly peach, and strawberry smash.
And you can be sure that they do not contain any nuts whatsoever as they are made on a peanut-free site.
Also, the bears contain no soy, no egg, no dairy, and no high fructose corn syrup, so you don't have to worry about any of those allergies.
These yummy bears are packed using 100% wind-generated electrical energy.
---
4
Surf Sweets® Vegan

Organic Fruity Bears
These tasty organic gummy bears give you a fresh fruity flavor, and just a tad bit of sugar sprinkled.
And the color of the bears comes from organic plants and vegetables, while the flavor comes from fruit essences.
Every bag of these delicious bears contains orange, grape, cherry, lemon, grapefruit, and strawberry.
Moreover, whenever you're buying Surfs sweets, you're helping support the Rozalia Project that cleans and protects the ocean.
Moreover,
---
5
Black Forest® Assorted

Gluten-Free Gummy Bears
These organic gummy bears are some of the juiciest gummy bears you'll ever eat and are made with real fruit juice.
The bears are made with ingredients such as organic lemon juice concentrate, carrot juice, and organic cane sugar for color.
Everything from flavoring to coloring is USDA certified, and they are also gluten-free.
---
6
CandyPeople® Malibu

VEGOBEARS Gummy Bears
The Vegobears are vegan and organic gummy bears making them a healthy choice while also being fun to eat.
These bears have a foamy texture, and they come in cherry and raspberry flavors.
And they are chewy, so they don't just disappear in your mouth almost as soon as you put them in your mouth.
While also being made naturally with no artificial additives and sourcing the critical ingredients from organic farms.
---
Index Table: Top-Rated Organic Gummy Bears
---
---