Some of the links in this post are affiliate links. This means if you click on the link and purchase the item, I will receive an affiliate commission at no extra cost to you. All opinions remain my own.
Conventional Ketchup is mostly made from artificial ingredients and chemicals, which might be harmful to your health. And if you're on a diet, then regular Ketchup might not be the best option for you.
On the other hand, the best organic Ketchup contains higher amounts of antioxidants and natural compounds that are incredibly beneficial for health and also help you if you are on a diet and trying to lose weight.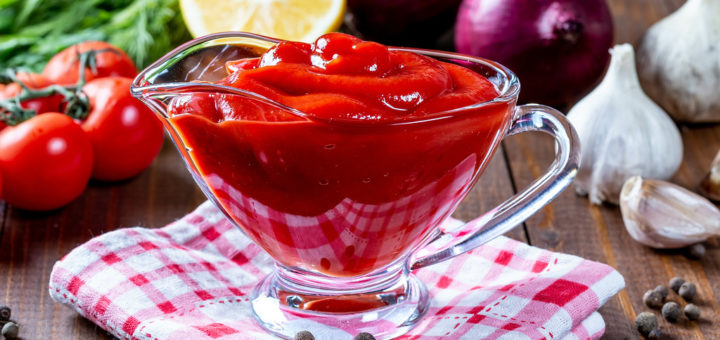 ---
Why Switch from Inorganic to Organic Ketchup?
Pesticides – Tomatoes are applied with more than usual chemical spray during production due to their thick skin, so to prevent intake of excessive amounts of pesticides, buy organic.
Antioxidants – Tomato plants that are not fed nitrogenous fertilizers tend to develop increased levels of antioxidants on their own, so it's a win-win situation for you; no pesticides yet equal or, in fact, more beneficial compared to inorganic tomatoes.
Toxicants – Since Ketchup is made from loads of tomatoes to boil it down to the consistency of the texture of a sauce, the product's key ingredient thus has to be organic for it to be suitable for consumption. Otherwise, you're eating a large number of toxins.
Also, check out some of the best organic pasta that is also free from the above-listed harmful ingredients.
---
Health Benefits of Organic Ketchup
Ketchup made from organic tomatoes has innumerable advantages for your health, some of which we have listed down for you below.

Prevention of Cancer – Organic tomatoes have been proven to contain antioxidants that work well to prevent developing cancer. One of them is lycopene, which reduces the risk of most forms of cancer in your body. Given the limited cures for cancer, this a huge plus. Lycopene also boosts male fertility.
Cholesterol Levels – Organic tomatoes keep your cholesterol levels in check by cutting back on low-density lipoprotein, informally known as bad cholesterol. This is backed by a study where people who consumed organic Ketchup in their meals saw a significant decrease in their cholesterol levels.
Good Vision – This is more of a spillover benefit of organic tomatoes, among many other major health benefits it brings.
---
Ingredients to Avoid in your Ketchup:
Poor Quality Salts – Ketchup-making companies are infamous for using the cheapest salt available in the production market. This can potentially lead to high blood pressure and can cause other imbalances in your body.
Natural Flavors – These companies claim they use 'natural' flavoring in their products, which are not so natural in reality. These flavors are often left out in the ingredient list at the back of the bottle, so make sure you get the one that tells what exact flavors they use.
Corn Syrup – It is one of Ketchup's major ingredients and enhances the taste as well. However, it damages your body organs and causes long-term health problems, so avoid it.
---
Reviews: Best Organic Ketchups
We hope you love the following organic ketchup we recommend!
Just so you know, We may collect a share of sales or other compensation from the links on this page.
---
1
With over 500 reviews, this organic Ketchup is one of the best available in the market. Tried and tested from so many customers, you can count on it.
The taste and texture are the same as the classic Heinz ketchup, so no compromise on taste quality is made.
For those of you who are conscious about their weight, it contains less than 20 calories per serving
Their tomatoes are certified in the USA to be organic so their customers can be sure of what they're consuming.
---
2
Trader Joe's® Organic Ketchup

USDA Organic Ketchup
Their Ketchup is the most suitable for those trying to clean their diet from excessive sugars and other harmful substances as it is gluten-free, keto diet approved, soy-free, and dairy-free, so most of the harmful substances are not present.
Ketchup is made from organic oils and organic herbs, unlike inorganic Ketchup, which is produced from unreasonable amounts of fillers like xanthan gum, tapioca starch, and gum acacia.
Since there aren't any artificial binders in it, making it safe to consume for children and adults.
The texture might not be as thick as other Ketchup, but that's because unhealthy gums aren't added to maintain the consistency of the sauce.
---
3
Out of the Kitchen® Mitch Maier's Black Garlic Ketchup

Healthy Organic Ketchup
It contains no artificial sugars as raw honey, and turbinado cane sugar is used as sweeteners in the making of it.
As I mentioned above, Ketchup making companies often use low-quality salts to cut back on their costs. Still, this Ketchup contains Himalayan pink salt, which is considered one of the best salts out there and tastes excellent.
The flavor added to it is entirely home-made, keeping in mind the customers' taste and preference, so they deliver the quality they promised.
---
4
Biona® Classic Squeezy Tomato Ketchup

Thick & Rich Organic Ketchup
Their products can be traced back to where they are produced, so if you doubt the production process, make use of this option.
The company uses sustainable farming methods, and absolutely no herbicides or pesticides are used while tomatoes are grown. Not only this, but they don't grow genetically modified plants either, which is a common practice among companies to maximize their productivity and profits.
A unique ingredient used in this Ketchup, which makes its taste unique and full of flavor, is agave syrup, a Mexican plant, added to sweeten the Ketchup.
---
5
Baird Farmhouse® Maple Ketchup

100% Pure Organic Ketchup
The best thing about this Ketchup is that it doesn't contain high fructose corn syrup, which, as I discussed above, poses major damages to your body. There are hardly any Ketchup bottles in the market that don't contain corn syrup, but this company manages to maintain its quality without this ingredient.
A bottle only costs 7 dollars, which is below market price, so that it can be bought and stored in bulk for convenience.
It is produced on a family farm, so commercial farming practices are not the case in the making of this Ketchup.
---
6
Red Gold® Mama Selita's Jalapeno Tomato Ketchup

Organic Freshest, Best Tasting Tomato Ketchup
Jalapeno flavor is not so common in Ketchup, but this company explored this flavor, and rightly so. The sourness in the Ketchup due to jalapenos' presence in there serves as a treat for your taste buds.
This ketchup targets all people, even those with allergies. It is allergy-friendly for 8 of the most common allergies in the US, which tells a lot about how much they care about their consumers.
The bottles are environment-friendly since they can be recycled and reused for other purposes.
---
7
Traina® Home Grown

Organic Gourmet Tomato Ketchup
This high-quality Tomato Ketchup is packed with premium quality Organic Californian sun-dried tomatoes.
It is a tasty ingredient that works wonders to add some depth to your recipe.
Every bottle is certified Organic by the USDA.
It is a great addition to burgers, sandwiches, sauces, meat, and more.
This Ketchup comes in a 16-ounce bottle that retains flavor and freshness.
---
8
Primal Kitchen® Unsweetened

Organic Ketchup
This unsweetened ketchup is made without any Dates, Maple Syrup, or Honey.
It is Whole30 Approved, as well as Keto and Paleo-Friendly, and made with USDA Organic ingredients.
This package contains two bottles of 11.3 oz Primal Kitchen ketchup.
It works as the perfect condiment for burgers, french fries, and all your dipping needs.
---
9
Portland Ketchup Company® Vegan

Organic Natural Ketchup
This Tomato Ketchup is made with all organic ingredients to ensure it does not damage your health.
It is low in sugar and works as the perfect dipping sauce, condiment, or depth to your gravies.
Portland Ketchup Company's Ketchup is naturally gluten-free and Vegan.
Each package contains 6 bottles.
---
10
Red Duck® Spicy

Organic Ketchup
Red Duck Spicy Ketchup is a new twist on an old favorite as it offers a classic flavor with a spicy kick.
It is made using only the freshest non-GMO and organic ingredients, including tomatoes, which go from farm to puree in less than 4 hours.
This gourmet ketchup is made with farm-fresh tomatoes with a Latin-inspired spice blend.
This unique condiment is terrific on everything from sweet potato fries to grilled chicken and even drizzled on pizza.
This spicy Ketchup is low in sugar, gluten-free, dairy-free, grain-free, and Vegan.
It contains no artificial colors or preservatives.
---
Index Table: Top-Rated Organic Ketchups
---
---