Some of the links in this post are affiliate links. This means if you click on the link and purchase the item, I will receive an affiliate commission at no extra cost to you. All opinions remain my own.
Buying the best organic oatmeal brands is like fishing in the dark, as hundreds of brands claim to be the top choice. But only the healthiest oatmeal brand stands true to its promise and provides the best nutrition.
Besides, organic and conventional oats are on the same page regarding nutrient profile and benefits. However, organic oatmeal is safer because it is not produced with chemical pesticides or fertilizers. So let's check what rolled oats brands that are the best.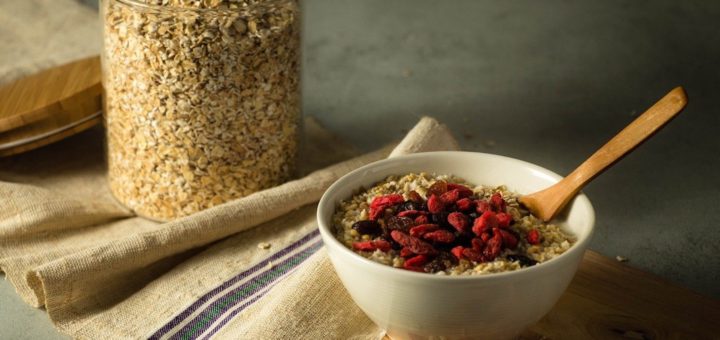 ---
---
Reasons Why Oatmeal Is The Healthiest Breakfast
Here are six good reasons to eat oatmeal every day.

Improve tummy health: Just like organic pancake mix, oats are full of soluble and insoluble fiber. Soluble fiber helps to lower cholesterol and stabilize blood glucose levels. Whereas the insoluble fiber helps curtail constipation and improve tummy health.
Heart and colon-friendly: Oats contain Avenanthramides, an antioxidant known for their anti-inflammatory and anti-itching activity. It also provides additional protection against coronary heart disease and colon cancer.
A balanced breakfast: A cup of cooked oatmeal contains about 150 calories, four grams of fiber, and six grams of protein. When swirled with almond butter or milk, oatmeal makes a great breakfast so that you can forget those mid-morning visits to the vending machine.
Full Of vitamins and minerals: Oatmeal contains thiamine, magnesium, phosphorus, zinc, manganese, selenium, iron, and more.
Gluten-free: Oatmeal is an ideal breakfast for gluten-intolerant people. Oats are naturally gluten-free
Aids in weight management: Oats can keep you feeling fuller longer, helping you manage the extra pounds. As with any other food, have an eye on portion sizes.
---
Organic Oats vs Regular Oats
Best organic oats are made from certified organic whole grains, i.e., grown without the use of pesticides or chemical fertilizers (Organic certification allows a restricted list of pesticides derived from plant sources or pure chemicals like copper or sulfur sprays). Organic oats are also grown crop rotation or may involve green manure fertilizers and natural pest control methods. Additionally, organic oatmeal is non-GMO.
Regular oatmeal is made from oats grown with legally allowed pesticides and fertilizers the farmers choose, which may be GMO.
Another critical difference is the price. Organically grown oats are expensive, yet they are the best oatmeal. Both types can be used as cereals, baked goods, energy bars, and granola.
---
Choosing The Healthiest Organic Oatmeal Brands
Whole grains are the best: Look for specific terms like 'instant oats' or 'whole-grain rolled oats' to be listed as the key ingredient. This ensures that you will receive plenty of health benefits.
Look for fiber: Choosing low-calorie oatmeal brands with at least 3 grams of fiber is what we highly recommend. The fiber will help you feel fuller longer and keep your blood sugar level stable.
Look (out) for sugar: The dark side of conventional oatmeal brands lies in the amount of added sugar in them. So, choose an unsweetened, organic one; add berries, honey, or cinnamon to the morning bowl of oatmeal.
Look (out) for sodium. Many instant oatmeal brands contain sodium (for enhancing flavor and preservative purposes). Choose organic oatmeals or natural instant oatmeals that contain less than 200 milligrams of sodium per serving.
---
Trending Organic Oatmeal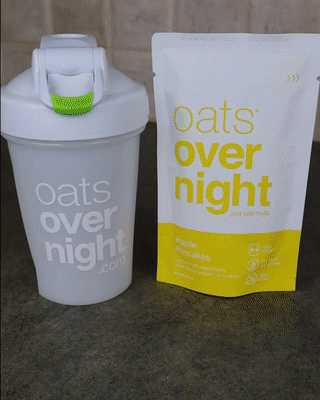 Just watch how easy it is to prepare with this tasty organic oatmeal.
This fresh organic oatmeal is trending on Instagram with many excellent reviews.
It offers a fast solution for those in a rush and keeps them full until it lunchtime.
Here is a Link to buy from Amazon.
---
Reviews: Best Organic Oatmeal
Do you want to know the best oatmeal brands to help you start your day? Here are our top 5 picks. Please don't settle for less when it comes to your breakfast! Besides, we'd like to inform you that this page includes affiliate links.
---
1
This instant oatmeal from Bob's Red Mill contains organic rolled oats, natural cane sugar, and organic cinnamon. It doesn't contain artificial flavors used by other oatmeal brands.
This organic oatmeal is gluten-free, safe, and a great source of important vitamins, minerals, fiber, and antioxidants.
With this organic oatmeal, you can guarantee it's not sprayed with any fungicides or pesticides and is not genetically engineered.
High in nutrients, it pulls three grams of fiber and protein per serving, perfect for a healthy diet.
| Rating Category | Weight % | Score |
| --- | --- | --- |
| Gluten-Free | 30% | 100 |
| Nutrients | 25% | 100 |
| Packaging | 25% | 95 |
| Price | 20% | 90 |
| Total Score | 100% | 96.75 |
---
2
Nature's Path® Whole Grain

Instant Organic Oatmeal
Nature's Path is one of the healthiest oatmeal brands to buy, and for a good reason, it's delicious and creamy.
Made from organic rolled oats, it packs of full nutrients needed to keep you going: 190 calories, 3g fat, 34g carbs, 6g fiber, and 8g protein.
Best of all, it has zero cholesterol, giving you a healthy weight loss and a reduced risk of heart disease.
It comes with a gluten-free whole grain, giving you many health benefits to energize your body.
| Rating Category | Weight % | Score |
| --- | --- | --- |
| Gluten-Free | 30% | 100 |
| Nutrients | 25% | 95 |
| Packaging | 25% | 95 |
| Price | 20% | 90 |
| Total Score | 100% | 95.5 |
---
3
Great River Milling® Steel Cut

Certified Organic Oatmeal
Great River Milling organic steel-cut oats are great when you're in a hurry. Add frozen fruit, raisins, or berries to the oatmeal bowl for options.
Moreover, this isn't the regular rolled oats! It has a nuttier and chewier texture than regular rolled oats; it has a toasty look.
This organic oatmeal has 7 grams of protein and 5 grams of fiber for each serving, which is more nutritious to get.
It is whole grain oats with nutritious goodies and health benefits like protein, fiber, antioxidants, and B vitamins.
| Rating Category | Weight % | Score |
| --- | --- | --- |
| Gluten-Free | 30% | 100 |
| Nutrients | 25% | 95 |
| Packaging | 25% | 90 |
| Price | 20% | 90 |
| Total Score | 100% | 94.25 |
---
4
Kauffman's Fruit Farm® Regular Rolled

Best Organic Oatmeal
Made from kilned, whole groats processed by steaming and flaking, Kauffman's Fruit Farm oat flakes are proof that you can get a delightful bowl of goodness with zero sugar, cholesterol, and sodium.
Nutritional Info: Each serving of this oatmeal provides 110 calories, zero milligrams of sodium, three grams of fiber, and four grams of protein.
Add a tablespoon of almond butter, a handful of cut berries, and some toasted sliced almonds. The almonds will pump up both protein and fiber even more, and you'll get a satisfying breakfast.
Not only is this oatmeal non-GMO, but it is organic, too. And, therefore, the best oatmeal to buy.
---
5
Royal Lee Organics® USDA Certified

Whole Grain Organic Oatmeal
Do you like trying low-calorie oatmeal brands? Then Royal Lee Organics Organic Gluten-Free Oat Groats is the perfect packet for you.
That means it is neither cut nor rolled like most oatmeal brands. You can grind it into flour or cook it and eat it as a rice substitute – the choice is yours!
The grains of USDA Organic, gluten-free, and non-GMO, come in high-pressure vacuum-sealed packages.
You can also feel right about this one because there's no added sodium or sugars. Plus, it gives 8 grams of protein and 5 grams of dietary fiber, making it an excellent food choice for your family.
---
6
Great River Organic Milling® Whole Grain

Best Organic Oats
You can make a hearty and healthy breakfast in under two minutes with these Great River Organic Milling oats.
The oats have organic whole grain rolled into oats for quick cooking to be meal-ready.
They contain a high amount of fiber to improve the health of your digestive and circulatory systems.
Moreover, the oats from this healthiest oatmeal brand are ground at cool temperatures to maintain enzyme activity and protein levels.
---
7
GF Harvest® Roasted Flavor

Best Certified Organic Oatmeal
Get the GF Harvest steel cut organic oats roasted and steamed to have a longer shelf life.
They cook evenly in a few minutes to give you a healthy and hearty meal for breakfast.
The oats are 100 whole-grain without contamination of other allergy-causing ingredients to be safe for people with allergies.
Each oatmeal batch goes through rigorous testing for 5PPM gluten content to trust the brand's authenticity.
---
8
Earnest Eats® Gluten-Free

Unsweetened Oatmeal
The Earnest Eats oats have a delicious maple flavor to make your morning breakfast exciting and nutritious.
It has the goodness of protein-rich whey and probiotics to be easy on your stomach throughout the day.
With this organic superfood addition to your breakfast, you will feel a higher level of energy and attentiveness.
Additionally, the oats have Quinoa and puffed Amaranth in the mix to make them rich in flavonoids and antioxidants.
---
9
Be Still Farms® Plant-Based

Microwaveable Organic Oatmeal
You can consider the plant-based Be Still Farms oatmeal, which is low in carbs for calorie-conscious people.
The oats are low in cholesterol and have polyphenols, antioxidants, Avenanthramides, anti-inflammatories, and beta-glucan.
Your gut health and digestive system will function better with the oats' high fiber content.
It comes in eco-friendly packaging that you can recycle to reduce the environmental carbon footprint.
---
10
Quaker® Whole Grain

Organic Rolled Oatmeal
This is a 24-ounce pack of 100% Whole grains that are USDA Certified Organic.
One of the healthiest oatmeal brands is rich in fiber and low in saturated fat and cholesterol.
These oats pair well with fresh or dried fruits, nuts, and cinnamon.
It is Non-GMO Project Verified and does not contain any artificial flavors, colors, or preservatives.
---
Index Table: Top Rated Organic Oatmeal Brands
---
---