Some of the links in this post are affiliate links. This means if you click on the link and purchase the item, I will receive an affiliate commission at no extra cost to you. All opinions remain my own.
Try organic bone broth if you're a little bored of relying on protein shakes and smoothies to keep you charged all day long.
Made from sustainably sourced ingredients, organic bone broth contains good-for-you nutrients. This, in turn, may help with everything from good skin to better immunity and reduced inflammation.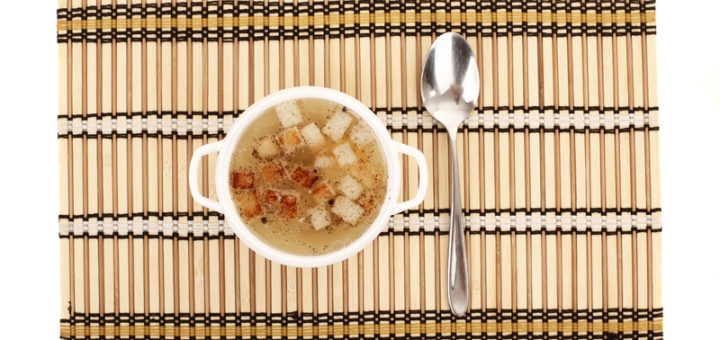 ---
---
Why Choose Organic Broth?
Selecting organic bone broth powers or liquid broth ensures that they are not from GMOs or animals fed with hormone-injected feeds. Plus, they will reduce the risk of antibiotics.
Chicken and cattle grown in confined environments are always stressed . The result – is nutrient-less bone and meat. And this will affect the quality and flavor of the bone broth.
Many commercially prepared bone broths have additives like MSG, artificial colors, and protein flavor enhancers. Some of them, in fact, will have yeast extract, lactic acid, preservatives, and carcinogenic chemicals.
Your regular bone broth may have larger quantities of sodium. While it is necessary for flavor, too much sodium intake may spike blood pressure.
While looking for organic bone broth, you may go through organic canned soup as it is full of delicious flavors, it contains some vitamins and fiber that are essential for your body.
---
Top Reasons To Add Bone Broth
Nourish Your Gut: Bone broth is rich in gelatin and collagen, soothes your intestinal tract. Also, collagen helps heal intestinal permeability.
Immune Booster: A traditional folk remedy for colds and flu, bone broth offers a cocktail of nutrients that help to boost your immune system. Cysteine present in broth helps to thin mucus and expel it.
Protect the joints: Bone broth is a good source of gelatin, which may break down into collagen and protect the joint from wearing down or shrinking.
Fight osteoarthritis: Consuming chemical-free bone broth is an easy way to deliver collagen and other vital nutrients essential for bone health. Collagen can improve joint pain, stiffness, and poorer physical function, in osteoarthritic patients.
Reduce inflammation and indigestion: Glutamine, an amino acid in bone broth, can improve digestion. Drinking bone broth will also provide anti-inflammatory nutrients to the body.
---
Healthy Ingredients Found in Good Organic Bone Broth
When scanning the shelves for a good, sustainably sourced bone broth at the local market or grocery store, here's what to look for.

Good Ingredients: To reap the 'goodness,' you should buy an organic broth sourced from quality ingredients. Examples: organic vegetables, herbs, and spices, as well as pastured, grass-fed beef bones for organic beef broth or organic chicken for organic chicken broth.
Long simmer time: The best organic powdery/liquid bone broth is the one that's simmered over low heat for a minimum of 10 hours. Long summer time means the broth is rich in collagen, minerals, amino acids, and healing agents, such as hyaluronic acid and glycosaminoglycans.
Variety of ingredients: A high-quality bone broth should also list apple cider vinegar and a variety of organically sourced condiments alongside beef bone or chicken bone.
---
Reviews: Best Organic Chicken & Beef Bone Broth
We hope you love the products we recommend!
So that you know, We may collect a share of sales or other compensation from the links on this page.

---
1
A blend of slowly simmered antibiotic-free chicken & organic vegetables, Osso Good's bone broth is a cocktail of amino acids, minerals, and nutrients.
With 230 mg sodium per serving, many will have quizzical looks about the blood pressure, but don't you worry – it won't spike up your pressure.
Moreover, the broth is frozen right after they are made to lock in all the flavor and nutrients. Not to mention, they aren't shelf-stable and perishable.
The meat for the little pouches of chicken bone broth is sustainably sourced from small, family-run farms. And the vegetables used are organic or pure.
Furthermore, the broth is gluten-free, antibiotic-free, and dairy-free, with no synthetic flavors or added salt. Plus, it is Whole30-approved, certified paleo, and keto-friendly.
| Rating Category | Weight % | Score |
| --- | --- | --- |
| Joints Protection | 30% | 100 |
| Gluten-Free | 25% | 95 |
| Reduce Inflammation | 20% | 100 |
| Gut Health | 15% | 95 |
| Digestion | 10% | 95 |
| Total Score | 100% | 97.5 |
---
2
Pacific Foods® Organic

Chicken With Lemongrass Bone Broth
Pacific Foods make one of the best organic free-range chicken bone broths. With slowly simmered vegetables and seasonings, it has no additives that are harmful to the body.
Each of these 8oz cartons has ready-to-cook bone broth made from organic chickens. Besides delicious flavor, each serving offers 7 – 10 g of protein.
All ingredients in this delicious bone broth are locally sourced, meeting non-GMO and USDA organic standards. Plus, it is Gluten-free, Dairy-free, and has no MSG.
A warm cup of this bone broth is a perfect afternoon pick-me-up when the weather outside is cold.
You could also use it for Paleo diets, Keto diets, or post-workout drinks.
| Rating Category | Weight % | Score |
| --- | --- | --- |
| Joints Protection | 30% | 100 |
| Gluten-Free | 25% | 95 |
| Reduce Inflammation | 20% | 100 |
| Gut Health | 15% | 90 |
| Digestion | 10% | 95 |
| Total Score | 100% | 96.75 |
---
3
Organic Health Products® Pure Protein

Bone Broth Powder
Hands down, this is one of the best organic bone broth powders made from organic grass-fed beef, leaving all others in the dust.
As you heat it, its aroma immediately reminds you of your mom's homemade beef soup.
Whenever you get snacky, you can lean on the shoulders of this organic bone broth powder – it is unflavored, Dairy Free, Soy Free, Grain Free, and Gluten-Free.
Also, it contains no hormones and antibiotics, besides being a non-GMO bone broth powder.
You can use it in juice, shakes, and smoothies because of its great mixability with water and milk.
Use it regularly, and you'll see that you're becoming young and healthy as the days pass by. It is great to support joints, muscles, and your gut.
| Rating Category | Weight % | Score |
| --- | --- | --- |
| Joints Protection | 30% | 100 |
| Gluten-Free | 25% | 95 |
| Reduce Inflammation | 20% | 95 |
| Gut Health | 15% | 90 |
| Digestion | 10% | 95 |
| Total Score | 100% | 95.75 |
---
4
Bare Bones® Organic

Chicken Bone Broth
Only 60 calories per 16 oz serving, making it an excellent diet-friendly bone broth.
It offers smaller doses of Vitamin A, calcium, and iron with a smooth and slightly salty taste (260 mg sodium per serving).
It is packed with collagen and amino acids made only with clean, organic ingredients that have proven health and flavor profiles.
It has no added flavorings, preservatives, antibiotics, growth stimulants, or hormones. Also, it is lab-tested and confirmed lead-free.
This organic chicken bone broth is 100% Organic, Gluten-Free, Soy-Free, Dairy-Free, Certified Paleo, and Whole30 approved.
---
5
Kettle & Fire® Organic

Chicken Bone Broth
Kettle & Fire is one of the cult-favorite brands producing organic bone broth. Hence, we're happily starting off the list with their organic chicken bone broth.
The meaty, smooth, and savory flavor of seasoned roast chicken will remind you of your grandma's signature bone broth recipe.
This gluten, MSG, BPA, grains, sugar, and dairy-free broth can help promote skin and gut health and prevent cardiac diseases.
The Whole 30-approved, non-GMO broth has local organic onions, fresh garlic, Celtic sea salt, and organic apple cider vinegar to amp up the flavor.
And, thanks to the 10 grams of protein each serving provides – sip it and stay satisfied and energetic.
---
6
Kitchen Accomplice® Concentrate

Chicken Bone Broth
The Kitchen Accomplice organic bone broth has the flavor of simmered vegetables and bones on a low flame for yours.
Improve your health with the extra proteins and antioxidant-rich bone broth concentrate with this tasty and healthy mix.
The product is gluten-free and has a Non-GMO concentration to ensure safety in ingredients along with good health.
Moreover, the product has a shelf life of 24 months, and you can store it for six months in the refrigerator after opening.
You can enjoy up to 14 cups of bone broth with the perfect amount of salt and minerals in the concentrate mix.
---
7
Australian Bone Broth Co® Amino-Acid

Beef Bone Broth
The Australian Bone Broth Co has natural beef broth flavors that are condensed to be easily digestible.
It contains amino acids that help your body get the required rest by reducing fatigue and improving sleep at night.
The natural flavors of the broth let you experiment with your herbs and spice mixes in the kitchen.
Moreover, good gut health will ensure that your immune system stays strong to fight many diseases and prevent them.
The taste and ingredients of the bone broth are perfect for picky eaters like kids or people with sensitive digestive system.
---
8
Epic Provisions® Homestyle

Chicken Bone Broth
Epic Provisions has a convenient chicken broth concentrate for on-the-go nourishment and nutrition for your body.
The bone broth tastes like a homemade one filled with the goodness of vitamins and minerals.
You can also use the chicken broth in stews and soups to make your food richer in nutrients.
One jar of chicken bone broth will give you flavors full of rosemary herb, carrot, apple cider vinegar, and turmeric.
With the right nutrition and diet, you can boost immunity and make way fewer doctor visits.
---
9
Best Of The Bone® No-Soy

Collagen Beef Bone Broth
The Best Of The Bone ensures that they use grass-fed and pasture-raised cattle bones in making the bone broth.
With healthier bones, the pastured cattle bones are turned into a healthy broth blend while following a cruelty-free protocol.
You can get glowing skin, healthy nails, and hair with the rich beef bone broth concentrated in your diet.
The product does not have unhealthy additives like soy, gluten, or sugar in the seasoned concentrate.
If you have conditions like muscle and joint pain, bone broth can help you provide relief with it.
---
10
Trader Joe's® Chicken

Organic Bone Broth
This package contains 17 fl.Oz. Box of Trader Joe's Organic Chicken Bone Broth.
It is Certified Organic by Quality Assurance International and is produced while maintaining high-quality standards.
It is also USDA Organic and offers a delicious taste to drink as is or add in any other dish to make a gravy or sauce and enhance the flavor.
This broth also contains organic Carrots, Celery, Onions, Sea Salt, and Onion powder along with the chicken.
---
Index Table: Top Rated Organic Bone Broths
---
---