Vitamin C is an essential nutrient required for the proper functioning of the human body.
Amla Fruit is a rich source of Vitamin C. It can be eaten fresh, in berry form, juice, powder, or capsule form.
Please scroll down to find out more about Amla and its many benefits, as well as the best Organic Amla powders available.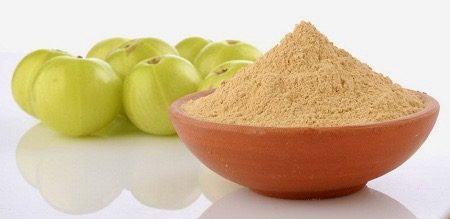 ---
---
What is Amla?
Amla – Amla, also known as Indian Gooseberry, comes with the scientific name Phyllanthus Emblica. It grows on Amla or Malacca/ Amalaki tree. It is native to India and the Middle East. Various parts of the plants are used to treat multiple health problems.
Usage of Amla – Amla can be eaten in berry form directly or in sweet fruit preserve form called "Murabba." You can make it into juice or use it as powder. Amla dietary supplements are also commonly available in capsule or tablet forms.
Composition – Amla contains phytochemicals such as Gallic acid, Ellagic acid, Pyrogallol, Norsesquiterpenoids, Corilagin, Geraniin, Elaeocarpusin, and Prodelphinidins B1 and B2, as well as the highest content of Vitamin C of any fruit. It is also rich in Flavanoids.
---
Benefits of Amla
Purest Form of Vitamin C – Powders like amla and organic taro powder are rich in vitamin C. It makes the blood vessels thicker and stronger. It also boosts the immune system. The high vitamin C content makes it excellent for fighting the common cold and flu.
Anti-oxidant Rich – Amla berries are rich in Antioxidants. This quality makes it beneficial in fighting free radicals in the body. It reduces cell damage as well as reduces inflammation anywhere in the body. It decreases oxidative damage in the body, reducing the risks of cancers and other diseases.
Lowers Cholesterol and Reduces the Risk of Heart Disease – A unique quality of Indian gooseberry is that it lowers the bad cholesterol in the body without reducing the good cholesterol. It regulates the build-up of bad cholesterol, reducing heart disease risk.
Improves Skin – Amla has anti-oxidant, anti-aging and anti-inflammatory benefits. Because of these qualities, it works wonders on the skin. Whether ingested or applied directly to the face in the form of a mask and paste. It reduces the appearance of blemishes and results in glowing, healthy skin.
High Fibre Content – Amla berries have a high fibre content. This makes it excellent for the digestive system and related problems such as constipation. It is also used to treat hyperacidity and stomach ulcers.
Promotes Hair Health – Vitamin C in Amla berries makes it suitable for reducing hair fall and promoting hair growth. You can use it to treat Alopecia and hair thinning.
Aids Diabetes Treatment – Amla berries control the body's blood sugar and lipids level. They also improve liver function. All of these things work together to affect the treatment of Diabetes positively.
---
Usage of Amla Powder
Amla Fruit – Amla fruit can be eaten as it. Another common way of eating it, especially in India and Pakistan, is a fruit preserve called 'Murabba.' Amla Pickles are also commonly available.
Amla Juice – Indian gooseberries can be juiced out for easy ingestion. Drink the juice onto the hair and scalp, apply it directly to the face, or add it to a face mask.
Amla Powder – Amla powder is readily available in the market. Use this powder as a dietary supplement in the face or hair pack, or add it to food.
Amla Capsules/Tablets – Amla capsules and tablets are the easiest way to make Amla a daily part of your life. Go for a supplement that comes with an 'Organic' label for your safety and the well-being of the planet,
---
Reviews: Best Organic Amla Powder
The below list consists of the best organic Amla Powders available in the market. 0
We hope you love the products we recommend!
So that you know, We may collect a share of sales or other compensation from the links on this page.
---
1
Organic Amla powder, also known as Phyllanthus Emblica, is sourced from SUbtropical India.
This raw amla powder comes in a resealable bag.
It is a rich source of Vitamin C and antioxidants.
It rejuvenates the body as well as the skin and hair.
All Feel Good Organics products are Certified USDA Organic.
| Rating Category | Weight % | Score |
| --- | --- | --- |
| Non-GMO | 30% | 100 |
| Anti-Inflammatory | 25% | 95 |
| Nutrients | 20% | 100 |
| Antioxidants | 15% | 95 |
| Hair Growth | 10% | 90 |
| Total Score | 100% | 97 |
---
2
Micro Ingredients® Vegan

Organic Amla Fruit Powder
The amla berries used in this powder are freeze-dried and then ground into a perfect powder.
The organic Amla fruit powder is rich in antioxidants and vitamin C.
This product is Non-GMO, Vegan-friendly, and does not contain any additives, preservatives, gluten, or artificial flavors or colors.
The powdered Amla has a higher concentration, quicker absorption, and is easier on the stomach.
| Rating Category | Weight % | Score |
| --- | --- | --- |
| Non-GMO | 30% | 100 |
| Anti-Inflammatory | 25% | 95 |
| Nutrients | 20% | 100 |
| Antioxidants | 15% | 90 |
| Hair Growth | 10% | 90 |
| Total Score | 100% | 96.25 |
---
3
Terrasoul Superfoods® Indian

Organic Amla Berry Powder
This Indian Amla berry powder has a high concentration of Vitamin C and antioxidants.
It boosts energy, digestive-health and rejuvenates you.
This raw amla berry powder is certified USDA organic, Non-GMO, Gluten-free, Kosher, and Vegan-friendly.
Each pack contains 1 pound of Terrasoul Superfoods Organic Amla Berry Powder.
The amla berries used to make this product are sourced from the highest quality superfoods, while the growers and employees are paid fair wages.
| Rating Category | Weight % | Score |
| --- | --- | --- |
| Non-GMO | 30% | 100 |
| Anti-Inflammatory | 25% | 95 |
| Nutrients | 20% | 95 |
| Antioxidants | 15% | 90 |
| Hair Growth | 10% | 90 |
| Total Score | 100% | 95.25 |
---
4
Grenera® Herbal

Organic Amla Powder
Each pack contains 240Grams of Organic Certified Amla Powder.
This Herbal Ayurvedic amla powder is produced as a dietary supplement.
It has a high oxygen radical absorbance and a high antioxidant content.
Add a scoop of this amla powder to your favorite beverage or smoothie to easily incorporate it into your diet.
This product is batch-tested for quality assurance.
---
5
Naturevibe Botanicals® Raw

Organic Amla Berry Powder
This Indian gooseberry powder is a powerhouse of nutrients.
It is high in Vitamin C, Iron, Calcium, and Antioxidants.
Sprinkle some of this amla powder on fruits, smoothies, and shakes to give yourself an energy boost and glowing, healthy skin.
This product is Certified organic as well as Gluten-free and Non-GMO project verified.
You can use this in a face or hair mask as well.
---
6
woods and petals® Gooseberry

Organic Amla Powder
The organic Amla powder is manufactured and processed by "woods and petals."
Use this Indian gooseberry to strengthen and condition the hair. It is packed with powerful nutrients that fortify hair roots and prevent premature greying.
It also removes dandruff and prevents itchiness.
This amla powder has anti-aging properties that visibly reduce wrinkles and fine lines. It also tones and tightens the skin.
Use it as a dietary supplement or in a face or hair pack.
---
7
Nova Nutritions® Healthy

Organic Amla Powder
This Amla Berry Powder is 100% Certified Organic, Vegan, Natural, Gluten-Free, Kosher, and Halal.
It is also called Indian gooseberry and contains a vitamin C concentration, supporting healthy immune function.
This product is free of artificial color, flavor, sulfates, phthalates, dioxides, and stearate.
It is manufactured in a GMP facility under strict regulations to produce the highest quality products.
---
8
Nutricost® Unflavored

Organic Amla Powder
This product is USDA Certified Organic, with 1lbs of high-quality Amla powder in each bottle.
The unflavored Amla Powder comes with its natural taste and color and can be mixed easily in anything.
It is a fresh, Non-GMO, Gluten-Free, and Vegan Amla powder.
Nutricost Amla powder is 3rd Party Tested by ISO-Accredited laboratories and made in a GMP-compliant, FDA-registered facility.
---
9
HerbsForever® Herbal

Organic Amla Powder
This Amla powder is the most concentrated form of Vitamin C and naturally boosts energy and immunity.
It helps in natural detoxification, eliminates toxins from the body, and helps to burn extra fat.
This powder also strengthens digestion and food absorption and prevents excess production of stomach acid.
It purifies the blood, thereby improving the complexion and giving it a natural glow and luster, among other things.
---
10
Bareorganics® Raw Organic

Amla Powder
Amla, also known as Indian Gooseberry, delivers antioxidant support and vitamin C to help boost the body's natural defenses and help fight free radicals that may cause harmful oxidative damage.
This amla powder is made from a power berry that is an excellent source of naturally occurring iron and maintains the natural blood flow throughout the body.
BareOrganics Amla powder is free from preservatives, fillers, and artificial ingredients as it is prepared using processes like freeze-drying, low temperatures, and cold-milling to ensure quality and integrity.
It comes in a planet-friendly container that is 100% recyclable or biodegradable.
---
Index Table: Top-Rated Organic Amla Powder
---
---