Some of the links in this post are affiliate links. This means if you click on the link and purchase the item, I will receive an affiliate commission at no extra cost to you. All opinions remain my own.
Pomegranate is a red fruit that originated in the Mediterranean region.
It has a sweet taste and is considered one of the healthiest fruits in the world.
One of the best ways to get its benefits is by drinking the juice; it has the same benefits as the whole fruit without the seeds.
Keep reading to find out why you should start to drink organic pomegranate juice more often.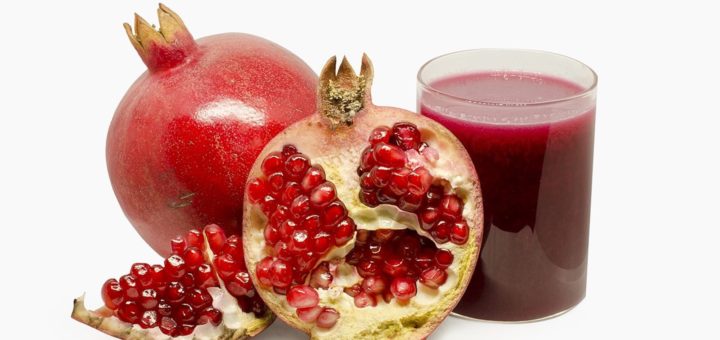 ---
Health Benefits of Pomegranate Juice
It Has the Highest Antioxidants – Pomegranate contains polyphenols, which are chemicals that have high antioxidant properties. Antioxidants protect us from free radical damage, which destroys cells and has a vital role in developing heart diseases.
It is Anti-Inflammatory – Thanks to its antioxidant properties, it helps to reduce and block inflammation. It is believed to benefit people with osteoporosis, rheumatoid arthritis, and joint inflammation.
It Has a High Amount of Vitamin C – This nutrient boosts your immune system; it strengthens the skin's barrier keeping it healthy and moisture. It has a positive effect on your memory and thinking. It improves iron absorption and helps to control anemia.
It Lowers the Blood Pressure – If you drink pomegranate juice regularly, your systolic blood pressure will go down.
It is a Good Source of Nutrients – Besides containing antioxidants and vitamin C, Pomegranate is rich in other nutrients like folate, vitamin K, and potassium. Folate is necessary to produce DNA and convert carbs into energy. Vitamin K is essential in bone metabolism, and potassium has an essential role in muscle strength and metabolism.
It Has Antibacterial Properties – It has been reported that pomegranate can fight bacteria like Candida Albicans and has a protective function against infections in the mouth like gingivitis and periodontitis.
It Improves Sports Performance – Pomegranate juice may improve strength recovery, boost energy levels, and reduce soreness. Thanks to its antioxidant properties, it also reduces the oxidative stress caused by exercise.
---
Reasons to Drink Organic Pomegranate Juice Instead of Regular One
You Get All the Benefits of the Fruit – Regular juices are full of additives and chemicals to enhance their shelf life, but they may lose their benefits and do more harm than good. Organic juices contain all the beneficial properties of the juice. They have a higher number of nutrients than non-organic juices.
No Pesticides – When non-organic juices are extracted, all the chemicals of the plant the fruit comes from are also extracted. This means pesticides, synthetic fertilizers, and fungicides will also be part of the juice. Organic juices come from plants that don't contain harmful chemicals, so the juice is 100% nutrients.
Lack of Harmful Chemicals – Non-organic juices are allowed to contain industrial solvents, antibiotics, and growth hormones and can be processed using genetic engineering. Organic juices have to use natural fertilizers and are not allowed to use any synthetic chemicals.
Fresh Juice – Organic juice will most likely be fresher than non-organic juice.
Better Absorption – When you drink organic juice such as pomegranate, orange, and organic apple juice the nutrients are already pre-digested, so all the benefits of the fruit are going to be easily absorbed by your body.
---
What to Look For on a Good Organic Pomegranate Juice
Purity – It is important to look for a product that contains 100% pure pomegranate juice. That way, you know you are getting the fruit's benefits.
Sugar Content – So many juices contain excessive amounts of sugar that make it taste sweeter but take away almost all the benefits of the fruit. Excessive sugar intake is linked to diabetes, obesity, high blood pressure, and inflammation.
Fresh Juice – Keep in mind that most organic juices don't contain preservatives, which makes them have a short shelf-life. Ensure you always buy fresh juices to get all the nutrients from the juice.
Check the Ingredients Label – Always make sure to know all the ingredients of everything you eat. Maybe you think you are drinking an organic juice just because the package says that, but perhaps if you check the ingredients label or find out what is the manufacturing process of the juice, you'll find out it doesn't follow the rules of organic foods and may contain harmful chemicals.
---
Reviews: Best Organic Pomegranate Juice
Reviewed down below are the best Organic Pomegranate juices available.
We hope you love the products we recommend!
So that you know, We may collect a share of sales or other compensation from the links on this page.
---
1
The fresh pressed juice contains the goodness of seven to ten organic pomegranates in each bottle.
Lakewood offers 100% organic and pure pomegranate juice without any concentrate.
This product is certified USDA organic, Kosher, Non-GMO, and Allergen, gluten, and preservative-free.
It comes in a non-toxic glass bottle, made without BPA, BPS & DEHP.
The juice does not contain any added sugar or additives.
Shake well before use.
---
2
Swanson® Organic

Pomegranate Juice
Organic pomegranate juice offers cardiovascular and liver protection.
It works as an excellent source of Ellagic acid, an antioxidant.
This product is Organic, Vegetarian, and approved by the FDA.
The Swanson product contains only Certified organic pomegranate juice and purified water.
It can be used as a dietary supplement.
---
3
Mina Trading® Natural

Organic Pomegranate Juice
This is a natural organic pomegranate juice.
It is made from organically grown and sourced pomegranates.
This juice is made via cold-pressed extraction to ensure no nutrients are lost during the making.
The Mina Trading pomegranate juice is an excellent source of Vitamin C, E, K, Potassium, Folate, and antioxidants.
It helps to reduce inflammation and improve digestion as well as cardiovascular health.
---
4
Blue Ribbon® 100%

Organic Fresh Pomegranate Juice
This product is 100% organic premium pomegranate juice squeezed from freshly ripened pomegranates.
It is certified USDA Organic and comes in a glass bottle.
The juice is free of added sugars, preservatives, and artificial colors.
This organic juice is a rich source of antioxidants as well as Vitamins.
Blue Ribbon offers unaltered, straight-from-the-tree pomegranate flavors.
---
5
Traders Food® Natural

Organic Pomegranate Juice
The all-natural juice is made from organically grown and sourced pomegranates.
It is free of fillers and chemicals and contains no trans fat, sugars, or preservatives.
The pomegranates used are tree-ripened and hand-picked for the best quality juice.
The juice is made by combining tart and sweet pomegranates for a unique taste.
This product is Certified Kosher, certified organic by USDA and PCO, and gluten-free.
---
6
Micro Ingredients® Powder

Organic Pomegranate Juice
The organic pomegranate juice comes in powder form, so you can mix it in the water anytime you crave it.
Each pack contains 16 ounces of freeze-dried pomegranate juice powder.
This product is Non-GMO, organic, does not contain additives, preservatives, fillers, soy, or gluten, and is free of artificial colors or flavors.
Pomegranate juice powder is rich in vitamins B2, B12, C, and D3, as well as minerals such as Magnesium, Calcium, Potassium, Zinc Flavonoids, Fiber, Enzymes, Antioxidants, and Polyphenols.
---
7
The Navitas Organics pomegranate juice is freeze-dried after separating all the seeds to retain all the nutrients.
It is rich in its sweet-tart taste with ellagic acid and anti-oxidants for good cellular health and longevity.
The product is 100% vegan and is free from chemicals and toxic ingredients while processing seeds.
You can make juice and add the organic powder to smoothies, oats, and ice cream to make it healthy.
Additionally, the powder form of the juice makes it easily portable to the gym or office for a healthy drink.
---
8
Wish Juice® Kosher

UDSA Pomegranate Juice
The Wish Juice has pomegranate juice derived from USDA-certified pomegranate gardens of Azerbaijan.
Moreover, the vitamins and mineral content of the seeds are maintained through vegan processing.
It has zero sugar content, which is ideal for diabetic people or if you want to keep an eye on your calories.
Additionally, the juice is not adulterated to thicken the formula with corn syrup.
After refrigeration, the product has a good shelf life to last a few days without oxidizing.
---
9
POM Wonderful® Concentrate

Organic Pomegranate Juice
Create a habit of drinking healthy beverages with this POM Wonderful organic pomegranate juice concentrate.
The juice is rich in potassium, which is proven to improve bone health and bone density.
Pomegranate juice is a powerhouse of minerals for the body as a post-workout addition to your protein smoothie.
The juice concentrate has 100% whole processed pomegranate pearls without any fillers.
No extra sugar is added to the mix to alter its flavoring and taste.
---
10
PMONA® Real

Organic Pomegranate Juice
The PMONA organic pomegranate juice has two whole pomegranates packed in a bottle.
You can improve your joint health and relieve your muscles from arthritis pain with mineral-rich pomegranate juice.
The rich antioxidants will help improve the health of your hair, teeth, and nails, along with the anti-inflammatory benefits.
Moreover, the juice is filtered for a refreshing taste without concentrating on the tartar taste of the fruit.
It comes in a glass bottle free from BPA, plastic, DEHP, and BPS to ensure safe packaging and storage.
---
Index Table: Top-Rated Organic Pomegranate Juice
---
---