Let's face it, non-natural hair coloring products are a cocktail of – you guessed it right – CHEMICALS!
And, the main thing to watch for is a less toxic mix, i.e., a natural organic hair color.
So, what's the best natural/vegan/organic hair color? And what names should you look for on the label? Is the 'switch' worthy? Find it below.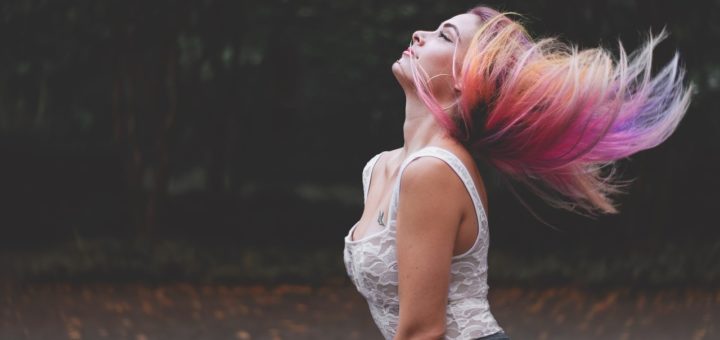 ---
Beware Of Chemicals In Non-Natural Hair Dyes
It's almost impossible to find a mainstream non-natural hair dye without stinking ammonia. Other chemicals used in the hair color include the following.
Resorcinol – with an 8/10 rating for danger at the Cosmetics Safety Database, resorcinol is a skin and eye irritant. It may also disrupt hormone regulation and may cause hypothyroidism.
Ammonia – Besides irritating skin and eyes, it affects your respiratory system, too. Asthma and breathing problems are linked to ammonia.
Persulfates – Sodium, potassium, and ammonium sulfates are toxic to the lungs, eyes, skin, and internal organs.
Hydrogen peroxide – A corrosive chemical that affects the nervous system, respiratory, and digestive systems. Animal studies showed that it could cause DNA damages leading to cancer.
Lead acetate – This is another potentially toxic chemical used for darkening in hair coloring products. It can cause brain and nervous system damages.
4-ABP – A potentially harmful carcinogen.
Now, check the labels of your hair coloring product. If you found any one of these, know this: it's time to buy organic hair color.
---
Benefits of Using Natural Organic Hair Color
An organic hair color offers a lot of unique benefits that are worth the switch.

Gentler on your scalp – Unlike chemicals, fruit extracts, essential oils, and vitamins will be kind to your scalp and hair.
Promotes hair growth -Organic hair products promote hair growth by providing ample nutrients and hydration.
Promote overall health – Our skin is wired in such a way to absorb everything that comes in contact with it. In general, the skin absorbs almost 60 percent of what you rub on it. So, imagine how many chemicals your scalp absorbs every time you color the hair. By using organic hair color, you cut down this chemical absorption that may affect your health.
Environmentally-friendly – Whatever isn't absorbed will be washed down while taking a shower. This, in turn, contaminates the environment, including soil and water. However, organic products such as hair coloring and organic shampoo for color-treated hair are out the possibility of harming the environment. So, it is safe for everyone.
---
Why Organic Hair Colors Are Superior?
An organic hair color uses botanical ingredients organically grown in accordance with safety and GMP standards.
It skips the use of ammonia, the common ingredient used in hair coloring products. Also, they are free of harsh chemicals that harm your hair and scalp.
To naturally color and nourish your hair, most organic hair colors take advantage of essential oils or fruit extracts. Some brands may even use naturally derived powdered botanicals.
Natural hair colors usually come filled with sunflower, jojoba oil, castor oil, etc., to add shine to the strands.
Lack of artificial colors and dyes means less hair damage. There are natural ingredients that fill color without oxidizing the hair protein.
Organic hair colors are long-lasting and retain their color.
---
Reviews: Best Organic Hair Colors
---
1
Meet the perfect blend of herbs without active, harsh chemicals! It is formulated to give your hair an intense shine while covering grey hair (if you have any).
The key ingredients used are Amla (Indian gooseberry), False Daisy, and Neem powders. Being an excellent conditioner, Amla nourishes each hair shaft. Neem has regenerative and cleansing properties.
Altogether this organic hair color leaves thick, lustrous, and healthy hair – of course, with warm reds and browns. The brand claims that the color can last for weeks.
This organic henna is free of parabens, peroxide, alcohol, fragrance, and ammonia. And yes, it is cruelty-free, too.
Available in 10 shades.
---
2
Herbatint® Herbal

Permanent Hair Color Gel
A popular Italian-made permanent hair color made from herb extracts, including rosemary, cinchona, and walnut husk.
It is 100% free of alcohol, ammonia, paraben, and artificial scent. That means it colors your strands without damaging them. It is vegan and cruelty-free, as well.
You can use this color gel even if you have super-sensitive skin. No more dryness. No more redness. All thanks to the chemical-free composition.
The hair color gel is available in multiple shades. The lightning capacity of shades 8N, 9N, and 10N are two tones.
The coverage and staying power will make you say, "I will purchase again."
---
3
Lime Crime® Unicorn Hair

Best Organic Semi Permanent Color
A perfect semi-permanent dye, vegan hair dye to cover grey hair whilst nourishing the locks and delivering lush volume.
This hair dye contains Strawberry jam to bring a pop of fuchsia to your mermaid locks.
Lime Crime is cruelty-free, boasting certification by Leaping Bunny. Plus, it has no harsh chemicals or bleaches.
You don't have to mix it with developers or lighteners. Use it right out of the box. It washes off easily, but leave it for an hour or so if you want more intense shades.
The coverage is thorough. Creating custom balayage, ombre, or holographic hues is a breeze if you have this in your arsenal.
---
4
LIGHT MOUNTAIN® Natural

Hair Color & Conditioner
This 100% botanical hair color and conditioner is nothing but a 4 oz henna pack (powdered leaves). So, the hair will look shinier and healthier.
Light Mountain Natural Hair Color is not only ammonia-free but contains no parabens and animal ingredients. The result is no unpleasant smells, irritation, or itching that harmful chemicals normally bring.
It is also cruelty-free and vegan-friendly. No wonder 'The Safe Shopper's Bible: A Consumer's Guide to Non-Toxic Household Products, Cosmetics, and Food' recommends it.
With this, you won't end up coloring your neck and hands. The henna pack comes complete with a hat and gloves. A thoughtful gesture from the manufacturer!
---
5
Naturigin® Natural

Permanent Hair Color
An affordable, dairy-free, vegan hair color that gently coats your hair for vibrant, permanent color that lasts.
Naturigin hair color is free of ammonia and parabens. With no stinky chemicals, it adds all the conditioning your strands are craving.
Another factor that makes this organic hair color stand out is its certified natural oils like jojoba oil and grapefruit peel oil. It has lemon peel extract as well.
The botanicals present rejuvenate the scalp and revive the shine of each strand.
To freshen up your look, this vegan hair color comes in 19 natural shades.
---
6
Indus Valley® Permanent

Organic Hair Color
It contains nine natural and organic herbs that give you a natural color.\available in a range of natural hair color options.
The ingredients will also nourish and protect your hair.
All-natural organic ingredients are used, and you can use a single pack for multiple applications.
---
7
UrbanX® Wax

Organic Hair Coor Wax
Ideal when you need a temporary color for a night out or any event.
Completely natural and available in fun and bold color options.
It is made from all-natural and 100% organic ingredients.
Quality instant hair coloring that you can wash off afterward,
Ideal for all ages, even children.
---
8
Jaivik® Indigo Powder

Organic Hair Dye Powder
This Hair Dye Powder is a Natural and Organic Henna that will change your hair color to a dark brown or black.
It is made from 100% organic natural materials.
It contains henna that is a natural hair color component.
Nourishes your hair and washes out in time.
---
9
Light Mountain® Natural

Organic Hair Color and Conditioner
All-natural and organic hair color with high pigments.
Non-carcinogenic and conditioning to keep hair healthy.
Comes with gloves and step-by-step instructions.
A few color options to choose from.
---
10
Vegetal® Safe

Organic Hair Color
A vegetable-safe and organic natural hair dye in dark brown and other natural colors.
Ayush certified containing no harmful substances or synthetic chemicals.
Shields your hair from dust and pollution,
Made from natural herbs and extracts.
---
11
Christine Shahin® Natural

Organic Hair Color
Healthy hair and gorgeous colors.
Natural and organic hair color that has high pigments.
A few color selections are available.
It comes with gloves and full instructions for easy application.
---
Index Table: Organic Hair Color
---
---