Some of the links in this post are affiliate links. This means if you click on the link and purchase the item, I will receive an affiliate commission at no extra cost to you. All opinions remain my own.
Curly hair requires a lot of attention and selecting the best products to take care of it.
One of the best hair products to keep your curls soft and healthy is a good curl cream, and maybe you don't know it, but your current cream may contain harmful chemicals that are leaving your hair dry and frizzy.
Keep reading to find out why you should start using an organic curl cream.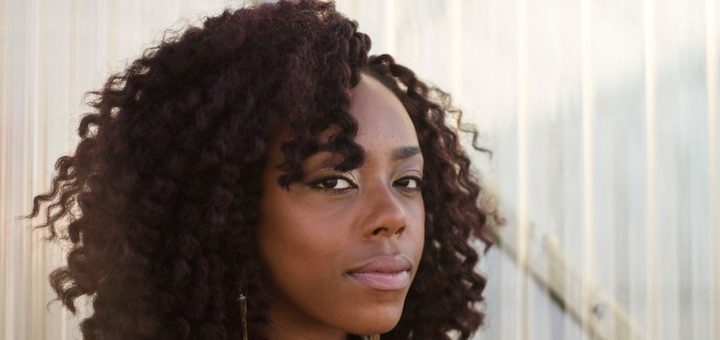 ---
Chemicals to Avoid When Looking for a Curl Cream
Fragrance – The fragrance is one of the top five allergens of the world; they are responsible for allergic reactions and exacerbate asthma symptoms. Fragrances contain phthalates, making the scent last longer; they are considered endocrine-disruptors and can develop toxicity.
Drying alcohols – These types of alcohols are commonly used in skin and hair care products to reduce the time it takes a product to dry once it is applied. They evaporate quickly and leave the hair feeling dry and frizzy.
Parabens – They are widely used in the cosmetic industry as preservatives for their low cost and efficacy. Recent studies found significant parabens in malignant breast tumors, and they are also endocrine-disruptors.
Silicones – Silicones are supposed to moisturize the surface of your hair. However, they prevent water absorption, which means they will dry your hair in the long-term. Some silicones like dimethicone are hard to remove and build-up in the scalp.
---
Ingredients to Look for on a Good Curl Cream for Hair
Jojoba Oil – Jojoba oil is a moisturizer that contains nourishing ingredients like vitamin C, vitamin E, vitamin B, and zinc. It makes your hair stronger and thicker. It is also helpful for dry and itchy scalp.
Avocado – Avocado is one of the best fruits to moisturize your hair. It contains omega-3 fatty acids and essential amino acids that deeply hydrate your strands; It contains vitamins that keep your scalp healthy and promote hair growth. It has antioxidant properties that protect your hair from free radicals damage.
Shea Butter – This great ingredient prevents breakage, moisturizes the scalp, prevents split ends, and reduces itchy scalp. It has powerful ingredients like fatty acids and vitamins.
Argan Oil – Argan oil is a product that comes from the Moroccan argan tree. It contains fatty acids that moisturize the scalp and give the hair a shiny look. It contains vitamin E that acts as an antioxidant and promotes healthy hair. Your hair is going to feel softer and less frizzy.
Aloe Vera – Aloe vera contains proteolytic enzymes, they get rid of dead cells in the scalp. It gives the hair more elasticity and prevents breakage. It nourishes your hair strands and leaves your hair shiny.
Castor Oil – Castor oil stimulates hair growth. reduce dandruff, itchy scalp, and moisturizes your hair. It leaves your hair soft and manageable.
Papaya – Papaya contains different vitamins, enzymes, and minerals, Conditions your hair, prevents dandruff, and promotes hair growth.
Coconut Oil – Coconut oil can moisturize even the dryest hair, nourishes the scalp, stimulates hair growth, prevents breakage, and tames frizzy hair. Your hair is going to be soft and shiny.
---
Benefits of Using an Organic Natural Curl Cream
Healthier Scalp – When you use products that contain harmful chemicals, your scalp is going to feel dry and itchy, some products can build up and become hard to remove. Switching to an organic curl cream assures that your scalp will be healthy and hydrated.
Goodbye Frizz – When you use organic products, you avoid masking the problem, and you know for sure that you are moisturizing your hair and making it healthier and stronger. A healthy, moisturized hair is the best way to fight frizz.
More Definition – Unlike organic hair colors and organic curl cream, products with harsh chemicals tend to weigh down the hair and make the curls lose their definition. Having organic ingredients gives nourishment to your hair, makes it look soft and smooth.
No Allergies – Organic curl creams are less likely to cause you any allergic reaction or other side effects that products with harmful chemicals have like dandruff or eczema.
You are Sure of What You Put in Your Hair – Most products with harmful chemicals advertised natural ingredients in their formulas. Still, they contain no significant amounts of those ingredients, just a marketing strategy. When you use organic creams, you know that they have a high concentration of natural ingredients.
---
Reviews: Best Organic Curl Cream for Hair
Assembled down below are the best organic curl creams for your curly hair.
---
1
This combing creme is made especially to cater to all the needs of curly hair.
It untangles, moisturizes, defines, controls frizz, and adds shine.
The curl cream is made of Agave, Shea, and Cocoa Butter, and Keratin, making it ideal for any style from 4c curls to 1c waves.
The lightweight creme is leave-in and gives the curls a smooth texture to make styling easy.
---
2
Shea Moisture® Hydrating

Curl Enhancing Smoothie
The curl smoothie provides all-day hydration to replenish the hair and makes them appear shiny and smooth.
It adds a brilliant shine to the hair, whether in curls, coils, kinky, or any other style.
This product is all-natural and organic and comes with an amazing coconut and hibiscus scent.
It contains Silk proteins, Neem oil, and of course, Shea butter, all of which do wonders for your hair and make them strong, smooth, and shiny.
This product is sustainably produced as well as sulfate and paraben-free.
---
3
Briogeo® Natural

Curl charisma coil custard
This natural cream is made especially for curl and coil types 3B to 4C.
The leave-in styling cream has a rich and creamy texture and makes the hair soft and smooth.
It hydrates, defines, and enhances curls and coils and provides styling flexibility.
Briogeo curl cream harnesses the conditioning benefits of flaxseed oil & shea butter and the nurturing power of chia seed and rice amino acids.
It works on even the driest and highly damaged coils and curls and makes them appear healthy.
The creamy white color dries down to invisible.
---
4
Alaffia® Moisturizing

Curly Hair Conditioner
Alaffia offers fair trade and organic hair care products, designed keeping in mind all types of curls and coils.
The main ingredients in this conditioner are Neem and Turmeric, which are known for their healing properties, and when paired together, they offer a naturally luxurious line of defense.
It also contains a clarifying tea tree and protective shea butter, both of which work towards restoring and defending your hair from the elements.
It is suitable for any hair type.
This product is handcrafted, vegan, paraben-free as well as cruelty-free.
---
5
Original Sprout® All-natural

Natural Curl Calmer
This curl calmer lets your poofy and dry tresses soak up soothing moisture and protects your hair against breakage.
It leaves the hair feeling clean, silky, and frizz-free.
It allows you to manage your curls with the extra intense moisture and protein it provides and makes them shiny for a sleek look.
This product is clean, non-toxic, and all-natural, making it safe for adults and babies alike.
It is made with vegan, gluten-free, and hypoallergenic ingredients, free of hormone disruptors.
---
6
Dr. Natural® Curl-n-wavy

Leave-in Conditioner & Detangler
The oil-free curl conditioner is ideal for both synthetic, and natural hair weaves.
The premium natural detangler works excellently on curl and wavy hairs with a defining 'S' pattern.
This special protein formula helps repair dry, damaged hair and prevents inner-fiber friction, breakage, and split ends.
The conditioning oil is non-greasy and sticky and made with superior quality Vitamin E, Shea Butter, Olive & Tea Tree Extracts.
This product is sulfate-free and all-natural.
---
7
Simply Elegant® Naturally Yours

Organic Curly Custard Cream
This non-flaking natural hair curl-defining cream is made with essential oils and fruit.
This product is Vegan-friendly and perfect for 4C hair.
It offers superior moisturizing properties, prevents hair loss and breakage while promoting healthy hair.
The carefully selected natural ingredients can work wonders on the hair.
This all-natural formula is designed to add shine and lasting hold so that you can say goodbye to frizzy, untamed curls.
---
8
BioSilk® Silk Therapy

Organic Coconut Oil Curl Cream
It revives dull lifeless hair and skin.
BioSilk curl cream reconditions dry, damaged hair and skin.
It reduces hair breakage and leaves hair healthier than before.
This is the ideal product to control and define curls naturally.
It is 92% natural, free of sulfates, and adds incredible shine.
---
9
Yarok® Feed Your Curls

Organic Curl Styling Cream
It enhances easy-to-manage curly hair and volume that takes the beauty of the hair to the next level.
It is made with the best beneficial ingredients that Mother Nature and Planet Earth have to offer.
Yarok Defining Creme allows you to enjoy frizz-free bliss and keeps blowouts straighter for longer.
This voluminous curl-enhancing cream works with wet hair or flat iron.
It allows you to enjoy beautiful silky hair with the best green and pure ingredients.
---
10
INNERSENSE® Quiet Calm

Organic Beauty Curl Control
It boosts and defines curls, eliminates frizz, and gives you smooth textured hair.
The Quiet Calm Curl Control cream combines certified Organic Shea Butter and curl-hydrating Rice Bran Oil and Oat kernel extract to protect hair when blow-drying it.
The bouquet of certified organic Orange flower oil and Frangipani extract creates a unique fragrance profile and works toward providing you a sense of calm and quiet.
This product is Paraben-Free, Sulfate-Free, Cruelty-Free, All-natural, and Organic.
---
Index Table: Top-Rated Organic Curl Cream for Hair
---
---