It's no secret that conventional hairsprays come loaded with alcohol, parabens, and fillers.
We think it's important to embrace natural, cruelty-free, and organic hair sprays.
We adore these five natural and organic hair spray brands for helping us stay true to our values, and feel beautiful while doing so.
If your hair is damaged, frizzy, colored, or naturally dry, try subbing out your current hair spray with one of these organic hair sprays. You might notice a big difference like many did.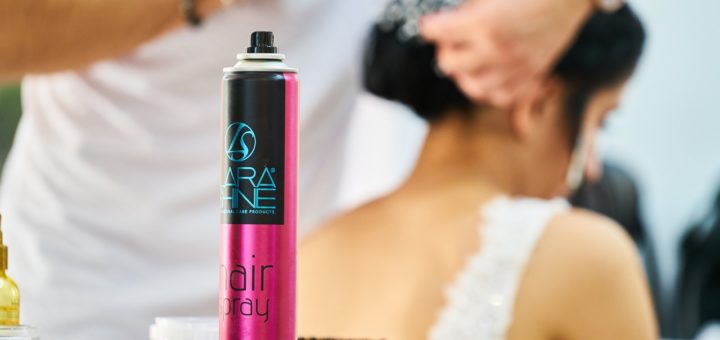 ---
Dangers of Conventional Hairspray
Conventional hairspray contains a variety of active ingredients – polymers and solvents – in addition to propellants. Polymers provide glue-like effects, while solvents are used to dissolve the ingredients into a solution. Just a few examples of toxic ingredients in hairspray are as follows:

Parabens

Benzyl salicylate

Eugenol

Petrochemical plastics polymers

Fillers and fragrances

One of the biggest issues with conventional hairspray is the use of plastic polymers. They allow your hair to relax, keeps frizz at bay, and keeps the hairstyle intact. When you spray the plastic-y hair spray, you easily breathe in the plastic and chemicals into your mouth, nose, and lungs. These chemicals can also enter your body through the skin and from there it goes into the bloodstream.
Hairspray is also something that clogs skin and scalp pores; too much clogging can lead to scalp acne that can be extremely annoying and painful. If the skin is continually breaking out or your pores get clogged with blackheads or whiteheads, your hairspray may be to blame.
Chemicals in hairspray can also cause thinning hair and hair loss, split-ends, dry hair, dry scalp, and other skin irritations including eczema.
Inhaling denatured alcohol, hydrofluorocarbons, and other hairspray ingredients can lead to acute poisoning, which is marked by low blood pressure, breathing difficulty and coma, says Drug Information Online.
---
Must Know Benefits Of Using Organic Hair Spray
The beauty world has been taken by storm by the Natural, Organic, Non-toxic, Vegan, Herbal movement. Organic hair sprays are now widely available at online beauty stores, salons, spas, and supermarkets. But why go organic when you love your current hair spray? Here are 5 benefits that will convince you to buy organic hair spray.
Plant-based natural hair sprays mean no nasty fillers and chemicals. It also means, happier (and healthier) follicles and flocks.

Zero compromises on hold and volume, thanks to the all-natural ingredients that strengthen the follicle and keep hair healthy and full.

With organic hair spray, you won't have to worry about painful allergies or hair thinning. Generally, natural hair spray suits all types of the scalp.

The chemicals in the regular hair spray don't just stay on your head; they go down the drain and into the environment. Over time, this can harm the environment.

You can't use hair spray without at least some of the product being absorbed into the scalp. In a way, you are poisoning your body with traces of chemicals daily. By using organic hair spray, you eliminate the chemical intake that's deleterious to your body.

---
What You Need in an Organic Hair Spray?
Aloe vera promotes hair growth and hydrates the scalp. It can also treat a variety of scalp issues, such as dandruff and itchy scalp.
Ever heard of humectants before? If not, they are substances used to reduce moisture loss. One such humectant is vegetable glycerin, and it can be found in several organic hair sprays.
Tea tree oil not only smells amazing, but it's also a natural remedy to unclog hair follicles and nourish your roots. It is antibacterial, anti-fungal, and antiseptic, too.
Another essential oil, rosemary encourages hair growth. It is also hydrating and soothing; great for combating dryness and dandruff.
---
Reviews: Best Organic Hair Sprays
Now that you know chemical-filled regular hairspray is dangerous for your body and our planet, getting a natural option is the only way to go. It can be daunting to find a natural hairspray with that works well, so we have put together a list of the five best organic hair sprays to help get you started.
---
1
There are very few truly natural hair sprays out there, and Enovvia tops the list.

Brimming with only five natural ingredients, this hairspray keeps flyaways down and hair held in place for longer.

The scent is seriously good and has no copolymers, acrylates, PVPs, petroleum derivatives or synthetic fragrances.

This sugar-based, non-aerosol hair spray leaves hair feeling shiny and supple, while still providing a decent hold without stickiness.

Enovvia natural hairspray is also non-drying, and is lightweight and will never weigh your hair down.
---
For those who just need a lightweight hair oil spray to protect the strands, the EDENIS Ultimate Women's Rainforest Oil Mist Spray is the best bet.

You'll love how this heat resistant formula rejuvenates and invigorates your dry, sensitive or damaged hair. And, the smell – it's amazing!

Containing Lemon, Sunflower, Burdock Root Extract and other natural oils, this organic hair spray stimulates the scalp without drying it out.

There's no hidden artificial fragrance and no paraben or sulfate lurking in the hairspray either. It doesn't make hair gooey-gooey.

Apply this vegan formula freely to wet or dry hair all over to prevent frizz and heat damage.
---
3
This is one of the best natural hairsprays because it's loaded up with all the good stuff hair needs in a hairspray. Keratin, Argan Oil, and Silk Amino Acids, Tea Tree Water, Coconut Water and more.

TreeActiv hairspray is filled with Biotin, Vitamin B5, and Tea Tree, which helps mitigate the drying effects of hairspray by coating your flocks in a sheer layer of moisture.

The brand specifically uses natural oils, herbal extracts, and distilled water so you can be assured that you're not putting unwanted minerals, hard water or pollutants in your hair.

Bonus: it smells amazing. Plus, it is light and does not weigh down the hair. You can simply spray it on wet or dry hair and, once it dries, you really can't tell you've put the spray.
---
4
Here's another organic hairspray that we would suggest. It's enriched primarily from botanical ingredients like


Cannabis Sativa Seed Oil, Shea Butter, Coffea Arabica (Coffee) Fruit Extract, Lemon Fruit Extract, and more.

The hemp seed oil used is THC-free and derived from organic hemp plants that are non-toxic. That means all-natural ingredients work additively to keep hair healthy, whilst providing excellent hair texturizing.

The all-natural spray is also non-drying, will not clog pores, and is lightweight and will never weigh your hair down.

While many hair sprays on the market contain paraben and sulfate, this texturizing natural hair spray is free of fillers and preservatives.

Another reason to choose this: it suits all types of hair including color-treated hair.
---
5
For an organic hair spray that offers great fold and frizz control while moisturizing, this formula has you covered.

It contains a good amount of organic vodka to cleanse the scalp, remove toxins, and add shine while still keeping your flyaways in place.

The formula in this hairspray contains organic sweet orange oil, which moisturizes and conditions hair and gives it hydration, along with organic geranium oil balances sebum and natural oil.

With no paraben, PEG, petroleum-based ingredients, gluten, dairy, soy, GMO, and Copolymer, it is a safe hair spray that you can rely on all seasons.

All organic oils used are hexane free, cold-pressed, non-refined, and non-deodorized. The product is USDA Certified Organic, Cruelty-free, as well as vegan.
---
Index Table: Top 5 Organic Hair Sprays
---
---