Some of the links in this post are affiliate links. This means if you click on the link and purchase the item, I will receive an affiliate commission at no extra cost to you. All opinions remain my own.
Haircare is very important to maintain strong, shiny, and healthy hair.
Oils play an important role in nourishing the hair and strengthening them from the inside out.
Read on to determine which oils are best for hair and the proper way to apply oil to the hair for maximum benefit.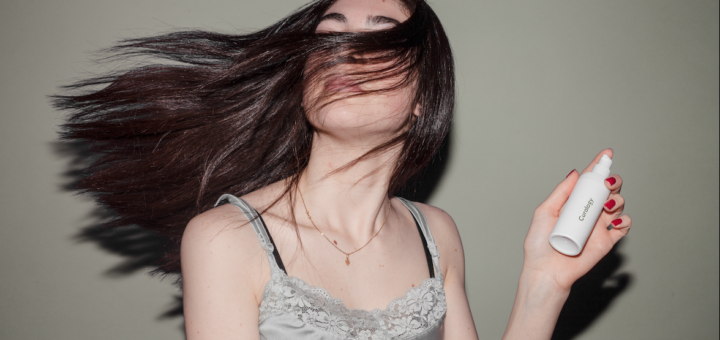 Table of Contents
Best Oils for Hair Nourishment
Here are the best oils for hair nurishment:
1. Coconut Oil
2. Castor Oil
3. Olive Oil
4. Sweet Almond Oil
5. Tea Tree Essential Oil
6. Jojoba Oil
Although there are many oils that can be beneficial for the hair, the ones listed below are the top picks for hair growth, nourishment, and protection.

Coconut Oil – Coconut oil is an excellent moisturizer for the hair and scalp. It seals moisture in the hair cuticles, preventing frizzy hair and split ends. Moreover, coconut oil also slows down the process of hair loss and prevents unnecessary hair breakage by strengthening the hair. Coconut oil is basically made up of fatty acids that penetrate deep into the scalp as well as the hair shaft, making it stronger from the inside. It also clears away dirt, debris, and product buildup from the scalp and soothes the scalp, preventing dandruff. Coconut oil is good for all hair types, including curly hair, thin and fine hair, as well as thick hair.
Castor Oil – Castor oil is very beneficial for hair growth and strengthening. It is rich in Vitamin E, minerals, and proteins, including Ricinoleic Acid, that can work wonders on the hair. Castor oil is known to have properties that promote blood flow and circulation in the scalp, so it is excellent for a hair massage. Moreover, castor oil is also known to help treat and prevent dandruff, especially with the help of ricinoleic acid. Castor oil also helps to soften the hair strands and moisturizes them deeply. It is especially suitable for curly and coiled 4c hair but can also be used for any other hair type for hair softening and growth. However, it's a very thick oil and may be mixed with any thin oil for better and easier application.
Olive Oil – Olive oil is a rich oil that can fix almost all hair problems. It contains large amounts of antioxidants, Oleic Acid, and Vitamin E. Due to this, olive oil works as a heat protectant by shielding the natural keratin found in the hair shaft. Olive oil is also known to have anti-inflammatory and exfoliating properties, which aid in dandruff removal and soothing the scalp. It provides a heavy dose of hydration and moisture to the hair that penetrates deep into the scalp and hair tresses, leaving your hair with a healthy shine. Olive oil works for all hair types, from dry and dull hair, to damaged, frizzy, and dandruff-prone hair.
Sweet Almond Oil – Almond oil, especially sweet almond oil, comes from kernels inside sweet almonds. It is rich in fatty acids, Vitamin E, proteins, as well as antioxidants, and minerals, including magnesium. Magnesium plays an important role in reducing and preventing hair breaking while also promoting hair growth. Almond oil moisturizes the hair and scalp and seals in the moisture to prevent dandruff. It also protects the hair against breakage and hair loss. Moreover, almond oil is known to strengthen the hair and enhance growth. It is ideal for dry and damaged hair, including color-treated hair that has become weak and compromised due to the chemicals.
Tea Tree Essential Oil – Tea tree oil has recently gained popularity for its benefits for acne-prone skin. However, it is also great for the hair and scalp. Tea tree oil is a powerful antibacterial and antimicrobial agent that can clean the scalp of dirt and debris, allowing it to breathe. Moreover, it can unplug hair follicles and regulate the production of sebum to treat oily hair. It also increases hair growth, as once the scalp is clean, it can absorb all other products better and strengthen the hair shaft as well. Tea tree oil is especially beneficial for oily hair but can be used for any hair type. However, since it's an essential oil, it should be mixed with a carrier oil before application.
Jojoba Oil – It's really not a secret that organic jojoba oil is one of the best oils to use for hair growth. It helps your follicles produce more sebum which in turn makes it easier for them to grow and stay healthy. What makes this treatment so effective? It's all about its composition: jojoba oil consists mostly of liquid wax esters, which have amazing nourishing properties for hair follicles. These fatty acids help with moisture retention, preventing dryness and breakage. If you're struggling with thinning or shedding, jojoba oil could be just what you need!
How to Oil the Hair
Here are the best ways of putting oil on your hair:
1. Choose an Oil
2. Warm It Up
3. Massage the Scalp
4. Moisturize the Strands
5. Steam It
6. Wash It Off

Choose an Oil – Choose an oil that is appropriate for your hair. It depends on your hair type, whether it's curly, straight, or coiled, dry or damaged, dandruff prone or oily, etc., as well as any hair concerns you have, for example, slow growth breakage, dandruff, etc. You can use one oil or a combination of any oils, such as mixing carrier and essential oils, for added benefit.
Warm It Up – Once you've decided on an oil, pour in a microwave-safe container and warm it up for a few seconds. You can also warm it up on the stove. Warm oil allows for better penetration deep into the scalp and cuticles while also soothing the hair and scalp.
Massage the Scalp – Massage the oil onto the scalp using your fingertips in circular motions. You can also use any massaging tools, as per your preference. It is better to apply oil to the hair after sectioning the hair for better application and to ensure uniform application.
Moisturize the Strands – After the scalp is moisturized, don't forget about the hair strands. Take some oil on your hair and work your way from the roots of the hair to the tips. Make sure the ends are properly moisturized with oil as well.
Steam It – Let the oil sit for at least an hour before washing it off. Wrap a hot towel or any soft cloth around the hair to steam the scalp and hair. This will soften up the dirt and debris on the scalp and also open the hair cuticles and follicles.
Wash It Off – After the steam, wash the hair with shampoo and conditioner. However, make sure not to use too much shampoo, as it can feel oily. Using too much shampoo can strip the hair of its natural oils as well. Make sure to use cold or normal temperature water and not hot water as it can damage the hair.
---
---