Some of the links in this post are affiliate links. This means if you click on the link and purchase the item, I will receive an affiliate commission at no extra cost to you. All opinions remain my own.
Let's face the fact: many dog foods on the market today are made with low-quality ingredients or contain fillers like GMO corn, wheat, and soy that do more harm than good.
Solution? Organic Dog Food!
Finding the right filler-free dog food for your pet means knowing the quality of ingredients, reading reviews, and knowing the do's and don'ts of choosing an organic dog food.
Keep on reading to know what constitutes a healthy organic food for dogs and which ingredients you must avoid!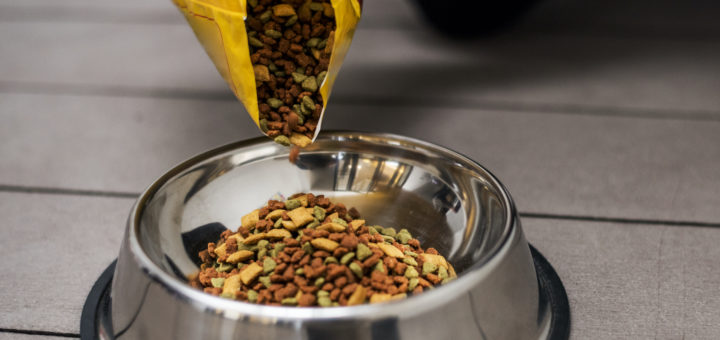 ---
What is Organic Dog Food?
To be labeled as organic, dog food must be free of all synthetic flavors, preservatives, and colors.
Additionally, the meat used to make pet food must be free of antibiotics and growth hormones.
The ingredients must not be genetically engineered or altered and must be farmed pesticide- and insecticide-free.
A label that reads '100% organic' indicates the dog food is made with all organic ingredients. On the other hand, if it says 'Organic', it only has about 95% organic ingredients.
---
Ingredients To Avoid In Pet Food
Here are a few ingredients to avoid in dog food that'll help you help your pooch live a healthier life.
Meat By-Products: These are the cheap fillers (majorly animal carcass remnants) that only contribute to bulk up the protein content of your dog.
BHA/BHT: These are used to preserve fats in human and pet foods. BHT has been directly linked with cancer for both dogs and humans.
Corn Syrup and Corn: These are the low-quality fillers that can cause indigestion, obesity, and allergies in dogs.
Animal fat: Rendered animal fat can be moldy and rancid because it is usually derived from unidentified animals.
Monosodium glutamate: This flavor enhancer is a potent allergen.
Soy: A common allergen, soy can be difficult for pets to digest, causing bloat and gas.
Sodium Tripolyphosphate (STPP): It is an active ingredient in many detergents used mainly to soften water. And, in pet food, STPP works as a preservative. U.S. Environmental Protection Agency (EPA) recognized STPP as an insecticide, fungicide, and rodenticide.
---
Important Points To Consider
Here's what to consider when evaluating natural or organic dog food brands. After these, you may visit organic mosquito repellent for yourself as well. It is important to take care of ourselves while taking care of others.
Organic vs. natural: Know these differences: 'Natural Dog Food' generally means the meat was produced naturally, without flavors, sweeteners, or preservatives. But it doesn't apply to the way the meat was produced. 'Organic Dog Food' refers to the way the meat was produced, meaning fed with all organic diet and better living conditions.
Grain-free vs. gluten-free: Gluten-free isn't the same as grain-free. Some grains do not contain gluten. This means you can get gluten-free dog food that still contains grains.
Organic ingredients vs. all-organic: "USDA Organic" on the label means the contents are at least 95% organic. 'Made with Organic Ingredients' label means at least 70% of the ingredients meet USDA organic standards.
Recognizable ingredients: Ideally, you should be able to read and recognize the ingredients on the label.
Regulations and certifications: It is equally important to know the names of agencies that regulate and enforce dog food quality.
---
Reviews: Best Organic Dog Food
---
1
Feeding organic food to your dog is one of the best ways to ensure he lives a healthy and happy life. So why not start with the Honest Kitchen organic grain dog food?
This one comes in three different delicious recipes to choose from, including cage-free turkey, free-range chicken, and ranch-raised beef.
Made of all-natural ingredients, what will be needed is just water as this organic dog food comes in dehydrated form.
The item is also available in 4 different package sizes to help you find the right fit for your pet's needs.
It contains only human-grade ingredients, with zero fillers and flavors.
---
2
Organix® Organix

Grain Free Organic Dry Dog Food
Parents of small-breed puppies know that their pups have special nutritional requirements. Enter Castor & Pollux Organix small breed dry dog food.
The food features organic, free-range chicken as the number one ingredient. It is rich in proteins and low in calories, making it ideal for any small-breed dog.
Organic food also contains Probiotics And Prebiotic to support healthy digestion. Other ingredients present are organic flaxseed, organic blueberries, and organic coconut oil.
Nutritious and grain-free, this organic dog food does not contain any added growth hormones, antibiotics, chemical pesticides, or synthetic fertilizers.
---
3
Taste of the Wild® High Protein Real Meat

Dry Dog Food
What we like about the Taste of the Wild dry dog food is that it is made with all-natural ingredients, including roasted bison as the key ingredient, fruits and vegetables, and added vitamins and minerals.
The roasted bison, roasted venison formula provides a grain-free diet for healthy digestion and balanced nutrition for all dog breeds.
Enriched with PROPRIETARY PROBIOTICS, ANTIOXIDANTS, and OMEGA FATTY ACID, the food is the right choice for a healthy gut, and luscious skin & coat.
Made in the USA with only premium ingredients, this natural dog food is free of corn, wheat, soy, or artificial flavors and preservatives.
Though it's a little pricier than the other dog food picks on this list, considering the amount of 'good for your pet' ingredients, it's well worth the dollars.
---
4
Rachael Ray Nutrish® Real Chicken & Veggies Recipe

Dry Dog Food
The Rachael Ray Nutrish Real Chicken & Veggies Dog Food is a delicious recipe based on chicken, peas, carrots, and brown rice. It also includes prebiotics, vitamins, and minerals to support a healthy diet.
All chickens are the U.S. farmed and raised in healthy conditions, and the meat is free of any poultry by-product meals, preservatives, or added chemicals.
The label has a detailed food chart with the necessary amounts of food depending on your dog's breed, age, and great weight.
Additionally, it has helpful information about how to transition from old dog food to new food without any complaints from your pet.
---
5
Blue Buffalo® Basics Limited Ingredient Diet

Natural Senior Dry Dog Food
Senior dogs require a lesser amount of food and nutrients compared to pups. The turkey and potato recipe from The BLUE Basics dog food line is specifically formulated for senior dogs.
The vitamins, antioxidants, and minerals are well-balanced in this natural dog food to ensure that your dog maintains a daily balanced diet.
What we like about this one is that it features superior quality deboned turkey as the single-animal protein source. The turkey meat is perfect for your senior dog as it is light and easier to digest than chicken or beef.
It also contains easily digestible carb sources and pumpkin for quick and healthy digestion. Of course, there are no corn, wheat, soy, dairy products or eggs, chicken, or beef.
The organic dog food is available in two sizes – 4 pounds and 24 pounds, to suit your budget and dog's specific needs.
---
6
Tender & True Pet Nutrition® Premium

Chicken & Liver Dog Food
This is a USDA Organic Certified chicken, prepared especially for dogs.
The main ingredient in this dog food is cage-free organic chicken.
It is a Grain-free recipe and also does not contain any corn, wheat, or soy.
This is a balanced formula for all life stages.
---
7
Dr. Harvey's® Canine Health

Miracle Dog Food
Canine health is a base mix used to effortlessly create balanced, homemade meals for your dog. It is known to improve your dog's kidney health.
This human-grade dog food is packed with real food, including nine dehydrated vegetables, crushed eggshells, and six organic grains.
It is made without any preservatives, dyes, chemicals, and fillers.
Homemade dog food made easy; preparing canine health only takes minutes, simply rehydrate with hot water and add your own raw meat, top off with Dr. Harveys Fish Oil for Dogs and Dr. Harveys Kidney Health Supplement for a complete meal
This nutrient-dense whole-food-based dog food has been shown to improve your dog's digestion, increase energy, give a shinier coat, less itchy skin, and less smelly stools.
---
8
Evanger's Dog & Cat Food® Organic

Beef Dinner Dog Food
Evanger's organic Beef Dinner is formulated to meet the nutritional levels for all life stages.
Puppies, pregnant, and nursing dogs May require 2-3 times the above amount.
You can reduce amounts for less active or older dogs.
---
9
Newman's Own® Organics

Chicken Dinner For Dogs
This healthy dog food is grain free, wheat-free and corn-free.
It is Certified Organic By Oregon Tilth and made in the USA.
It is also free of added Antibiotics or chemical additives.
This dog food is suitable for dogs of all life stages.
---
10
Organix® Castor & Pollux

Butcher & Bushel Dog Food
It is made using large, satisfying cuts of real organic free-range chicken and potatoes.
This dog food is free of any chemical pesticides, synthetic fertilizers, artificial preservatives, added growth hormones or antibiotics
---
Index Table:Top Rated Organic Dog Food
---
---