Fertilizer can be a very tricky subject if you don't know what you are doing to the soil!
Below we have compiled some useful information on how soil ecology works, why organic fertilizers are more beneficial than other kinds, what NPK means, as well as some of the best features of organic fertilizers that will make your vegetable yields skyrocket.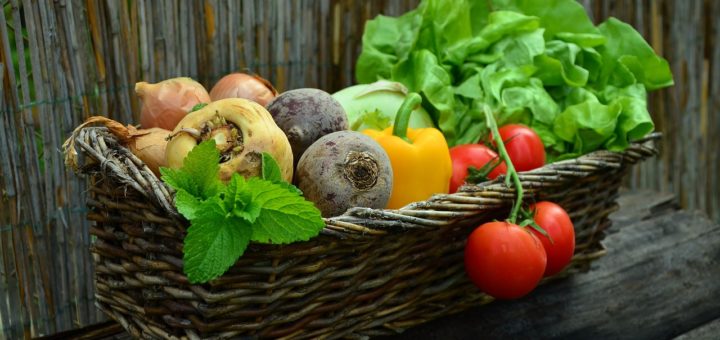 ---
A Brief Look At Soil Ecology and Organic Fertilizers
The quality of your soil is the key to having the best harvest.
The soil is often referred to as the 'poor man's rainforest' because it is a home for trillions of micro-organisms. Without a healthy abundance of these micro-organisms, your soil will not thrive, no matter how much fertilizer you throw at it.
In brief, healthy soil functions in the following way:
Decomposition – First, organic matter begins to decompose into the soil. Bugs and worms that we can see with our eyes, as well as fungi and bacteria, begin this process, breaking the matter down into smaller particles.
Dispersal – Micro-arthropods moving around in the soil that come into contact with decomposing matter tend to carry fungi spores with them or eat other micro-organisms, carrying them through their digestive tracks. This spreads these beneficial micro-organisms everywhere, which help to fix nutrients from the decomposing matter into the soil.
Micro-Grazing – These micro-organisms are then fed off of on other beneficial organisms that aid in fixing Nitrogen into the soil and that promote a quicker breakdown of organic matter. The finer organic particles are broken down, the easier it is for plants to absorb the nutrients and the better the soil will hold water like a sponge.
Apart from organic fertilizers for vegetables, organic lawn fertilizers usually work as well with the natural ecology, helping to encourage bacterial and fungal growth to promote the natural spread of Nitrogen in the soil. Nitrogen is one of the primary active ingredients integral to growing healthy plants.
Many inorganic fertilizers destroy this natural balance and prevent Nitrogen from fixing itself naturally in the soil through the work of these micro-organisms, thus requiring more and more each year with diminishing returns.
---
An Explanation of the NPK Ratio
All fertilizers will talk about their NPK ratio, three numbers that appear on the packaging somewhere such as '3-1-2'. These letters and numbers represent the ratio of three macronutrients that are most beneficial to plants.
Nitrogen (N) – Nitrogen promotes healthy leaf and stem growth.
Phosphorus (P) – Phosphorus helps develop a strong and healthy root structure.
Potassium (K) – Potassium is used by the plant as a whole, acting as a staple dietary nutrient for most healthy plants.
An easy way to remind yourself of the above info is 'up, down, all around,' N is good for the upper part, P for the lower part, and K for the whole plant.
Organic fertilizers often have the right balance of these nutrients as well as beneficial bacteria to help spread them equally in the soil.
Remember that plants are highly sensitive and cannot ingest particles that we can see with our eyes.
Even the overuse of organic fertilizer can smother and burn the soil, and one should stick to the correct dilution instructions to ensure they do not damage their soil's ecology.
---
5 Best Features of Organic Fertilizer for Vegetables
Here are five of the best organic fertilizer properties and what they do for your plants:
Mycorrhizae – Mycorrhizal fungi help to fix nitrogen into the soil in a form plants can absorb. They also break down organic matter and aid the soil's ecology.
Archaea – Archaea are microbes that can live in extreme environments. Inside mild environments, such as potting soil or your lawn, they help to rapidly break down organic matter, helping your plants bloom a lot faster than other micro-organisms.
Lower NPK Ratio – A low NPK ratio is better than a high one so as not to overload your plants with nutrients. The less rounded off the numbers of the ratio, the more natural the fertilizer is.
Naturally Extracted Minerals – Minerals extracted from natural rocks and decomposing matter like bone meal are far more beneficial for the soil and your plants.
Certified Organic – Make sure the fertilizer is 100% organic and without any added chemicals for the safety of both you and your garden.
---
Reviews: Best Organic Vegetable Fertilizer
Below are reviews of some of the best organic fertilizers for vegetables or your garden, available for immediate online order!
---
1
This 100% natural and organic fertilizer is great for your lawn, a vegetable garden or potted plants such as bonsai trees and flowers.
As it is loaded with beneficial nutrients, the fertilizer comprises of fish and fishbone meal, kelp, feather meal, soft rock phosphate, alfalfa meal as well as micro-organisms.
The combination of probiotics, endo- and ectomycorrhizae, as well as seven champion strains of soil micro-organisms, encourages the rapid breakdown of compost.
Promotes healthy soil ecology at a speed that produces quick results and higher yields.
This fertilizer is ideal for tomatoes and other nutrient hungry plants, having an NPK ratio of 5-7-3.
---
2
Jobes Organics® Natural Fertilizer

Pure Organic Fertilizer Tomatoes and Vegetables
Jobe's Organics all organic fertilizer puts a focus on rapid root growth with organic ingredients that give it an NPK ratio of 2-5-3.
This fertilizer is granular, which allows for it to boost the soil's ecology as well as trap water more effectively in the soil.
Create a healthy ecosystem in your garden by applying this fertilizer in the soil every 1-2 months as required.
Particularly great for tomatoes, this fertilizer offers an enhanced vegetable crop to all those who use it.
This product has been certified as 100% organic by the USDA and is entirely free of chemicals.
---
3
Jobes Organics® Water-Based Fertilizer

Organic Water Soluble Vegetable Plant Fertilizer
This organic fertilizer is an easy-to-use water soluble source of plant nutrients that encourages healthy plant growth and crop yields.
It contains a gentle yet effective NPK of 3-1-2, placing more emphasis on leaf and stem growth and making it more ideal for pot plants or indoor gardens.
Includes fast-acting micro-organisms such as mycorrhizal fungi and Archaea, effectively improving the quality of the soil and the yield of your vegetables.
Healthy soil ecology helps to prevent plant disease and infections as well as being more tolerable to drought.
Certified organic by USDA standards and 100% free of harmful chemicals, making it safe to be near you, your children, and your animals.
---
4
Shin Nong® Pro Organic Fertilizer

All Purpose Organic Vegetable Fertilizer
This all organic fertilizer has been extracted from natural rocks for minerals and beneficial micro-organisms, producing the ultimate all natural fertilizer.
It contains a natural NPK ratio of 4.68-3.6-1.44, unlike many other fertilizers that use artificial processes to round their numbers off.
This fertilizer produces no harm to the soil and can't be overused or burn the plants at all, making it superior to other brands.
Promotes soil ecology and invites water to remain locked into the soil, keeping plants alive and well all year round.
Rated as the number one fertilizer of 2016-2017 above other organic brands.
It can be used in aquaculture systems without killing fish.
---
5
SEA-90® Mineral Fertilizer

100% Organic Mineral Fertilizer for Vegetables
This fertilizer is completely natural, full of minerals and trace nutrients and can even double up as a safe livestock feed additive!
Water-soluble and odorless, it is convenient to use and does not leave an offensive smell inside should you require it for your indoor garden.
Promotes green growth and soil ecology, encouraging the correct balance of nutrients and placing them where they need to be.
Extracted from marine salts and minerals, plants genuinely love the rich diversity of bio-available nutrients inside this fertilizer.
Appropriate for hydroponics and aquaculture applications.
---
6
Miracle-Gro® Edibles

Performance Organics Plant Food
The Miracle-Gro Performance Organics Edibles Plant Nutrition Granules is the perfect thing to feed tomatoes, vegetables, herbs, and fruits for maximum growth.
This OMRI listed plant food provides vital nutrients for bigger harvests as compared to unfed plants.
The plant food comes in nutritious granules, made with completely natural and organic components.
For best results, reapply every 4-6 weeks and water regularly.
This 2.5lb pack covers up to 220 sq. ft. of area.
---
7
North Country Organics® Pro GRO

5-3-4 Organic Fertilizer
The North Country Organics plant fertilizer is made with premium Pro GRO technology, using only organic ingredients.
This product is OMRI listed.
The organic fertilizer comes with a guaranteed 5-3-4 analysis, making it ideal for lawns, trees, vegetables, and small fruits as well as farm fields.
This package covers up to 1250 sq. ft. of area.
---
8
EcoScraps® Edible Gardening

Organic Plant Food Fertilizer
This product is specially designed and developed to support all types of edible gardening.
The all-in-one particle product allows for a clean, even, and easy application.
Each particle contains the full guaranteed 5-4-6 analysis for uniform feeding, resulting in optimum growth and health of the plant.
The EcoScraps plant food includes recycled leftovers from all parts of the food life cycle to minimize wastage and maximize benefits and recycling.
This organic gardening fertilizer does not contain added poop.
---
9
Miracle-Gro® Nature's Care

Organic Plant Food
This organic plant food allows you to satisfy and grow your raised bed garden big and strong by providing the plants with a power-packed meal.
Each bag is filled with essential nutrients to allow the plants to reach maximum growth and health for your raised bed garden.
The organic gardening product is OMRI Listed.
Simply sprinkle and work into the soil, and spray water on top.
Each pack feeds up to 2 months.
---
10
Growth Science® Veg Booster

Abundant Sea (0-0-3) Fertilizer
The Abundant-Sea fertilizer acts as a powerful vegetative booster.
It is designed to optimize the plant's capacity for maximum vegetative growth and health.
This product is a CDFA registered organic input material, as well as WSDA & CleanGreen Certified.
The Growth Science Organic Vegetable Booster is formulated from a blend of four types of kelp to harness the growing power of one of the world's fastest-growing organisms.
This product employs a scientifically crafted blend of fermented plant material to increase the bioavailability of nutrients, which increases the structure and density of the plant.
This results in stockier, sturdier shoots and branches with more compact internodal spacing.
---
Index Table: Top Organic Fertilizer for Vegetables
---
---