Unlike organic candles, other types of candles have lead and paraffin. Both of these substances are harmful and even carcinogenic. A good replacement for these, the organic candles are safe, secure, and home-friendly, and their fumes are not at all harmful.
Best organic candles are made out of vegetable wax. They are made either of soy or beeswax. The burning candlewicks are also made of organic cotton, which is again amazing.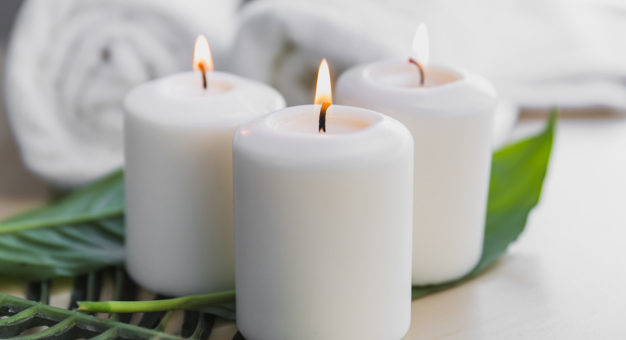 ---
Buying Considerations for Best Organic Candles
Before buying organic candles, there are a few things that you need to take care of. Check out the buying recommendations given below for the best results.
Type of Wax – Check for the wax used to make the organic candle. There are different types of vegetable waxes used in them. Soy, beeswax, or Non-GMO corn seeds. If no wax variant is mentioned, it must be paraffin, which is not good.
Candlewick stuff – Apart from the candle, the candlewick must also be made out of organic cotton. Otherwise, it will be coated with paraffin or other harmful combustible material.
Fragrance – Yes, fragrant candles are good and a part of aromatic therapy. But take note that the artificially scented candles cause nuisance rather than relief. Ensure that your best organic candles have natural scents.
Health hazards – Check for any health hazards associated with particular candle stuff.
---
Consider these properties of the best organic candles
Finding the right organic candles is easier said than done. Many unseen factors are at play here. Check for these properties while you buy the best organic candles.

Won't cause Indoor Pollution – Candles can sometimes emit harmful fumes inside the room that can cause a health hazard. An ideal candle must not pollute the room. These fumes contain toluene and benzene, which are also carcinogenic.
Don't go for Phthalates – Artificial scents in the candles are born out of the presence of phthalates. However, phthalates contain harmful chemicals that can disrupt the chemical makeup of the hormones.
Eco-Friendly Candles – There are several variants of eco-friendly candles that are made out of soy or beeswax. Especially soy candles, they burn for a longer time.
Non-Toxic Materials – The United States Consumer Product Safety Commission has already banned the use of lead in making candles. Hence, always check for the ingredients and materials used in making them before you buy them.
---
Features of a Good Organic Candles
Listed below are the most important features that must be there in the organic candles that you look to buy. Check them before moving forward.
Manufacturing – It is essential to know that where the candle is manufactured. Best organic candles made in the USA have better quality.
Burn time and light – The organic scented candles have a wide diversity in burn time. The coated candles have less burn time than this which are not scented and coated.
Chemical-Free – Any organic and scented candle can have chemicals that enhance its life. But, these candles are also harmful to health and should be avoided.
Hand Poured – The hand-poured candles have a better finish and have the capacity to perform better.
Do you know that organic cat litter is also popular? Click the link to know why!
---
Reviews: Best Organic Candles
Listed below are the best organic candles that you can buy from Amazon.
We hope you love the products we recommend!
So that you know, We may collect a share of sales or other compensation from the links on this page.
---
1
This aromatic best organic candle is made with essential oil, soy wax, and pure cotton wicks.
The blend of rose and lavender is a stress buster as it helps in reducing anxiety and decreases stress levels.
The aromatic properties of this candle are particularly important for your bedroom as they will help you relax after a hard day's work.
No preservatives, artificial fragrances, chemicals, or harmful material are used in this organic candle.
It comes in a beautiful jar that looks good in your room, and the flat pressed glass cover will blow it out when needed.
---
2
Malicious Women® Hemp-Infused

Exotic Candle
The exotic hemp-infused candle that is legal in all the States has Cannabis Flower and Patchouli.
Gives out an amazing earthy and wooden scent that is made with the help of exotic leaves, allspice, pepper berries, and cassia root.
The candlewick is fragranced, cotton braided, lead, and zinc free.
It is made in the USA with natural soy and organic materials. There are no additives, preservatives, and other harmful materials.
You will get this best organic candle in a reusable jar with a metal lid.
---
3
Heirloom® Essential Oil

Beeswax Candle
100% hand-poured candle that is made out of beeswax and emits a beautiful Vanilla Scent.
The beeswax is double poured to prevent the popping of bubbles inside the container.
It is made from locally harvested beeswax without imposing any cruelty on the bees.
It is presented in a beautiful transparent glass jar that brings out the natural scent and aesthetics of the best organic candle.
Made from essential vanilla oil, it burns evenly and lasts longer than other candles.
---
4
American Soy® Unscented

Tea Light Candles
Made from Soy wax, this organic candle will burn for up to 7 hours and contains 36 units in one pack.
The candle material is paraffin-free, meaning it is safe to use inside the room and won't emit excessive heat.
It can be included in a survival kit or everyday life. The light is brighter due to the absence of scents and other aromatic elements.
The candle jar is polycarbonate, and the base is flame resistant and will burn out evenly from all sides.
The soybeans needed to make this candle are procured from the USA's heartland.
---
5
Southern Therapy® Moisturizing

Scented Candle
These best organic candles made by Southern Therapy have remedial properties; it helps with dry hands.
You will get a mix of soy wax, avocado oil, and a few other beneficial elements for the body and health.
The candle material is poured with your hands into the jar to get the best fragrant properties and oil combination.
It has a higher burning time of around 50 hours.
---
6
Moss Chandlers® Aromatherapeutic

Beeswax Candle
The Moss Chandlers beeswax candle has the essence of eucalyptus. It is safe and non-toxic.
100% of organic and original beeswax is used to manufacture this candle
It comes in a glass jar and contains a blend of certified and organic essential oils.
The candlewick is also cotton braided and coated with authentic hemp.
One of the few best organic candles that are made in the USA.
---
7
Mrs. Meyer's® Clean Day

Organic Soy Candle
This organic candle is made from renewable ingredients such as soy wax and vegetable wax to reduce any harm to nature.
It comes with a non-metal, lead-free candle wick that burns for 35 hours, infusing your surrounding with a long-lasting Basil scent.
This garden-fresh honeysuckle scented candle offers a tempting sweet scent and a charming mix of flowers and fruits.
It comes in a recyclable glass candle jar and makes for an easy and beautiful gift.
Mrs. Meyer's products are cruelty-free and have never been tested on animals.
---
8
Yinuo Mirror® Luxury

Organic Scented Candle Set
This package includes three scented candles: French Cade Lavender, Goji Tarocco Orange, Persimmon, and Copal scented. The three scents of these candles will help you create an inviting and relaxing atmosphere in your surroundings, as they go well with each other.
These candles are made from natural organic soy wax, pure-grade natural essential oils, and a lead-free organic cotton wick.
Each candle burns for almost 20-25 hours, whereas the scent lasts longer.
They come in high-quality amber glass jars that are perfect as decorations or storage containers after the candle has been completely used and are beautiful enough to be given as gifts.
These candles are Eco-friendly and Organic.
---
9
YMING® Aromatherapy

Organic Scented Candles
This candle set offers four scents: Lemon, Lavender, Mediterranean Fig, and Spring.
These candles are made with 100% natural soy wax, burn evenly, and do not produce any black smoke.
Each candle comes in a reusable tin; once fully burned, the beautiful tins can be used as a decorative storage container.
These candles, with long-lasting scents, burn for almost 20-25 hours each.
These aromatherapy candles are thoughtful and beautiful gifts in a beautiful gift box.
---
10
Aira Soy Candles use pure, organic soy vegetable oil as the base for these soy candles, whereas the wicks are 100% cotton and lead-free.
This product is Organic, Kosher, and Vegan.
This brand employs a variety of essential oil blends for an unadulterated scent and light that is long-lasting and relaxing.
It does not contain any added harmful chemicals for appearance purposes.
This pack contains two scented candles: cranberry apple and winter wonderland.
Winter Wonderland brings fresh-cut balsam, pine, and fir with cinnamon and sweet oak moss. At the same time, Cranberry Apple offers a variety of sweet scents, including citrus orange, cherry peach, vanilla, cinnamon, and a whole lot of cranberries and apples.
These soy candles are purely soy oil-based and contain no paraffin content.
---
Index Table: Top-Rated Organic Candles
---
---