Cats are very likable pets. And like any other pet, cats also make their parents fall in love.
Of course, everyone wants the best things for their cat. This includes finding the best Organic Cat Litter, among other things.
If you need our help in doing that, read on!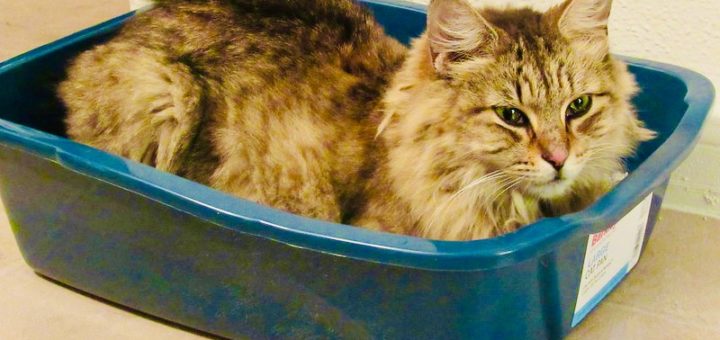 ---
Types of Cat Litter
Clumping Litter – The clumping type of cat litter contains Clay mixed with Sodium Bentonite. The main benefit of sodium bentonite is that it clumps together when it comes into contact with moisture. It also tightly binds the moisture within the clump. Hence it can be easily scooped out, leaving a clean litter bix behind.
Non-Clumping Litter – The main component in the non-clumping litter is Calcium Bentonite along with Clay. This type of bentonite can absorb roughly its weight in fluid before becoming saturated. When using this type of clay, the whole box needs to be cleaned since you can not scoop out the waste alone.
Natural Litter – Any litter that is made from biodegradable, natural or recycled products is considered natural litter. Walnuts, Corn, Wheat, Pines, and paper are just some of the many things used to make natural cat litter.
---
Essesntials and Procedures of Using Cat Litter
More than One Litter Box – Provide your cat with at least two litter boxes for their comfort. Otherwise, if they only have one option and cannot reach it when needed, they may develop a painful association with litter boxes.
Placement of Litter Boxes – Litter boxes need to be placed strategically. Place them near exits, with plenty of space around and good air circulation. Also, keep at least one box on each floor. Ensure the litter box is not in a place where your cat is at risk of catching a cold or getting upset because of noises or too many people.
Quantity of Litter – It is advisable to put around 2-3″ of litter in each box so your cat is comfortable when sitting on it.
Cleaning and Maintenance – Regularly clean your litter box to keep your cat and, by association yourself, safe from infections and germs.
---
What to Look for in Cat Litter
Odor Control – Cat Litters must be of a material that is quick-absorping and can neautralize any odors.
CLumping/Non-clumping – The ideal cat litter must suit your requirement of being clumping or non-clumping.
Size and Texture – A soft textured cat litter is suitable for the soft paws of your cat. Litters with medium sized grains have the benefit that they do not get spread around the house.
When you finish looking for your organic cat litter, we suggest you check these organic fertilizers for vegetables as they have filled with essential nutrients to allow the plants to reach maximum growth and health for your raised bed garden.
---
Reviews: Best Organic Cat Litter
Given down below are some of the best Organic Litters we found for your cats.

---
1
This natural cat litter is completely Wheat-based and does not contain any harmful ingredients.
sWheat Scoop's litter is 100% biodegradable and hence, a renewable source.
The Multi-cat litter contains no dyes or perfumes and is made from 100% recyclable ingredients so everything can go back into the ground.
This product is made using Noble Ion Technology, which is an exclusive all-natural technology.
It has the property of neutralizing any odor naturally without covering the scent with synthetic fragrances.
sWheat Scoop boasts a 2X stronger clumping factor and Odor elimination factor.
This litter is designed to be flushable for quick and easy cleaning and no mess.
| Rating Category | Weight % | Score |
| --- | --- | --- |
| Quick Clumping | 30% | 100 |
| Dust-Free | 25% | 100 |
| Odor Control | 20% | 95 |
| Non-Stick | 15% | 90 |
| Eco-friendly | 10% | 95 |
| Total Score | 100% | 97 |
---
2
Naturally Fresh® Unscented

Organic Cat Litter
This exclusive cat litter formula uses the fibrous materials of walnut shells to be completely organic and natural.
It naturally neutralizes odors in the litter box much better than clay, wheat, and other such litters.
The brand guarantees 3X better absorption, making it long-lasting compared to other brands. The super-absorbent formula quickly creates tight clumps, which makes cleanup quick, easy, and mess-free.
The walnut-based litter is free of any silica dust to make breathing safe and comfortable for yourself and your feline friends.
This non-sticky formula makes sure the litter does not get around the house via your cats' paws.
It is made from natural and 100% biodegradable walnut shells categorized as a non-food agricultural product.
This product is eco-friendly, cat-friendly, and human-friendly as it does not contain anything harmful.
| Rating Category | Weight % | Score |
| --- | --- | --- |
| Quick Clumping | 30% | 100 |
| Dust-Free | 25% | 100 |
| Odor Control | 20% | 95 |
| Non-Stick | 15% | 90 |
| Eco-friendly | 10% | 90 |
| Total Score | 100% | 96.5 |
---
3
ECO>ABSORB® Cat Litter

Organic, for Multi/Single Households
This product is made from special Coconut Pith and coconut-based activated carbon.
It absorbs and locks in odor to keep the litter box and its surroundings stink-free and fresh.
ECO> ABSORB's cat litter boasts of anti-microbial properties that come from coconut pith. It stops bacterias, fungus, and mold from growing.
This bacterial growth is the leading cause of stink and bad odors coming from the litter box. Therefore, coconut pith also reduces odors.
This product is flushable and may as well be used as a soil conditioner. Instead of flushing it, remove the solid waste and pour the rest into your garden, as it 100% biodegradable.
Cocokitty is hypoallergenic and, therefore, friendly for asthmatic cats
The texture of this product is soft and spongy and especially suitable for sensitive or declawed cats.
| Rating Category | Weight % | Score |
| --- | --- | --- |
| Quick Clumping | 30% | 100 |
| Dust-Free | 25% | 95 |
| Odor Control | 20% | 95 |
| Non-Stick | 15% | 90 |
| Eco-friendly | 10% | 90 |
| Total Score | 100% | 95.25 |
---
4
Garfield Cat Litter® Ultimate Clump

Organic Sustainable Cat Litter
This vet-approved product is safe for cats with allergies like Bronchitis and Pemphigus Foliaceus, the most common feline autoimmune skin disease.
Garfield's cat litter is made up of small grains that are great for all kinds of felines.
It is specially designed to be dust-free to reduce the chance of allergies, keeping in mind cats and humans.
The white color of the litter makes it easy to observe any urine changes to help identify and diagnose diseases early on.
Cassava and corn both have odor elimination properties and instantly catches and controls any smell coming from cat waste before it spreads around the house.
This product is all-natural and 100% biodegradable, free of contains and flushable, and eco-friendly.
Garfield's Bio small cat litter is 3X powerful than any other brand and quickly forms rock-hard clumps.
It is easy to clean and perfect for multi-cat households as well.
---
5
Feline Pine® Natural Pine

Organic Non-Clumping Cat Litter
This pine-based cat litter boasts of fast odor control and absorption. It neutralizes any odor on contact by binding directly to ammonia odors and locking them away.
Feline Pine's cat litter is organic and natural and does not contain any harsh chemicals or synthetic fragrances.
It is a highly absorbent litter and does not form clumps.
This lightweight cat litter contains Sawdust shavings that are gentle on the kitty's paws.
---
6
Purina Yesterday's News® Paper

Recycled Cat Litter
This cat litter is made from recycled newspapers.
It absorbs 3X moisture by mass as compared to traditional clay-based or other litters.
It has a fast odor-controlling property.
Purina's cat litter does not contain any added fragrances and is 100% natural.
This paper-based cat litter is explicitly designed for low tracking and does not contain small particles.
Each pack contains 30lbs. of Purina Yesterday's News Unscented Cat Litter
---
7
ÖKOCAT® Natural

Wood Clumping Cat Litter
This next-generation, plant-based litter is considerably cleaner and healthier for your cat, family, and home.
The wood fiber in this litter naturally prevents enzymes from bonding with liquid and waste to stop the creation of ammonia and odor.
It includes precision-cut fiber that absorbs liquid on contact to form solid clumps for easy scooping and cleaning.
Clean wood fiber is screened and de-dusted for a cleaner pour to ensure there is no dirty clay dust.
This product does not contain any artificial fragrance, synthetic chemicals, toxic dyes and is Non-GMO.
It is made from sustainably sourced, responsibly rescued natural wood fiber that you can safely return to the earth.
---
8
Arm & Hammer® Natural

Clumping Cat Litter
This natural cat litter ensures an Odor-free home.
It is made using Baking Soda, Corn, as well as Plant Extracts for outstanding odor elimination.
The Arm & Hammer clumping litter is up to 2x more absorbent and results in solid clumps that you can clean out easily.
It is a low-dust formula and 50% lighter than traditional clay litter for easy carry and pouring.
This cat litter is specially formulated for Multi-Cat households with superior odor control.
---
9
Fresh Step® Advanced

Clumping Cat Litter
The Fresh Step advanced cat litter starts fighting odors on contact to control odor longer.
It controls odors naturally with odor-absorbing activated charcoal that traps and eliminates kitty litter odor.
This litter is 99% dust-free and a low-tracking cat litter for cleaner surfaces and cleaner air.
It locks in liquid on contact, with its high-absorbent clumping formula that prevents stinky crumbles from being left behind.
---
10
Sustainably Yours® Natural

Multi-Cat Litter
The white grains of this cat litter make it easy to keep the litter box tidy and spot differences in your cat's urine.
It virtually eliminates dust and is formulated for minimal tracking.
It doesn't contain any chemicals or fragrances.
The specially prepared corn in Sustainably Yours cat litter has exceptional odor-fighting properties that work to neutralize offensive smells without added chemicals instantly.
This biodegradable cat litter offers fast clumping and traps any residual odor and can be easily scooped out without breaking or crumbling.
---
Index Table: Top-Rated Organic Cat Litter
---
---