Some of the links in this post are affiliate links. This means if you click on the link and purchase the item, I will receive an affiliate commission at no extra cost to you. All opinions remain my own.
The best organic pajamas give you the feel of super-comfort while you lie around in them in the house. However, shopping for organic pajamas might get confusing if you aren't sure about their types and buying considerations.
Hence we have made a list of the best organic pajamas that are highly comfortable and best to choose in the marketplace. Let us go ahead and explore them.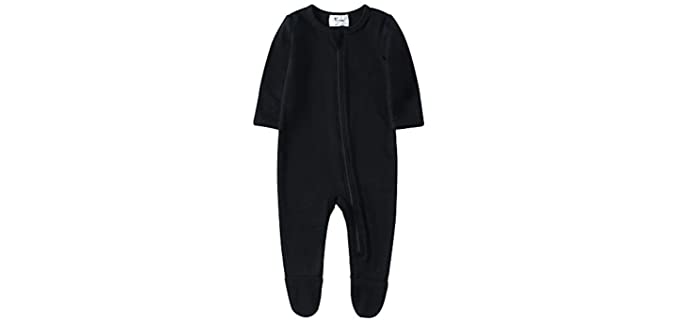 ---
Types of Organic Pajamas Fabric
Before going ahead and buying organic pajamas, it is important to know their fabric types. So let us look at some of the different types of organic pajamas fabric.

Cotton Pajamas – Lightweight cotton pajamas are best for the people living in warm places. The cotton fabric provides good air ventilation and makes the pajama convenient for use.
Flannel Pajamas – Flannel pajamas are made of a thick and warm fabric. These are designed especially for the winters and places that witness colder temperatures.
Supima Pajamas – Supima Pajamas are cotton-made pajamas that have amazingly soft and cool fabric. They are extremely lightweight and have a breathable surface.
Broadcloth Pajamas – Broadcloth Pajamas are built with heavy woven fabric. They have a heavyweight structure and offer good warmth during winters and cold seasons.
---
Benefits of Wearing Pajamas
Some of the top benefits of wearing pajamas are given as follows:

Lightweight – One of the biggest advantage of wearing pajamas is their lightweight nature. Unlike jeans, they provide great comfortability.
More Brethability – Pajamas are usually designed in a way to have high breathability. They are not tight as jeans and hence lets the airflow pass with ease through them.
Hygienic – Many do not know, but pajamas are more hygienic than jeans and other tight lowers. They provide sufficient space between the legs and the pajamas fabric so that the skin can shred the dead cells more easily.
Keeps you Warm – Unlike shorts, pajamas cover your legs fully and are suitable to provide you warmth at night or at winter.
---
How to Pick the Best Organic Pajama for Yourself?
Some of the essential points you need to remember while buying organic pajamas for yourself are given below:

Material – The material of the pajamas plays an important role in deciding which pajama to choose. Bamboo or cotton-made pajamas are usually the best material for pajamas.
Hypoallergenic – When buying yourself a pajama, make sure to select the pajama whose fabric is anti-microbial. It will ensure you stay safe from any harmful microorganisms.
Color and Design – Just like in organic towels, these pajamas come in a wide range of choice, and hence picking the right color and design for yourself is also an important parameter to consider.
Price – The pajama or a pajama set comes at an affordable price and is not much expensive. However, there are a few that have an extremely high price range following the multiple features they offer. So always pick the product within your spending limit.
---
Reviews: Best Organic Pajamas
The given list includes some of the best organic pajamas for you to buy this summer. Let us go ahead and have a look at these best six pajamas for you to buy. We also like to inform you that for every purchase you make through the given links, we might get some share of the sale.
---
1
Are you a sleep lover? If so then do check out this wonderful Hanna Andersson made organic pajamas.
These are made with 100% cotton that allows it to provide high breathability to the user.
The pajamas are easy to maintain and are machine washable.
An elastic band is encased at all the arms and legs opening that helps the pajamas to provide a better hold.
There are over twenty plus designs to choose from.
---
2
Lamaze® Multicolored

Best Organic Pajamas
Make your baby fall asleep with ease and comfort in this Lamaze made organic pajamas.
These are crafted with 100% cotton fabric and are highly breathable.
The pajamas are equipped with zipping and makes it easier to remove and wear the pajamas.
The pajamas are eco friendly and ensure no use of harmful chemicals in its making.
These pajamas will provide high comfort to your baby with its extra soft texture.
---
3
Burt's Bees Baby® Cotton

Organic Pajamas
Get a pair of attractive and elegant premium pajamas for your whole family.
These Burt's Bees Baby made pajamas are designed with high-quality cotton and ensure the best night's sleep.
These are available in more than eight, color and design variants.
The pajamas are machine washable and easy to care for.
The pajamas have pulled on closure design that makes it easier to wear and remove the pajama set.
---
4
Touched by Nature® Premium Made

Pajamas for Kids
Just like the name of the brand, this pajama set will touch your heart with its exceptionally well quality and comfortness.
The pajama set is ideal for kids having extra sensitive skin as the texture is super smooth and soft.
The pajama is made with 100% organic cotton and maintains the temperature well of the body.
It is machine washable and is ideal for everyday usage.
The pajama has a snap closure design that makes it easier for the parents to make the child wear it.
---
5
O2Baby® Black

Organic Pajama Set
This O2 Baby made pajama is one of the best pajama sets of its range.
It is crafted with 100% cotton material, which provides it a soft and smooth touch and makes it amazing for baby wear.
The stylish design of the pajama makes it more functional and provides it an aesthetically pleasing appearance.
The pajamas are available in eight different designs and patterns.
It has amazing breathability and ensures better coolness for the baby at all times.
---
6
YANWANG® Soft

Best Organic Pajamas
Now sleep at ease with this organic cotton made pajama set that is ideal for small kids and children.
It is made with 100% pure cotton and ensures no usability of any chemicals in its making.
The pajama set is reversible and can be worn on both sides.
It is enclosed with elastic at arms and legs opening to provide better gripping.
It is available in multiple sizes and has over ten designs to choose from.
---
7
Goumikids® Baby Footie

Organic Pajamas
These pajamas come with attached socks that are soft, and also easily detachable with a couple of flips.
They come with a bum flap to make diaper changing easier.
It is printed with high contrast patterns that are simple and clear enough for the baby to see.
These pajamas are made with 70% Bamboo-derived Viscose and 30% Organic Cotton.
---
8
Hatley® Girls

Organic Cotton Pajamas
These pajamas are made with 100% Organic Cotton to ensure it doesn't harm the child.
It is designed with a pull-on closure for a snug fit.
The pajamas are 100% eco-friendly and breathable.
It comes with an elastic waistband, as well as long-sleeves.
---
9
Finn + Emma Store® Sleep Set

Organic Toddler Pajamas
This pajama set is made from buttery-soft Organic Cotton, and is made in GOTS Certified Factory.
It is dyed with non-toxic chemicals and is also eco-friendly to ensure it doesn't harm the toddler or the environment.
The snaps on these pajamas are made with lead and nickel free metal and feature all-natural coconut inserts engraved with our signature birdie.
These pajamas are designed and created for toddlers aged 18-24 months.
---
10
Skylar Luna Store® Starfish

Girls Pajama Set
These pajamas are machine washable as well as dryabel.
It comes with a reusable linen pouch for storage.
This ser is created with quality and comfort in mind, using the purest 100% Organic Turkish Cotton.
It includes two pieces, a long-sleeved shirt and long pajama pants, with a starfish print.
---
Index Table: Top-Rated Organic Pajamas
---
---