Some of the links in this post are affiliate links. This means if you click on the link and purchase the item, I will receive an affiliate commission at no extra cost to you. All opinions remain my own.
Brushing the teeth is an essential part of everyday Oral Hygiene. Toothbrushes can be of different shapes, sizes, bristle texture, and material components.
Bamboo Toothbrushes are the best way to maintain oral health while still being Eco-conscious and Environment-friendly.
To read about the benefits of using Bamboo toothbrushes and the best eco-friendly Bamboo toothbrushes available, scroll down!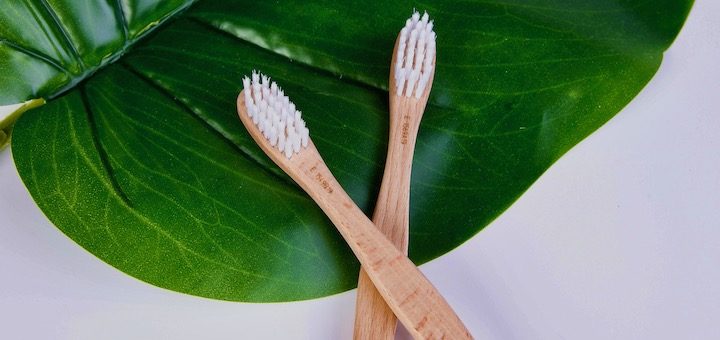 ---
Benefits of Bamboo Toothbrushes
Eco-friendly – The biggest difference between Bamboo and Plastic Toothbrushes is that Bamboo toothbrushes are Eco-friendly and Biodegradable. Bamboo handles are completely recyclable and do not release any harmful chemicals while degrading.
Oral Hygiene – Bamboo toothbrushes are naturally Anti-microbial. This quality is especially beneficial in Oral hygiene as it keeps the mouth clean and free from bacteria. Therefore, we also have this organic mouthwash to keep the teeth and gums free of plaque and leftover food bits.
Sustainability – Bamboo trees are one of the fastest-growing trees on the planet. Also, the first few feet on the Bamboo tree are free of leaves. Therefore, making toothbrushes out of Bamboo does not harm the food source of Pandas.
Aesthetic – Bamboo toothbrushes look classic and give an eco-friendly vibe. As an extra benefit, Bamboo toothbrushes sometimes come on completely compostable packaging, which only enhances the eco-friendliness of the product.
Mobility – Bamboo toothbrushes are easy to carry and travel with, as there is no hassle of charging the toothbrush or anything else. You can also get biodegradable bamboo cases to keep the toothbrush in.
---
Types of Bamboo Toothbrushes
Fully Compostable(Animal-Based) – Nowadays, there are a few fully compostable toothbrush options available. They have Bamboo or wood-based toothbrush handles and bristles made of Pig hair. These brushes can be a good option for people who don't have any doubts about eating meat.
Nylon-4 Bristles – Another available Bamboo toothbrush option has bristles made up of Nylon-4. Nylon-4 is a petroleum-based plastic that has been shown to biodegrade in the environment under certain conditions. This fact is still under research.
Charcoal-Infused Bristles – Charcoal is naturally antibacterial, antifungal and has antiviral properties. These qualities make it suitable to help prevent tooth decay and gum disease.
Partially Plant-Based Bristles – A few Organic Toothbrush brands have come out with plant-based bristled brushes in recent years. These bristles are certified Bio-based and made up of Castor bean oil, Corn, or, less commonly, Tapioca with the addition of nylon. These bristles are not completely biodegradable.
Bamboo Bristles – There is a variety of Bamboo toothbrushes available in the market in which even the bristles are Bamboo. These bristles are infused with Bamboo to give it some of the inherent properties of the Bamboo plant.
---
Things to Keep in Mind Before Buying a Bamboo Toothbrush
Bristles – While the handles on all Bamboo toothbrushes are made of Bamboo, the bristles are most commonly made of nylon-like in other plastic toothbrushes. The type of nylon sometimes differs (i.e., Nylon-6 and Nylon-4). Other biodegradable options include Boar-hair bristles and Plant-based bristles made from Corn, Castor bean oil, or, less commonly, Tapioca.
Disposal and Upkeep – Bamboo toothbrushes require more care than the average toothbrush. They need to be stored in a place that isn't wet. They also need to be composted, recycled, or repurposed; otherwise, It would defeat their whole purpose.
Number of Brushes – Bamboo brushes usually come in packs. Typically a pack contains four toothbrushes, which can last an individual a whole year or a large household for a few months.
---
Reviews: Best Bamboo Toothbrush
Reviewed down below are some of the best Bamboo Toothbrushes available in the market.
---
1
This Eco-friendly Bamboo Toothbrush is the ecological way to keep your teeth and mouth clean and help the environment at the same time.
This pack contains four brushes, which can last a person for a whole year.
This Isshah Bamboo brush has a smooth and natural handle, which is splinter-free and water-resistant. These qualities make these brushes durable and long-lasting.
Even the packaging on this eco-friendly brush is 100% biodegradable.
These are available in both Kid and Adult sizes.
---
2
Hello Boo® Bamboo Toothbrush for Kids

Ergonomic Handles Organic Eco-Friendly
These Moso Bamboo brushes have very soft Nylon bristles that are safe for Kids.
These sustainably grown toothbrushes have the double benefit of being best for the oral hygiene of the little ones and Environment-friendly at the same time.
These brushes are made from 100% Natural, Eco-friendly Mosa Bamboo, which is naturally biodegradable and water repellent.
This Mosa Bamboo product is not a danger to the food source of Pandas.
This pack contains four toothbrushes, which are enough for a whole year.
---
3
Mother's Vault® Natural Bamboo Toothbrush

With Medium/Soft BPA-Free Nylon Bristles
This brush set comes in biodegradable and plastic-free packaging with 4 Eco-Friendly Bamboo Toothbrushes inside.
These brushes have smooth handles and soft BPA-Free nylon bristles.
These lightweight Bamboo handles come with Beeswax coating that prevents splintering and keeps the curved handles smooth for a long time.
These brushes come with soft and wavy BPA-free Nylon bristles that fit around the teeth and gums properly. The bristles are of the highest quality and free of chemicals and toxins.
These brushes are compostable and are an excellent sustainable alternative.
---
4
Brush with Bamboo® Bamboo Toothbrush

Plant-Based Adult size Toothbrush
Each pack contains 4 plant-based Bamboo toothbrushes.
Every brush comes with an Organic and Eco-friendly Bamboo handle.
The bristles on this brush are plant-based, made from a Vegetable oil Base, and are very soft.
Even the packaging of this Bamboo toothbrush set is Plant-based and biodegradable.
These Plant-based Bamboo toothbrushes last as long as an average plastic toothbrush, without the chemicals and toxins.
---
5
Colgate® Charcoal Bamboo Toothbrushes

Biodegradable and Eco Friendly Soft and Natural
These Eco-friendly Bamboo toothbrushes are made with 100% natural, sustainably grown Bamboo.
These Bamboo toothbrushes are compostable, easy to use, and offer Eco-friendly disposal.
These brushes come with Beeswax on the handle to keep them smooth and long-lasting.
These brushes have Charcoal infused Floss-tip soft bristles that easily clean hard-to-reach areas.
These brushes are rigorously quality tested and BPA-free with biodegradable packaging.
---
6
The Green Root® Natural Classic Bamboo Toothbrushes

Bamboo toothbrushes with Soft Bio-Based Nylon Bristles
This Organic, Recyclable Bamboo Toothbrush is the most simple, sustainable, and safe way to reduce your carbon footprint without compromising oral health.
This is the perfect first step to kickstart your cruelty-free, environment-friendly, and eco-conscious lifestyle free of plastics and harmful chemicals.
This brush comes in 100% compostable packaging, and the Bamboo brush handles are biodegradable.
The bamboo handle boasts of exciting features like being water-resistant, naturally anti-microbial, and ergonomic.
This Organic Bamboo brush lasts as long as an average plastic brush.
---
7
Gondola® Natural

Bamboo Toothbrush
This is a pack of 4 Organic Bamboo Toothbrushes, made especially for kids.
The natural bamboo handles are lightweight and comfortable, and small enough to be used by a baby or toddler.
The handle has an ergonomic design and will never splinter, as well is healthier than plastic.
The packaging and materials of these bamboo toothbrushes return to the environment safely, as its packaging is made from recycled paper.
---
8
Bamboozled® Charcoal Infused

Bamboo Toothbrush
Bamboozled allows you to experience the benefits of using a toothbrush infused with Charcoal within the bristles to absorb plaque as you clean your teeth.
It naturally whitens teeth.
It is ergonomically designed to feel great in your hands, both in shape and touch, and be flexible enough to reach every corner of your mouth.
These medium-bristle toothbrushes are crafted with bio-nylon bristles (100% recyclable) and are infused with Charcoal to whiten your teeth as you brush.
One pack of these toothbrushes will keep you supplied for an entire year.
These toothbrushes are sourced and crafted from sustainable Bamboo farms and are completely recyclable.
---
9
Sprmal® Biodegradable

Bamboo Toothbrushes
This is a pack of 100% Organic, Biodegradable, and Vegan Bamboo toothbrushes.
The brush is made with BPA-free nylon bristles, especially for sensitive gums.
The five brushes come with engraved numbers to avoid confusion.
Bamboo is stronger and harder than wood and also more durable and healthier than any plastic.
There is no need to dry this high-quality bamboo brush after use.
---
10
Daletu® Reusable

Organic Bamboo Toothbrushes
This eco-friendly toothbrush is made from sustainably sourced bamboo wood.
The natural soft-bristled toothbrushes are made of biodegradable and reusable Bamboo, and the packaging is also 100% recyclable.
This is a pack of ten toothbrushes, and each one is individually packaged in cardboard.
Daletu employs an ergonomic design to allow you to comfortably hold the brush in your hands while providing a firm grip.
The Bamboo is also water-resistant and will never splinter and more durable and a healthier alternative to plastic.
The bristles are made from high-quality nylon for gentle cleaning.
---
Index Table: Top-Rated Bamboo Toothbrush
---
---