Exfoliation is the process of removing the layer of dead cells from the skin's outermost surface.
Exfoliation is an essential part of facials, microdermabrasion, and other facial treatments. It clears the skin and promotes the regeneration of skin cells.
Keep reading to find out more about exfoliation techniques, benefits of it, and the best organic facial exfoliators available in the market.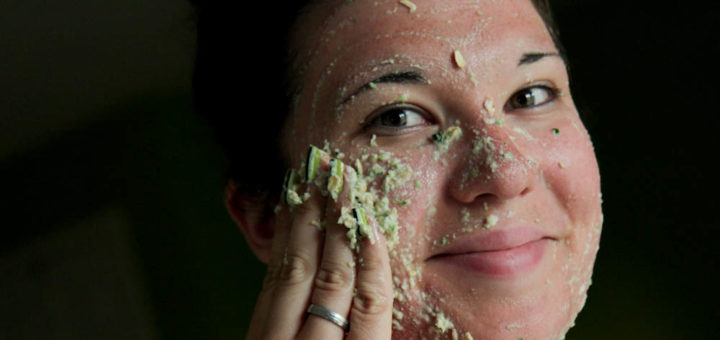 ---
Facial Exfoliation Techniques
Exfoliation at Home – Exfoliation can be done at home using your fingers, a sponge, or any other accessory. It is important to steam your face first to open pores and soften the accumulated dirt on the face.

Medicated, Professional Exfoliation – Using medicated, dermatologist-approved products for exfoliation is a very safe option. Getting exfoliation treatments done at a salon by an aesthetician or a dermatologist in a safe environment is an excellent way to get the complete experience and benefits.

Exfoliating Masks – Using DIY exfoliating masks containing all-natural products, or getting packaged, ready-to-go exfoliating masks is another way to exfoliate the skin.

Chemical Exfoliation – A Chemical solution can be applied to the skin during the morning or evening skincare routines to get rid of the dead skin cells.

---
Benefits of Exfoliation
Improves Skin Texture – Exfoliation can drastically improve skin texture as it removes the layer of dead cells on top.

Aids in Absorption of Other Skincare Products – Exfoliating before applying the rest of your skincare products can increase absorption, and consequently, the benefits reaped from those products.

Reduces Breakouts – Exfoliation removes accumulated bacteria and dirt from the skin while also unclogging pores. Both of these things reduce the likelihood of acne and breakouts.

Slows Down Aging – Exfoliating increases cell turnover and boosts collagen production. These qualities contribute to lessening the symptoms of Aging.

---
Reviews: Best Organic Exfoliator for Face
Mentioned down below are the best Organic Face Exfoliators available.
---
1
This walnut exfoliator removes the layer of dead skin cells, stubborn blackheads, cleanses and minimizes pores, and provides moisture to the deep layers of skin.

Most physical exfoliators cause micro-tears in the skin. Whereas, this microdermabrasion sugar scrub is very gentle. It loosens dirt, grime, and dead skin cells while providing nourishment.

This natural scrub leaves the skin looking youthful and softer.

This exfoliating face and body product removes daily build-up and leaves the face looking radiant again. Doing microdermabrasion at home is very inexpensive and saves a trip to the aesthetician. It polishes the skin and helps in healing acne scars. It is safer than chemical peel facials.

This two-in-one treatment can be used as a mask or scrub. Leave on the face to balance skin tone, reduce fine lines and wrinkles, and age spots. Using it as a mask also gives your skin the chance to soak up vitamin and mineral healing agents that aid in restoring the skin.

This product is cruelty-free, paraben-free, alcohol-free, non-toxic, and made especially for sensitive skin.

It contains organic Aloe Vera, Manuka Honey, Walnut, and has Vitamin C to provide antioxidant benefits to the skin.

This anti-aging exfoliator fights off free radicals and sagging of the skin.

---
2
Cliganic's face scrub contains Aloe Vera, Calendula extract and Jojoba to cater to all the needs of sensitive skin.

This natural scrub does not contain any artificial ingredients. It is free of Sulfates, Parabens, SLS, toxic dyes, and Formaldehyde.

The USDA certified organic face scrub is manufactured in the USA in complete accordance with the high standards.

The 100% natural Jojoba scrub is Cruelty-free.

---
3
This Brown Sugar Scrub is gentle enough to be used on the face and still works its magic on the rest of the body and feet.

It exfoliates and moisturizes the body by removing dead skin cells and revealing moisturized, fresher skin.

Salt scrubs can sometimes be too harsh, whereas this sugar scrub is very gentle on the skin. The sugar starts to break down when rubbed and works as a humectant.

It is softer than regular sugar scrubs while still remaining strong enough to remove dead skin cells and accumulated dirt.

This facial scrub and body exfoliator can help clear pimples and blackheads anywhere on your back, face, and body, which makes it an essential part of skincare.

The brown sugar in this scrub helps to keep the moisture in your skin locked in. It's perfect for use before or after waxing.

This Brown Sugar Facial, Body, and Foot Scrub is made in the USA.

This product is processed in our FDA Approved GMP Facility.

Brooklyn Botany's exfoliator does not contain any alcohol, parabens, or sulfates. It is also Vegan-friendly and Cruelty-Free.

---
4
This organic exfoliator is made with finely ground walnut shells, aloe vera, manuka honey, and other natural ingredients.

The honey-based exfoliator provides nourishment while scrubbing away dead skin, dirt, and bacteria.

Honeyskin's formulas are always paraben-free, sulfate-free, fragrance-free, gluten-free, cruelty-free, and also free of any mineral oils. These qualities make it perfect for sensitive skin types as well.

With the same pH as your skin, this product causes zero irritation and helps maintain the skin's natural protective layer.

---
5
The gentle exfoliation scrub is non-abrasive, which means it does not cause tears in the skin. It exfoliates the skin without stripping it of natural oils.

This scrub is infused with Matcha green tea extract, lemongrass, and sugar.

You can use it as a natural facial cleanser to remove dead skin cells, dirt, and makeup.

Using this scrub leaves the skin looking radiant and refreshed. It also visibly lessens the appearance of wrinkles and fine lines.

It is a non-greasy, ultra-efficient, brightening facial scrub.

This product is a must-have to combat acne, blemishes, and the appearance of pores.

Teami's USA-made scrubber is 75% ORGANIC, non-GMO approved, free of chemicals, artificial fragrances, and Vegan-friendly.

---
6
The natural organic facial exfoliator is the cure for flaky, dry skin covered with dead skin cells.

An essential step in any skincare regimen, exfoliation reduces the appearance of scaly skin and eliminates the adverse effects of irritated and dull skin.

Our Neem and Turmeric Facial Scrub is perfectly balanced to tame oily, out of control, troubled skin needs.

This scrub is lightly scented for spa use.

Because of the natural and organic ingredients in this scrub, it leaves the skin feeling soft and moisturized and polished.

It is ideal for people with sensitive and dry skin, or who suffer from ingrown hair. It unclogs pores and fights acne.

This organic Exfoliating Facial Scrub contains only natural ingredients and is free of harmful chemicals, toxins, and preservatives.

Oslove Organics' scrub is made in the USA in a state of the art FDA registered facility.

It contains Organic Neem Oil, Organic Turmeric Root Powder, Organic Grapefruit Essential Oil, Atlantic sea salt.

---
Index Table: Top-Rated Organic Exfoliator for Face
---
---