Looking for a non-toxic, all-natural, and gentle face moisturizer? Need a super hydrating organic facial moisturizer for wintry days? Confused about which organic face moisturizers are 'true to their claim'?
Or want to educate yourself on organic face moisturizers before you shell out? Either way, you've landed on the right page!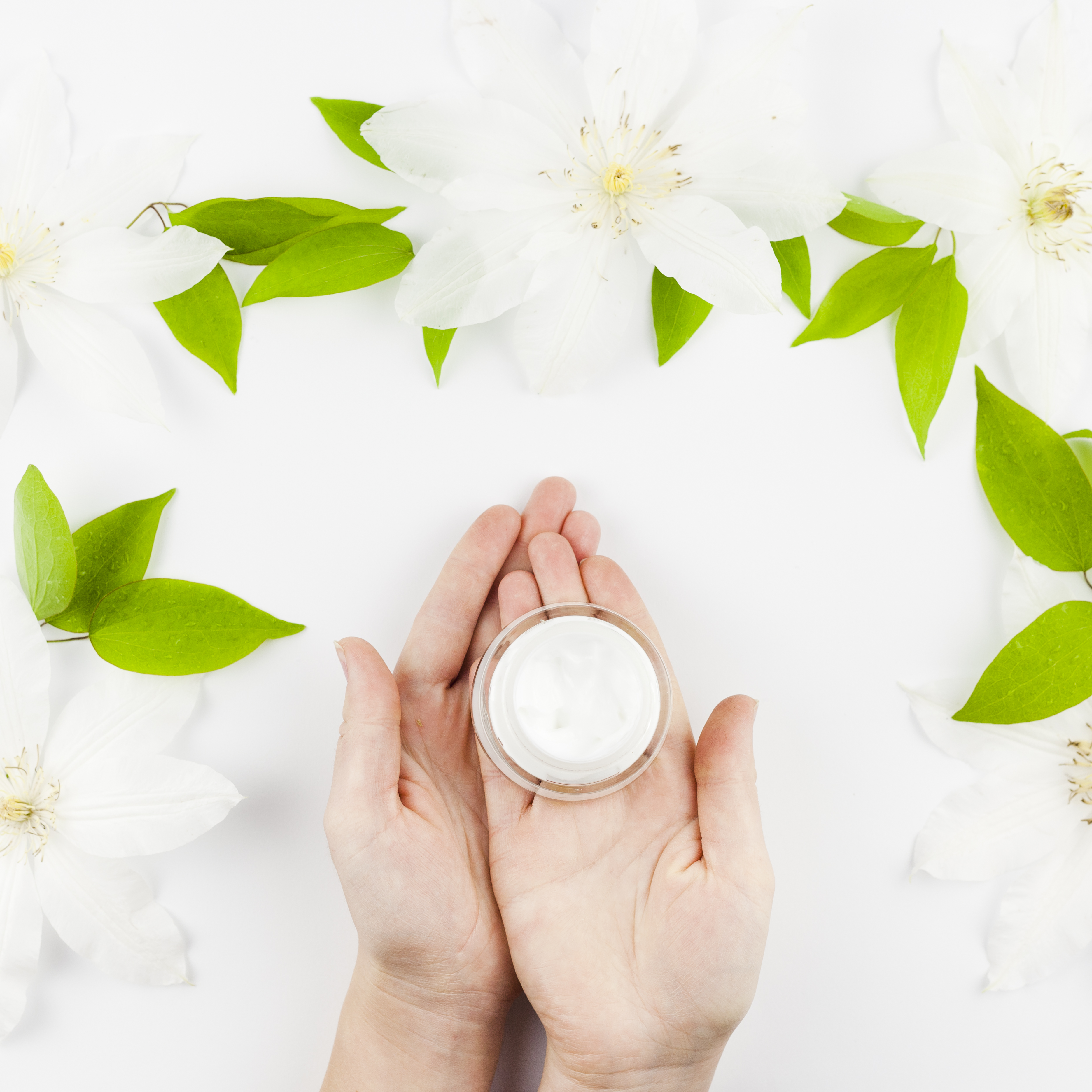 ---
Why Choose Organic Face Moisturizer?
Conventional cosmetics are poorly regulated: With many cosmetic products, including face moisturizers, there aren't any strict regulations regarding what goes into the cream. However, when ingredients are natural or certified organic, you don't have to worry about the side effects or safety.
Good for the skin: Skin irritating chemicals in regular face moisturizers do no good to your skin. Whereas all-natural face moisturizer hydrates, nourish, and protect the skin.
Lessen chances of breakout: Sure, each of us shares different levels of skin tolerance. Some are resistant to harsh chemicals. Some aren't. Choosing a natural face moisturizer for acne ensures that your skin won't break out that easily.
Easy on sensitive skin: Chemical-free, mineral oil-free, or phthalate-free organic face moisturizers do not cause skin irritation or inflammation. Many organic face cleansers have citrus extract, rose oil, honey, and other extracts and essential oils to soothe sensitive skin.
---
Ingredients To Avoid In Face Moisturizer
Many regular face moisturizers contain fragrances, preservatives, or synthetic colors. And in reality, such toxic chemicals only do more harm than good.
Fragrance: Synthetic fragrances irritate the eyes and cause inflammation and respiratory problems.
Artificial colors: Colors are for purely for aesthetic purpose. You are very wrong if you think they provide additional skin benefits!
Parabens: Parabens may extend the shelf life but increase your risk of different types of cancer.
Formaldehyde: An eye irritant and potentially toxic chemical that may cause dizziness, nausea, and respiratory problems.
Mineral oils: They clog the pores, disrupt the skin barrier, and cause skin allergies.
---
Choosing The Best Face Moisturizer
Before we share our top 5 organic face moisturizer products, here's what you need to know before buying.
Ingredient Nature: Skin quickly absorbs almost everything it comes in contact with. So, it's important to avoid chemicals and embrace all-natural ingredients. Check for these on the label: 'natural,' 'certified organic,' '100% organic', or '100% pure'. Plus, ensure the claims are true.
Plant-based ingredients: Fruit, botanical extracts, and essential oils are safe for you.
Cruelty-free process: Leaping Bunny Logo or the Certified Vegan Logo will ensure no animals are harmed while manufacturing the face moisturizer.
Chemical-free: Preservatives, synthetic chemicals, and colors will affect your well-being. Plus, they will harm the environment, too.
---
Reviews: The Best Natural Face Moisturizers
Why buy expensive chemical-laden moisturizers when you can find natural moisturizers right here. Here are the top 5 organic face moisturizers for glowing, smooth skin.
We hope you love the products we recommend!
So that you know, We may collect a share of sales or other compensation from the links on this page.
---
1
Alteya Organics® Organic

Day Face Moisturizer
Meet the best face moisturizer available – Alteya's organic Day Face Moisturizer!
It is lightweight but powerful enough to sink deeper into your skin than a traditional cream-based moisturizer.
The Bulgarian Rose Oil blend in this formula absorbs easily into your skin and rejuvenates dry or tired skin.
Besides hydrating the skin, it tones out, soothes, and offers protection against harsh weather.
You'll also love that it will strengthen the skin while tightening pores. We bet you'll instantly see soft, supple, and healthy skin.
The USDA-certified organic face moisturizer is the best face moisturizer for dry to sensitive skin.
---
2
A lightweight organic face moisturizer protects against the harshest of the weather.
This moisturizer goes on incredibly light but still manages to give you all-day hydration for normal to dry skin. Plus, it easily seeps into the skin without leaving it greasy.
Key organic ingredients include antioxidant CoQ10 to fight free radicals, Gotu Kola to firm the skin and reduce wrinkles, and argan oil to moisturize the skin.
The cult-favorite moisturizer cream also helps to fight dullness by deeply nourishing the skin from within.
The best part – it is free from Sulfate, Paraben, Phthalate, Mineral Oil, DEA, Paraffin, Formaldehyde, and Petrolatum…. to name a few!
---
3
LilyAna Naturals® Natural

Face Cream Moisturizer
This stellar anti-aging face moisturizer from LilyAna Naturals offers all-natural, vegan, and cruelty-free products.
It combines Rose Distillate, Aloe Vera, Vitamin C & E, Orange Extract, and other essential oils to give a healthy dose of uplift. All ingredients act additively to nourish, tighten, and gently exfoliate mature skin.
Made for daily application, Rose oil in the product helps to reduce scars and wrinkles. The result – young, glowing skin!
The 1.7 ounces of Lilyana Naturals Face Cream in a pump bottle is suitable for all skin types.
Great for men and women alike, it is non-greasy, non-comedogenic, and fast-absorbing.
And yes, it has no artificial colors, fragrances, or parabens. It is not tested on animals too.
---
4
Christina Moss Naturals® Natural

Facial Moisturizer
You can't go wrong with Christina Moss Naturals when it comes to organic face moisturizers. Why? Because they manufacture the best organic face moisturizer.
The slightly licorice-scented moisturizer is made without parabens. Instead, it contains star anise seed oil, a natural preservative.
Also, it is non-comedogenic (won't clog your pores), hypoallergenic, and intensely hydrating. A pea-sized cream would go a long way in moisturizing your cheeks, forehead, nose, and chin.
Other ingredients that add suppleness to your skin are aloe vera juice, apricot kernel oil, avocado oil, and grape seed oil.
You can plump up dry skin without making it greasy and treat sensitive skin without causing allergies.
One last reason to buy: it has no nasty chemicals.
---
5
Organic Fields Of Heather® Organic

Vanilla Cocoa Facial Moisturizer
Organic Fields Of Heather's Vanilla Cocoa Facial Moisturizer is a simple daily moisturizer that can dramatically change the health of your skin.
The anti-aging formula is non-greasy, absorbs quickly, and balances the skin's natural oil production–making it a great choice for oily skin types.
With buttery smooth consistency and lightweight, it is also suitable for dry and combination skin types.
This natural moisturizer has an all-organic ingredient list, including cocoa, aloe and shea butter, coconut oil, and apricot oil. It also has Vitamins C and E to protect and nourish your face.
No toxic chemicals like parabens, phthalates, aluminum, or dyes exist.
---
6
Tree to Tub® Hydrating

Ginseng Green Tea Moisturizer
This face cream moisturizer quenches your skin and locks it in by providing intense hydration to the skin.
It is packed with deep organic moisture without leaving behind any oily residue.
The Vitamin C, Organic Aloe Vera, Ginseng, and Organic Shea Butter in this face cream get straight to work on helping to improve skin by treating UV damage, scars, and acne blemishes.
While the Organic Rose Water, Tea Tree, Vitamin B5, and Vitamin E soothe angry skin and minimize irritation.
This anti-aging cream drives hyaluronic acid and Vitamin B5 deep behind the cell wall for full nourishment and hydration. At the same time, the toning of Organic Green Tea, Ginseng, and Organic Rose Water stops excess oils from clogging pores.
It is free of parabens, silicones, and sulfate.
---
7
Andalou Naturals® Age-Defying

Organic Lift and Firm Cream
The Hyaluronic DMAE Lift & Firm Cream helps support more even, smoother, and younger-looking skin.
Andalou Naturals Age Defying skincare products help hydrate dry skin & fight fine lines & wrinkles with vital antioxidants.
This brand supports Superior Source Ingredient Standards & only uses ingredients that are organic, non-GMO, gluten-free, sustainable, fair trade, cruelty-free, & nature-derived.
Every Andalou Natural product uses fruit stem cell technology to protect & support healthy skin & hair.
---
8
Honeyskin® Nourishing

Face and Body Cream
With its aloe vera base, this cream absorbs fast down through all the layers of your skin without clogging your pores and results in nourished and healthy skin.
All the ingredients used in this face moisturizer are organic, natural, and effective, even for those with sensitive skin.
The high-quality ingredients and formulation get real results fast.
Every single Honeyskin Organics product is pH balanced, paraben-free, sulfate-free, mineral oil-free, perfume-free, gluten-free, and cruelty-free.
---
9
Avalon Organics® Intense

Organic Defense Moisturizer
Avalon Organics Intense Defense Oil-Free Moisturizer nourishes and energizes skin while preventing premature signs of aging.
This certified organic, plant-based formula is made with organic botanicals and essential oils.
It does not contain GMOs, parabens, synthetic colors or fragrances, phthalates, or sulfates.
This cream is vegan and has not been tested on animals.
The organic face moisturizer restores & renews your complexion's clarity and vibrance by neutralizing free radicals that can result from sun damage.
This weightless, rejuvenating oil-free moisturizer comes fortified with two powerful forms of vitamin C.
It soothes oxidative stress for a firmer, healthy, youthful appearance.
---
10
Physicians Formula® Light To Natural

Tinted Face Moisturizer
This Natural Origin tinted facial moisturizer is carefully formulated with 80% certified organic ingredients, including jojoba seed oil, sunflower seed oil, avocado oil, and shea butter to moisturize the skin.
This 100% natural tinted moisturizer evens skin tone, blurs imperfections, and enhances skin's natural appearance for a flawless, woke-up-like look.
Every Physicians Formula product is hypoallergenic, safe for sensitive skin and eyes, and created without any 150+ known harsh ingredients in other personal care items.
---
Index Table: Top Rated Organic Face Moisturizer
---
---