Oral hygiene is essential for maintaining overall health.
Mouthwash is one of the many things used to keep teeth and gums free of plaque, leftover food bits, and bacteria.
Scroll down to determine the types and benefits of mouthwash and the best organic mouthwashes available in the market.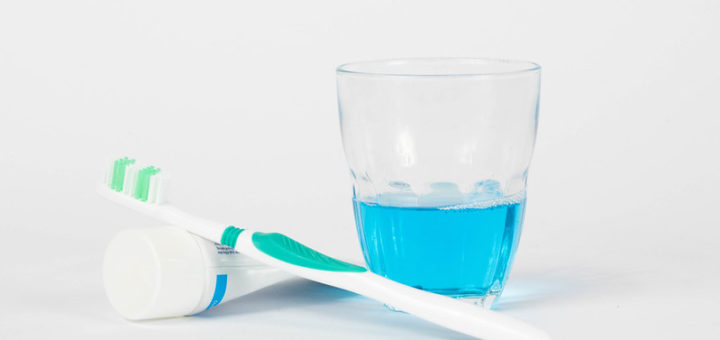 ---
Types of Mouthwash
There are two main types of mouthwashes.

Cosmetic Mouthwash – If a mouthwash only provides a temporary solution and does not actively fix the problem, it is considered a cosmetic mouthwash. To explain this further, if a mouthwash does not kill the bad-breath causing bacteria and instead leaves behind a pleasant simple, it is a cosmetic mouthwash. This type of mouthwash has no biological or chemical application besides the temporary benefit.
Therapeutic Mouthwash – On the other hand, therapeutic mouthwashes contain active ingredients to control and reduce conditions and provide a long-term solution by going to the root of the problem and fixing it. This type of mouthwash comes in both over-the-counter and prescription types, depending on the product.
---
Benefits of Mouthwash
Breath Freshner – Mouthwashes are most often bought for their breath freshening benefits. They come in a variety of flavors with different scent enhancers. Mouthwash also kills bacteria that cause bad breath and leaves your mouth feeling fresh.
Removes Food Particles – Because of its liquid consistency, mouthwash gets into all the nooks and crannies that toothbrush can't. Therefore, mouthwash takes any debris and leftover food particles in the mouth for ultimate cleaning.
Stops Cavity Formation – Using mouthwash regularly, preferably both before and after brushing and flossing, can prevent cavities from forming. Most mouthwashes contain fluoride, which prevents enamel from falling and reduces cavity formation risk.
Prevents Plaque Buildup – Some mouthwash types prevent the growth of plaque. Mouthwash also takes away any loose plaque because of its liquid formation.
Kills Germs and Bacteria – Mouthwash, especially of the therapeutic variety, can reduce the risk of gum diseases by reducing the number of plaque and germs bacteria in the mouth. It prevents diseases such as Gingivitis.
Cures Tooth Aches and Gum Sores – Canker sores can be soothed by detoxifying the area and reducing bacterias that might irritate. Mouthwash may also help with toothaches.
Safeguards Your Pregnancies – Periodontal disease may cause premature labor and low weight babies. A leading cause is bacteria entering the mother's bloodstream and increasing inflammatory markers, which stimulates contractions. Mouthwash can reduce oral bacteria and prevent such complications.
---
Things to Consider Before Buying a Mouthwash
No Alcohol – Alcohol-based mouthwashes cause dryness and bad breath. There is an ongoing debate about whether mouthwashes containing alcohol cause oral cancer.
Not Children Friendly – No type of mouthwash is safe for children aged six or under. Mouthwash eliminates good bacteria, which may increase the risk of infections in children.
May Raise Blood Pressure – Regular use of mouthwash has been associated with high blood pressure because it removes all kinds of bacteria, good and bad. It eliminates bacteria that produce nitric oxide responsible for protecting your cardiovascular system.
While looking for mouthwash, also visit organic lip balms to protect our lips from the cold and gives them extra support through times of stress.
---
Reviews: Best Organic Mouthwash
The below list consists of the best organic mouthwashes available.

---
1
This premier oral care whitens the teeth, removes bad germs, and leaves the mouth smelling fresh and pleasant.
It contains essential oils and powerful hydrogen peroxide for optimum tooth health.
This product is clean and all-natural. It does not contain any alcohol, fluoride, sugars or glycerin, and sodium lauryl sulfate.
This oxygen-based formula is planet positive and organic.
Essential Oxygen is Women-owned, and this mouthwash is Vegan-friendly, Gluten, and BPA-free, Cruelty-free, and Non-GMO.
Each pack contains a 32oz bottle of organic mouthwash.
| Rating Category | Weight % | Score |
| --- | --- | --- |
| Fragrance | 25% | 100 |
| Promote Gum Health | 25% | 100 |
| Whitening | 20% | 95 |
| Antibacterial | 20% | 90 |
| Freshness | 10% | 95 |
| Total Score | 100% | 96.5 |
---
2
Hello Oral Care® SLS Free

Kids Organic Mouthwash
Each pack contains 3 bottles of 500ml mouthwash.
This nature-friendly rinse is made especially for kids and thoughtfully formulated with an organic watermelon flavor.
It also contains soothing Aloe vera and natural sweeteners to make it suitable for kids.
This mouthwash removes any particles missed by the toothbrush, cleans and freshens up the mouth, all the while tasting delicious.
This toothbrush is fluoride-free, alcohol-free, and does not contain artificial flavors, sweeteners, dyes, and SLS/sulfates.
Hello Oral Care brand is made in the USA, Vegan-friendly, and Cruelty-free.
| Rating Category | Weight % | Score |
| --- | --- | --- |
| Fragrance | 25% | 100 |
| Promote Gum Health | 25% | 100 |
| Whitening | 20% | 90 |
| Antibacterial | 20% | 90 |
| Freshness | 10% | 95 |
| Total Score | 100% | 95.5 |
---
3
Hello® Fluoride Free

Organic Mouth Rinse for Healthy Gums
The all-natural formula of this mouthwash is herbal-based and formulated with dentists' approval.
This organic mouth rinse neutralizes bacteria, eliminates bad breath, and promotes gum and teeth health.
The handcrafted mouthwash contains Aloe Vera, Calendula, Holy Basil, Peppermint, Tea Tree and Cinnamon Oil, Licorice Root, and Xylitol.
The herbal extracts and essential oils in this mouth rinse are sourced from holistic botanicals.
Dr. H. & Co.'s mouth rinse is Non-toxic, Vegan-friendly, Gluten-free, and sugar-free, and does not contain any harsh chemicals, artificial colors, or flavors.
This product is packaged in eco-friendly glass to make it safe for yourself and the environment.
| Rating Category | Weight % | Score |
| --- | --- | --- |
| Fragrance | 25% | 100 |
| Promote Gum Health | 25% | 95 |
| Whitening | 20% | 90 |
| Antibacterial | 20% | 90 |
| Freshness | 10% | 95 |
| Total Score | 100% | 94.25 |
---
4
Cocobaci® Ayurvedic

Detox Mouthwash with Essential Oils
This ancient oil is tasty and easy to use.
The Cocobaci mouthwash detoxes the mouth with the power of essential oils.
Each package contains 15 packets for quick and mess-free usage.
Use this ayurvedic mouthwash for 10-15 minutes, preferably before teeth brushing.
This ancient oil whitens the teeth and removes stains.
It is made Organic and Paraben-free.
---
5
Lucky Teeth® Food Grade

Organic Teeth Whitening Mouthwash
The Lucky Teeth mouthwash comes in a delicious flavor with mint to provide a refreshing sensation.
In this mouthwash, the Food Grade peroxide can whiten teeth, heal gums, soothe scratchy, sore throats.
The organic mouthwash does not contain any Alcohol, Fluoride, or Glycerin and is Sugar and Gluten-free.
The essential oils in this mouthwash target gum diseases, bleeding, gum and tooth sensitivity, and inflammation.
---
6
OraWellness® Mouth Blend

Organic Mouthwash Tooth Oil
This tooth oil is multi-purpose.
It can be used as a toothpaste, for flossing, as an oral rinse mouthwash, and to massage sensitive and sore gums.
The all-natural and organic tooth oil is herbal and treats toothache, bad breath, damaged gums, and abscesses.
OraWellness's product is made using a unique mix of Clove, Myrrh, Cinnamon, Manuka, Peppermint, and Spearmint essential oils and a base of certified Organic Almond Oil.
The non-toxic tooth oil is formulated with organic ingredients and does not contain any SLS, Fluoride, gluten-free, and Vegan-friendly.
---
7
Uncle Harry's® Alkalizing

Natural Miracle Mouthwash
Uncle Harry's Miracle Mouthwash naturally balances pH levels by neutralizing microbes that contribute to bad breath and dry mouth.
It leaves a minty freshness in the mouth after use.
Along with whitening teeth and refreshing the mouth, gargling with this mouthwash also reduces swelling and flushes out irritants by naturally maintaining your mouth's natural alkaline pH.
This mouthwash is safe, non-toxic, alcohol-free, fluoride-free, gluten-free, glycerin-free, vegan, and formulated without synthetic preservatives, carrageenan, triclosan, and artificial sweeteners.
It encourages tooth enamel remineralization by supplying your teeth with essential vitamins and minerals such as calcium, magnesium, and phosphorus.
This mouthwash is made using purified, deionized, microfiltered water and ten parts per million of silver mineral (99.000% pure), calcium carbonate (natural chalk), sea salt, mustard seed powder, magnetic earth, active ionic minerals, peppermint oil, eucalyptus, clove, wintergreen, and oregano essential oils.
---
8
Nature's Brands® Herbal

Organic Mouth Wash
This product is USDA Certified Organic, Cruelty-free, Paraben-free, vegan and vegetarian.
This herbal mouthwash is free from gluten, dairy, soy, corn, Non-GMO, and free from SLS, saccharin, and ammonium LS.
It also does not contains any triclosan, synthetic chemicals, or dyes.
The natural mouthwash comes packaged in a special eco-friendly violet glass bottle.
The oils used in this mouthwash are Hexane-free, cold-pressed, non-refined, and non-deodorized.
---
9
TheraBreath® Anti-Cavity

Organic Oral Rinse
This kid-friendly Dentist-Formulated mouthwash contains fluoride and Xylitol (a natural sweetener) to help support strong, healthy teeth and reduce cavities' formation.
It is made with organic grapes for a tasty flavor for kids.
It does not contain any sugars, artificial flavors, or dye.
TheraBreath products are designed to help address halitosis, cavity prevention, gum disease, and other oral health problems.
---
10
Masigi® Boost

Oil-Pulling Mouthwash
This mouthwash is made with 100% organic virgin coconut oil and a proprietary blend of great-tasting organic essential oils, including ginger and grapefruit.
The oil-pulling mouthwash promotes oral health removes harmful bacteria in the mouth, clears sinuses, brightens teeth, and freshens the breath.
It does not contain any chemicals or anything artificial and is made entirely of clean, organic ingredients
This product is Vegan, Gluten-Free, Non-GMO, and made in the USA.
---
Index Table: Top-Rated Organic Mouthwash
---
---