If you have been trying face-creams, and none of them seem to be working, you should consider switching to organic face cream.
The organic face cream is loaded with far more health benefits that will get your skin looking perfect in no time!
Read further for more information on the best organic face creams and why they work so well.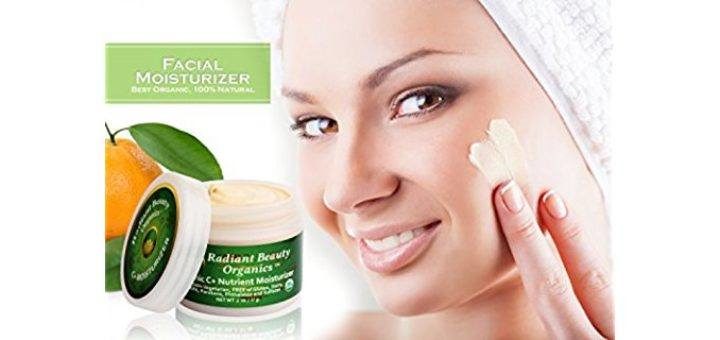 ---
What is Your Skin Type?
Before you can choose what facial cream you need, it is a good idea to understand your skin type.
Dry Skin – Dry skin usually results in having flaky patches of skin that can be extra sensitive and burn. The most severe cases of dry skin resulting in dermatitis. Those with dry skin need to replenish their skin with oils and organic ingredients to help restore healthy pore functioning.
Oily Skin – skin that is overly oily is caused by over-functioning pores and can be due to an allergic reaction or eating an unbalanced diet. Those with oily skin need rehydrating organic substances that strip the excess oils without disturbing the skin, such as vitamin C or any citrus.
Combination Skin – combination skin is the result of having both of the above two skin types. A combination solution will be required for combination skin.
Normal or "Perfect" Skin – those with normal skin have skin that does not have acne, is not too dry, and is not too oily. These individuals can still benefit from maintaining their complexions with the right organic ingredients.
---
What Organic Ingredients Promote Radiant Skin?
The below ingredients are full of natural compounds that penetrate deeply into the skin, both protecting it and repairing it by supplying it with the building blocks it needs to function properly.
Vitamin C – unlike other vitamins, our bodies do not make Vitamin C. A deficiency in vitamin C can result in dehydrated and depleted skin. Vitamin C added to your face cream will nourish your skin, protecting it and helping remove wrinkles.
Argan Oil – Argan oil is a miracle oil that contributes to regenerate hair, nails, and skin. When applied in skin cream, it makes the skin more radiant, glossy and repairs any damages done.
Pomegranate – Pomegranate is a potent fruit full of B vitamins, resveratrol and many other helpful natural compounds. On the skin, it is rehydrating, anti-aging, and repairs damages. It also helps to remove acne!
Aloe Vera – Aloe vera is a very soothing compound that can be used to soothe rashes and an upset stomach. To organic face wash for acne, it keeps the skin soft. This is an ideal ingredient for those suffering from dermatitis or eczema.
Berries – berries are full of protective compounds, similar to pomegranate. Many berries will protect your skin from UV radiation, sunburn, and skin cancer. They also help to repair and youth the skin back to a vibrant, wrinkle-free condition.
Avocado – avocado is rich in omega-3 oils which dry skin needs, especially to help replenish a healthy balance of oils. Avocado also soothes the skin, dealing with rashes and is a secret cure for acne.
---
What Ingredients Are Toxic To My Skin?
The below ingredients are widely found in synthetic skin creams, and instead of repairing our skins, they cause a lot of damage to them in the long run.
Artificial Fragrances or Colours – these are known to block pores as well as cause skin cancer after prolonged exposure.
Pthalates – Phthalates are plastic compounds that act as free estrogens in the body. This wreaks havoc on our hormones, which can cause acne or skin irritations to occur in the skin.
Triclosan – Triclosan is an exceptionally toxic compound that is a known carcinogen. Many tests have proven that causes skin reactions and eventually skin cancer after years of exposure to small quantities.
Formaldehyde – formaldehyde not only damages the skin, producing free radical outbursts, but it also causes respiratory problems and has even been known to kill infants when used in mattresses. Make sure never to use products with formaldehyde in them to prevent any unwarranted side effects!
Having small doses of chemicals in your face cream may not be so bad if you have a lot of protective antioxidants, natural ingredients in them to counteract the effects.
---
Reviews: The Best Organic Face Creams
Have a look at our selection of the best face creams and take your pick!
---
1
This organic facial moisturizer deeply penetrates the skin, allowing for skin repair and regrowth to occur properly.
It contains over 20 natural organic ingredients, all of which are GMO-free and add to beautifying your skin.
This face cream contains very few chemical additives, making it 100% skin restorative.
It has a variety of soothing compounds to aid dry skin, such as lavender and chamomile.
It also has a healthy balance of oils and vitamins that the skin needs to maintain optimal skin functioning.
Not only does this repair skin, but it also protects the skin from harmful UV rays and sunburn.
---
2
John Masters® Pure Organic Pomegranate Facial Oil

Top Quality Organic Infusion Facial Oil
This blend of organic oils is incredibly soothing to the skin and especially the face.
The combination of lavender and olive oil makes the skin feel softer than that of a child!
The most active ingredient is the potent pomegranate oil, which replenishes your skin with many vitamins, nutrients, and antioxidants that it needs to glow.
It contains citrus peel oil for those with excessively oily skin, allowing it to strip excess oils and help the glands in the skin to work optimally.
Perfect for applying straight to your skin, adding to your face cream, or even giving a full body massage for superior full-body skin results.
---
3
Athar'a® Anti-Aging Organic Face Cream

Superfood Enhanced Natural Face Cream
This facial cream is loaded with some of the most superior face restorative ingredients of all time!
Argan oil combined with avocado will give your skin a glow never seen before, as well as a healthy layer of oil for those with dry or sensitive skin.
Blueberry and Acai Berry both impart anti-aging and protective nutrients to the skin, such as vitamin C and resveratrol.
Pomegranate once again adds a lot of replenishing nutrients in this facial cream, which reduces the amount of free radical stress, keeping cancer and more at bay!
Watch both your spots and wrinkles fade away by applying this moisturizer daily to your face.
---
4
Passport to Organics® Antioxidant-Rich Face Cream

Rooibos Pomegranate Infused Natural Face Cream
Moisturize your skin with this organic face cream to uncover the hydrating benefits of rooibos tea.
This facial cream also contains ginger, which is a potent anti-inflammatory compound that protects the skin from carcinogenic damages.
Moroccan Argan Oil and pure pomegranate oil will leave your skin feeling soft, toned, and will remove any blemishes.
Say goodbye to any wrinkles after using this cream daily for an extended period, as the nutrients work their restorative magic!
Made in small batches as well as sealed in an airtight container to assure superior quality of all ingredients.
---
5
Lily Anna Naturals® Naturally Enriched Face Moisturizer

Natural Rose & Pomegranate Face Cream
This is a top-quality organic infused facial cream that will help dry skin as well as remove wrinkles!
The main ingredients of rose and pomegranate come together to both nourish the skin, pamper it and make you smell good all day long.
Coconut oil, vitamin E & C, as well aloe vera are deep penetrating as well as highly anti-inflammatory to help restore skin back to its youthful state.
Orange extract aids in the removal of excess oil excretion as well as regulating skin glands to function normally.
Ideal for all skin types and those with skin reactions like rosacea, acne, dermatitis, and eczema.
---
6
Era Organics® Complete

Organic Face Moisturizer Cream
This moisturizer feeds your skin the vitamins, minerals, and amino acids it needs for optimum health.
The robust 10-in-1 natural formula is over 86% organic.
This facial cream is made with organic Aloe Vera, Manuka Honey, MSM, Coconut Oil, Shea Butter, Blue-Green Algae, Olive Oils, Cocoa Butter and Hemp Seed Oil, along with vitamins A, B, C, E.
This natural face cream moisturizes to the base of your skin, not just on the surface, and lasts up to 8-12 hours.
The non-greasy formula fully absorbs and leaves no residue to be the best face cream for dry, cracked skin.
It repairs damaged cells, stimulates new cell growth, stimulates collagen production, strengthens fibers, improves elasticity, protects from damaging free radicals while reducing fine lines and wrinkles.
It contains no toxins, fragrances, fillers, alcohol, or parabens.
---
7
BeeFriendly® All Natural

Face and Eye Cream
The anti-aging moisturizer is made from all-natural and certified organic ingredients that are clinically proven to naturally aid in the reduction of fine lines and wrinkles.
It is deeply moisturizing the facial, eye, neck, and décolleté areas of your skin, leaving your skin feeling and looking youthful and radiant.
It is made with Purified Water, Organic Extra Virgin Olive Oil, Beeswax without Pollen and Propolis, Raw Hawaiian Honey w/ Royal Jelly, Essential Oils, and Vitamin E.
It is free of chemicals, fillers, SLS, parabens, fragrances, gluten as well as Non-GMO Verified and Cruelty-free.
It is an all-in-one face, eye, neck, and decollete cream.
---
8
MARYANN ORGANICS® Collagen Cream

Organic Face Moisturizer
This Anti-Aging and firming cream with Hyaluronic Acid supports cell renewal, boosting elasticity, and skin radiance. The ingredients work in harmony, reducing the signs of age for a younger-looking face.
The non-greasy formula delivers deep hydration to your skin and smoothes fine lines and wrinkles, as well as nourishes, repairs and renews epidermis, and restores natural water balance.
It is made with only pure ingredients that are beneficial for all skin types.
The cream contains Hyaluronic Acid, Aloe Vera, Citric Acid, and Vitamin C combined with Collagen bring a powerful anti-wrinkle effect.
---
9
Ancient Greek Remedy® 100% Pure

Facial and Body butter Cream
This formula contains seven natural raw ingredients, including Extra Virgin Olive oil, Sweet Almond, Organic Castor, Grapeseed, Sunflower, Vitamin E, & Lavender Essential oil.
This skin cream is effective as a daily face and body moisturizer for any skin type. It reduces and reverses uneven skin tone, fine lines, age spots, crepey skin, crows feet, frown lines, forehead wrinkles, ashy skin & neck wrinkles.
This product is Non-GMO and gluten, and paraben-free.
This Ancient Greek remedy Butter Cream is better than other skincare treatment creams and lotion.
It hydrates skin, tightens loose skin, shrinks pores, clears up acne, prevents breakouts, reduces wrinkles, and minimize the appearance of acne scars. It will give your skin a firm, radiant, healthy, and glowing appearance.
---
10
THENA Natural Wellness® Ultra Hydrating

Organic Facial Moisturizer Cream
This extra soothing organic face moisturizer and anti-aging face cream leave skin soft, smooth, rejuvenated, balanced.
It contains restorative camellia oil, argan, rosehip seed, jojoba, amaranth oil help delay signs of aging, while pure rose geranium & lavender essential oils gently restore, promote even tone.
The Hyaluronic acid protects, repairs & restores Collagen and elastin, and strengthens the moisture barrier to promotes a clear, youthful, healthy complexion.
It is made in the US with the finest natural and organic ingredients, as well as cruelty-free.
It is clinically tested, and dermatologist approved.
---
Index Table: Top-Rated Organic Face Creams
---
---