Natural Night cream is an essential part of a nighttime skincare routine, regardless of age. This trend has been going on for generations, and it is here to stay!
Skin can better absorb topical treatments at night as skin goes into rest and repair mode. That is what makes night creams so important.
Keep reading on to find why night creams are essential and the best available Organic Night creams.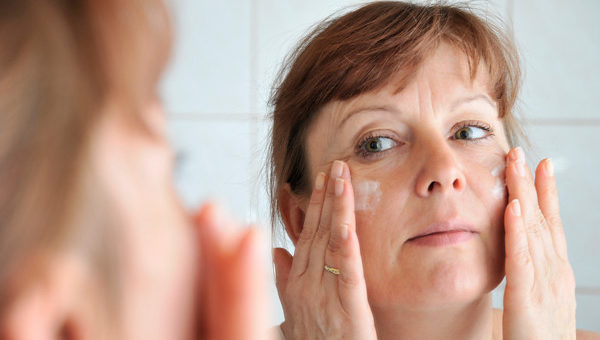 ---
Who Needs a Night Cream
For Mature Skin – Night creams are extremely beneficial for people with mature skin who need a boost of anti-aging properties. Night creams usually contain Retinol and are specifically made to combat fine lines, wrinkles, and other aging signs. An Anti-aging night cream becomes necessary after 30. Thus definitely include an organic anti wrinkle eye cream or face moisturizer with retinol in your routine.
As a Specialty Treatment – Night creams can be used as a specialty treatment for skin diseases such as Acne, Rosacea, Dark spots, Hyperpigmentation, and Eczema. Doing this gives the skin what it needs to fight these diseases while in the restorative and repairing phase.
For Dehydrated Skin – Hydrating and moisturizing night creams contain Humectants and Hydrators such as Hylauronic Acid Glycoproteins. Such creams can give the skin a burst of hydration overnight.
For Damaged Skin – The skin works hard to restore and repair itself during the night. Using organic face cream containing healing and repairing ingredients can speed up this process and target the skin's damage to repair it quickly.
---
Types of Night Cream
Exfoliating Night Creams – Exfoliating Night creams use Enzymes or Acids to penetrate deep into the skin. These creams melt the glue that holds all the dead skin cells beneath the surface and let them loose. They boost collagen production and encourage your skin to repair itself while you sleep. These result in instant brightness, getting rid of pigmentation marks, even out skin tone, and improving elasticity over time.
Anti-Aging Night Creams – Anti-Aging night creams contain Retinol, also known as Vitamin A. These creams work to fight against aging symptoms by boosting collagen production, which results in plumper and firm skin with fewer wrinkles.
Hydrating Night Creams – Hydrating night creams contain Hyaluronic Acid as their key ingredient. Hyaluronic Acid is a moisture magnet and helps retain moisture in the skin. These night creams are great for deep overnight hydration and soothe dry skin with a lasting glow.
Acne-Targeting Night Creams – Acne-prone skin types need night creams containing ingredients such as Salicylic Acid (Willow bark), Tea tree oil, Rosemary, Rose oil, Jojoba oil, and other antibacterial and oil balancing ingredients. These ingredients are known to soothe acne and clean the skin because of their inherent qualities.
---
Benefits of Using an Organic Night Cream
Eco-friendly – Creams made of Organic materials are eco-friendly and do not harm the environment in any way.
Skin Benefits – The organic ingredients used in these natural night creams provide additional benefits to the skin.
---
Reviews: Best Organic Night Cream
The best Organic Night creams available are reviewed down below.

---
1
This Organic Whipped Night cream contains Multi-peptides, Ferulic acid & Vitamin C to minimize the effects of aging.
This is a lightweight Mad Hippie cream with the added benefits of Glacial glycoproteins and Marula Seed oil to soothe and rejuvenate the skin during the night.
This Radically Rejuvenating Night cream is free of Parabens, Sulfates, Phthalates, Mineral oil, Petrolatum, and Silicone.
The Acure Organics Whipped night cream is 100% Vegan.
| Rating Category | Weight % | Score |
| --- | --- | --- |
| Moisturizing | 25% | 100 |
| Promote Skin Health | 25% | 95 |
| Anti-Aging | 20% | 100 |
| Refreshing | 15% | 95 |
| Smell | 15% | 95 |
| Total Score | 100% | 97.25 |
---
2
Honey Girl Organics® Anti-Aging

Moisturizer Organic Night Cream
100% PURE Restorative Overnight cream contains 2.5% pure Vegan Retinol derived from organic carrot seeds to help fight aging's negative effects.
This organic restorative balm works its magic while you are sleeping put this on before bed and wake up with youthful, supple, and softer skin.
Retinol, Vitamin C, and Vitamin E make this cream excellent in improving skin elasticity, tone, texture, and youthfulness.
This retinol overnight balm has a nourishing base made of Organic Avocado and Shea butter, making this balm silky soft on the skin when massaged.
This overnight balm contains organic skin-softening oils like Olive oil, Sunflower oil, and Jasmine oil.
| Rating Category | Weight % | Score |
| --- | --- | --- |
| Moisturizing | 25% | 100 |
| Promote Skin Health | 25% | 95 |
| Anti-Aging | 20% | 100 |
| Refreshing | 15% | 90 |
| Smell | 15% | 95 |
| Total Score | 100% | 96.5 |
---
3
Eve Hansen® Hydrating

Vitamin C Organic Night Cream
The deeply hydrating formula of this night cream restores the skin overnight and reduces the appearance of fine lines, wrinkles, and other signs of aging or mature skin.
The Bee-friendly repairing night cream has many antioxidants that protect the skin and fight off free radicals.
This restoring night cream encourages healthy Collagen production and Cell regeneration in all ages and skin types to help the skin achieve a youthful look.
This thick, Non-Comedogenic, and Hypoallergenic formula consists of Beeswax, Raw Honey, Propolis, Olive Oil, Royal Jelly filled with nourishing vitamins and minerals to hydrate the skin and make it softer overnight.
This product is excellent for combination skin, dry, oily, or acne-prone skin.
This night cream is handmade in the USA in an FDA-approved facility under GMP conditions. It only contains natural and Certified USDA Organic ingredients.
| Rating Category | Weight % | Score |
| --- | --- | --- |
| Moisturizing | 25% | 100 |
| Promote Skin Health | 25% | 95 |
| Anti-Aging | 20% | 95 |
| Refreshing | 15% | 90 |
| Smell | 15% | 95 |
| Total Score | 100% | 95.5 |
---
4
Andalou Naturals® Luminous

Purple Carrot + C Night Cream
The Antioxidant-rich Andalou Naturals Night cream used nature-inspired skincare solutions like Vitamin C & fruit Stem cells to support skin health, create firmer and toned-looking skin.
This Luminous night cream contains Vitamin C, a natural brightening agent, to make the skin lighter and tighter, help even out skin tone, and improve sun damage to induce a healthy glow in the skin.
Andalou naturals use Superior Source Ingredient Standards to make this night cream.
It only contains natural ingredients that are Organic, Non-GMO, Gluten-free, Vegan, Sustainable, Fair Trade, cruelty-free & nature derived.
---
5
Juice Beauty® Overnight

Anti-Wrinkle Cream
The Juice Beauty Stem Cellular Anti-Wrinkle Overnight Cream is the perfect solution for fine lines and wrinkles and deeply moisturizes the skin overnight.
It renews the skin's surface, aided by Evening Primrose and Sacred Lily extracts.
This Anti-wrinkle cream contains Organic Shea butter and Squalane derived from Olives. These things enrich the skin with intense moisture and hydration during the night.
The Stem Cellular formula replenishes, restores, and renews the skin using the benefits provided by Vitamin C and fruit stem cells infused into organic resveratrol-rich grapeseed.
This Juice beauty product contains plant-derived Hylauronic Acid and Organic Glycerin, which helps keep the skin plump and moisturized.
This product is certified Cruelty-free.
---
6
Herbivore Botanicals® Moon Fruit

Superfruit Treatment
It's a Multi-Tasking Night Treatment that feeds the skin with Superfruits, fruit Enzymes, a blend of Exotic Butters, and Bio-identical Vegan Hyaluronic Acid all while you sleep.
All these qualities help renew the skin's surface and keep it plump and hydrated.
This product contains all-natural and herbivore, plant-Based, Organic, and Food-Grade ingredients.
The Herbivore Botanicals Night treatment does not contain any artificial ingredients, Fillers, Parabens, Alcohol, Animal Ingredients, Fragrances, Sulfates, Artificial Colors any Unnatural Preservatives.
The Superfruit night cream is Anti-Inflammatory and Skin Soothing.
It contains all Natural Indigo Root Powder with a hint of Manganese Violet and Ultramarine, giving the product its vibrant Purple hue.
This product is made in the USA.
---
7
dr.organic® Restoring

Night Cream
Dr.Organic night cream is made with selected organic and naturally sourced ingredients to reveal healthier-looking skin.
The restoring night cream is made with an organic rose extract, which leaves skin hydrated, replenished, and nourished overnight
This product is vegetarian, animal cruelty-free, and inspired by nature using the most effective and potent bioactive ingredients.
Dr.Organic takes pride in offering clean beauty products free of parabens, SLS, artificial colors, phthalates, petroleum, glycols, DEA, BHT, mineral oils, and silicones.
It also contains organic rose otto extract and jojoba seed oil.
---
8
InstaNatural® Anti-Aging

Collagen Night Cream
InstaNatural's Collagen Night Cream supports collagen III syntheses that visibly lifts and firms the appearance of skin while boosting elasticity and increasing skin energy to encourage healthy cell renewal.
This night cream incorporates Rosehip Seed Oil, which provides intense moisture to improve tone and texture while providing powerful anti-aging benefits to restore, repair, and renew the skin.
This daily moisturizing cream will leave the skin feeling hydrated and plumper than before.
This cream works to reduce the appearance of aging signs, including fine lines and wrinkles.
It contains Vitamin C, a key ingredient that brightens, tones, and tightens skin appearance while supporting healthy collagen production.
The Hyaluronic Acid in this night cream deeply hydrates and plumps the appearance of lines and wrinkles. These ingredients work in perfect harmony to give you a radiant complexion.
---
9
MARYANN ORGANICS® Day & Night

Organics Collagen Cream
This Anti-Aging and Firming Cream is made with Hyaluronic Acid that supports cell renewal, boosting elasticity and skin radiance.
The ingredients work in harmony to reduce the signs of age for a younger-looking face.
This night cream's non-greasy formula delivers deep hydration to the skin, smoothing fine lines and wrinkles.
It nourishes, repairs, and renews the epidermis and restores natural water balance.
This cream is made with only pure ingredients beneficial for all skin types.
It contains Hyaluronic Acid, Aloe Vera, Citric Acid, and Vitamin C combined with Collagen to bring a powerful anti-wrinkle effect.
According to the strict American Laws, this wrinkle night cream for women is made in the USA.
All ingredients are Organic, Non-GMO, Gluten-free, and not tested on animals.
---
10
THENA Natural Wellness® Revitalizing

Organic Night Cream
This premium youth-preserving anti-wrinkle night cream provides intense hydration and nourishment to the skin and helps to restore the look of youthful plumpness and volume.
The luscious age-defying midnight recovery face cream provides total facial care, re-hydrates thirsty skin cells with powerful collagen and elastin booster agents such as hyaluronic acid, CoQ10, argan oil, rosehip oil, vitamin E, C, A.
All the ingredients in this cream are essential antioxidants for youthful brightening skin, strengthens skin's moisture barrier
It also contains raw, pure neroli essential oil, jojoba oil, botanical extracts of white tea, ginseng root, and chamomile to help fade and treat dark spots, large pores, uneven tone, dull complexion.
This fast-absorbing cream effectively softens, smooths, tones, tightens skin, visibly restores mature aging skin, reduces under-eye wrinkles, fine lines, crow's feet, neck, age spots.
It is made in the US with the finest natural and organic ingredients and cruelty-free.
---
Index Table: Top-Rated Organic Night Cream
---
---