Some of the links in this post are affiliate links. This means if you click on the link and purchase the item, I will receive an affiliate commission at no extra cost to you. All opinions remain my own.
An organic face mask is one of the best ways to indulge in yourself and inspire a 'spa in my very own home' feeling.
The best organic face mask will nourish your skin and, often, restore your natural radiance and vitality.
To ensure that you benefit optimally from your natural home spa beauty experience, we are here to help you with a top selection, ingredients to look out for, what to avoid, and more.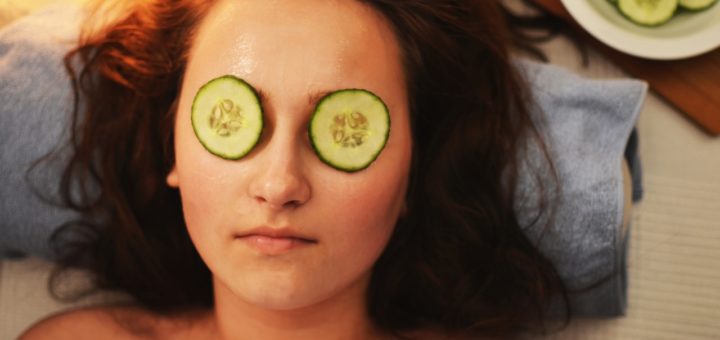 ---
Why Should I Use An Organic Face Mask?
Organic face masks contribute to keeping your skin young and fresh.
This is because natural and organic plants form phytochemical nutrients that impart protective benefits to our skin.
These advantages include all the benefits of scientifically formulated synthetic face masks, such as tightening pores and cleansing them but with no side effects.
What makes an organic face mask even better is that these natural nutrients are designed to interact and integrate with our DNA in a way that is not harmful.
In many cases, natural genetic interactions tend to start our skin's self-repair mechanisms and help to regulate how our skin functions on a cellular level.
In some cases, such as auto-immune conditions or severe allergic reactions, organic face masks are contraindicated naturally! Consult with your dermatologist before using any organic facial moisturizers to avoid any conflicting protocols.
---
Ingredients in Organic Face Mask For Youthful Skin
Mentioned down below are the seven surprising food ingredients that help all skin types!
Bentonite Clay – the brilliance of this powder as a face mask lies in the fact that bentonite clay draws so many impurities out of the skin, including free radicals, heavy metals, and fluoride!
Lava Dust – very similar to bentonite clay, volcano ash is a very effective natural ingredient that can draw toxins and heavy metals out of the skin.
Avocado – the health benefits of the avocado pear have been praised time and time again by dieticians globally. The abundant quantities of B vitamins, vitamins A, E, and K, as well as healthy fats, are just as nourishing to our skin as they are to our bodies. These vitamins and fats are essential in keeping our skin hydrated, healthy, and able to repair itself.
Lemon – Lemon is rich in vitamin C and other phytochemicals which rehydrate and nourish our skin.
Eggs – very surprisingly, free-range eggs can even make a fantastic face mask, which results in softer, glowing skin. It is recommended for dry skin to use white only, but apply the entire egg for all other skin types!
Tahini (Sesame Seed Butter) – Tahini or sesame seeds are both rich sources of vitamin E, which is proved to reduce the formation of stretch marks and scarring. Having vitamin E in your face mask will re-youth your skin, as this essential nutrient is the main ingredient our skins need to repair.
Honey – Honey is an excellent toner for the skin, soothing the skin and tightening the pores. One needs to be careful what honey one uses; however, certain flowers may produce allergic reactions in the skin.
---
Chemical Additives to Avoid in Face Mask Products
Science has developed many chemicals for our convenience that help make face masks easier to apply and target specific skin problems.
When isolated from nature as a whole or refined into something else, these substances tend to cause skin damage after prolonged exposure. You will need to use your better judgment and read the ingredients lists, even with organic face masks.
These are a few toxic ingredients you should avoid to look after your skin. Each of them can cause skin or eye irritations or are just plain carcinogenic for us.
Most of these ingredients are derived from petroleum or plastic, which would explain why they have either no benefits or overly aggressive "benefits" for our skin.
Synthetic Fragrances or Colors
Diethanolamine (DEA) & Triethanolamine (TEA)
Diazolidinyl Urea & Imidazolidinyl Urea
Parabens and Paraben Derivatives
Isopropyl
Pthalates
Triclosan
Zinc Oxide
Titanium Oxide
Talc Powder
Petroleum Distillates
Mineral Oil
---
Reviews: The Best Organic Face Mask
Our top selection of the best organic face masks for your beauty and enjoyment.

---
1
This face mask comprises the finest organic components, including seaweed, Kaolin clay, zeolite, spinach, spirulina, and aloe vera!
This face mask is ideal for those who have oily skin and need to get gently rid of skin impurities.
The ingredients of this face mask are designed to protect and repair aged or damaged skin.
Restore your skin's glow by restoring essential micronutrients into your skin, such as potassium, calcium, iodine, B1, B2, B12, and more!
As well as cleaning your skin, this seaweed face mask pulls your skin tight, toning it and appearing to set it back in time.
| Rating Category | Weight % | Score |
| --- | --- | --- |
| Detox | 25% | 100 |
| Soothing | 25% | 100 |
| Anti-Aging | 20% | 95 |
| Hypoallergenic | 20% | 90 |
| Price | 10% | 95 |
| Total Score | 100% | 96.5 |
---
2
Premium Nature® Aztec Clay Mask

Bentonite Clay Natural Face Mask
Bentonite Organic Clay Mask has been used by the Aztecs for centuries for its natural ability to draw toxins out of the skin.
It draws metals out of us due to its high ionic charge, leaving your skin 100% clean and clear.
You can also use this face mask to treat dry or oily hair and a remedy for an itchy scalp!
After rinsing off your skin, your face will feel smoother than ever before because bentonite clay rejuvenates skin tissue.
Replenish all the nutrients in your face and get back the optimal balance of minerals without damaging yourself.
| Rating Category | Weight % | Score |
| --- | --- | --- |
| Detox | 25% | 100 |
| Soothing | 25% | 95 |
| Anti-Aging | 20% | 95 |
| Hypoallergenic | 20% | 90 |
| Price | 10% | 95 |
| Total Score | 100% | 95.25 |
---
3
Rael® Bamboo Face Sheet Mask

Natural Facial Mask with Moisturizing
This face mask is an exceedingly popular choice, thanks to its powerful ability to eradicate toxins from the skin.
100% calcium bentonite clay restores elasticity to the skin and draws out heavy metal toxins.
Not only does this organic face mask purify your skin, but it puts back nutrients in which most people have been proven to have a deficiency.
Free from additives, preservatives, metals, and allergens.
Try the secret beauty treatment of the Aztecs and keep your skin radiating beauty for years!
| Rating Category | Weight % | Score |
| --- | --- | --- |
| Detox | 25% | 100 |
| Soothing | 25% | 95 |
| Anti-Aging | 20% | 95 |
| Hypoallergenic | 20% | 90 |
| Price | 10% | 90 |
| Total Score | 100% | 94.75 |
---
4
NatureGlo® Pineapple Papaya Facial

Organic Acne Removing Face Mask
Nature Glo's Pineapple Papaya face mask is full of natural acidic enzymes that clean toxins' skin and remove excess oils.
Tone your pores the natural way and enjoy the anti-aging formula nature has to offer in this deep cleansing facial.
This face mask uses pomegranate seed oil, high in antioxidant compounds, and essential skin repairing vitamins!
Calms inflammation treats acne grows healthy skin, and removes skin debris.
If you are dissatisfied, you can return the product for up to 30 days, no questions asked.
---
5
Pure Body Naturals® Dead Sea Facial

Organic Face Mud from the Dead Sea
This Dead Sea Mud Mask is ideal for your face and for enhancing your skin's natural sheen.
Watch any acne breakout rapidly fade away with this amazing quality organic face mask.
Repatriate your skin with much needed vitamins and nutrients direct from the "fountain of youth" (a nickname for dead sea mud).
Combined with organic oils such as jojoba, this facial gently removes excess oils while placing healthy oils back to keep the skin functioning optimally.
Rehydrates the skin, repairs any damage, protects the skin from free radicals and can be an effective anti-aging treatment.
It's recommended to use this product with a moisturizer after a facial.
---
6
ORGAID® Sheet

Organic Sheet Mask
This sheet face mask is made using the best organic and safe ingredients.
It does not contain any harmful chemicals or preservatives.
ORGAID mask employs the Ecoderma sheet technology.
This product is made in the USA.
This multi-assorted pack contains two anti-aging sheet masks, two greek yogurt sheet masks, and two vitamin C sheet mask packets.
---
7
O'linear® Peel Off

Organic Black Charcoal Mask
This black charcoal mask deals with impurities effectively and works as a proactive blackhead remover.
It contains Vitamin C in the right proportion to make deep pore cleaning possible.
It works miracles on your skin by reducing the visible signs of aging due to collagen synthesis.
The charcoal mask is made with organic ingredients such as hydrolyzed wheat protein, extracts of rice, apple, and aloe, none of which cause allergies.
It is rich in vitamins C, E, B3, B5 and is a real skin-pampering peel-off miracle.
---
8
Sky Organics® Detoxifying

Organic Dead Sea Mud Mask
This dead sea mud mask works wonders on pores, blackheads, and breakouts by pulling out excess oil and toxins from the skin.
It leaves the skin feeling clean and refreshed.
This mud mask is packed with vitamins and minerals.
It increases the skin's elasticity and provides hydration via the nutrient-rich Sunflower and Jojoba it contains.
This incredible mask includes all-natural ingredients like Dead Sea Mud, Shea Butter, Sunflower Oil, Aloe Vera Juice, and Jojoba Oil.
It is loaded with circulation-boosting minerals like magnesium, calcium, and potassium,
This mask works as an anti-aging and anti-acne miracle worker and leaves you with youthful and glowing skin.
---
9
Bella Schneider® Hydrating

Organic Cleansing Face Mask
This 3 pack mask set contains French Red Clay & Nettle Mask, Carats of Gold Face Mask, Collagen Restore Hydragel Mask to cater to all your needs for perfect skin.
The French clay and nettle mask helps in improving the texture and appearance of the skin.
It uses natural ingredients like Mediterranean herbs, beneficial oils, healing aloe, and chamomile to rebuild and repair the skin.
The Carats of Gold face mask makes your skin look clear, relaxed, and balanced while decadently regenerating it.
It is featured with hyaluronic acid, shea butter, and carrot seed oil to brighten the skin tone and leave behind healthy, soft, and beautiful-looking skin!
The Collagen Restore Hydrogel mask nourishes the skin, leaving it more vibrant than ever.
It is manufactured using collagen and honeysuckle to bring radiance, hydration, and elasticity to the skin.
---
10
CHIC REPUBLIC® Detox

Organic Charcoal and Clay Mask
It is a charcoal and clay cream mask loaded with natural and organic nutrients.
This face mask heals and freshens up the skin, leaving you with clean and soft skin with a moisture barrier that acts as the first line of defense against environmental aggressors and premature aging.
It is made with 70% Organic, premium quality ingredients such as Activated Bamboo Charcoal and Highly Absorbent Kaolin Clay, combining to cleanse deeply and gently exfoliate your skin, clarifying clogged pores, facilitating the creation of new skin cells, and detoxifying congested complexions.
This face mask is also packed with anti-aging antioxidant nutrients such as Organic Rosehip Oil, Spirulina, Organic Primrose Oil, Vitamin C, MSM, and works to moisturize, brighten, and rejuvenate the skin.
This product is paraben-free, cruelty-free, hypoallergenic, and ideal for dry, oily, acne-prone, or problematic skin and is made in the USA.
---
Comparison Table: Top Organic Face Masks
---
---