Some of the links in this post are affiliate links. This means if you click on the link and purchase the item, I will receive an affiliate commission at no extra cost to you. All opinions remain my own.
Selecting a good shaving brush is very important in making your shaving ritual enjoyable.
An organic shaving brush helps the cream or soap create a proper lather. It also softens and separates the hair before your razor does the magic.
If you have bought yourself an organic shaving brush that makes a creamy lather, and gives your face a fresh look, consider yourself lucky. If not, read on!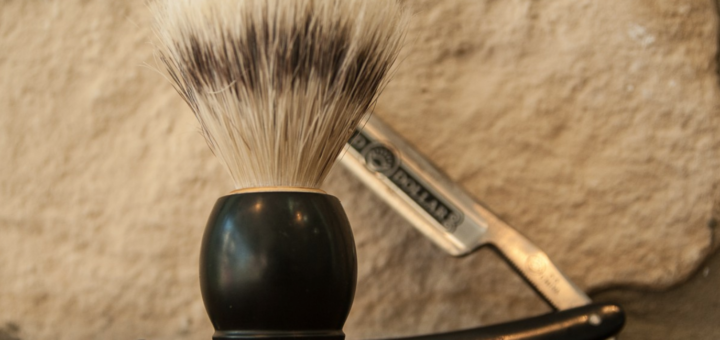 ---
Why You Need a Shaving Brush
Softens the Hair – A shaving brush softens and lifts the facial hair off the face and makes shaving easier. Moreover, after shaving, you may use an organic aftershave to calm the face and reduce the formation of razor burns, razor bumps, and ingrown hair. They also soothe and relieve any painful cuts caused by shaving.
Opens Pores – Rubbing the shaving brush on the face adds heat to the skin during the shaving process. This helps to lubricate the skin and open the pores.
Exfoliates the Skin – The bristles on the shaving brush, no matter which type, exfoliate the skin due to the rubbing motion and get rid of the dead skin cells.
Creates a Luxury Experience – Using a shaving brush turns shaving into a luxury experience. This happens because the shaving brush generates a rich and warm lather by whipping air into the shaving cream or soap.
Saves time – According to the general opinion, a shaving brush cuts the shaving time in half. It takes almost half the time to spread the lather on your face and neck using a shaving brush than it would take otherwise. This, of course, depends on the size and texture of the shaving brush.
---
Types of Shaving Brush
It is the bristles that make a shaving brush good or bad. Following are some types of organic bristles for shaving brushes:

Badger- the Softest – Badger's hair makes one of the softest brush bristles, especially from its belly. The brush ends are extremely soft, have excellent water retention ability, and make a rich lather.
Boar- the Longlasting – Although brush bristles made of Boar hair are not a favorite among the wet shavers, its price and long-lastingness make it the best choice for people who use hard soaps for shaving.
Horsehair- for Luxury Experience – Brush bristles made of Horsehair are rare; however, it is the perfect and luxurious experience for the shavers; find Badger too soft and Boar too hard.
Synthetic- Animal-free – Synthetic bristles are gaining popularity with time since they are -at the same time- soft, flexible, and animal-free.
---
Things to Consider Before Buying Your Shaving Brush
Selecting the Suitable Type – The first thing to consider is the type of bristles the brush is made from. While Badger, Boar, and Horsehair bristles have their pros and cons, buying a shaving brush with synthetic bristles means no animal is harmed to bring it on your shelf.
Good Price for Good Quality – While you can also find a shaving brush in the dollar store, good quality and long-lasting shaving brush can be a bit heavy on your pocket but soft on your skin.
Size- Bigger the Better – Larger brushes are usually expensive but timesaving as they quickly cover the face with lather.
Handle in hand – Different materials are used for making shaving brush handles, including wood, metal, animal horn, or synthetic material. A good handle fits well in your hand and does not slip.
---
Reviews: Best Organic Shaving Brushes
The below list consists of products we found to be the most useful for giving you a luxurious shaving experience.
We hope you love the products we recommend!
So that you know, We may collect a share of sales or other compensation from the links on this page.
---
1
This Maison Lambert brush is handmade with the best quality Badger hair.
This brush quickly builds up a rich lather for the perfect shaving experience.
The brush has a horn-like handle made for a strong grip and is easy to use.
---
2
Perfecto® Badger Brush

100% Pure Badger Shaving Brush
The bristles on this shaving are made of 100% Badger hair of the best quality.
The badger hair bristles on this brush create a rich, creamy lather for a luxury shaving experience.
This brush is perfect for a wet shave and gently exfoliates the skin while shaving.
This excellent Badger bristle brush fits perfectly in the accompanying stand.
---
3
Omega® Professional Boar Hair Shaving Brush

Black Handled Shaving Brush
This brush is made of Pure Boar Hair.
The bristles on this brush are longer than average and made to be used in a professional capacity.
This brush is an excellent option for someone just starting to use shaving brushes. It's a great starter brush!
This Omega Pro 49 brush is available in Red, White and Black handles.
---
4
Parker Safety Razor® Long Loft

Band Pure Badger Shaving Brush with Black & Chrome Handle
The bristles on this Parket Safety Razor shaving brush are made of high-quality, pure Badger hair.
This boar bristle brush is very soft and dense because of its high-quality hair.
These long and soft bristles create the perfect lather for a good shaving experience.
This handmade, luxury brush comes with a Lucite brush stand or proper storage and drying.
---
5
Vikings Blade® Badger Hair Shaving Brush

Shave Brush for Wet Shave
This brush is made up of bristles that are 100% badger hair.
The handle on this brush is made with a heavy metal base for long-lasting usage.
The high-end luxury brush has high water retention and is not damaged by repeatedly getting wet.
It serves as a great gift for any occasion.
---
6
Bib & Tucker® Men Shave Care

Vegan Synthetic Brush
This shaving cream set is a natural care product. It has moisturizers to hydrate, soothe and protect sensitive skin.
This Bib & Tucker brush is made of high-quality Vegan black fiber and plastic resin material.
The synthetic brush bristles are soft enough to soothe the skin and hard enough to give a gentle massage.
This brush is cruelty-free, and the bristles are very robust and hard-wearing.
The brush is essential for grooming as it makes the skin very smooth and clean.
The accompanying cooling Vetyver has a very unique and refreshing grapefruit scent.
---
7
Pearl Shaving® Synthetic Shaving Brush

Men's Luxury Professional Hair Salon
The bristles on this Pearl Shaving brush are made of Imported synthetic material.
The Professional brush has a non-slip black Resin Handle for a firm grip.
The Luxury brush makes a rich, creamy lather using minimal shaving cream.
---
8
Royal Shave® Kensington Boar Bristle Brush

Classic Wet Shaving Brush
This classic shaving brush is made of 100% Boar bristles.
These boar bristles are soft enough to soothe the skin yet create a rich lather.
The brush has a hard plastic base made for everyday use.
This timeless, classic brush comes with a compact stand for proper storage.
---
9
G.B.S® Classic

Vegan Shaving Brush
This Synthetic Badger brush has a classic style Ebony handle that is timeless.
This shaving brush's overall height is 105 mm, with a 50 mm loft and 22 mm knot size.
It creates a lather while retaining water to the face, gently exfoliating the skin.
The synthetic hair of this shaving brush is high-quality and soft on the face.
The comfortable handle provides grip while whipping up a lather and is easy to hold in the palm of your hand.
No animals were harmed in making this brush, making it cruelty-free and vegan.
---
10
Hawkins & Brimble® Natural Grooming

Shaving Brush
The shaving brush has been expertly crafted with synthetic bristles that are dense and impeccably soft.
It helps deliver shaving cream to every inch of hair, ensuring that your skin is protected during the hair removal process.
This shaving brush is free of Parabens, Colourants, SLS/SLES, Mineral oils and has never been tested on animals.
Hawkins and & Brimble proudly crafted this brush with care using naturally derived ingredients in the EU.
---
Index Table: Top-Rated Organic Shaving Brushes
---
---