Nasal blockages, congestion, stuffy or runny nose are all names for a problem that makes breathing hard.
Anyone who has ever suffered from these is looking for a quick solution. This is where we come in.
Read on to find out all the causes and remedies for nasal blockage, as well as the best organic nasal sprays available in the market.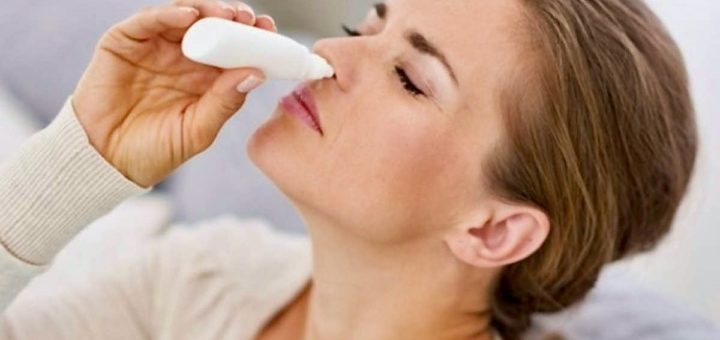 ---
What Causes Nasal Congestion
What is Nasal Congestion – Nasal congestion is most commonly causes by the blockage of nasal membranes. The membranes become swollen or inflamed, resulting in difficulty breathing. Nasal congestions can range from mildly-discomforting to life-threatening.
Allergies – Allergies are the leading cause behind nasal congestion. The small hair in our nose prevents any unnecessary particles from getting into the body. This includes bacteria. Sometimes, especially during seasonal changes, the allergens in our surroundings increase. Once they get into the nose, they cause inflammation and irritation. This results in nasal congestion.
Common Cold – Common cold or Influenza is another reason. This is mostly the case when it comes to children. The common cold affects the whole body and may cause a runny or a stuffy nose.
Sinus Infection – An infection in the sinus tract often results in a blocked nasal passage. In Sinusitis, the membranes of the nose become inflamed, which causes nasal congestion.
---
Home Remedies and Tips for Nasal Congestion
Keep them Moist – When you suffer from nasal blockage or congestion, try to keep your nasal membranes moist, as dried-out membranes are more irritated and inflamed.
Humidifier/Steam – Using a humidifier or a vaporizer can increase the moisture content in your surrounding. As you breathe in, you will be providing your nasal membranes with moisture. The same thing applies to steam. Breathe in steam or take a hot shower; either way, you're providing moisture.
Eucalyptus Oil – Eucalyptus oil has been shown to help relieve the symptoms of nasal congestion. It also has anti-bacterial properties, which might help kill the bacteria inside your nose. Do not apply eucalyptus oil directly to the face as it may cause burns. Instead, infuse some steam with this oil or put it on paper and sleep next to it.
Raise the Head During Sleep – Sleeping in a position where your head is at level with your body may increase mucus buildup in the nasal passage and increase congestion. Use some extra pillows to prop your head at a higher level before sleeping.
---
What to Look For in a Nasal Spray
Natural, Organic Ingredients – Go through the ingredient list before buying anything. This rule also applies to nasal sprays. Look for sprays that contain as many natural ingredients as possible to minimize the risks,
No Harsh Chemicals – The nasal membranes are susceptible. They may already be inflamed and irritated due to congestion. Therefore, any product you are putting inside your nose must be gentle and free of harsh chemicals or artificial fragrances.
Non-Addictive – Ensure that the nasal spray you are using is non-habit forming and does not cause addiction. Read the bottle carefully.
While looking for nasal oil, you may go through organic beard oil as it provides moisture and nourishment to the beard hair, the skin underneath, and even the hair follicles.
---
Reviews: Best Organic Nasal Spray
Reviewed down below are the best organic nasal spray to reduce congestion and nasal blockages.

---
1
This nasal spray is saline-based.
This product is Certified USDA Organic and Non-GMO verified.
Vicks's nasal spray clears and moisturizes the nasal passages by cleaning out nasal and sinus congestion.
This product is free of artificial chemical fillers and does not contain any Disodium EDTA, Parabens, or Xylitol.
This organic non-medicated product is drug-free and can be used as needed without any side effects.
It comes in a spray bottle for easy use.
| Rating Category | Weight % | Score |
| --- | --- | --- |
| Reduce Irritation | 25% | 100 |
| Moisturizing | 25% | 100 |
| Reduce Congestion | 20% | 95 |
| Hypoallergenic | 15% | 95 |
| Gentle Mist | 15% | 90 |
| Total Score | 100% | 96.75 |
---
2
Maharishi Ayurveda® Herbal

Clear and Soothe Nasal Spray
All ingredients in this product are 100% organic and natural.
This Maharishi Ayurveda herbal nasal spray works by moisturizing the sinuses for easy and comfortable breathing.
It also maintains moisture in the Sinus and soothes any irritation.
This product is made using natural ayurvedic ingredients.
This ayurvedic product works its magic by providing a Vata, Pitta, and Kapha balance.
| Rating Category | Weight % | Score |
| --- | --- | --- |
| Reduce Irritation | 25% | 100 |
| Moisturizing | 25% | 100 |
| Reduce Congestion | 20% | 90 |
| Hypoallergenic | 15% | 95 |
| Gentle Mist | 15% | 90 |
| Total Score | 100% | 95.75 |
---
3
Arm & Hammer® Nasal Mist

Organic Nasal Spray
This product is targeted at people suffering from Nasal Catarrh, Nasal congestion, and people suffering from a cold or a runny nose.
The nose has naturally moist membranes for easy breathing, which dry in certain nasal conditions.
This is where this organic nasal spray comes in.
Arm & Hammer's nasal spray contains Menthol that provides rapid relief from a stuffy nose.
This nasal spray also reduces swelling of the nasal membranes to allow the flow of air through the nose.
This product is made using completely natural and organic ingredients. Therefore, it is gentle on the sensitive nasal passage and does not affect any harmful side effects.
| Rating Category | Weight % | Score |
| --- | --- | --- |
| Reduce Irritation | 25% | 100 |
| Moisturizing | 25% | 95 |
| Reduce Congestion | 20% | 90 |
| Hypoallergenic | 15% | 95 |
| Gentle Mist | 15% | 90 |
| Total Score | 100% | 94.5 |
---
4
NOW Foods® NOW Solutions

Activated Organic Nasal Mist
The NOW solution product aims to soft nasal passages to relieve nasal congestion.
This activated organic mist rinses away any particles stuck in the nasal passages to allow easy breathing.
The all-natural formula of this nasal mist is very gentle on the nasal membrane and does not do any harm.
This product is A-rated GMP certified.
NOW solutions activated mist is manufactured and packaged by a family-owned company in the USA.
---
5
Super Good Stuff USA® Natural

Organic Nasal Wash
This nasal wash provides support to the respiratory system as well as the Sinus and throat.
The organic nasal relief product works by irrigating the nasal passage to allow a comfortable flow of air.
It is made using a proprietary combination of botanical oils, minerals, enzymes, and amino acids, all working together to allow convenient nasal breathing.
It is an easy-to-use liquid nasal decongestant spray.
Some noteworthy oils used in this product are Castor, Olive, Coconut oils, and many herb oils, which provide moisture to the nasal membranes.
---
6
Bionas® Sinus

Nasol spray
This nasal spray contains Capsaicin as its main ingredient. Capsaicin is clinically proven to provide relief from pain.
The Capsaicin in these nose drops quickly reduces irritation in the nasal membranes by desensitizing them.
Therefore, this product works for Migraines, Clusters, tension, a stuffy nose, allergies, and nasal congestion.
All the ingredients used in making this product are non-habit forming and safe to use.
Bionas's nasal spray is FDA-registered.
---
7
Xlear® 12-Hour

Decongestant Nasal Spray
This Xlear nasal spray contains xylitol to clean and moisturize the sinus tissues while relieving congestion gently.
The non-drowsiness, 12-Hour, decongestant nasal saline spray acts as a nasal decongestant for severe sinus pressure and congestion by targeting the primary causes of nasal congestion.
It helps to reduce tissue swelling from pollen, pollution, bacteria, and all other irritants.
This spray features antimicrobial, and antihistamine properties to help off sickness and offer oral and upper respiratory health benefits using its unique five-carbon structure.
This all-natural nasal cleaner is safe for kids, non-addictive, and Non-GMO Project Verified and is effective without the use of steroids, drugs, or chemicals.
---
8
Little Remedies® Saline

Nasal Spray
This nasal spray is the number 1 Pediatrician recommended to clear airways.
The unique design can be held downward as a saline dropper or upright as a saline spray.
It relieves runny, stuffy, dry, or crusty noses easily.
This nasal spray flushes and removes mucus from little noses to help your little ones breathe easily and provides non-medicated relief that safely soothes and moisturizes.
It is safe for newborns, is drug-free, and does not have any side effects.
---
9
FridaBaby® All-Natural

Saline Nasal Snot Spray
The natural sea salt and purified water are specially formulated for small noses.
It is free of any alcohol, medicine, or other additives.
The small applicator tip is ideal for tiny nostrils to easily remove mucus and clean nasal passageways.
It provides non-medicated relief for stubborn boogies and stuffy noses while moisturizing nasal passages.
The 2-in-1 spray works for spritz relief in spray form and can be used in drop form when turned upside down.
---
10
Boogie Mist® Decongestant

Saline Nasal Spray
Boogie Mist Saline Nose Mist helps to moisturize dry, irritated, and stuffy noses while flushing dust, dirt, and pollen from nasal and Sinus passages.
The non-medicated sterile saline mist is natural, hypoallergenic, and works quickly inside the nasal cavity to ease congestion.
It is gentle enough to use as often as needed and works for cold, flu, and even allergy symptoms.
The kid-friendly saline mist is an easy-to-use alternative to saline spray or drops and does not contain any added fragrance. It is designed proudly in the USA and comes with a fresh scented applicator tip (Schnozzle) that kids love.
---
Index Table: Top-Rated Organic Nasal Spray
---
---