Sensitive skin? Fed up with drying, chemical-laden face wash? Need an effective, chemical-free cleanser? Want to know more about organic face wash?
If "yes", natural face cleanser is definitely for you! Ready to cleanse and pamper your face with all-natural face wash? Here are our top 5 picks!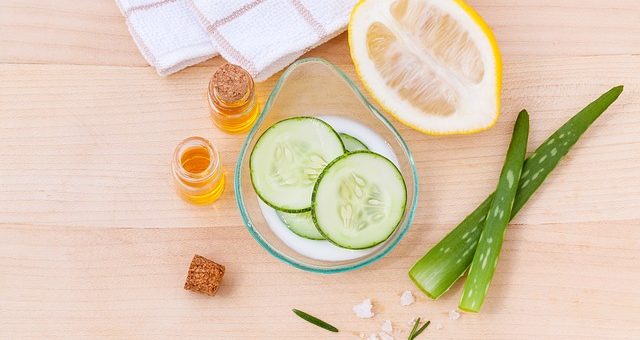 ---
Stop Using Chemical-filled Face Wash
Our skin's outer protective layer is made of sebum, amino acids, fatty acids, lactic acid, and skin's own moisture barrier. This is called 'acid mantle' of the skin, and it has a pH level between 4.5 – 5.5.
Your regular face washes, on the other hand, is alkaline with pH levels ranging from 12 – 14. So, if you use a chemical-filled face wash, it messes with the acid mantle and makes your face overly dry.
Breakouts, skin irritation, sensitivity, premature signs of aging, and larger pores are the bonus you get. Remember, oily skin is no exception. The chemicals in the face wash off the natural oils and make it tight.
Sure, there are pH balanced face washes in the market. They might be good at balancing the pH levels, but what about the harsh cleansers in them?
Important chemicals to avoid include SLS, paraffin, mineral oil, paraben, alcohol, synthetic fragrance, and ammonia compounds (TEA, DEA, and MEA).
The bottom line: If your goal is clean, smooth, and radiant skin, start with a natural face cleanser.
---
Why Organic Face Wash Is Good?
No imitations: When ingredients are natural or organic, you don't have to worry about imitations. Your tea tree oil face wash is made from "real" tea tree oil or the extracts of tea tree, never a "reel" oil or fragrance.
Good or the skin: Drying agents in regular face wash do no good to your skin. Whereas all-natural face wash cleanses, nourishes, and moisturizes the skin. For example, Sulfate-free organic face wash should be the choice if you want to moisturize the skin.
Lessen chances of breakout: The reason why we used "lessen" is because skin tolerance isn't the same for everyone, even if the product is natural. Some might be naturally allergic to nuts, and they can't use an almond-rich face wash.
Easy on sensitive skin: Chemical-free, soap-free, or phthalate-free face wash doesn't cause skin irritation or inflammation. Many organic facial cleansers have lemon peel, rose, honey, and other herbal extracts to cleanse and nourish sensitive skin.
Post cleansing: Once you are done with cleansing, you might need to moisturize your skin. Please explore our list of organic facial moisturizers.
---
Good Ingredients In An Organic Face Wash
Coconut Oil: It doesn't make T-zone greasy again. It will balance the natural oils and leave the skin fresh and hydrated, instead.
Apple Cider Vinegar: A great acne-treating ingredient that is all-natural and won't irritate your sensitive skin. It is a common ingredient in an organic face wash for acne.
Essential Oils: A vast majority of essential oils are anti-inflammatory, antibacterial, and antifungal. Plus, they add a natural soothing fragrance to the face wash. For example, Tea tree oil, lavender oil, jojoba oil, rosemary oil, chamomile oil, peppermint oil, lemon oil, and frankincense oil are the most common essential oils.
Green Tea: With plenty of antioxidants, green tea repairs and replenish skin cells. The catechins in green tea reduce skin irritation as well.
---
Reviews: Best Organic Face Wash
We hope you love the products we recommend!
Just so you know, We may collect a share of sales or other compensation from the links on this page.
---
1
A purifying and hydrating vegan face wash made from pure, organic ingredients that won't irritate sensitive skin.
Enriched with Sea kelp, aloe vera, and fruit extracts, it gently but thoroughly removes oil makeup and impurities from the skin.
Cranberry fruit extract, green tea leaf extract, pomegranate extract, and olive leaf extract are included in this cruelty-formula. Antioxidants present in them give a nutrient punch to fight off dryness and signs of aging.
Hypoallergenic and suitable for all skin types, it is free of parabens, phthalates, sulfates, artificial fragrances, and other harsh chemicals.
---
2
Nature's Brands® Organic

Herbal Face Wash
One of the most beloved organic faces washes on the market! This organic wash from Nature's Brands is completely gentle on the skin, smells divine, and leaves your face soft and blemish-less.
To your delight, it has all-natural ingredients – organic aloe vera juice, organic coconut oil, organic jojoba oil, organic rosemary extract, and organic sweet orange oil.
All these natural ingredients help fight free radicals, stimulates collagen production, moisturize the skin, evens out the skin tone.
It is mild foaming yet effective at deep cleansing the skin by removing makeup, grease, dirt, or other impurities.
---
3
Farmaesthetics® Herbal

Face Cleanser
Packed with 100% natural and moisturizing ingredients, this herbal cleanser from Farmaesthetics is perfect for mature skin types or those looking to fight the greasiness or dryness.
Treat your skin to a dose of only five ingredients: witch hazel, vegetable glycerin, acyl glutamate (a natural amino acid from sugarcane), geranium essential oil, and lavender essential oil.
This formula gently foams and washes away excess oil and dirt while simultaneously adding plenty of moisture into the skin.
It doesn't affect the skin's pH levels. Plus, it is a must-try organic face wash for acne-prone skin.
With no surfactants and harsh chemicals, this made in USA face wash is completely safe for your skin.
---
4
100% PURE® Tea Tree

Clarifying Cleanser for Oily Skin
An all-natural and organic cleansing formula for all skin types. The natural ingredients present in it gently remove dead skin cells, dirt, and oil from pores.
For dull and dry skin, ingredients like tea tree and willow will work to detoxify, nourish, hydrate, and retain moisture all day long.
The face also offers anti-inflammatory benefits to soothe the oily, acne-prone skin as well.
The detoxifying and hydrating lemon water in this organic face wash boosts the skin's immunity and protects from breakouts and skin irritants.
Unlike many popular chemical-laden cleansers, it contains no skin-stripping nasty chemicals.
Additionally, it is USDA organic certified, vegan, gluten-free, and cruelty-free.
---
5
PLANTED IN BEAUTY® Organic

Exfoliating Face Scrub
Crafted from super gentle and soothing ingredients like pineapple, raspberry, a root extract of Great Burdock, and many other natural ingredients, this organic face wash from PLANTED IN BEAUTY is ideal for all skin types.
It exfoliates, retexturizes, and restores skin's radiance without drying out the skin. It also provides deep pore cleansing results.
The dermatologist-tested formula is free from parabens, petroleum, GMOs, butylene glycol, phthalates, sulfates, silicones, formaldehyde, pesticides, alcohol, PEGs, artificial dyes, synthetic fragrances, and artificial preservatives.
Moreover, it is certified organic, vegan, and EWG Verified. Plus, it comes in eco-friendly packaging.
---
6
The cleansing gel lathers away toxins and impurities while also helping to prevent premature signs of aging.
This product is certified Organic.
It is a plant-based formula made with organic botanicals and essential oils.
The Avalon Cleansing Gel contains No GMOs, parabens, synthetic colors or fragrances, phthalates, or sulfates.
Vegan as well as cruelty-free.
It restores and renews complexion's clarity as well as vibrance by neutralizing free radicals that can result from sun damage
This refreshing gel cleanser comes fortified with two powerful forms of vitamin C to give you bright skin.
---
7
Nourish Organic® Moisturizing

Organic Face Cleanser
The Antioxidant-rich watercress in this organic cleanser helps protect skin from environmental damage.
Whereas, the Cucumber replenishes and hydrates the skin.
The Aloe Vera soothes and moisturizes for all-day radiance.
This fragrance-free formula cleanses the skin without drying or irritating.
Nourish Organic face wash is GMO-free, Gluten-free, Vegan, USDA Organic Certified, as well as Cruelty and Fragrance-Free.
---
8
CHIC REPUBLIC® Detoxifying

All Natural Face Wash
The natural, deep cleansing activated charcoal in this face wash works to reduces wrinkles, dark spots and remove toxins by drawing out and trapping impurities, relieving clogged pores to breathe life into your skin again.
The triad of calming Rooibos Tea, White Tea, and Green Tea Extract in this face wash merges into the perfect combination to work as an antioxidant remedy, defending skin from environmental factors for healthier, supple, clean skin.
This enriched gentle cleaning facial wash shields your skin every day from irritants and inflammation by locking in Vitamin C and Vitamin B5 to build a barrier layer that promotes healing and protection.
It also gently hydrates and refreshes the skin using natural ingredients like coconut oil, orange peel oil, and aloe vera gel extracts to provide nutrients that balance the skin.
It is a great acne face wash treatment and face wash for oily skin, moisturizing, and invigorating your skin.
This product is Paraben-free, cruelty-free, and hypoallergenic, as well as suitable for all skin types.
---
9
Aspen Kay Naturals® Natural

Dead Sea Mud Soap Bar
This soap bar is made with organic unrefined Shea Butter, Organic Extra Virgin Olive Oil, Organic Sunflower Oil, Organic Sustainable Palm Oil as well as organic Castor Oil.
It can be used as a face soap, body soap, or shaving soap by men, women, and teens.
This bar soap can be used to help with Acne, Eczema, and Psoriasis.
It comes naturally scented with therapeutic grade essential oils Of Lemongrass, Peppermint, and Eucalyptus.
This product is vegan and cruelty-free.
---
10
Christina Moss Naturals® Handcrafted

Organic Facial Wash
This hypoallergenic face wash is free of chemicals and works wonders on the skin.
It gently and thoroughly cleanses your skin without stripping, drying, or leaving build-up.
This product is uniquely designed to gently, thoroughly, cleanse your skin while delivering key nourishing & benefiting ingredients.
---
Index Table: Top Rated Organic Face Wash
---
---