Some of the links in this post are affiliate links. This means if you click on the link and purchase the item, I will receive an affiliate commission at no extra cost to you. All opinions remain my own.
Organic probiotics are a great way to improve your gut health and keep digestive issues at bay. A healthy gut is important for your overall health and also keeps your immune system in check.
Read on to learn more about the many benefits of Probiotics and the best probiotic supplements for women.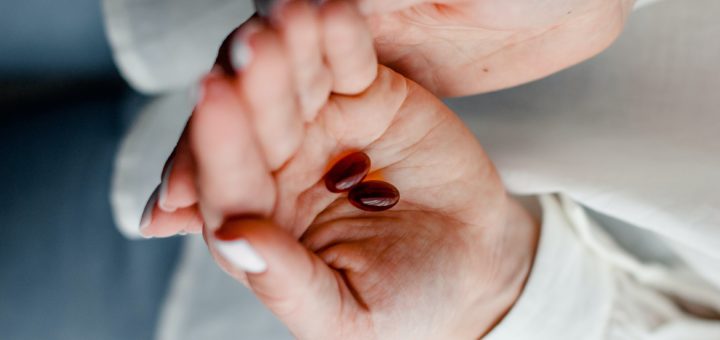 ---
What are Probiotics?
Even though the concept of consuming live microorganisms seems strange at best and incomprehensible at worst, the many benefits of probiotics are undeniable. Probiotics are live microorganisms that boost the digestive system, maintaining and enhancing overall gut health.

Gut Microbiome – There is a microbiome, a full ecosystem inside our gut, with good and bad bacteria. When the bad bacteria overwhelm the good ones, we get sick. Whereas when the good bacteria are stronger, we stay healthy and happy. Probiotics are good bacteria that we consume to join together with the good microorganisms in our gut microbiome, making it easier to overcome any harmful microorganisms.
---
Benefits of Using Probiotics for Women
Boost the Immune System – The first and foremost benefit of using a Probiotic supplement is its positive effect on our immune system. It reduces the risk of gut infections and speeds up the production of immune cells in the body. It also promotes the production of natural antibodies in the body.
Minimize Digestive Disorders – Not only do Probiotics increase the count of good microorganisms in the body, but they also have anti-inflammatory properties. Probiotics can help relieve and minimize the symptoms of digestive disorders such as IBS and Ulcerative Colitis. They also help ease Diarrhea.
Aid in Weight Loss – Probiotics have been shown to affect the treatment of obesity positively. This is because they prevent the absorption of dietary fat in the body.
Boost Skin Health – Research shows that children with a higher Probiotic intake have a lower chance of developing skin conditions such as Eczema and Dermatitis. Moreover, due to their anti-inflammatory properties, they can also relieve the symptoms of any inflamed skin conditions.
---
What to Look for in a Organic Probiotics?
CFU Count – CFUs, called Colony Forming Bacteria in full, tell you how much Probiotics you are getting. The amount of Probiotics you need depends on the reason behind using a Probiotic supplement. A general recommendation is to use a supplement with 1 Billion CFUs. This is because many probiotics get destroyed during their journey through the digestive tract before reaching their destination deep in the intestines.
Strains – The strains of Probiotics present in your Probiotic supplement are also an important factor. Generally, Lactobacillus, Bifidobacterium, or Saccharomyces boulardii, should be present in the supplement as they are the most researched strains of Probiotics. Different strains affect different aspects of digestion.
Dosage and Storage – Lastly, you also need to get the relevant information about the dosage and storage of the Probiotics. The dose will help you decide how much you need to consume. As for storage, some probiotics need to be stored in the fridge, whereas some are shelf-stable.
---
Reviews: Best Organic Probiotics Supplements for Women
Listed down below are some of the best Organic Probiotic Supplements for Women available in the market. Alos, please note that this page includes affiliate links.
---
1
Vitalitown's Probiotics for Women contains over 120 Billion CFUs, one of the highest of any Probiotic supplements available in the market.
This Probiotic supplement contains some of the most researched Probiotic strains, totaling 30 in number; these strains are chosen for their special benefits for women.
Vitalitowns supplements are all free of Gluten, Soy, Dairy, Fish, and Nuts of any kind, as well as completely Vegan and Non-GMO.
The Probiotic supplement is enriched with Organic Cranberry extract because of its many benefits for health. Cranberry is a powerful antioxidant and high in other nutrients and is linked to boosting vaginal health in women.
It is also enhanced with plant-based digestive enzymes to boost the digestive action in the body.
Vitalitown's probiotic supplement also contains water-soluble prebiotic fiber, which supports gut function and the immune system.
It is created with delayed-release technology to ensure that the probiotics survive the stomach acid; otherwise, most of them fall victim to the bile and stomach acid before making it deep into the intestine.
The probiotic supplement comes in shelf-stable packaging inside a moisture-tight bottle to maintain its goodness.
---
2
Physician's Choice Store® Organic

Prebiotics & Probiotics for Women
The Physician's Choice Supplement contains more than 50 Billion CFUs to boost the number of good bacteria in your gut microbiome.
It also contains other clinically proven ingredients that support digestion, feminine health, and the overall immune system in the body.
The probiotic supplement contains six strains of vegan probiotics, including Lactobacillus gasseri, Lactobacillus acidophilus, Lactobacillus Plantarum, Lactobacillus Paracasei, casei, and Bifidobacterium lactis.
It also contains ProCan, a concentrated Cranberry extract containing all the key Cranberry antioxidants; 50 mg of ProCan contains almost 2500mg of Cranberries, excluding the sugar and caloric weight.
The delayed-release capsules are Vegan and free of wheat, fish, peanuts, eggs, milk, gluten, and soy.
---
3
Wholesome Wellness® Raw

Organic Probiotics for Women
The supplement contains 100 Billion CFUs and 34 strains of probiotics; this is the highest number of probiotic strains offered by any brand.
It is made of 100% raw probiotics, based on clinical testing, to ensure ultimate digestive health and maintenance of the natural stomach balance.
Along with the Probiotics, it also contains organic Prebiotics and Digestive enzymes to aid in the digestion process; it is designed to promote gut health and provide relief from bloating and flatulence, constipation, and women's vaginal yeast infections.
The probiotic supplement is designed with high potency dosage, containing symbiotic strains of fungus and bacteria, and is shelf-stable.
---
4
Doctor's Recipes® Organic

Probiotic with Prebiotics
It is formulated using 50 Billion CFUs, along with 16 clinically proven probiotic strains for efficiency.
Doctor's Recipes probiotic is infused with Prebiotics to ensure it provides the necessary nutrition for probiotics to thrive and grow.
It also includes Organic Cranberries for an added boost to maintain vaginal health and help ease the symptoms of urinary tract infections.
These women's Organic Probiotics are shelf-stable and designed to be time-release to ensure the maximum number of probiotics survive while traveling through the digestive tract.
It is 100% natural, organic, free of gluten, soy, dairy, vegan-friendly, and GMP-certified and Non-GMO certified.
---
5
SmartyPants® Organic

Womens Probiotics with Multivitamin
This is a pack of Organic Women's Probiotics designed by SmartyPants.
The chewable tablets are multi-vitamins infused with probiotics to boost your overall health.
It contains a variety of vitamins, including Vitamin C, D3, B12, and Biotin, Omega-3, and Zinc for immune-boosting purposes.
These multi-vitamin probiotics contain 1 Billion CFUs, with different probiotic strains to optimize performance.
It is Non-GMO verified and free of any artificial flavors, sweeteners, gluten, soy, gelatin, shellfish, peanut, fish, wheat, and nuts.
These gummies are vegetarian and certified Organic, with a Clean Label project verification.
---
6
Ora Organic® Lady Bugs

Probiotics for Women
This supplement contains 16 Billion CFUs to ensure a healthy boost to digestive health.
It contains six strains of Probiotics, including Lactobacillus crispatus, Lactobacillus Plantarum, and Lactobacillus fermentum.
The probiotic supplement protects against harmful bacteria, restores vaginal flora, and aids in rebalancing the microbiome.
It helps relieve the symptoms of digestive problems such as stomach pain, poor absorption of nutrients, and bloating.
Ora Organics Probiotic supplement for women is clean, vegan, non-GMO, USDA Organic, and made using whole-food ingredients.
It is free from gluten, dairy, fillers, sugar, and artificial ingredients while utilizing the most sustainable supply chain possible.
---
Index Table: Top-Rated Organic Probiotics Supplements for Women
---
---