Some of the links in this post are affiliate links. This means if you click on the link and purchase the item, I will receive an affiliate commission at no extra cost to you. All opinions remain my own.
Vitamin C, also known as Ascorbic Acid, is a water-soluble vitamin. It is an essential nutrient for skin, bone, and some neurotransmitters' production. It also functions as an Antioxidant. The Best Organic Vitamin C will help you with immunity issues that cause frequent flu.
Our body is unable to synthesize Vitamin C endogenously. It occurs naturally in some fruits and vegetables and is available as a dietary supplement. Read about the benefits and uses of Vitamin C in detail down below.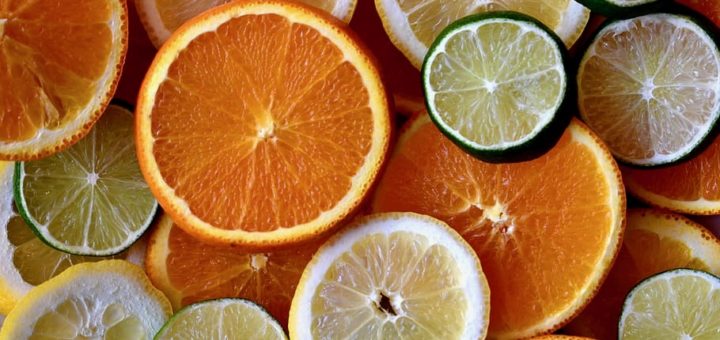 ---
Functions of Organic Vitamin C
The Best Organic Vitamin C supplement aids in fighting free radicals in the body and keeps the diseases away. Here are some more functions of the best organic vitamin C.

Repairs Body Tissues – It is necessary to grow, develop, and repair all body tissues because of their role in collagen formation. It also plays a role in the production of Norepinephrine, a neurotransmitter.
Protects Bones & Cartilage – Cartilage is a type of firm tissue that covers bones. Vitamin C reduces the risk of cartilage loss in Osteoarthritis and protects the bones from fractures or breaks.
Makes Nerves Strong – It is essential for the Enzymatic Production of Neurotransmitters.
Acts as an Antioxidant – Just like the benefits of Organic Ginkgo Biloba, taking Organic Vitamin C will fight free radicals in the body, preventing or delaying diseases like Cancer, Arthritis, and Heart problems, and promoting healthy aging. It also inhibits damage to cells. It strengthens the barriers of the skin.
---
Benefits of Organic Vitamin C
Using the organic vitamin c complex and organic vitamin c supplement will help you fight various diseases. Here are some benefits of organic vitamin C that help the body function.

Protects from Cardiovascular Disease – People with high concentrations of Vitamin C in their system have a 42% lower stroke risk. It also reduces heart disease risk factors like High Blood pressure, High Cholesterol, etc. It also widens the blood vessels.
Helps in Healing & Infections – It reduces the duration of the common cold. It also lowers Histamine levels in the body, which reduces Inflammation.
Improves Skin – Higher Vitamin C intake lowers the likelihood of wrinkled appearance and dryness and somewhat repairs it if it has already happened. This is because it produces Collagen in the body, which keeps the skin firm and supple.
Prevents and Cures Scurvy – Scurvy is a physical condition that occurs because of extreme Vitamin C deficiency and is characterized by swollen joints. Bleedings gums, tiredness, etc. You can recover from Scurvy by bringing your Vitamin C levels up.
Strengthens Immune System – It is very beneficial to individuals whose Immune System is weakened due to stress or otherwise. It contributes to the immune defense of innate and adaptive cellular functions in the Immune system by encouraging white blood cells production. It is the first nutrient to be depleted in Alcoholics, Smokers, etc.
Helps in Cases of Anemia – It lowers the risk of Anemia as it enhances the absorption of Iron in the blood and body.
---
Organic Vs Synthetic Vitamin C
Vitamin C usually comes in two forms: L-Ascorbic Acid and D-Ascorbic Acid. Vitamin C Supplements usually contain L-Ascorbic. It is naturally present in fruits and vegetables like Citrus fruits, Kiwi, Strawberries, Broccoli, and Raw bell peppers.

Organic Vitamin C – For a Vitamin C product to be Organic, it needs to be made from a real food source or an organic whole food blend. Vitamin C is most commonly made organically from Acerola extract, fresh Berries, and Cherries.
Synthetic Vitamin C – Vitamin C made synthetically is made from Ascorbic Acid.
Organic Vitamin C – The real food sources make the organic variant healthier and fresher for consumption.
Synthetic Vitamin C – This is usually used to supplement the diet and contains lab-created vitamin C that may not be from natural sources.
Reviews: Best Organic Vitamin C
Given below are some of the Best Organic Vitamin C products available.

---
1
It promotes Tissue and Skin Health and also supports the Immune System.
The best organic vitamin c contains Amla Berry powder, which is rich in Vitamin C.
It includes Bioflavonoids and co-nutrients for better absorption.
The best organic vitamin c does not have added sugar and is available in Cherry and Orange flavor Liquid Spray.
It is USDA Organic, and Non-GMO verified.
| Rating Category | Weight % | Score |
| --- | --- | --- |
| Nutrients | 35% | 100 |
| Flavorful | 25% | 100 |
| Price | 25% | 95 |
| Packaging | 15% | 95 |
| Total Score | 100% | 98 |
---
2
Pure Synergy® Pure C

100% Natural Vitamin C
It is made from Organic Wild berries, including Camu Camu, Acerola & Amla.
The best organic vitamin c does not include any Synthetic Ascorbic Acid.
Moreover, it is the best organic vitamin c with 100% berry-sourced Flavonoids.
It strengthens the Immune System and provides extra support. It also promotes Antioxidant activity.
| Rating Category | Weight % | Score |
| --- | --- | --- |
| Nutrients | 35% | 100 |
| Flavorful | 25% | 100 |
| Price | 25% | 90 |
| Packaging | 15% | 95 |
| Total Score | 100% | 96.75 |
---
3
Paleovalley® Essential C Complex

Vitamin C Supplement
It is made from Organic Superfoods like Amla, Camu Camu berry, and unripe Acerola cherry.
The organic vitamin c supplement contains unripe Acerola cherries, including 120 times more Vitamin C than Oranges.
It helps vital body functions like Nutrient absorption and Energy level regulation.
The organic vitamin c supplement is free of Synthetic fillers and gluten. It is also Non-GMO verified.
| Rating Category | Weight % | Score |
| --- | --- | --- |
| Nutrients | 35% | 100 |
| Flavorful | 25% | 95 |
| Price | 25% | 90 |
| Packaging | 15% | 95 |
| Total Score | 100% | 95.5 |
---
4
Garden of Life® Lime

Living Organic Vitamin Caplets
It is derived from the finest Whole Food Organic ingredients.
The organic vitamin c supplement includes Lemon-Lime citrus bioflavonoids to help absorption.
It has the added benefit of the Organic Antioxidant Berry Blend to fight free radicals.
---
5
Micro Ingredients® Acerola Cherry

Organic Vitamin C Powder
This rich natural and organic Vitamin C supports the Immune System and has strong antioxidant properties.
It is USDA-certified, Non-GMO verified, and Vegan-friendly.
The organic vitamin c supplement can be mixed into a Smoothie or Shake using the given measuring scoop.
You can take it in Powder form for higher concentration and better absorption.
---
6
Green Organic Supplements® 1000 Plus

Organic Immune Enhancer Vitamin
It is an organic vitamin c complex that is made of Organic products.
The organic vitamin c supplement combines vitamin C-rich organic foods like Camu Camu berry, Acerola berry, Amla berry, Rosehips, and Goji berry.
The organic vitamin c complex is hand-made and free of fillers, flavors, and chemicals.
It is Fresh, Gluten-free, and Non-GMO verified.
---
7
Peak Performance® Whole Food

Organic Vitamin C
Peak Performance employs Non-GMO ingredients derived from real Raw, Organic Whole Food Acerola Cherry – for maximum absorption and immune effectiveness. This product is certified USDA Organic Vitamin C Powder.
All ingredients in this Vitamin C are sourced from clean and safe environments.
This brand avoids artificial processing to preserve its maximum mineral nutrients.
Besides, this Vitamin C powder is sourced from organic, Non-GMO Acerola Cherry, a natural whole-food ingredient well-known for being extremely rich in vitamin C and designed specifically to support your immune system containing phytonutrients like carotenoids, phenolics, anthocyanins, and flavonoids.
This product is free of Soy, Milk, Egg, Shellfish, Corn, Wheat, and Peanuts. It also contains no Gluten or Preservatives.
Moreover, it is manufactured under the highest quality GMP and NSF regulations and USA STandards.
Besides, this product is Vegan, Allergy-free, and made in the USA.
---
8
Nutrigold® Gold

Organic Vitamin C
This is a natural source of vitamin C and does not contain any synthetic ascorbic acid.
Moreover, it is made with an organic berry blend and 270% DV per plant cap.
Besides, this project is a Non-GMO Project verified, certified kosher, Vegan, and Soy-free, Gluten-free, and verified free of allergens.
Moreover, it is the best organic vitamin c supplement with no harmful additives, magnesium stearate, residual solvents, or pesticides.
---
9
SmarterVitamins® Berry

Whole Food Organic Vitamin C
This is a 100% raw, natural, and whole-food Vitamin C.
Moreover, it is made from 11 premium Whole Food Organic Berries such as Acai, Acerola, Amla, Cranberry, Goji, Jabuticaba, Mangosteen, Maqui, Pomegranate, Strawberry, and Schisandra.
Besides, vitamin C can prevent Collagen loss, leading to wrinkles, aging, weakened arteries, and immune system deficiencies.
Additionally, the body has a better chance of absorbing these natural full-spectrum citrus Bioflavonoids, Polyphenols, and Antioxidants.
Moreover, it absorbs as much as it can to boost your Immune System to protect you.
It is free of Fillers, Magnesium, Stearate, dioxide, Silica, Maltodextrin, Carrageenan, Soy, Milk, Egg, Corn, Tree Nuts, Artificial Colors, Or Preservatives.
---
10
NATURELO® Premium

Organic Vitamin C
Acerola Cherries are one of the richest sources of Vitamin C found in nature.
Moreover, this best organic vitamin c supplement contains added Citrus Bioflavonoids from Organic Oranges and Lemon to enhance the bioavailability of vitamin C. Studies have shown that bioflavonoids increase vitamin C absorption by as much as 35%.
Additionally, this organic vitamin c complex is released gradually over time to allow your body to absorb more.
Besides, the organic vitamin c complex stimulates antibody production to help the immune system reduce the severity and duration of colds.
Moreover, this plant-based, natural organic vitamin c complex supplement is free of GMOs, soy, gluten, yeast, dairy, eggs, nuts, caffeine, coloring, preservatives, or flavoring.
---
Index Table: Top-Rated Best Organic Vitamin C
---
---