Some of the links in this post are affiliate links. This means if you click on the link and purchase the item, I will receive an affiliate commission at no extra cost to you. All opinions remain my own.
Ginger is a spice and a proclaimed superfood that offers a host of health benefits that you can now find in supplement form. But which is the best brand that gives organic ginger powder supplements?
Our quick guide includes everything you need to consider when navigating the explosion of ginger supplements available on the market, and we've included our recommendations for the best.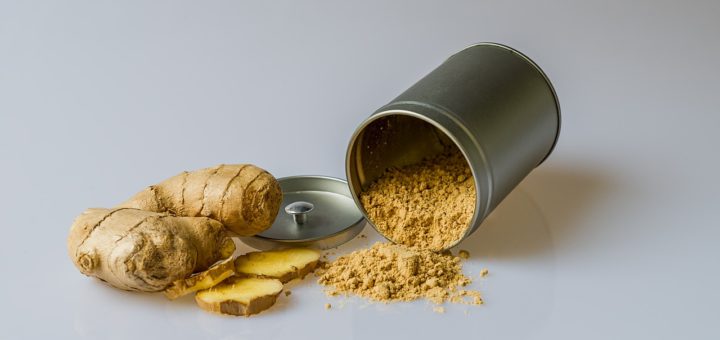 ---
Health Benefits Of Natural Ginger
People have dug up Ginger for its health benefits and spicy flavor since time immemorial. All thanks to the 100+ active compounds in the root, fresh or dried. Besides gingerol – the major compound in Ginger, Ginger also contains antioxidants that fight off-tumor, inflammation, and microbes.
By improving insulin levels and metabolism, certain active compounds in ginger help reduce your risk of diabetes.
Ginger's pain-relieving property is a boon, especially for menstruating women. Sipping ginger tea is said to reduce PMS and menstrual pain.
The antioxidants in Ginger can prevent inflammation from starting by reducing cell-signaling activity in the body.
Ginger is an age-old home ready for settling an upset stomach. Speaking of tummy trouble, pregnant women should note this: consuming ginger tea/juice can reduce nausea and vomiting.
The anti-inflammatory compounds in ginger protect from heart diseases, says studies.
Regular consumption of this root or its supplements may reduce cellular activity that causes DNA changes, cell death, and proliferation of cancer cells.
---
The Many Forms Of Ginger Supplements
Consuming Ginger in its natural form doesn't cause any problems; however, many hate its pungent taste. Luckily, there are ginger supplements made for oral consumption. The greatest advantage – you can control the dosage and forget the pungency.
The most common ginger supplements are dried Ginger in powder form, capsules, and tablets or pills. Consuming ginger powder may cause belching and mild heartburn; you can avoid these effects by taking ginger capsules. Also, it is recommended to take ginger supplements with food to avoid an upset tummy.
There is also ginger root oil aka "The Oil of Empowerment". In Ayurveda, ginger oil has traditionally been used to soothe nervousness, sadness, low self-confidence, and a lack of enthusiasm.
Among these many forms of ginger supplements, our topic of interest is an organic ginger powder supplement. Valued for medicinal and culinary purposes, organic ginger root powder has a longer shelf life and is more versatile than natural.
Can't stand ginger' taste? But looking for other organic supplements? Check out our picks for the best organic garlic supplements.
---
Choosing The Right Organic Ginger Powder Supplement
Still, many remain unsure about how to pick the 'right' organic ginger powder. The following run-down tells you everything you need to know about choosing the right supplement for your family.
While all forms of ginger supplements provide health benefits, which one is best for you may depend on your health condition. So, be sure to check with your doctor and get the "go ahead" from them.
Be sure always to read the label. Ensure the label gives these details:

Ensure that the 'Natural' or 'Organic' claims are too good to be true.
The active ingredient, i.e., 100% organic ginger root
The complete list of ingredients – the more the ingredients, the lesser the product purity
Fillers may contain allergens and/or decrease the rate of absorption of organic ginger powder.
Good brands always use sustainable agriculture and harvesting practices.
The recommended serving size and the amount of the active ingredient(s)
---
Reviews: Best Organic Ginger Powder Brands
The only question that needs an answer is: which organic ginger powder supplement is the best? Let us show you in the section below.
---
1
This big, bulk bag of raw ground ginger will last for three months, even if you use a full teaspoon daily.
Sourced from organic farms in India and packaged in the USA, this one-ingredient supplement is Non-GMO, Non-Irradiated, and Vegan.
With 20g of calories per serving, along with zero fillers, this is a strong organic ginger supplement you can lean on. And despite its pure, organic status, it's still super affordable!
The advantage of this ginger powder is that you can use it in whatever recipe you want. One idea is to add a teaspoon to a gingerbread cookie mix, doughnut, or cupcake.
Batch tested and verified gluten-free; it provides antioxidants to amp up your immunity and skin health.
---
2
Blue Lily Organics® 100% Organic

Ground Ginger Root Powder
Another best organic ginger powder bag! Like Anthony's, Ginger is sourced from an organic Indian farm and packaged in the USA. It bears the USDA organic seal, too.
Blue Lily Organics Ginger Powder is a gluten-free, vegan product and comes in a 16 oz resealable bag to keep the freshness for a long time.
It is perfect for daily consumption and spicing up cake or cookie mixes with no additives, preservatives, or GMOs. It is excellent for Cold and Flu as a tea.
No fillers, and this ginger powder don't seem to be treated with anything or irradiated, granulated, or in any way extracted – just ground ginger root in its original form.
If you prefer to buy organic ginger powder supplements, Blue Lily Organics is your go-to – It's a LOT of Ginger!
---
3
Simply Organic® Organic

Ground Ginger Root
If you're looking for a GMO-free, kosher option, this organic ginger root powder from Simply Organic is the way to go.
They're also USDA and QAI-CERTIFIED, and every single batch is tested to ensure high quality. That means you can also feel good knowing about purity and safety.
Made of only organically grown ginger root, it contains no preservatives, artificial ingredients, or flavoring agents.
Simply Organic's organic ginger powder supplement is very potent, and a little goes a long way. And, it is a good option for anyone who doesn't like to swallow many ginger capsules.
---
4
Yae! Organics® Organic

Ginger Root Powder
If you're a purity fanatic, this is definitely a ginger supplement for you to consider. It is potent, 100% pure, completely gluten-free, and Non-GMO.
Made with ultra-pure organically grown Ginger, this supplement from Yae! Organics have amazing flavor and are loaded with nutrients. Thanks to dehydration, low temperature.
It also doesn't contain any fillers, flavors, binders, preservatives, or other additives.
These supplements are also USDA certified so that you can feel good about the quality and purity of each batch.
---
5
Health Harvest superfoods® Spray Dried

Ginger Powder
The name Health Harvest Superfoods sums up this product perfectly. Firstly, the dried ginger root extract is sourced from Indonesia.
Secondly, Ginger is grown and harvested without using any chemicals, earning it a glorious vegan and natural certification.
With this brand, you are getting guaranteed spray-dried ground ginger, and the rest of the specification is perfect.
Speaking of the texture and taste, it is super fine and tastes like 'ginger.' The highly concentrated powder possesses 100% water solubility.
---
6
Sun Star Organics® Raw

Organic Ginger Powder
A pure and natural Ginger.
The Ginger is sourced from a certified organic Ginger Farm and goes through very little processing.
Raw and organic, as well as Non-GMO.
Ginger boosts immune function and aids the digestive system.
---
7
NubeLeaf® Non-GMO

Organic Ginger Powder
It comes in a six or 14-ounce package.
Nutritious and healing all-natural ginger powder.
Completely organic and allergy-friendly, made from natural and pure Ginger.
No additives or artificial colors and flavors.
---
8
Best Naturals® Certified

Natural Organic Ginger Powder
Organic certified Ginger Root powder in its purest form.
No additions or colorants and gluten-free made from 100% Vegan Ginger root.
Organic and Non-GMO Certified.
Also Kosher.
---
9
Pure Synergy® SuperPure

Organic Ginger Extract
This is an exclusive, certified organic dual H2O and CO2 extract of Ginger to give you the maximum amount of benefit.
It provides support for digestive concerns, a healthy inflammation response as well as overall wellness.
This is a highly concentrated supplement, with almost 425 mg extract per capsule, equivalent to over 50,000 mg fresh organic ginger.
It comes in a standardized amount of 25 mg per capsule of the valuable Gingerol and Shogaol oils.
This product is USDA Organic, does not contain any chemical solvents or additives, Non-GMO, Vegan, and Allergen-Free.
---
10
Terrasoul Superfoods® Raw

Organic Ginger Powder
This is a 1 pound pack of Terrasoul Superfoods Organic Ginger Root Powder.
The organic ginger root powder is meticulously sourced and lab-tested to ensure that it comes to you in a potent and pure form.
Terrasoul Superfoods sources the freshest and highest quality superfoods from all over the planet.
This product is Certified Organic, Non-GMO, Earth Kosher, Raw, Gluten-Free, and Vegan.
---
Index Table: Top Rated Organic Ginger Powder Supplements
---
---