Some of the links in this post are affiliate links. This means if you click on the link and purchase the item, I will receive an affiliate commission at no extra cost to you. All opinions remain my own.
While you're likely already eating a balanced diet, doing exercises, and taking supplements for your overall well-being, there's one thing you may be missing: an organic garlic supplement!
Organic garlic pills and powders do wonders beyond imagination, from lowering your cholesterol to maintaining blood pressure, preventing certain cancers, and guarding against fungal infections.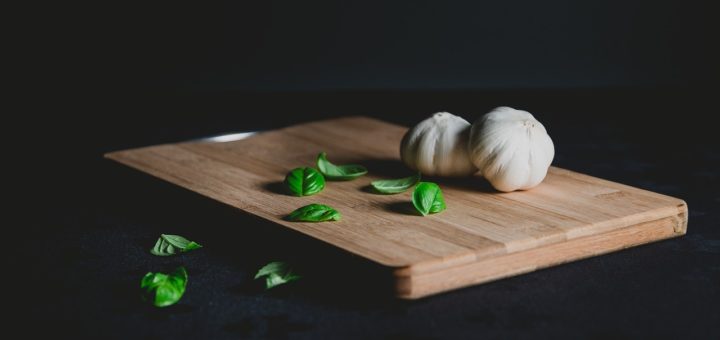 ---
---
Health Benefits of Garlic Supplements
For over 5,000 years, garlic has been used as food, aphrodisiac, and a preventative home medicine for many ailments. Though allicin content in raw garlic and supplements differs, you can still reap the following health benefits by consuming garlic supplements.
Cholesterol and Heart Health: Perhaps garlic's most noteworthy benefit has been proven to be preventing cardiovascular disease. This is due to the lowering of LDL cholesterol and blood pressure.
Cancer: There is limited but promising evidence that antioxidants and bioactive compounds in garlic can prevent or, in some cases, cure stomach and intestinal cancers.
Antimicrobial: Garlic prevents bacterial, fungal, and parasitic infections. There is also growing evidence that it may be effective against MRSA, TB, and athlete's foot.
Can Cure Cold: Garlic compounds can boost the human immune system to fight illnesses like the common cold and flu.
Heavy Metal Detoxification: Garlic extract has an unusual binding property to heavy metals like lead, mercury, and cadmium. A study conducted on employees from a car battery showed that heavy metal poisoning symptoms reduced after four weeks of consuming high doses of garlic.
Strengthen Bones: Though we lack enough human trials, there is growing evidence that consuming garlic may decrease bone loss issues and osteoarthritis in both men and women. Moreover, when it comes to strength, we may offer you this Organic Tongkat Ali as they have a proven athletic performance booster and increase muscle mass which may help your body use energy more efficiently, reduce fatigue, and improve endurance.
---
Types of Garlic Supplements
Garlic supplements come in various forms.
Pills and Capsules – This is the most common form of garlic supplements. Pills have garlic extract condensed in a solid form, whereas the capsules have powder inside.
Garlic Oil – Steam distilled from crushed raw garlic. It is then diluted about 200 times with vegetable oils to reduce the strong odor of garlic. Because of the high heat extraction process, garlic oil loses water-soluble sulfur compounds and non-volatile nutrients.
Garlic Powder – Garlic supplements also come from a powder made from chopped, oven-dried, and pulverized garlic cloves. The allicin potential of a garlic powder tablet depends on the alliinase activity. If you dry the cloves at a high temperature – above 158 F (70 C), the alliinase enzyme remains inactive. To avoid inactivation in the stomach, capsules are usually coated with cellulose and de-coated only by intestinal enzymes.
Aged Garlic Extract is made by aging the garlic for several weeks or months. The aging process is said to free the garlic of odor, retain all essential nutrients, and convert unstable allicin to stable compounds.
---
How To Purchase Top Quality Organic Garlic Supplements
You can find organic garlic supplements almost anywhere, from the local supermarket to online stores. That's why it is important to be sure you are spending money on top-quality products that guarantee the health benefits of garlic consumption. Keep in mind these tips:
Avoid heat-treated garlic supplements – opt for the ones that are freeze-dried or quick-cool-dried.
Choose layered garlic pills – If you are delicate to garlic, you should choose layered garlic pills that will shield your stomach from garlic's acidic profile and its effects.
Constant allicin levels – Pick pills or powders with constant allicin levels – each batch with the same amount.
Matured garlic – Draw out is rich in antioxidants, which is a good buy too.
---
Reviews: Natural/Organic Garlic Supplements
Ready to dive into our well-researched and curated list? I hope the article helps you find the best garlic supplement for you is!
---
1
Extracted from 100% organically grown garlic bulbs, Kyolic Aged Garlic Extract doesn't contain the pungent aroma and is soy- and gluten-free.
The noteworthy fact is that Kyolic uses a unique extraction technique to retain all of the garlic's beneficial value.
Speaking of this garlic supplement's health benefits, it helps to decrease triglyceride levels, blood pressure, pollen allergies, and inflammation of the buildup of cholesterol for cardiovascular health.
Kyolic also supports digestion without the possibility of added side effects. It helps decrease the inflammatory process, which can lead to joint and skeletal problems, rid the body of toxic materials, and help the body maintain (and even improve) health and well-being.
---
2
Solaray® Organic

Garlic Supplement
Solaray is a US-based brand in the dietary herbal supplement industry for years now, so you can feel good about taking their organic garlic supplements.
You'll find no artificial ingredients in Solaray's garlic supplements. It is wholly organic, vegan, and is additionally excipient-free.
With the right amount of Allicin (600 mg/pill), this tub of 100 VegCaps offers blood pressure and cholesterol regulation benefits.
Although the pills are quite large, tricky to swallow and give a light odor, it doesn't produce the bad garlic breath.
If everything written on the label is right, this is one of the best and most affordable garlic supplements you can buy online.
---
3
Oregon's Wild Harvest® Non-GMO

Garlic Capsules
Next up on this list is an affordable 100% vegetarian garlic pill that provides a potent garlic supplement by Oregon's Wild Harvest.
Wild Harvest Garlic is entirely vegetarian and formulated with organic garlic and 100% non-GMO ingredients. Additionally, it is free of artificial flavors, colors, excipients, or stearates.
The brand claims to retain as many natural compounds innate in raw garlic as possible. So you can rest assured that you are paying for a carton to help lower cholesterol, improve circulation, and care for your overall health.
This pure, organic garlic supplement's serving size is three capsules, meaning you can only use it for 30 days.
Though many wouldn't like the strong aftertaste, another portent organic garlic supplement won't disappoint in terms of results.
---
4
Starwest Botanicals® Organic

Garlic Powder
Certified Organic by QAI under the USDA National Organic Program Guidelines, Starwest Botanicals Organic Garlic Powder is an excellent product that guarantees value for the money.
Tasting like fresh garlic, it is strong but not bitter and blends well while cooking.
It comes in a resealable 1 lb Mylar bag and remains fresher for a longer time with proper care. Daily serving size – 1/4 tsp (about 400 mg).
This affordable garlic powder supplement is Kosher Certified by Kosher Certification Services and cGMP Compliant (current Good Manufacturing Practices).
---
5
Pure Mountain Botanicals® Vegan

Garlic Bulb Supplement
Another organic garlic supplement contains a highly concentrated dose of organic white garlic bulb.
Pure Mountain Botanicals garlic supplement offers 500 mg of organic garlic in veggie cellulose capsule form. The cellulose is pure, sourced from pine rather than soy.
Pure Mountain Botanicals is free of magnesium stearate, croscarmellose, cornflour, and maltodextrin. Plus, it has no additives like wheat, dairy, gluten, fish/shellfish, or peanuts/tree nuts.
Carefully processed to retain each sulfurous compound in the raw garlic bulb, the 90 kosher capsules per bottle will last for three months.
It comes in a dark amber glass bottle, the ultimate packaging for protecting from UV radiation and keeping the garlic intact and pure.
---
6
Herbal Secrets® Softgels

Organic Supplement in Garlic
A Garlic supplement in a soft gel.
All-natural and organic ingredients.
Garlic improves your immune function and digestive health.
GMO-free and comes in an easy-to-swallow soft gel.
---
7
Puritan's pride® odorless

Organic garlic Supplement
In Stock.
A rapid-release garlic supplement in a soft gel.
Odorless design without the awful aftertaste.
Completely natural and organic, traditional herb.
Maintains healthy circulation and immune systems.
---
8
Kasota® Prairie Foods

Organic black Garlic Supplement
Natural with no additives made from organic pure black garlic.
No fillers or shells, only pure garlic.
An antioxidant superfood that also reduces high blood pressure, amongst many other health benefits.
Black garlic has much higher anti-oxidant properties.
---
Kyolic® Aged

Organic Garlic Supplement
Kyolic Cardiovascular support garlic supplements for heart health and immune function.
Whole-body support and nutrition.
Odorless mad from organically grown garlic.
High-quality nutritional supplement.
---
10
NutraChamps® Odorless

Organic Garlic and Clove Supplement
A Garlic supplement infused with fresh cloves and parsley.
Completely natural and organic as well as odorless.
Reduce cholesterol and blood pressure and supports the immune system.
Everyday natural supplement.
---
11
Puritan's Pride® odorless

Organic Garlic Supplement
An all-natural garlic supplement that you can take daily.
Completely odorless, so it does not leave an aftertaste.
Maintains healthy circulation and immunes system.
It has high antioxidant properties.
---
Index Table: Top Rated Organic Garlic Supplement
---
---