Adding adaptogens into your smoothies, teas, and coffees has recently become a trend.
Everyone wants an additional burst of energy to get through their day, and this is where Adaptogens come in.
Read on to find out all there is to know about Adaptogens and the best organic products available in the market.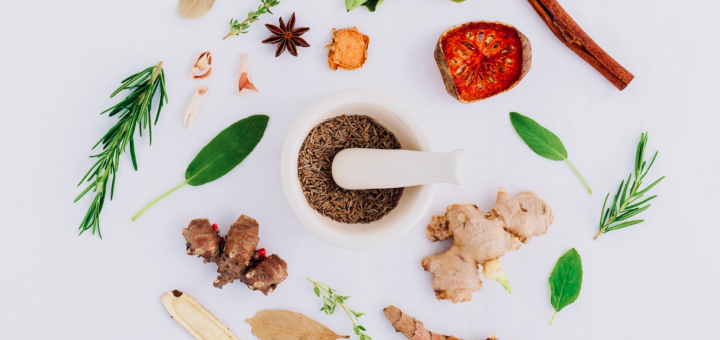 ---
What are Adaptogens
Adaptogens – Adaptogens offer natural ingredients like Organic Vitamin C that help the body adapt to physical and environmental stresses. They have a non-specific response in the body instead of providing the body with whatever it needs.
Purpose – Adaptogens support all major systems in the body, including the immune system, nervous, and endocrine systems. They also regulate body functions like blood Sugar. Adaptogens support the body's ability to cope with stress, adapt all bodily systems, and naturally guide the body to homeostasis.
Process – Adaptogens work at the molecular level and regulate all the hormone-producing glands in the body. It delays the phase in which the body is pumped up on hormones to keep us feeling powerful.
---
Benefits of Adaptogens
Promote Overall Health – Adaptogens target all the bodily systems and provide support to them. Therefore, regular intake of Adaptogens promotes overall health.
Reduce Fatigue – Adaptogens adapt to the body's needs and provides an extra burst of enregy. This, in turn, keeps the symptoms of fatigue at bay.
Relieve Stress – Adaptogens work towards producing hormones that reduce stress levels leave a sense of calmness behind.
Boost Cognitive Functions – Use of adaptogens is shown to boost congnitive functions by boosting mental focus and clarity.
---
How to Include Adaptogens in Your Diet
Qualities in Adaptogens – Adaptogens that provide a calming sensation and help sleep are best used at night. Ashwagandha adapts the body to circadian rhythm and promotes a night of meaningful sleep.
Find Your Routine – The best way to include adaptogens in your routine is to make it a part of a routine you already have. For example, add it to your coffee if you are an avid coffee drinker.
Type of Adaptogenic Herb – The usual time it takes for an adaptogenic herb or mushroom to work its magic is about three months, and you may use it up to 9 months. Similarly, each herb is different and needs to be used accordingly. It can be added to any drink like tea, coffee, smoothies, and shakes if powdered form.
Negative Effects – Adaptogens are non-addictive and non-steroidal. Because of these qualities, adaptogens are suitable for everyone. Ensure the product you are buying is organic, natural, and free of toxins.
---
Reviews: Best Organic Adaptogens
Assembled down below are the best organic adaptogens available in the market, in one place.
We hope you love the adaptogens we recommend!
So that you know, We may collect a share of sales or other compensation from the links on this page.

---
1
This powder is an adaptogenic blend of refreshing ingredients such as Cordyceps, Eleuthero, Astragalus, Ginseng, Rhodiola, Ashwagandha, and Schisandra.
This power dust aims to minimize the effects of stress on your physical and mental health.
It supports the immune system, promotes muscle recovery, and boosts stamina and physical endurance while reducing stress. It also increases lung capacity and allows for a healthy cardiovascular system.
Moon Juice products are made using only natural and organic ingredients.
This product is Non-GMO, Vegan-friendly, and free of Gluten and Caffeine. Add this to any drink, be it juice, tea, coffee, or a smoothie.
| Rating Category | Weight % | Score |
| --- | --- | --- |
| Stress Reliever | 25% | 100 |
| Support Immunity | 25% | 100 |
| Non-GMO | 20% | 95 |
| Flavor | 15% | 95 |
| Packaging | 15% | 90 |
| Total Score | 100% | 96.75 |
---
2
True Veda® Amla Capsules

Organic Adaptogenic Dietary Supplement
Amla is called "The Sustainer" in Sanskrit. It is the natural richest source of Vitamin C.
The Amla used in this product is sourced from the soil that meets all the strict requirements of the Soil Association.
This product is Non-GMO verified, Vegan, and Vegetarian-friendly and does not contain any fillers, binders, or artificial ingredients.
The adaptogenic dietary supplement is made using a patented technology that combines CO2 and Water-based extracts containing all the plant's active ingredients even after extraction.
All ingredients used in this product are sustainably sourced from India and manufactured in the UK.
The Amla capsules are third-party tested and meet all the health and safety standards set by UK/EU legislation.
| Rating Category | Weight % | Score |
| --- | --- | --- |
| Stress Reliever | 25% | 100 |
| Support Immunity | 25% | 100 |
| Non-GMO | 20% | 90 |
| Flavor | 15% | 95 |
| Packaging | 15% | 90 |
| Total Score | 100% | 95.75 |
---
3
ORGANIC INDIA® USDA Certified

Organic Siberian Root Adaptogen Extract
The high-potency ORGANIC INDIA used in this product is sourced from the wilds of Siberia.
It also features other active ingredients like Salidroside and Rosavins.
The Rhodiola Rosea in this adaptogenic extract is organically grown without fertilizers or pesticides.
The manufacturing process is also organic, without binders such as Rice flour or Magnesium Stearate.
This product is Non-GMO verified, relieves stress, and enhances cognitive abilities.
The adaptogenic dietary supplement increases energy levels and reduces fatigue. It also improves mood.
| Rating Category | Weight % | Score |
| --- | --- | --- |
| Stress Reliever | 25% | 100 |
| Support Immunity | 25% | 95 |
| Non-GMO | 20% | 90 |
| Flavor | 15% | 95 |
| Packaging | 15% | 90 |
| Total Score | 100% | 94.5 |
---
4
Micro Ingredients® Ginseng Root

Organic Active Ginsenosides Adaptogen
The organic Panax Ginseng Extract powder comes in a 200:1 concentration with High Ginsenosides.
This product is Non-GMO verified, Vegan-friendly, and does not contain any artificial flavor, color, or preservatives. It is also free of Gluten.
This ginseng root adaptogenic powder provides a host of antioxidants, enhances libido function, and boosts energy levels and physical performance.
Micro Ingredients' product is very nutrient-dense and can be added to any shake or smoothie.
---
5
Anima Mundi Apothecary® Immortality

Organic Adaptogenic Herbal Supplement
This organic herbal supplement contains seven mushrooms: Reishi, Chaga, Agaricus, Lion's Mane, Shiitake, Maitake, and Cordyceps superfood blend.
The adaptogenic supplement comes mixed with the finest Cacao for a delicious flavor.
All the mushrooms used in this product are organically grown or wildcrafted in Washington. The organic Heirloom Cacao is sustainably sourced directly from small Ecuador or Costa Rica farms.
Anima Mundi Apothecary products are Non-GMO, Vegan-friendly and Biodynamic, and Gluten-free. All the products used are sourced using fair trade practices.
---
6
Sun Potion® Green

Organic Adaptogen Powder
This signature blend of green adaptogens in this powder provides a unique blend of Suma, Maca, and Chlorella.
Adaptogenic powder promotes immune health, ensures overall health, and maintains energy levels.
All products used by Sun Potion are sustainably sourced worldwide and processed in the USA.
---
7
Garden of Life® mykind

Organic Adaptogenic Tablets
It contains powerful adaptogenic herbs like organic Ashwagandha, Rhodiola, Schisandra, and Ginseng to nourish the adrenals and improve overall health.
These Adaptogen tablets promote a healthy response to daily stress and support emotional well-being.
It includes a B-Complex blend and added probiotics to enhance digestion.
These tablets are made by employing water extraction and clean tablet technology to harness the nutrients from real foods, filled in 100% organic and non-GMO tablet materials.
It is free of any soy or corn-derived ingredients or chemicals and Certified USDA Organic, Non-GMO Project Verified, NSF Certified Gluten-Free, Certified Vegan, and Kosher.
---
8
Amazing Grass® Booster

Organic Adaptogens Green Powder
This Adaptogen powder is designed to support the body's ability to adapt and manage daily stressors.
It is made by combining farm-fresh wheatgrass with balancing adaptogenic herbs.
You can add it to your favorite blended drink as it provides the goodness of organic wheatgrass powder along with a host of powerful adaptogens to fulfill your daily needs.
This product is USDA-certified organic, non-GMO, gluten-free, and plant-based.
---
9
Four Sigma Foods® Instant

Organic Adaptogen Coffee Mix
This Adaptogen coffee mix with organic instant coffee & organic tulsi, organic ashwagandha, and organic eleuthero provides you with half the caffeine and plenty of adaptogens to master everyday stress.
It allows you to stay calm, cool and collected by lowering your stress levels naturally.
Four Sigmatic coffee has organic adaptogens and plenty of antioxidant properties to improve overall health.
It is perfect for people following vegan, paleo, keto, dairy-free, or gluten-free lifestyles.
This coffee mix is made with only natural organic ingredients, without any carriers, fillers, natural flavors, or artificial flavors.
It readily dissolves and tastes like coffee and not herbs.
---
10
Gaia Herbs® Vegan

Mushrooms + Herbs Adaptogen Supplement
This Plant-based supplement is designed to keep the energy at a healthy level.
It combines two well-known adaptogens, namely Mushrooms and herbs, to promote stamina and healthy energy levels for your active lifestyle.
The combination of Cordyceps Mushrooms, Ashwagandha, and Ginger root helps manage fatigue and support a healthy inflammatory response.
It is made at the Gaia Certified Organic Farm using only Non-GMO ingredients and does not contain any gluten, soy, dairy, meat, peanuts, sesame, shellfish, yeast, or eggs.
---
Index Table: Top-Rated Organic Adaptogens
---
---