Some of the links in this post are affiliate links. This means if you click on the link and purchase the item, I will receive an affiliate commission at no extra cost to you. All opinions remain my own.
Organic Vitamin C Gummies are an excellent way to get your daily dose of vitamin C. Vitamin C is an essential nutrient that is often considered the ideal nutrition marker for overall health. Not only has its benefits, but it also enhances the benefits of all other nutrients in the body.
Read on to find out the many benefits of Vitamin C supplements and the best easy-to-eat organic Vitamin C gummies available in the market.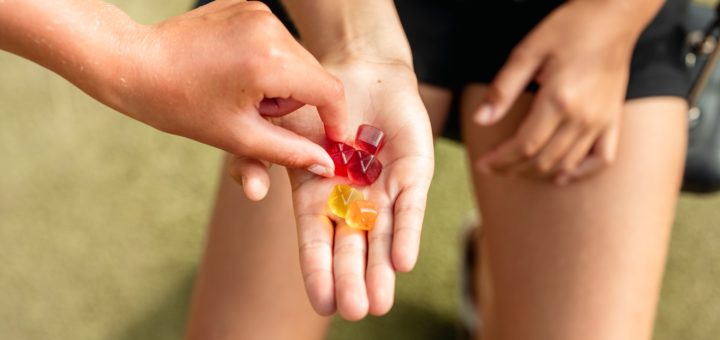 ---
What is Vitamin C?
Vitamin C is an essential nutrient for the human body. Without it, a lot of vital body functions are disrupted and disturbed. The water-soluble vitamin is found in various fruits and vegetables. It is an immune-boosting nutrient that also works as an antioxidant in the body, protecting the skin from oxidative damage and slowing down aging.

How it Works? – Vitamin C boosts the immune system, making it easy to overcome and prevent immune system deficiencies. It is also known to positively affect eye diseases, prenatal development, and cardiovascular diseases. Due to its antioxidant properties, it reduces the visible signs of aging.
---
Benefits of Vitamin C
Boosts the Immune System – Vitamin C's most commonly known benefit is that it boosts immunity. Vitamin C affects many parts of the immune system, including encouraging the production of white blood cells in the body, which fight against infections. Moreover, it also enhances white blood cell function and ensures they can fight off free radicals. It also works as an antioxidant to strengthen the skin's barrier.
Helps Manage High Blood Pressure – Vitamin C is shown to increase high blood pressure, both in people with high blood pressure issues and those without it. This is because it relaxes the blood vessels that carry blood from the heart, decreasing blood flow pressure.
Lowers the Risk of Heart Disease – Since it lowers the risk of high blood pressure, it automatically reduces the risk of heart diseases as well. Other factors for heart disease include high cholesterol levels, or rather, high levels of bad cholesterol and low levels of good cholesterol. Vitamin C also regulates cholesterol levels. Therefore, it reduces the risk of heart diseases.
Helps Prevent Iron Deficiency – Iron is an essential nutrient necessary for making red blood cells in the body while also transporting oxygen through the body. Vitamin C is known to aid in the absorption of iron through food in the body. It does so by changing plant-based sources of Iron, which is difficult to absorb in its natural form, into simpler structures that can be absorbed easily.
---
How to Choose the Best Organic Vitamin C Gummies?
Dosage – The first thing to consider is the dosage of the supplement. The recommended daily dosage for men is 90mg, whereas, for women, it is 75mg. The recommended dose depends on the children's age; it can be anywhere between 25-75mg.
Form of Vitamin C – An important factor to consider is the form of Vitamin C you want. For example, if you are not comfortable swallowing pills, you may want a liquid supplement. Whereas, if you want to encourage yourself to eat your supplement, the best trick is to get Vitamin C gummies. They are also great for kids.
---
Reviews: Best Organic Vitamin C Gummies
Check out this list of the best Organic Vitamin C Gummies available in the market. But before you proceed, please note that this page includes affiliate links.
---
1
This pack of Vitalitown Vitamin C Gummies is designed with a natural orange flavor that makes it delicious.
It is designed to help the immune system work more efficiently.
These Vitamin C gummies stimulate the production and function of white blood immune cells.
Vitamin C also minimizes oxidative stress to the body and also reduces free radical damage.
Vitalitown's Vitamin C gummies are completely plant-based and Vegan.
It is Non-GMO and free of fish, nuts, dairy, eggs, and gluten.
---
2
MaryRuth's® Organic

Vitamin C Gummies
Mary Ruth's Vitamin C gummies are completely Organic and easy to chew.
It contains a concentrated form of Vitamin C to overcome any deficiency in the body.
Vitamin C gummies are designed to help in the synthesis of Collagen while also boosting the immune system.
These gummies come in a variety of flavors, including orange, cherry, and grape.
It is Non-GMO, Vegan, Plant-based, and free of dairy, wheat, and nuts.
---
3
Garden of Life® mykind Organics

Elderberry Vitamin C Gummies
These Mykind Organic Vitamin C Gummies are designed and formulated by Garden of Life.
It combines the goodness of Elderberry and zinc, along with Vitamin C, to provide a boost to your immune system.
The elderberry content is derived from the plant Sambucus, which is rich in antioxidants and other minerals and vitamins.
It is formulated with an organic blend of berries, rosemary, echinacea, and guava.
The gummies do not contain any artificial ingredients and flavors, as well as any artificial sugars.
This supplement is Non-GMO project verified, Vegan, 100% USDA Certified Organic, Kosher, and Gluten-free.
---
4
Vivanaturals® Organic

Elderberry Gummies with Vitamin C
This is a pack of Vivanaturals Organic Elderberry Gummies with Vitamin C, with a light raspberry flavor.
It is designed to support the immune system using Vitamin C, Zinc, and Elderberry extract.
Black Elderberry is known for its immune-boosting properties, as well as high antioxidant content.
The easy-to-chew gummies don't leave behind a sticky residue, and two of them are enough for one day.
These Vitamin C gummies are USDA Organic certified and designed to be free of gelatin, gluten, and Non-GMO.
Each bottle contains 120 gummies, enough to take care of you for two months.
---
5
Lunakai® Organic

Vitamin C Gummies
Lunakai Vitamin C Gummies are designed to be completely Organic and safe for consumption.
These gummies are formulated without any corn syrup and harmful sweeteners, using only organic sugar.
It comes in a delicious orange flavor that makes it easy to consume these chewable gummies.
The Vitamin C supplement does not contain any Gelatin, Gluten, Corn, Soy, and Vegan.
---
6
10X Nutrition® Organic

Vitamin C Gummies
This is a pack of 10X Nutrition Vitamin C Gummies in an orange and sour cream soda flavor.
It is designed to supplement Vitamin C levels in people and boost their immunity.
The chewable gummies also help with many stress-related diseases.
It is completely free of gluten, soy, artificial flavors, and preservatives, as well as Non-GMO.
These vitamin C gummies are formulated in a GMP-certified facility.
---
Index Table: Top-Rated Best Organic Vitamin C Gummies
---
---