Hand, Arms, Legs, Feet all owe their movement to joints. Joints are present between two bones to allow smooth movement and motion range.
Due to several reasons, joint pain can be from overuse to certain medical conditions.
Scroll down to find out all the types of joint supplements and the best organic products available.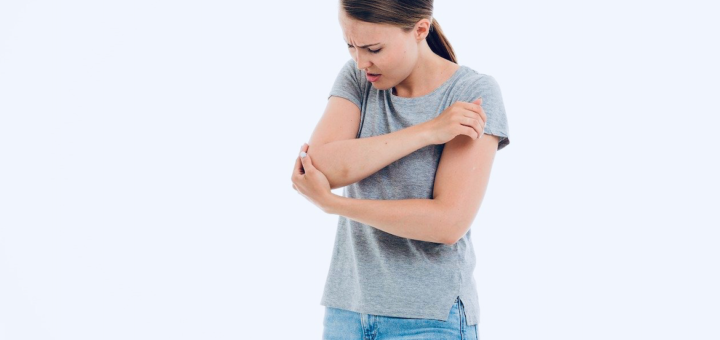 ---
Causes Behind Joint Pain
Lack of Nutrition – Lack of nutrition in the body can cause weakness in the joints and bones. Bones need calcium for strength and a host of other essential nutrients, and the same is the case with joints.
Diseases and Health Conditions – Diseases such as Arthritis, Osteoporosis, Bursitis, Fibromyalgia, and even influenza or fever can lead to painful joints. Weather conditions such as an intense cold can also trigger joint pain.
Injury or Overuse – As with any other bone, injury to the joints can cause pain. Overuse is also a leading cause of joint pain. Tennis Elbow is a common joint overuse condition of the joints experienced by many people.
Age Factor – As we age, our bones and joints get weaker with time. Therefore, it becomes difficult for older people to move comfortably because of pain in the joints.
---
Types of Joint Support Supplements
Glucosamine – Glucosamine is present in cartilage. Cartilage prevents the grinding of bones against each other. Glucosamine inhibits cartilage breakdown.
Chondroitin – Like Glucosamine, Chondroitin is a component of cartilage and prevents its degeneration and breakdown. It prevents joint weakness and commonly comes combined with Glucosamine.
Turmeric – Turmeric is a natural pain reliever and has been used as such for centuries. Its pain-relieving qualities are due to a chemical compound called Curcumin. Using Turmeric is an organic way of relieving joint pain.
S-adenosyl-L-methionine (SAMe) – SAMe is naturally produced in the liver via an amino acid called methionine. It boosts the production and repair of cartilage and therefore plays an important role in joint health and support.
Fish oil – The fatty acids present in Fish make it excellent for cartilage production and repair. This quality makes it efficient in bone and joint strengthening and support.
Avocado-soybean Unsaponifiable (ASU) – ASU is an extract from Avocado and SOy oil targeted at strengthening the bones and joints. It promotes cartilage repair and production.
---
What to Look for in a Joint Support Supplement
Allergen Free – The first thing to notice in any type of supplements such as joint, biotin, or organic probiotic supplement is that it does not contain anything you are allergic to. So before buying a joint support supplement for yourself, go through the ingredient list carefully.
Made for You – You may be able to find joint support supplements that are made specifically to cater to your health condition. Some supplements work excellently for joint pain caused by Arthritis, whereas some may not.
Organic – Using products made to be environment-friendly is the best choice for everyone involved. Plant-based, organically sourced, and biodegradable supplements are best for your health and the earth.
---
Reviews: Best Organic Joint Supplement and Support
The below list consist of the best organic supplements for joint health and support.
---
1
This joint supplement is made from Glucosamine and is free of any Shell fish.
The ultra supplement promotes cartilage tissue's natural production and supports joint health.
It also includes Pomegranate, Boswellia, Selenium, and natural Astaxanthin to boost the body's ability to fight free radicals and overcome cartilage damage.
Garden of Life's Joint supplement also has Turmeric and Ginger in their ingredient list. These natural agents support joint function and mobility and also increases tissue volume.
This product is Vegetarian and Gluten and Dairy Free.
---
2
Be Whole® Flex Pro ES

Organic Joint Health Supplement
This Organic supplement delivers the necessary building blocks required by the body to repair, restore and rebuild cartilage.
It also boosts the production of essential joint fluids needed for joint mobility.
Flex Pro ES combines BiavaFlex, Hyaluronic Acid, Eggshell Membrane, Boswellia, and Zanthin Astaxanthin.
The eggshell membrane present in this supplement provides highly bioavailable Elastin sources and its precursors, Collagen and Glucosaminoglycan. All these components are essential for maintaining and improving joint tissue and cartilage.
This supplement's anti-inflammation properties come from Astaxanthin, Hyaluronic Acid, and Boswellia. Each of these ingredients neutralizes inflammation along a different pathway, consequently providing you with a full spectrum of joint pain relief.
This product is Third-party tested, Non-GMO, and free of Gluten, Soy, as well as any synthetic fillers, binders, additives, preservatives, or nutrients.
Be Whole products are manufactured in an Organic Certified facility.
---
3
Vimerson Health® True

Antioxidant Supplement for Joint Support
This multi-purpose supplement stimulates healthy muscle and bone function, as well as regulating blood sugar level, heart, brain, and digestive health.
It contains a combination of multi-vitamins to provide a boost to overall health.
The main component in this supplement is Ceylon Cinnamon. The cinnamon is organically sourced from a unique Sri Lankan Evergreen Tree's inner bark.
It is made using a natural formula free of flour, magnesium stearate, or other harmful components.
Vimerson Health's joint support supplement is packed with plant-based antioxidants. These antioxidants fight against free radical damage and delays and reduce aging symptoms.
The plant-based supplement is anti-inflammatory and has the added benefit of promoting digestive health.
---
4
Salt Lake Supplements® Natural

Organic Joint Support Supplement
This organic joint support supplement is made using organic Ceylon Cinnamon. The cinnamon comes from the native Sri Lankan tree called the 'True Cinnamon Tree'.
The supplement is packed with antioxidants to fight any damage caused by free radicals and inflammation in the joints and muscles.
It has the added benefit of lowering cholesterol levels, regulate blood sugar levels, and of course, joint pain relief.
This product is USDA Certified Organic, Vegan, Allergen-free, Gluten and Sugar-free, and Non-GMO.
---
5
MD Organics® Pure

Organic Hemp Oil for Joints
Hemp is a natural pain reliever, in addition to its benefits for brain activity, sleep, metabolism, skin issues, and homeostasis functions.
Hemp Oil activates the ECS system and inhibits or activates other compounds and receptors as needed. It lowers inflammation in the body and blocks pain receptors to provide relief.
This supplement contains 1oz./30mL, 33.33mg Hemp extract per serving, and comes in various flavors like mint, lemon joy, and orange.
Use 1000mg-1500mg tinctures of this organic hemp oil for chronic pain relief.
The hemp is organically grown and processed. This product is Non-GMO, Gluten-Free, and Vegan.
This product is manufactured using careful extraction methods to retain all the hemp nutrients, such as omegas, amino acids, and flavonoids.
---
6
Banyan Botanicals® Soothing

Joint Pain Relief Supplement
This soothing ayurvedic supplement supports joint function and relieves stiffness, tightness, and pain.
It contains Guggulu and Boswellia resins and Guduchi and Ashwagandha to soothe tissues, bones, cartilage, and muscles and results in healthy joints.
This product comes in tablet form instead of capsules to take the herbs.
All Banyan Botanicals products are made using USDA certified organic, high-quality products that are fair traded and sustainably sourced, as well as third-party tested.
---
7
Herb Pharm® Restoring

Organic Boswellia Liquid Extract
This herbal supplement is traditionally used for joint support.
It is an easily absorbed liquid supplement that engages the senses of taste and smell to help the body recognize and use the ingested herbs.
This product is vegan, non-GMO, and gluten-free.
The herbs used in this supplement are identity assured via HPTLC fingerprinting and other methods specific to each herb.
All the herbal ingredients in this joint support supplement are sustainably wildcrafted from Boswellia serrata trees in India.
---
8
Organic India® Natural

Turmeric Curcumin Supplement
This formula comes optimized with black pepper to give you the most of its extensive health benefits.
The natural supplement is fortified to give you high absorption and bio-availability.
It includes Turmeric, which has been shown to promote joint comfort and mobility.
The Turmeric Curcumin supplement boasts of properties such as regulating heart health, immune response, and digestive function
It is developed with USDA-certified organic herbs that are cultivated on sustainable farmland.
---
9
Swanson® Herbal

Organic Joint Supplement
This turmeric supplement delivers 600 mg of turmeric and 5 mg of black pepper to optimize bioavailability and battle oxidative stress caused by damaging free radicals, which often prompt joint health concerns.
Turmeric helps support the fluidity of your joints and circulatory health, has a soothing effect on the gastrointestinal system, and supports digestion and internal cleansing.
It harnesses the power of Curcumin, a phytonutrient in Turmeric, for cognitive health benefits related to memory, mood, and attention support.
This product is vegan, gluten-free, and certified organic.
This supplement also contains Black pepper, which, when combined with Turmeric, dramatically enhances the body's ability to absorb Turmeric into the bloodstream.
---
10
Flora® 3-6-9 Blend

Organic Joint Support Oil
This joint support Oil is Organic, Vegetarian, Plant-based, Gluten-free, Non-GMO Project Verified, as well as Kosher.
It is made with a QAI Certified blend is made of 100% plant-based ingredients, including fresh-pressed flax, sesame, and oils from sunflower, coconut, primrose, rice, and bran.
It contains no chemicals or artificial preservatives.
This organic unrefined oil blend is made in a professional, low heat, low light, and oxygen-free environment to optimize freshness, quality, and maximum nutrition.
Each 30mL serving provides the ideal 2: 1 ratio of omega-3 and omega-6 fatty acids, as well as the benefits of pure omega-9.
The EFAs (essential fatty acids) in each capsule will help support your immune system, weight management, digestion, and joint functions.
The undamaged, good fats, antioxidants, fibers, probiotics, enzymes, vitamins, and minerals in this oil also help strengthen cardiovascular, cellular, and skin health.
---
Index Table: Top-Rated Organic Joint Supplement and Support
---
---