Some of the links in this post are affiliate links. This means if you click on the link and purchase the item, I will receive an affiliate commission at no extra cost to you. All opinions remain my own.
Fish oil supplements are a common dietary supplement used to fulfill our body's need for essential Omega 3 fatty acids.
The consumption is so wide it is thus imperative for us to choose the right product.
The best organic fish oil supplements should always be chosen over their counterparts as they not only provide you the right amount of Omega-3 Fatty acids, they make sure you are exposed to natural and healthy ingredients.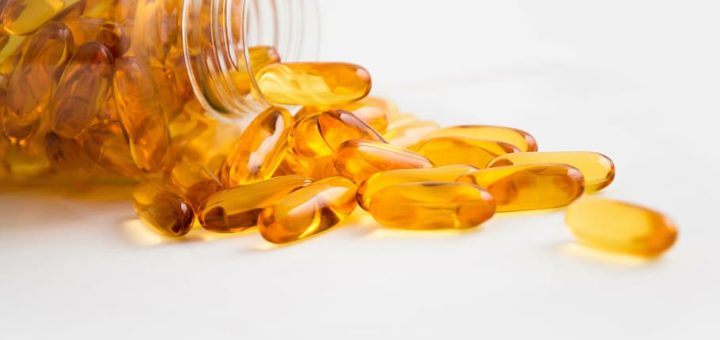 ---
---
Why Should You Consume Fish Oil Supplements?
A large population readily consumes this health-boosting star ingredient of fish as its consumption is associated with a decreased chance of heart attack and lowered arthritis pains.
It is an optimal substance for the health of the heart. It keeps your blood pressure lowered and reduces the number of triglycerides. The slow development of plaque in the arteries reduces the chance of abnormal heart rhythm, preventing the patient from any emergencies.
Furthermore, it lessens the chance of sudden cardiac arrest in heart patients by greatly reducing the risk of heart attack and stroke.
---
Benefits of Consuming Fish Oil Supplements
Omega-3 – 60 percent of your brain is made up of fat much of which is Omega-3, so an appropriate amount of Omega-3 is essential to the brain's proper working.
Mental Disorders – Research has also shown that people with mental disorders had a lower omega-3 level. Another finding suggests that a high concentration of Omega-3 can prevent the onset or improvise some mental disorder symptoms.
Weight Loss – When combined with the right diet and exercise, it reduces weight and achieves a slim waistline. The use of fish oil can also maintain healthy and youthful skin. Furthermore, to have maximum benefits, we also have organic chlorella powder to help you improve weight loss due to its ability to reduce appetite and burn fat.
Hand-eye Coordination – It improves hand-eye coordination in infants, but its impact on IQ and learning has still been unclear to people.
Healthy Bones – Denser bones leading to more healthy bones, are developed daily using fish oil supplements.
---
Who Should Take Fish Oil Supplements?
Even though the use has become prevalent, it is still not advisable for anyone to start taking supplements without consulting their doctor or physician. It is recommended to anyone in good health or in a position to consume at least some fish once or twice a week.
It must be understood that doctors do not support the idea of supplements; to begin with, they only do so for patients who do not consume fish for one reason or another.
---
Reviews: Best Organic Fish Oil Supplement
We hope you love the following Organic Fish Oil Supplement we recommend!
So that you know, We may collect a share of sales or other compensation from the links on this page.
---
1
This distinctly concentrated supplement has a unique ratio of DHA: EPA: GLA (9:3:1), supplying omega 3 and omega 6 fatty acids for children ages 5 and up. However, it may also be consumed by teenagers.
It provides the many benefits that are associated with a healthy kid. It is optimal for brain support, growth, attention, concentration, and academic progress in well-nourished kids.
Purified fish oil is preserved in this natural manner as triglycerides to promote better absorption.
Only to be consumed once a day with the guarantee of the absence of fishy burps and aftertaste or breath.
---
2
Trident® Trident Alaskan Salmon Oil

100% Natural Omega-3
A product of Trident with 180 cold pressed Soft gels aimed at providing essential minerals and vitamins to boost your overall health.
It is specifically made from the fresh Salmon found in cold and clean waters of the North Pacific.
100% natural with no added ingredients. Vitamins A, E, and D, along with essential Fatty acids and anti-oxidant Astaxanthin supplying all found in the Alaskan Salmon Fish, naturally promote a well-balanced and nourished provision of nutrients.
This Salmon oil may support a healthy heart and bone structure, vision, immune system, mood, and much more.
---
3
Organic Source® Omega 3 Fish Oil

Refined Organic Fish Oil
Made by Organic Sources to have a sufficient amount of EPA and DHA to help strengthen your body without leaving fishy after taste in your mouth.
It has been purified to remove any mercury or other heavy metals and concentrated to benefit its users to the maximum.
It uses a futuristic method to eliminate any heavy metals that may be below the detectable level by using molecular distillation.
The fish oil for the capsules is directly extracted from ocean raised fishes rather than farm-raised fishes, which may lack many natural nutrients that an ocean fish may withhold.
It has no artificial flavorings, artificial preservatives, and no GMO's.
---
4
Nature's Bounty® Mini Fish Oil

Organic Fish Oil Mini
Nature's Bounty has designed these soft gels to be odorless fish oil suppliers, containing EPA and DHA that promote better health in the heart.
This supplement's advantageous fats can help maintain triglycerides levels within low ranges maintaining a healthy cardiovascular and metabolism system.
The most attractive part of users is the small size of Nature's Bounty Mini Fish Oil, as it becomes effortless to swallow compared to all available supplements.
---
5
Best Naturals® Cold Water Salmon Oil

Organic Salmon Fish Oil
Manufactured for Best Naturals without the use of any artificial flavorings, preservatives, coloring, sweetener, starch and sugar etc. It is Gluten free but not vegan.
It was thoroughly purified to remove any heavy metals, toxins, and PCBs at the USA based GMP certified plant. It was also inspected by the FDA and tested by a third party for purity.
Omega-3's EPA and DHA guarantee to promote heart health and support the better functioning of the brain, joints, and vision.
---
6
Healthy Supplements LLC® Omega 3 and Fish Oil

Organic Fish Oil
Proudly made in the United States of America for Healthy Supplements LLC under GMP quality.
Omega 3 and organic fish oil provide an array of health benefits to anyone who eats this supplement. An improvement in the immune system, skin condition, joint overall working, and much more would be considerably seen.
It is an excellent supplement for anyone looking to lose weight but still gains all essential nourishment. It suppresses appetite-reducing belly fat by a large amount if consumed according to the directions of a physician.
It is known to improve your immune system consequently and promoting overall health in all its consumers.
Each bottle has an all-natural formula designed to keep everyone out of hams way. It is gluten-free, and Non-GMO's project verified.
---
7
Thera Tears® Omega 3

Organic Fish Oil Supplement
This unique formula utilizes an optimized blend of organic Flaxseed Oil, pharmaceutical-grade Fish Oil, and Vitamin E.
It is designed to enhance tear production for greater eye lubrication and healthy tears.
This supplement is molecularly distilled and free from preservatives, PCB, mercury, and lignans.
TheraTears is recommended by doctors and created by an Ophthalmologist after 18 years of research.
---
8
Arazo Nutrition® Triple Strength

Organic Omega 3 Fish Oil
This Omega 3 Fish Oil is made in the USA.
It offers higher EPA and DHA levels than other brands with 2,250mg Omega 3 Fatty Acid content.
This supplement is purified with molecular distillation at minimal temperatures to remove all heavy metals, mercury, PCBs, and other toxins.
The special extraction method offers the highest volume of EPA and DHA.
It is odorless & easy to swallow without fishy burps
The fish supplement is made in a GMP Certified Facility in America and heavy metal tested for purity.
---
9
Barlean's Organic Oils® Fresh Catch

Organic Fish Oil
This fish supplement offers optimal quantities of highly concentrated Omega-3s EPA and DHA.
It meets the American Heart Association's Dosage Recommendation.
This fish oil is harvested from Small-bodied Fish in Pristine Waters.
It is pharmaceutical Grade and Ultra-Purified.
This supplement is stringently 3rd Party Laboratory Tested for Purity and Potency.
---
10
Garden of Life® Dietary Supplement

Omega 3 Fish Oil
It supports cardiovascular health, cognitive function, a healthy immune system, and a healthy mood.
This is a 92% Concentrated Omega-3 Fish Oil Plus Vitamin D3 supplement.
It provides 1100mg of Omega-3 Nutrition in just one soft gel capsule with 1,000 IU Vitamin D3.
This dietary supplement is clean, Non-GMO, and comes in a delicious orange flavor without any fishy aftertaste.
---
Index Table: Top-Rated Organic Fish Oil Supplement
---
---