Organic hemp seeds are a source of many nutrients and can provide you with the health benefits you need. A possible solution for arthritis pain to diabetes prevention is high levels of protein, essential fatty acids, fiber, and more.
Hemp is perhaps also one of the most environmentally conscious crops; it has such low water needs! Learn about this superfood and read the list of brands selling the best quality hemp seeds on Amazon.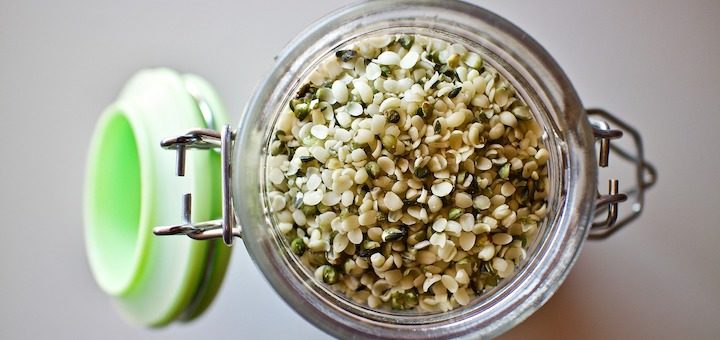 ---
Do Hemp Seeds Make You Sleepy?
There has been a notable amount of research on whether organic hemp seeds make you sleep or not. However, the studies have had their limitations that have prevented a clear outcome of results. The straightforward answer to the question is there's no clear and factual data to suggest that hemp kernels make you sleepy.
This notion comes from that hemp seeds are rich in magnesium, and magnesium is believed to be beneficial for insomnia or sleep improvement in general. But like mentioned earlier, its effectiveness remains verifiably unknown.
---
Is Too Much Hemp Seed Bad For You?
Hemp seeds are entirely safe to consume in moderation.
However, bear in mind that hemp seeds are high in fat content, and a sudden increase in fat intake due to the consumption of large quantities of hemp seeds may cause a mild form of diarrhea.
Significantly, people with sensitive digestive systems must slowly and gradually increase their hemp kernel consumption.
Hemp seeds also hinder platelet production and are capable of interacting with anticoagulant medications that can spike the risk of bleeding. Therefore, if your doctor prescribes anticoagulants, make sure to speak with your doctor about your hemp seed consumption quantity.
---
Does Cooking Hemp Seeds Destroy Nutrients?
It is a high recommendation that one should not cook or even bake with hemp seeds as high temperatures of cooking destroy the valuable nutritional properties of the seeds.

Hemp seeds are usable in various forms like hemp milk, hemp oil, and hemp protein powder. So, even if you are using hemp oil, do not cook with it as the omega fats present in it are fragile and will break down quickly.
Thus, it is recommended that you drizzle the hemp oil on your foods like extra-virgin olive oil.
Use the hemp milk for smoothies and such, and just sprinkle the seeds on your yogurt, salads, and energy bars.
Therefore, it is best to consume hemp hearts to absorb all the nutrients they have to offer.
---
Should You Refrigerate Hemp Seeds?
Hemp seeds will last you for about a year if you store them in a dark, cool place. It is essential to do so as the oxidation process will cause the seeds to taste off. However, I t will prolong their shelf life and prevent them from getting tainted if you refrigerate them.
---
Reviews: Best Organic Hemp Seeds
Check out our collection of organic hemp seeds, and we would also like to inform you that this page includes affiliate links.
---
1
365 by WFM takes pride in their delicately nutty and nutritionally rich organic hemp seeds.
Hence, one serving has approximately 10 gms of protein while packing a total of 12gms worth of omega-3 and omega-6 fatty acids.
Plus, these seeds are a great source of seven essential vitamins and minerals too.
The product is recommended to be sprinkled on yogurts and salads, added in smoothies or cereals for nutrition-packed meals.
---
2
GERBS® Hulled

Organic Raw Hemp Seeds
These Canadian hemp seed kernels are harvested at the peak of their season for the best quality.
However, GERBS has pledged to have an all-natural practice with Non-GMO, No Trans Fats, chemicals, or preservatives.
Plus, their organic hemp seeds are high in fiber, antioxidants, omega fats, and protein. Additionally, these kernels are super low in carbs, and they are cholesterol-free.
The seeds are packed on 100% allergen-free equipment.
---
3
Terrasoul Superfoods® Vegan

Protein Rich Hemp Seeds
This is a USDA-certified organic product while being Non-GMO, kosher, raw, gluten-free, and vegan.
Moreover, hemp hearts are a plant-based protein that is super easy to digest. These organic hemp seeds are also abundant in omega fatty acids.
Terrasoul Superfoods claims that these organic hemp seeds are one of the world's most nutritious seeds.
Also, the brand provides a 30-day, 100% money-back guarantee if a customer is not satisfied with the product.
---
4
Healthworks® Shelled

Canadian Hemp Seeds
These are premium quality raw and organic hemp seeds. Plus, these seeds are keto and paleo-friendly.
Moreover, these seeds can easily be consumed by anyone that is allergic to nuts, lactose, sugar, or gluten.
With a mild nutty flavor like sunflower seeds, these are a great addition to a healthy diet as these seeds are packed with nutritional value and are low in carbohydrates.
In addition, these organic hemp seeds are a great source of plant-based protein for vegans.
---
5
Mighty Seed Hemp® Nutty

Organic Hemp Seeds
The Mighty Seed Hemp's pack contains 12gms of Omegas and 10gms of protein.
Moreover, organic hemp seeds are more nutritious than chia and flax seeds and have fewer carbs per serving than them too.
These seeds are a great addition to your diet and can be added to a number of recipes.
In addition, this Canadian product is a superfood and quite readily available, too, making it an excellent grocery item.
---
6
Navitas claims that their organic hemp seeds are a powerhouse of various nutritions that are substantial and essential, like minerals, fibers, and protein.
In addition, these seeds are packed with all nine amino acids, and they are nature's only source of plant-based protein.
Necessary for optimal functioning, these seeds are a vital source of omega-3 and omega-6.
Plus, these seeds are certified USDA organic, kosher, Non-GMO, gluten-free, and vegan.
---
Index Table: Top-Rated Organic Hemp Seeds
---
---