Some of the links in this post are affiliate links. This means if you click on the link and purchase the item, I will receive an affiliate commission at no extra cost to you. All opinions remain my own.
Consider switching to chia seeds from eggs and fish to get minerals and fatty acids in your diet. You can benefit significantly by including the best organic chia seeds in your diet.
They are not overpowering in taste and texture. Hence, it can be added to different dishes and beverages. Read on to find out how to pick the best chia seeds for you and their benefits.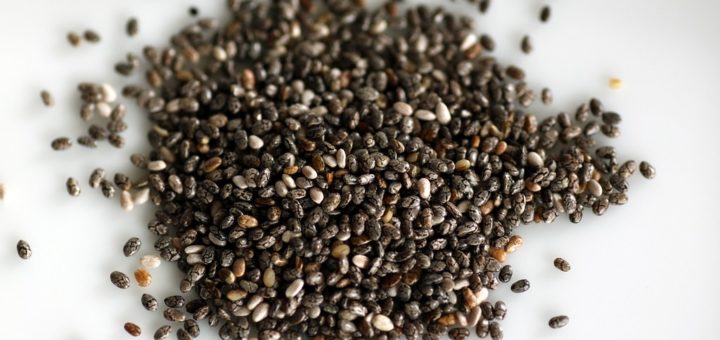 ---
Buying Considerations For Organic Chia Seeds
The blendable superfood contains lots of minerals and vitamins. Here are some buying considerations to keep in mind for chia seeds.
Processing – Make sure that the seeds are sustainably obtained and no heat is a part of processing and packaging.
Non-GMO – Ensure that the seeds are certified organic and non-GMO to fit your vegan and health criteria.
Longevity – You need a little amount to get benefits out of the chia seeds. See that they have a good shelf life.
Purity – Ensure the packaging is free from any wheat or nut counterparts to be gluten-free and safe for people with celiac disease and allergies.
---
Benefits Of Organic Chia Seeds
You will see a difference in lifestyle and general wellness with a healthy change in your diet. Here are some more ways chia seeds can benefit you.

Digestion – Chia seeds contain a lot of fiber in a spoonful that can aid digestion and clean toxins.
Bone Health – They also contain minerals like calcium, iron, and phosphorus, which are important for bone density and repairs.
Glow Skin – Chia seeds are rich in antioxidants that help in increasing skin elasticity and boosting collagen.
Weight Loss – The seeds are filling and nutritious in composition with very few calories. This will help you maintain a healthy weight.
---
How To Use Organic Chia Seeds
Chia seeds are versatile to use in the kitchen. Here are several ways to incorporate chia seeds into your diet for extra nutrition.

Beverages – Add chia seeds to your protein shakes, juices, smoothies, and soups to increase their potency for health.
Versatility -You can add chia seeds to salads, cakes, cookies with a mix of organic pumpkin seeds, and more to add texture and enriching its taste.
Dessert – Feel a little less guilty about eating icecreams and pudding by sprinkling chia seeds on top of them.
Egg-Sub – You can substitute the eggs in your diet and recipes by soaking the chia seeds to form a jelly liquid.
---
Reviews: Best Best Organic Chia Seeds
We have enlisted some of the best organic chia seeds for you to choose from.
We hope you love the products we recommend!
So that you know, We may collect a share of sales or other compensation from the links on this page.
---
1
Get the needed nutrients for your body with these premium organic chia seeds from Kive.
They are an excellent source of omega-3 fatty acids that are important for skin and eyes.
Moreover, they are richer in fatty acids than salmon while being a vegan food choice.
The brand uses fair trade chia seeds and packs them raw to maintain the minerals and taste.
They are rich in antioxidants and fiber content to serve as a superfood in your diet.
---
2
Viva Naturals® Superfood

Neutral Organic Chia Seeds
The Viva Naturals chia seeds are harvested from purple flowers that grow on mineral-rich soil free from pesticides.
It is a natural thickener in food containing fiber to aid digestion and cleansing the toxins.
The seeds are carefully assessed to eliminate any impurities and unnecessary plant products.
They are processed to be gluten-free and nut-free to be safe for people with allergies.
Also, the seeds have a neutral taste that will go with sweet and savory food choices.
---
3
Nutiva® Black

Organic Chia Seeds
Consider the Nutiva black chia seeds that are densely packed with protein, fiber, and essential minerals.
They are crunchy and wholesome in taste, full of antioxidants and fatty acids for the body.
You can replace them with fish and eggs in your diet as a nutritious food source.
The chia seeds are a rich and vegan source of magnesium and potassium.
They are compatible with paleo, gluten-free, and keto diet plans without extra calories.
---
4
Healthworks® Certified Organic

Organic Chia Seeds
Attain new wellness and health goals with these Healthworks certified organic chia seed superfoods.
They are free from grains and nut components to prevent allergic reactions.
Adding chia seeds to your diet will improve your bone health and digestive system with abundant fiber.
The seeds grow in a sustainable environment and are packed with wholesome goodness free from chemicals.
They have little taste and can be added to salads, smoothies, and shakes.
---
5
Anthony's® American

Absorbent Organic Chia Seeds
Anthony's chia seeds are USDA certified and full of vitamins and minerals for your body.
They are the perfect addition to your protein shakes after your workout session at the gym.
If you follow a keto diet, you can include them in your diet plan without any worries.
The seeds are free from chemical treatment and are highly absorbent in water.
They are easily digestible for anyone regardless of age and show health improvement.
---
6
Carrington Farms® Mild

Essentials Organic Chia Seeds
The Spectrum chia seeds are kosher and packed carefree from heat and chemical treatment.
They are high in mineral content and low in calories for optimum health.
The organic harvesting of the seed ensures that they are pure and deliver the most nutrients.
They have a mild flavor that complements all food groups without taste alterations.
You can bake them or soak them in water for versatile use in your diet plans.
---
7
Terrasoul Superfoods® White

Organic Chia Seeds
This is a Terrasoul Superfoods Organic White Chia Seeds pack.
Certified Organic, Non-GMO, Earth Kosher, Raw, Gluten-Free, and Vegan.
These white chia seeds are a great source of calcium, healthy omega fats, protein, antioxidants, and dietary fiber.
Terrasoul Superfoods sources the freshest and highest quality superfoods from all over the planet.
---
8
Food to Live® Black

Organic Chia Seeds
These Organic Chia seeds are packed with essential nutrients and are perfect for smoothies.
Food to Live's Organic Chia Seeds is 100% free of contaminants and harmful ingredients.
It is rich in fiber that helps to keep the gastrointestinal tract healthy.
Chia Seeds promote heart health by lowering cholesterol and are non-GMO.
These chia seeds are extremely healthy and aid in weight loss, and can help you shed pounds faster.
---
9
NOW Foods® Organic

White Chia Seeds
These Chia Seeds are abundant in naturally occurring essential fatty acids such as Omega-3 (Alpha-Linolenic Acid) and Omega-6 (Linoleic Acid).
It is also an excellent sort of dietary fiber.
This product is Organic, Soy Free, Sugar-Free, Non-GMO, Vegan, Made without Gluten, Dairy Free, Egg Free, and made in a Peanut-Free facility, as well as Halal, Keto Friendly, Kosher, and Low Sodium.
NOW Foods adheres to FDA standards, and all products are GMP quality assured.
These Chia Seeds have been packaged in the USA by a family-owned and operated company since 1968.
---
10
BetterBody Foods® Omega-3

Organic Chia Seeds
This omega-fatty acid powerhouse contains useful nutrients such as omega-3, six, and fiber.
These Organic Chia Seeds are gluten-free, nut-free, low-carb, non-GMO, vegan, vegetarian, Keto, and Paleo.
They are loaded with 5350mg of omega-3 and 10g of fiber, which is 7% of the DV recommended amount for fiber and can be used as a protein source to replace meat and eggs.
These Chia Seeds can be added to any dish as well as drinks.
---
Index Table: Top-Rated Best Organic Chia Seeds
---
---