Some of the links in this post are affiliate links. This means if you click on the link and purchase the item, I will receive an affiliate commission at no extra cost to you. All opinions remain my own.
I'm sure you have heard about Quinoa, the healthy superfood that is lately becoming the perfect substitute for rice and pasta. It looks like whole grain, but it is a seed from a plant called goosefoot.
It is a rich source of protein, and it is gluten-free.
In this article, we will tell you why you should start eating only the best Organic Quinoa.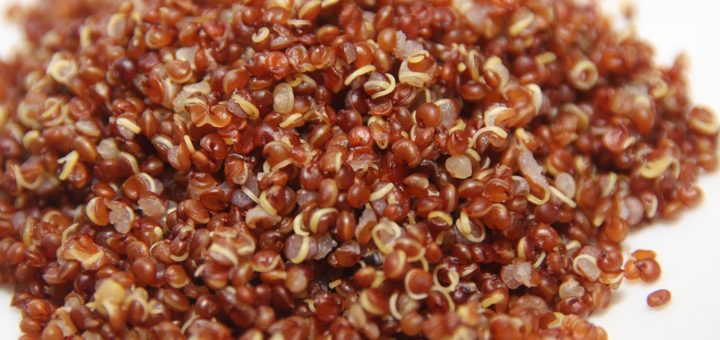 ---
Important Nutrients of Organic Quinoa
It Has a High Fiber Content – Quinoa has one of the highest-fiber content compared to other types of grain. Fiber has a wide range of health benefits, like improving blood sugar levels, lowering LDL cholesterol (the bad one), reducing constipation, normalizing bowel movements, and maintaining a healthy digestive system. Fiber also makes you feel full and eat less, which is beneficial for those looking to lose weight.
It Contains a High Content of Manganese – This is a mineral involved in our body's essential functions like improving bone health, reducing inflammation, osteoarthritis pain, and regulating blood sugar levels, enhances metabolism and brain function.
Folate – Also known as vitamin B9, folate is essential to produce DNA and RNA. It converts carbohydrates into energy, maintains a healthy heart, lowers the risk of anxiety and depression. It is an essential nutrient that every pregnant woman needs to reduce the risk of congenital deformities.
Iron – Iron is commonly found in organic almonds. This mineral is essential to treat anemia, boost hemoglobin production, reduce fatigue, improve your concentration and muscle strength. It is going to boost your immune system and reduce bruising.
Magnesium – It has a wide range of functions. It helps repair DNA and RNA, regulates neurotransmitters, boosts your energy levels, prevents migraines, has anti-inflammatory benefits, reduces the risk of diabetes type 2, and lowers blood pressure.
Antioxidants – Quinoa contains several nutrients with antioxidant properties like vitamin E or manganese that fight against free radicals damage and reduce the risk of heart and degenerative conditions like senile dementia and inflammatory joint disease.
---
Types of Organic Quinoa
Although there are more than 100 types of Quinoa, these are the most popular ones:

White Quinoa – The most popular one, it is also known as ivory quinoa.
Red Quinoa – It has the same nutritional content as white Quinoa; it holds its shape slightly different from white Quinoa, making it a great option for dishes you want Quinoa to add texture. It also has a vibrant red color that makes it look gorgeous on salads.
Black Quinoa – It contains the same nutrients as the other types of quinoa. It has a sweeter taste making it great for baking and making desserts with it.
Tricolor Quinoa – Combines all the types of quinoa. This option is great if you don't know which type will be the best for you and want to try all the beneficial properties of each one.
Quinoa Flakes – This option is great if you want an alternative to cereal or oatmeal. Mix them with fruits and nuts to make a delicious breakfast.
---
Ways to Use Organic Quinoa
Quinoa Flour – This is a different way to use Quinoa, and it is great to use it for baking and cooking. You can cook waffles, cookies, pancakes, and even pizza crust. These are great options for people that can't eat gluten.
Quinoa Smoothie – This is a delicious way to eat Quinoa if you don't love the taste. You can combine the Quinoa with healthy fruits and Greek yogurt, or if you love chocolate, you can even make a quinoa chocolate smoothie.
Quinoa Salads – Twist it to regular salads by adding Quinoa to it. You can add fruits to it like avocado or vegetables like cucumber or tomatoes.
As a Taco Meat – If you want to do a vegan taco, you add some sauce and species to Quinoa, and it will work as a great substitute for taco meat.
Quinoa Soup – Make gluten-free, vegan Quinoa to add a different texture to the regular soup. Quinoa is going to absorb all the flavors from the vegetables and ingredients you use.
Substitute for Bread Crumbs – Quinoa can give food a crusty texture; use it as a replacement for bread crumbs on dishes like chicken or fish.
---
Reviews: Best Organic Quinoa
Assembled down below is a list of the best organic Quinoa available in the market.
---
1
This product is USDA Certified Organic.
It is Palm oil and Gluten-free, as well as Vegan and Vegetarian-friendly.
Quinoa is a product of Peru and packed in the USA.
This Andean Quinoa is easy to cook as it is pre-washed, and there is no need to rinse.
It contains essential Amino acids in the right proportions to help support nutritional needs.
---
2
North Mountain Supply® Bag

Organic White Quinoa
This product is USDA Certified Organic.
It is Non-GMO and free of any genetically modified organisms.
Quinoa is a complete protein in and of itself and can be added to soups and stews.
It is free of gluten and any other harmful components.
This organic Quinoa is easy to cook. Simply cook one part of quinoa in two parts water after rinsing it well and simmer for 15 minutes until the water is absorbed.
It is a product of Peru and comes in a two-pound bag.
---
3
Simply Nature® Organic

Super Grain Quinoa
This quinoa is the super grain of the Andes.
This product is USDA Organic and Gluten-free.
It is a good source of Protein, Fiber as well as Iron, and Manganese.
The gluten-free Quinoa is minimally processed and Whole grain.
Simply Nature quinoa comes in a resealable bag and is the perfect staple to include in everyday diet.
---
4
Nature's Greatest Foods® Premium

Organic Whole Grain Quinoa
This product is USDA Certified Organic and Non-GMO project verified.
It is Kosher certified and Gluten-free.
Black Quinoa is a whole grain and minimally processed.
It is brought to you from the highlands of Peru.
The Quinoa boasts of high protein content and a good amount of essential and non-essential amino acids.
It is also a good source of Iron, Magnesium, Potassium, Fiber, and Vitamin E.
This natural Quinoa has a light and fluffy texture when cooked.
---
5
Royal Lee Organics® Natural

Organic Gluten-Free Quinoa
This product is Certified USDA Organic.
It does not contain any genetically engineered ingredients and is gluten-free.
The whole grain quinoa comes in a five-pound bag.
It is an excellent Thiamin source, Vitamin B6, Phosphorus, and Zinc, and Magnesium, and Folate.
The whole grain quinoa comes in a high-pressure vacuum sealed bag to keep out moisture and oxygen.
This Quinoa can be milled into flour for anything, from cookies to pasta or as a standalone salad.
---
6
Ancient Harvest® Tri-Color

Organic Harmony Quinoa
This product is Certified USDA Organic and GMO-free.
It is Gluten-free and Kosher Certified.
The tri-color quinoa mix is 100% whole grain-based.
It is rich in fiber, iron, magnesium as well as amino acids.
The Quinoa comes washed, rinsed, and ready to cook.
You can eat this nutritious Quinoa in breakfast, brunch, or even dinner or lunch.
It comes in a re-sealable pack for easy usage.
---
7
Bob's Red Mill® Whole Grain

Organic Quinoa
Each pack contains 4 packets of 26oz. quinoa.
This product is USDA Certified Organic, Gluten-Free, Vegan, Vegetarian, 100% Whole Grain, and Kosher Pareve.
The ancient whole grain Quinoa offers complete protein.
It is a good source of iron, vitamin B6, magnesium, folate, and zinc.
---
8
Happy Andes® Tri-Color

Organic Quinoa
This is USDA-certified Organic quinoa which naturally grows in the high altitudes of the Andes.
It is an organic Superfood and works well in desserts and other snack treats.
This is all-natural, whole grain, and gluten-free Quinoa.
Happy Andes Quinoa is a naturally Tri-Color Quinoa.
---
9
Healthworks® White

Whole Grain Quinoa
Healthworks Quinoa is certified organic and all-natural.
Quinoa is a fiber-rich grain crop that is grown for its edible seeds.
This protein-packed grain is naturally gluten-free and is loaded with rich nutrients, such as iron, B-vitamins, magnesium, phosphorus, potassium, calcium, vitamin E, and fiber.
It is plant-based, Non-GMO Verified, and contains all nine essential amino acids.
This Quinoa is hand-selected from small sustainable farms in Peru and guaranteed to be free of pesticides and chemicals.
---
10
BetterBody Foods® Vegan

Organic Quinoa
This natural Quinoa is full of nutrients, including fiber, protein, iron, and all 9 essential Amino acids, making it a great bonus to add to any meal at home.
The Organic Quinoa is USDA organic certified, gluten-free, non-GMO, kosher, vegan, and vegetarian.
BetterBody Foods quinoa mix includes white, red, and black quinoa grains.
Each serving contains 6g of organic complete protein and 3g of fiber.
This organic Quinoa is grown in South America.
---
Index Table: Top-Rated Organic Quinoa
---
---