On the hunt for the healthiest organic breakfast cereal ever?
You have come to the right page. Here we will walk you through the basics of shopping for the best organic cereal, what you need to look out for, and a reviewed list of some of the best organic cereals available for online order!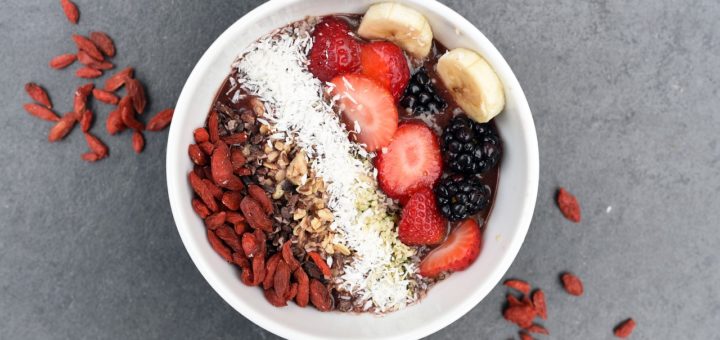 ---
---
Glycemic Load and Healthy Breakfast Cereals
If you want to eat a breakfast that will keep you energized for the whole day, you will need to pay attention to the Glycemic Load.
You have probably heard of the Glycemic Index, which refers to a food's sugar content. The Glycemic Load is the amount of blood sugar immediately released after you eat food.
If the food has a low Glycemic Load, then it means that it will release small but steady amounts of energy, particularly grains, nuts, and seeds that are loaded with carbs.
Besides being organic, low Glycemic Load grains make the best breakfast cereal, giving the most stable start to the day! A typical low Glycemic Load food is classified as below 25 on the chart.
Here are a great selection of nuts and grains with their respective low Glycemic Load numbers that make for excellent cereal options:
Nuts
Almonds 0
Hazelnuts 0
Macadamia Nuts 0
Pecans 0
Walnuts 0
Cashews 0
Grains
Oats 23
Buckwheat 15
Quinoa 13
Wild Rice 12
Millet 22
Note: the above serving sizes were based on 1 cup of each nut or grain.
---
Health Benefits of Sprouted Seeds, Nuts & Grains
Sprouted grains are far more nutritious than non-sprouted grains.
The primary nutrients for growth and energy increase when a grain, seed, or nut sprouts. These nutrients include:
B Vitamins – B vitamins are used throughout the body to repair and protect nerve endings, as well as promote a strong immune system. Don't forget that we don't just have nerve endings concentrated in our brains and around our hearts and all along the gut lining. Many people happen to be deficient in B vitamins! Without a healthy functioning nervous system, the body does not do a good signaling job and fails to carry out important tasks. B vitamins are also renowned as anti-stress vitamins, keeping you happy and energetic.
Vitamin C – Everyone knows that Vitamin C is needed to fight off scurvy, but it helps to fight off a lot more than just that! Vitamin C is something we need in our diets as our body does not make it. It's used to repair tissues and protect them from free radical damage.
Fiber – Fiber is a crucial part of everyone's diet, and without it, you are likely to go to the toilet. A diet loaded with refined carbohydrates often lacks fiber, mostly from grains, leafy greens, beans, and stringy vegetables. Load up on fiber in your breakfast every day to remain regular with sprouted grains!
Essential Amino Acids – Many fundamental amino acids can be found in grains only after they've sprouted and not before. Amino acids are required by the body to make proteins, which are then used to carry out basic cellular functions.
---
The Best Organic Cereal Features, Bits & Bites
Aside from nuts, seeds, and grains like organic quinoa, there are certain wholesome organic add-ons that you can keep your eyes peeled for in your healthy breakfast cereal:
Cinnamon – Cinnamon has amazing blood sugar regulation properties and contributes to keeping your blood sugar levels stable throughout the day. It also has healthy antioxidant properties and aids your metabolism.
Blueberries – Blueberries are rich in antioxidants that can protect the heart, gut, and brain. They are anti-carcinogenic and can also help your body protect itself from radiation, such as UV rays from the sun.
Cranberries – Cranberries keep your kidneys, heart, lungs, and bladder functioning nicely and are loaded with vitamins and minerals like Vitamin C.
Flax Seeds – Flax seeds contain a perfect amount of omega-3 oils, which many people do not get enough of in their diets. It would be best to eat far more omega-3 than omega-6 oils, yet most people have it the other way around. Stock up on omega-3's by including flax seeds daily in your breakfast.
Chia Seeds – Chia seeds are even more healthy and potent than flax seeds concerning a healthy omega 3 content. They also have a complete set of amino acids, and oils and are loaded with antioxidants. Chia seeds form a gelatinous substance when wet, which adds a creamy texture to porridges but also lines the gut with beneficial nutrients that act as a prebiotic.
---
Reviews: The Top-Rated Organic Cereals
Below are reviews of some of the healthiest breakfast cereals available for immediate online purchase!
---
1
This raw vegan breakfast is the perfect powerhouse breakfast to start your day and is free from added sugars.
Choose to eat with your favorite nut milk, add yogurt, or guzzle as a trail snack mix.
The delicious blend of dried raisins, apples, figs, sprouted sunflower seeds, soaked walnuts, and sprouted almonds makes this not only super healthy but incredibly tasty!
Cinnamon is added to enhance flavor and to help metabolize the fruit sugars.
100% organic, GMO-free, Gluten-Free, dairy-free, kosher, raw vegan, and healthy for you.
---
2
Farm to Table® Ancient Grain Oatmeal

Delicious Organic GMO-Free Oatmeal Cereal
Farm to Table Foods is proud to present this tasty oatmeal made from whole grains that our forefather's forefathers would be happy to consume.
A blend of organic heirloom oats, rye, Kamut, Spelt, and barley was blended to create this marvelous breakfast.
The GMO-free heirloom grain varieties used cannot be beaten regarding healthy, flavor, and consistency.
Mix with water or nut milk for an exceptionally creamy breakfast porridge, and get your daily dose of fiber and protein!
This oatmeal is not only organic and delicious but also cost-effective, with each serving being less than a dollar.
---
3
Lark Ellen Farm® Grain-Free Cereal

Organic Dehydrated Raw Granola Breakfast Cereal
This vegan breakfast cereal was made following a strict paleo approach to healthy living and is made from dehydrated, raw sprouted nuts and seeds.
All the ingredients are certified GMO-free and organic, making them perfect for a healthy balanced diet.
Ideal for coeliacs, one can eat this cereal without fearing gluten or grain reactions.
It contains organic vanilla and cinnamon for a perfect taste and healthy metabolism.
This product is raw, vegan, gluten-free, dairy-free, soy-free, and grain-free but does contain organic maple syrup.
Enjoy straight from the bag, or add it to your favorite nut milk.
---
4
Nature's Path® Power Breakfast Cereal

Organic Blueberry Flax Seed Flake Cereal
This breakfast cereal is made from entirely organic grains and flax seeds, combined into conventional breakfast cereal flakes!
Dried blueberries, cinnamon, and vitamin E have been added for even more nutrition to start your day.
Get a whopping dose of fiber and keep your stomach regular without worry!
Eat as a snack, add to protein bars, or enjoy as intended as a breakfast cereal.
It is not suitable for diabetics or coeliacs as it contains gluten and sugar but from wholesome organic sources.
It contains organic soy.
---
5
Go Raw® Vegan Cereal

Organic Raw Vegan Breakfast Cereal
The simplicity of this delicious raw vegan breakfast cereal is fantastic and caters to everyone's needs!
Dried organic sprouted buckwheat groats and flax seeds have been used to give you a significant dose of fiber, protein, and energy.
Organic dates and raisins have been used moderately for a delicious flavor that will make you feel like you are treating yourself daily.
100% organic, vegan, paleo, nut-free, soy-free, gluten-free, sugar-free, and dairy-free.
Suitable for coeliacs but not for diabetics.
---
6
Arrowhead Mills® Spelt Flakes

Organic Cereal
This cereal is certified Organic, Non-GMO Project Verified, and made with a 100% commitment to quality.
It is made with organic spelt and sweetened with fruit juice.
It contains 25 grams of whole grains per serving, making this a nutritious cereal breakfast.
The Spelt is regionally sourced from Great Lakes.
---
7
EVOKE® Athlete Fuel

Organic Muesli Cereal
It complies with the USDA organic standards, meaning that the ingredients integrate cultural, biological, and mechanical practices that foster the cycling of resources, promote ecological balance, and conserve biodiversity.
It contains only 3g of sugar, which naturally comes from the raisins.
It offers 7g of High-quality, plant-based protein from the nuts and seeds per serving.
This muesli cereal is versatile and can be mixed cold with milk or yogurt or cooked hot like oatmeal.
---
8
Cascadian Farm® Purely O's

Organic Cereal
This cereal is made with Organic whole grain Oat and Barley.
It offers 26 grams of whole grains per serving.
This product is Non-GMO Project Verified.
The grains for this cereal are sourced from Skagit Valley, WA.
---
9
BARBARA'S® Honest O's

Organic Honey Nut Cereal
This product is USDA Organic Certified, Non-GMO Project Verified, and Kosher.
It offers 9g of sugar per serving and is a good source of fiber and good for heart health.
It is made with a touch of sweet honey.
This organic cereal is made with whole grain.
---
10
Annie's Homegrown® Cinnabunnies

Cinnamon Cereal
This cereal is free of any Artificial Flavors, Synthetic Colors, or Preservatives.
It is Non-GMO, Kosher, and Gluten-free.
It employs fragrant Cinnamon to taste the next level.
This product is USDA Certified Organic.
---
Comparison Table: Good Choices of Organic Cereals
---
---